4th July 2015. Reception at Christ King Church, Cork, followed by reception at Dunmore House Hotel, Clonakilty
Photography by Ted Murphy
This couple had a sweet photo shoot idea – to return to the same spot where their eyes first met…
The couple
This couple met by chance one night that Ciara's plans changed at the last minute. "I was supposed to be going to a play that my friend's brother was in, but she couldn't get tickets so I ended up going out for a drink with some of the girls instead," Ciara begins. "Chris was down in Cork from Wicklow to see a gig that night and that's when we met, in Preachers bar. We kept in touch and Chris moved down to Cork. We broke up for a bit in 2010 so I decided to take time off work and travel the world with my friends. We realised we couldn't live without each other and a few months later we were reunited in New Zealand. A month later we found out I was pregnant so we moved back to Ireland. Our daughter Aoibhe is almost four now."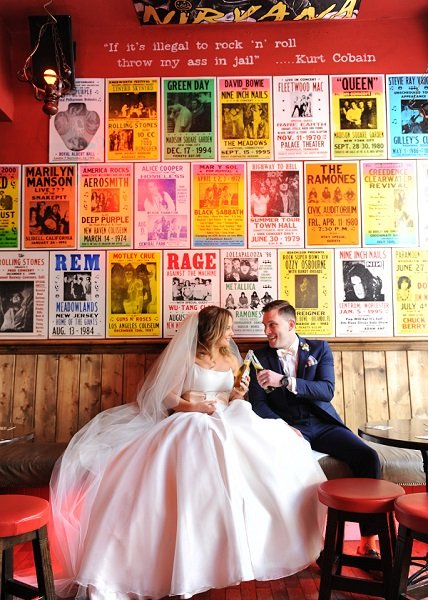 The proposal
"It was my birthday so Chris booked a night for us in Hayfield Manor, my favourite hotel," Ciara recalls. "We went back to where we met, in Preachers on Washington Street where he popped the question in the exact spot we met. We spent a few days afterwards in Carton House to celebrate and take it all in."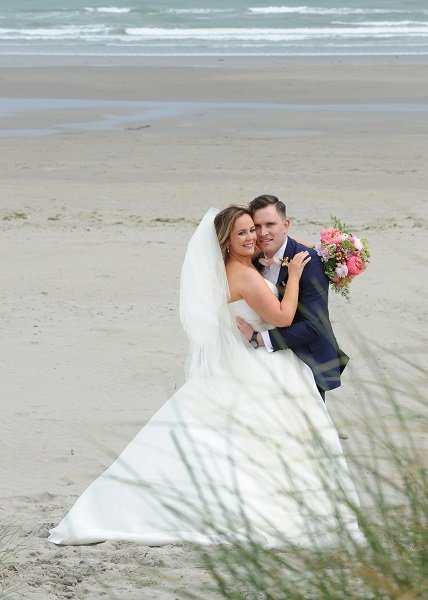 Venue
"Dunmore House Hotel was the first wedding venue we viewed and we knew from the moment we arrived that it was the place for us," Ciara says. "We loved that the hotel itself had a very homely feel to it while the room where the wedding was to be held was so bright, clean and modern. The outdoor decking area has breath-taking views of the ocean too.  The wedding coordinator Annemarie Harte was amazing and who we both felt so comfortable with her."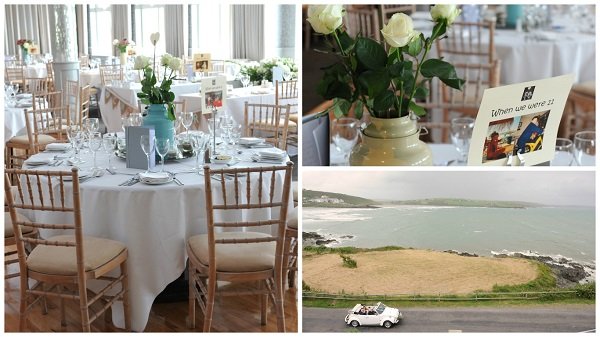 Theme
"I'm not sure we had one, but I do know I got a lot of slagging over my obsession with my favourite colour… duck egg blue" Ciara laughs. "Looking back I suppose the theme was summery and fun."
Wedding Dress
Ciara's wedding gown was by Bardot Blue Bridal Wear from Anabel Rose, Dublin.  "My dress had an overskirt with a blush bow that I designed along with Margaret in Couture Studios, Dublin, it came off for the disco and I replaced it with a blingtastic belt," Ciara says.
Groomswear
The groom and groomsmen wore suits from Tom Murphy's, Cork. "Chris gathered offcuts of different colour paisley material to make pocket squares," Ciara explained. "He matched them up with bright socks (and jocks). We're not sure the Dads were too thrilled about that!" Ciara says.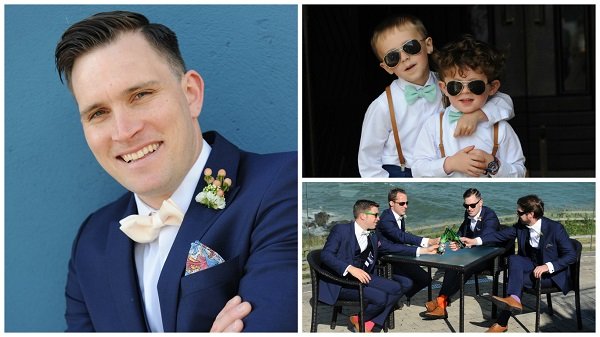 The bridesmaids
The bridesmaids wore Jenny Packham strapless blue, tulle tea-length dresses.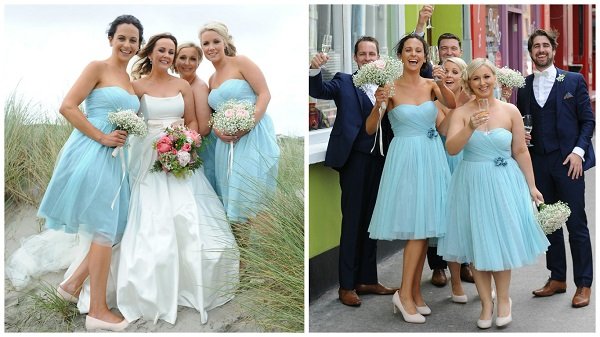 Wedding flowers
The bridesmaids each made their own bouquets and the bride's bouquet was created by Daisy Chain, Kinsale.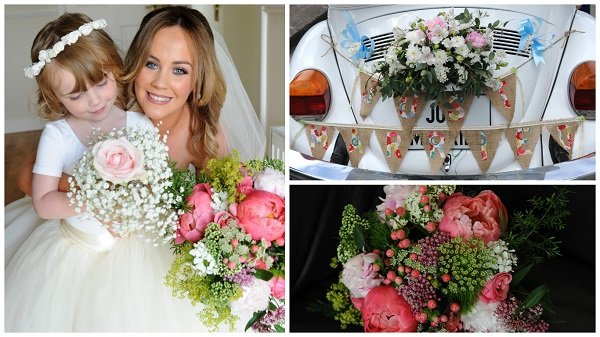 Stationery
Rhino Print, Kinsale designed the wedding invites. "I had a blackboard theme because I'm a teacher," Ciara explains. "We wanted something quite informal and fun so we had the invitations sent from Aoibhe, they read 'My Mommy and Daddy are getting married'. All of the guests RSVP'd to Aoibhe, she had great fun opening all of her post."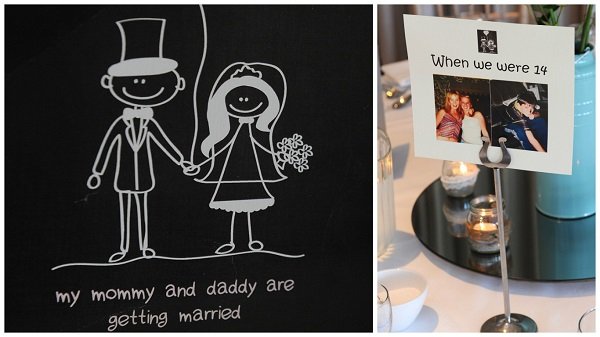 Wedding cake
The groom's sister Bridget made the three-tier wedding cake in flavours; White Chocolate Biscuit with Cranberries, Lemon Drizzle, and Vanilla Sponge.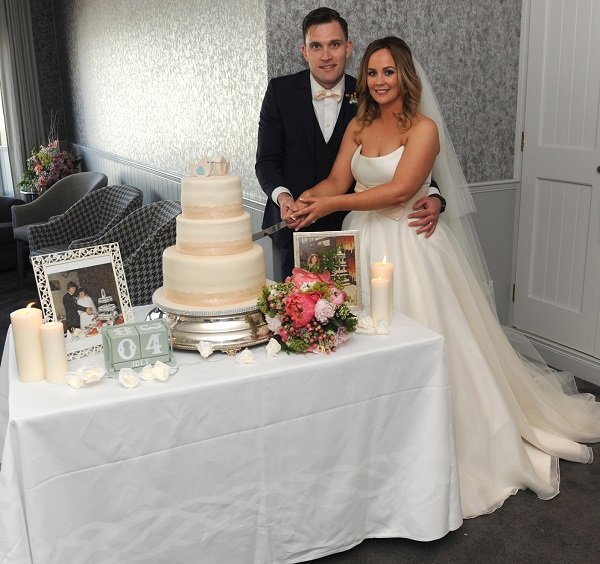 Favourite moment
Chris: "Seeing Ciara and Aoibhe walking down the aisle and having our photos taken in Preachers with all bridesmaids and groomsmen."
Ciara: "Having a dance to Girls Just Wanna Have Fun with the bridesmaids with a glass of prosecco in the kitchen 10 mins before we left for the church and walking down the aisle."