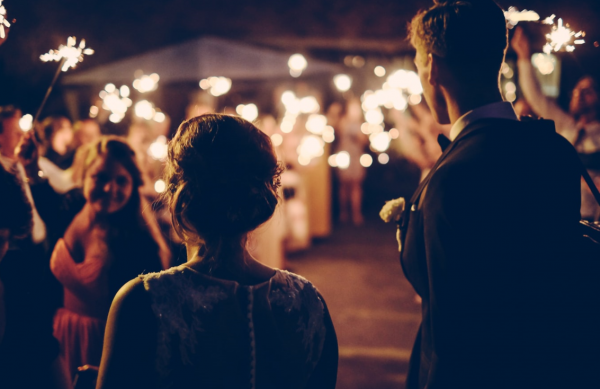 Weddings are always a whole lot of fun, but let's be real here, they're also incredibly long days. Especially for your guests. While it might go by in the blink of an eye for you, there's often a lull for your invitees, especially when you're off getting your photos taken or grabbing a moment to yourselves. So how can you keep them not just occupied but entertained, without packing them off to the free bar? Try some of these ideas on for size.
Pimp your drinks
Something to keep your guests amused while you get your pictures taken and to ensure they enjoy their tipples, setting this one up is easy. Order your sets from Popball – they come complete with mists, shimmer, bubbles and liquor. Ask a member of your bridal party or venue staff to set it up in your reception and watch your guests have a ball personalising their drinks.
Light some sparklers
A cheap and cheerful one, but an activity that gets everyone involved. Wait until darkness falls before bringing your guests outside and handing them a sparkler. Everyone lights theirs while toasting the bride and groom – trust us, the pics will be amazing!
Hire a caricaturist
We love this idea! Invite a caricaturist to create illustrations of all your guests. It will keep them amused and they'll have a lovely keepsake to take home from the day. We're big fans of Linda Byrne Illustration. She specialises in Live Wedding  Illustration which takes between 7 and 10 minutes per person. The end result is a colourful fashion sketch of your guests and their outfits.
Book an ice cream cart
I scream, you scream, we all scream for ice cream! Who doesn't love a little cone, especially when they're waiting around for the bride and groom to come back from having their photos taken? An ice cream cart with lots of toppings and sugary sauces will be a real crowd pleaser for children and adults alike.
Hire a photo booth
We live in the era of the selfie, and there's no day you'll want to document more than your wedding, so encourage your guests to snap, snap, snap by hiring a photo booth or selfie mirror. Instaglam Photo Booths has plenty of options from their vintage tri-pod selfie booth to their interactive two-way selfie mirror.
Plan a flash mob
This one will take a little bit of organisation but the payoff will be totally worth it. Grab your bridal party and get choreographing! Pro-tip: easy is the way to go, unless you're all budding Ginger Rogers and Fred Astaires, and if you can't get everyone together regularly to practice, share your moves with each other online and take it from there.
Book a bouncy castle
 

 

View this post on Instagram

 

…. or space hoppers! Are you sensing a theme here? Invite your guests to have a bounce outside – weather permitting of course – to keep them amused after the ceremony and before dinner. It's great fun for the little kids – and the big ones too!
Hire a barbershop quartet
There's nothing quite like music to bring people together and what could be better than having a barbershop quartet serenading your guests in a cappella on your big day? If you want to make it extra special, ask your guests for songs they'd like to hear performed.
Organise a welly throwing competition
Embrace your country roots if you're a rural gal, and engage your guests in a little friendly competition. The clue is in name: whoever hurls their welly the furthest gets a prize or even just bragging rights.
Plan a treasure hunt
We hear you, you've enough to be organising without trying to orchestrate a treasure hunt on the grounds of your venue, but let your maid of honour take the lead on this one. All she needs are a few carefully worded clues, good hiding spots and a small prize or keepsake.