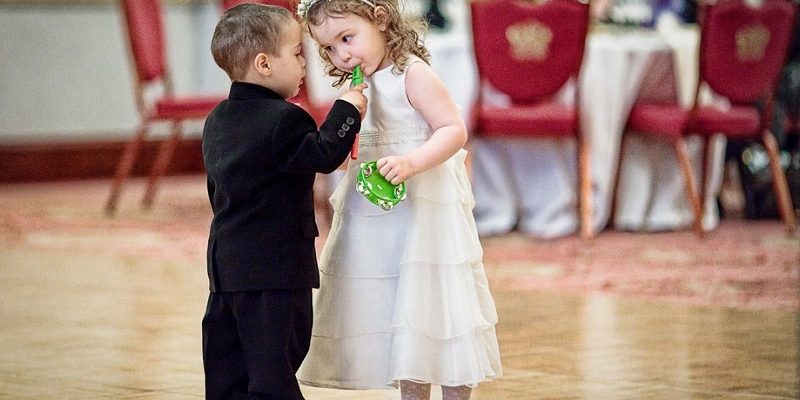 10 tips to keep kids entertained at weddings
Children are adorable but weddings are long and they often get bored and grouchy so here are WJ's top tips to keep kids entertained at weddings
When you see your four year old niece looking angelic in her flowergirl dress, you'll think there's nothing cuter on this earth, but a few hours later when she's screamed through the wedding ceremony, toppled the wedding cake and planted chocolate handprints on your wedding dress, you might have other ideas…
Deciding whether or not to invite children to your wedding can be difficult. On the one hand it adds to the loving atmosphere and keeps the whole family together, but on the other, it opens to the doors to chaotic possibilities.
If you do decide to invite those little cherubs along, it's essential that you make extra provisions to keep them entertained. Good chat and slow jazz music might relax you, but a six-year-old on a sugar rush won't be so keen.
1. Paper Chase
Download colouring pages, word searches, crosswords, spot the difference from the internet, make sure you give out with crayons or coloured pencils to avoid mess to clothes and tableware.
2. Silent Scavenger Hunt
Create a tick sheet of things to listen out for or observe during the wedding – what colour are the bridesmaids dresses, what songs were sung, did the best man remember the rings, how many were wearing hats.
3. Book Corner
Have a range of books to cover differing ages of children and teenagers attending the wedding, put on tables or set up in a corner with bean bags – great for sleepy ones later in the evening too.
4. Box of Tricks
Create boxes of simple toys such as bubbles, board games (travel ones are cheaper and smaller), jigsaws, and play dough – hassle free distractions for children without the need for too much adult help.
5. Children Only Room
Create a child only space with TV's/DVD players, games consoles, books, board games, dressing up and role-play toys, craft activities/painting, sand trays and play dough.
6. VIP
Create tasks for children involved in the wedding to earn VIP badges – roles can range from marshalling guests to the right place to holding their bouquet up the right way for younger bridesmaids.
7. Outdoor Games
Organise walks around the grounds or do nature searches using small bags to collect what is found. Also provide simple sports equipment such as balls, Frisbees, or cricket sets.
8. Entertainer
A more expensive option and tends to work best if you have another room or space for this to take place, unlike a crèche parents will still be responsible for supervision of their children.
9. Babysitters
 Babysitters work well if the wedding is being held in a hotel. The babysitters can look after individual children or families in their hotel rooms bringing some basic equipment and also putting the children to bed.
10. Mobile
Crèche
 The most expensive option but it really is the ultimate answer, and many opt to share the costs with parents. A team will bring all equipment; will be responsible for your children and their entertainment for the whole wedding and even into the night with a sleepover, www.tiniescreches.com
Featured Image- Kevin Mullins