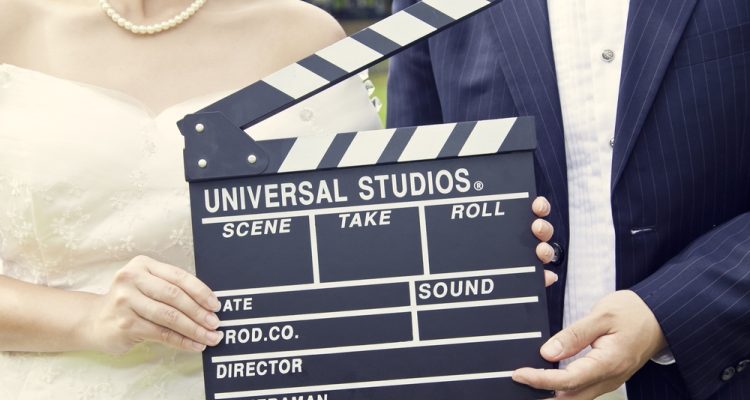 10 wedding films to watch before you walk down the aisle
Have you realised just how many films out there are actually wedding films? LOADS of them.
If you're engaged, you'll know what it's like to be in 'wedding mode'- that all-consuming state where all you can think about, dream about, and concentrate on is the wedding. Here at WJ we are ALWAYS in that mode and know that sometimes you just want to embrace that inner Bridezilla, even during downtime.
An astonishing number of films in popular culture are centred around weddings, whether it be planning a wedding, attending a wedding, or the aftermath of a wedding. Let's face it- weddings are huge and the amount of things that can happen before, during and after them is endless. Plus, it makes for pretty decent entertainment!
Here's our pick of wedding films you shouldn't miss before you walk down the aisle, and when you should watch them.
Monster-in-Law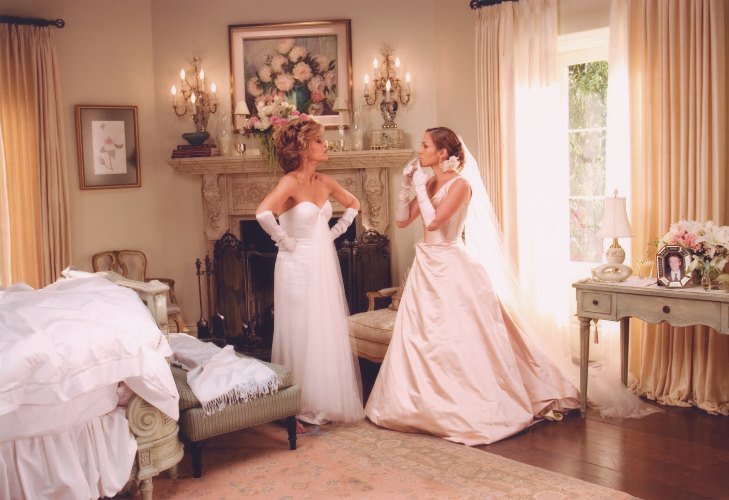 Jennifer Lopez plays an unlucky-in-love dog walker who stumbles upon her Mr. Right one day when out with the dogs. He's wealthy, a Doctor AND he pops the question almost instantly. Everything seems too good to be true until she meets the other woman in his life… his mother (played by the fabulous Jane Fonda). Cue a hilarious series of Mother/Daughter antics including both women wearing white on the big day, the MoG having her OWN MoG to deal with, and more than a few meltdowns.
When to Watch… When the Mother of the Groom is getting you down and you need a little reminder that things can ALWAYS be worse.
Bride Wars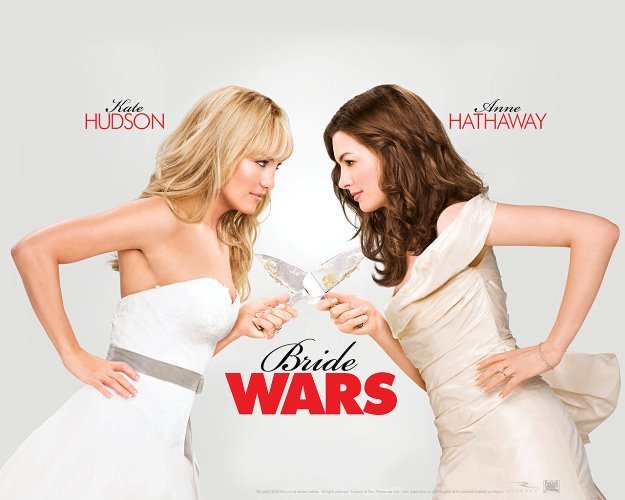 Some say the Maid of Honour has the hardest job when it comes to helping her Bride tie the knot… and no film demonstrates this more than Bride Wars. Anne Hathaway and Kate Hudson play engaged best friends who fall out at the very beginning of their wedding planning because both want the same date… at the same venue. This leads to an all-out girl war as both ladies get ready for their big days without the help of their best mate. Think spray tans gone wrong, blue hair dye and weight-related sabotage as the payback gets painful.
When to Watch… When tensions are high between you and your MoH, grab a bottle of vino, a jumbo bag of Galaxy Minstrels and curl up together to watch two friends who have it way worse than you two. We're sure every little argument pales in comparison to these ones!
The Wedding Date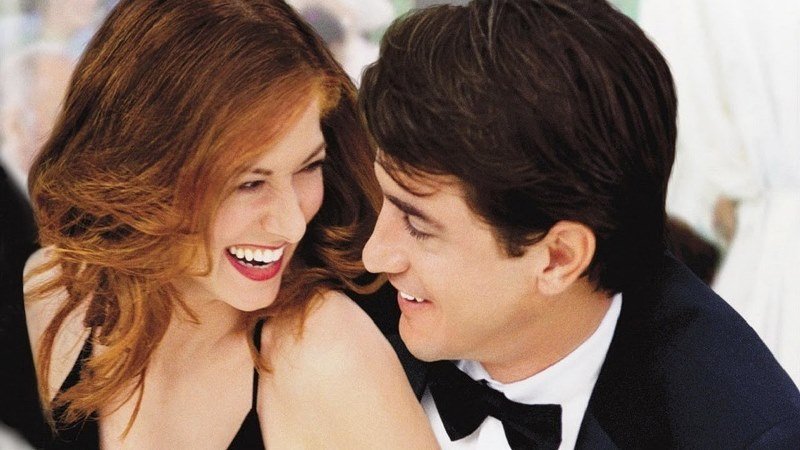 This cult favourite has everything a good wedding film should have- a cross-continental trip, a big family-style wedding, a cringey golf-themed stag and hen do, and a dashing man in the form of Dermot Mulroney! Debra Messing (of Will & Grace fame) plays Kat, a prospect-less singleton who has to travel home to London for her little sister's wedding and can't face the thought of it alone so she hires herself a date. You can imagine the romantic tension that follows… along with the typical family dramas that come out at any stressful family wedding! And no spoilers, but someone does utter the line, 'I'd rather fight with you than make love with anyone else'… (SWOON).
When to Watch… When you've got a single friend worried about attending your wedding on her own, sit her down and raise her spirits with the idea of hiring a hunky escort who not only can charm his way around a wedding but who may fall in love with her as well.
Wedding Crashers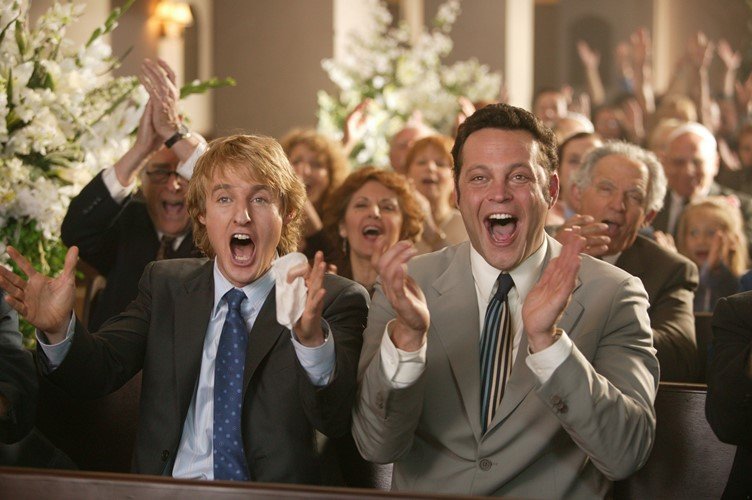 This black comedy is a lad's dream. Two best friends (who also work together) spend their summers traveling across the country developing extensive alter-egos and crashing weddings- as well as charming families, sampling every wedding cake going and successfully sleeping with at least one woman per wedding. Everything is going fine until they decide to do one last wedding to end the season… and end up getting a bit more emotionally involved than they wanted to be. The flawless comedy pairing of Owen Wilson and Vince Vaughn sets off the stellar cast of Wedding Crashers, which also includes Rachel McAdams, Bradley Cooper, Jane Seymour and many, many more A-list actors (plus a Will Ferrell cameo!).
When to Watch… When you and your Hubby-to-Be haven't been able to spend much time together due to wedding planning, this is a film guaranteed to keep his interest and indulge your wedding-obsession. Use this one as some light-hearted bonding before the Big Day.
Click here to watch the trailer. 
My Big Fat Greek Wedding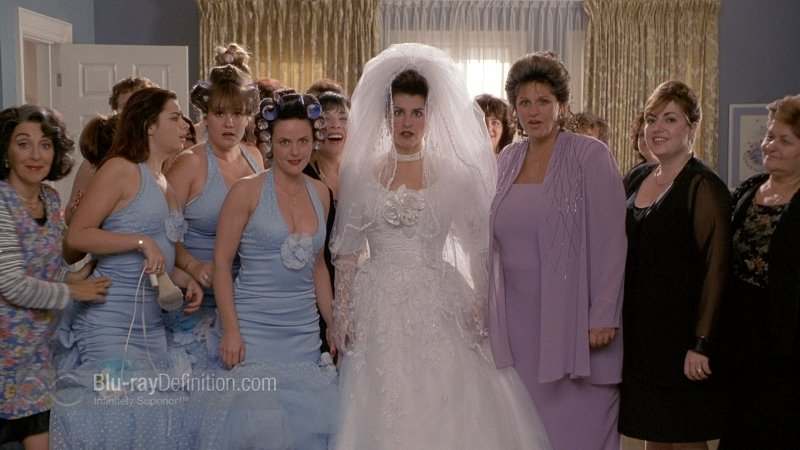 It's hard not to fall madly in love with this Greek-American RomCom about Toula, a single Greek girl who finally meets the man of her dreams in the form of Ian Millar, who she then has to introduce to her VERY traditional Greek family. Planning a wedding is hard enough without a cross-cultural divide in the middle of it! But this personal film screams of experience from writer and leading actress Nia Vardalos and you can't help but become attached to the difficult road to the wedding the couple have embarked on…
When to Watch… When you've experienced pressure from your family in terms of when you're going to get married, where you should get married, or where you should live AFTER you're married, then this film is a great way to realise that things could always be worse…
Click here to watch the trailer.
27 Dresses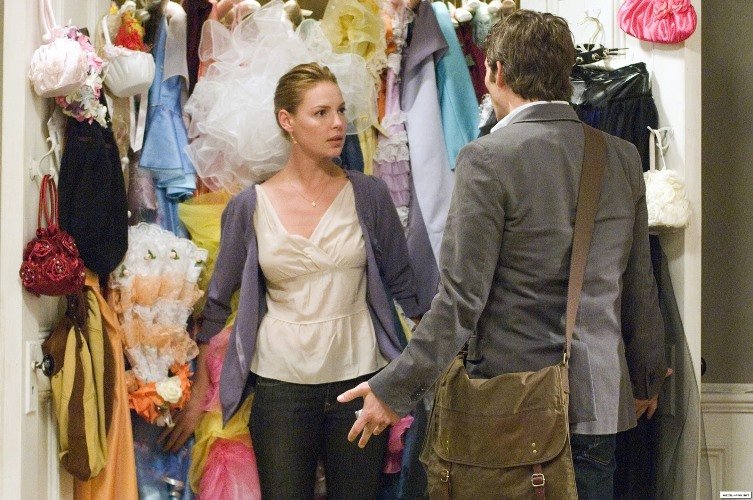 Katherine Heigl plays Jane, a mousy PA who has been a bridesmaid a record-breaking 27 times. Hopelessly in love with her boss (who gets engaged to her sister…) and the laughing stock of the country due to a good-looking journalist writing a feature about her crazy bridesmaid story, Jane doesn't have much going for her and things continuously go from bad to worse along the course of this RomCom. That said, if you need bridesmaid dress inspiration, look no further- there will be an ENDLESS amount to choose from.
When to Watch… When you're not sure if your man is 'The One' just imagine that you could be that one girl who is 'always the bridesmaid, never the bride'…
Click here to watch the trailer.
Father of the Bride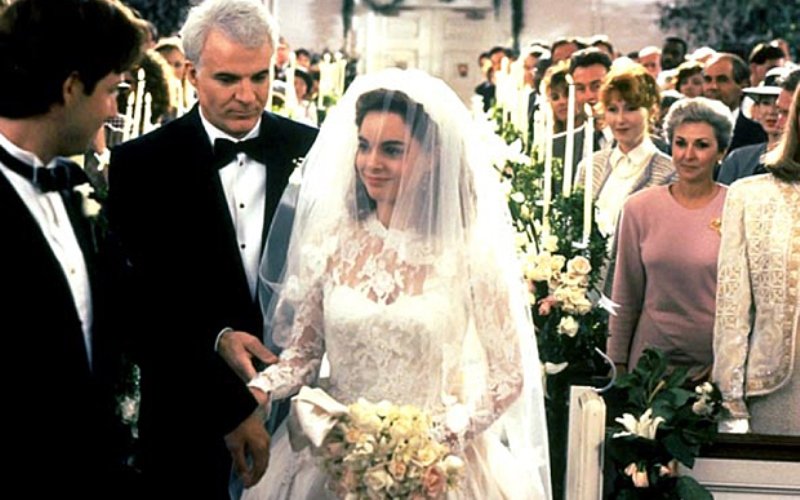 The 1991 remake of the classic Father of the Bride film features Steve Martin as a dad who is faced with the prospect of his little girl getting married and he REALLY isn't ready for it. Thus begins a journey of getting to know his potential Son-in-Law, meeting his family, and accepting that he can't keep his little girl in the house forever! This is a seriously funny feel-good comedy for any close Dad & Daughter duo about to be faced with a wedding.
When to Watch… When you can't understand why your Dad has suddenly gotten a bit over-protective and grumpy in the run-up to your wedding. Watch this and you just might realise.
Click here to watch the trailer.
Bridesmaids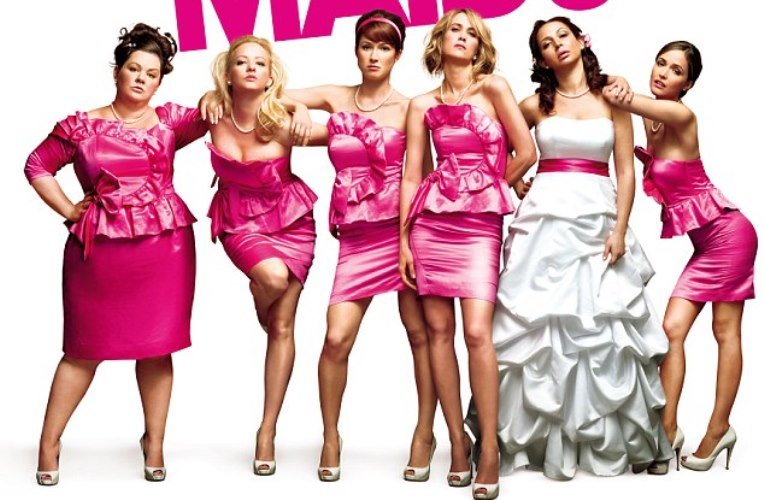 One look at the garish hot-pink dresses on the poster for this film is enough to know you're onto a winner. Bridesmaids rocked the world when it was released in 2011 and women from every walk of life rejoiced. This daring comedy about a diverse group of bridesmaids preparing for their BFF's wedding went places no female-focused comedy had gone before and made stars not only of Kristen Wiig and Melissa McCarthy, but also our homegrown Chris O'Dowd who played an adorable Irish love interest. If you're into potty humour, horrific sex jokes, foul language and puppies (yes, puppies) you can't miss this one. Oh, and it ended with a fabulous wedding featuring a waterfall- unmissable.
When to Watch… When you've got all your bridesmaids together for a night of wedding planning BEFORE the hen do. This hilarious comedy is best watched with a group of girls who can relate to the bickering, jealousy and 'I'd die for you' friendship this film has become the example of.
Click here to watch the trailer. 
The Wedding Planner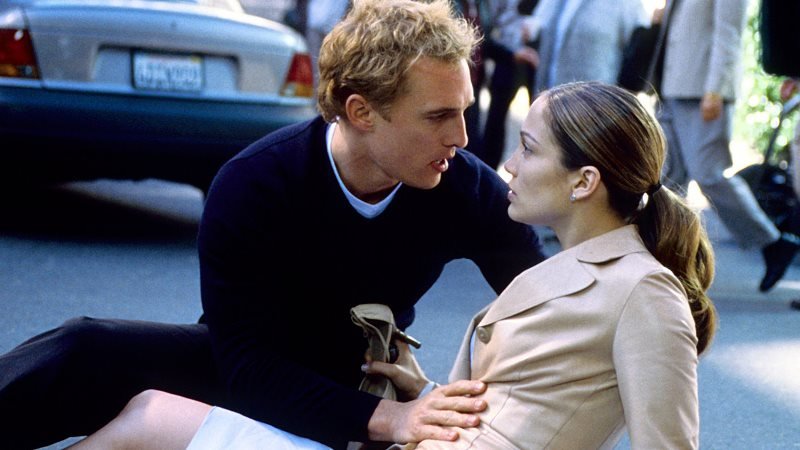 J-Lo is back again in yet another wedding-themed RomCom (she loves 'em!) and this time she's a single wedding planner who unknowingly falls for the groom. We blame him for the back and forth drama that occurs as a result, but at the end of the day you can't fight true love! Matthew McConaughey stars as the hottie in question and is in his prime as the leading man, with Grey's Anatomy star Justin Chambers supporting in a minor role.
When to Watch… When you just need a little you-time. This film isn't complicated, complex, or hard to watch. Its just an easy love story to get behind and perfect for taking a breathe
Click here to watch the trailer.
The Hangover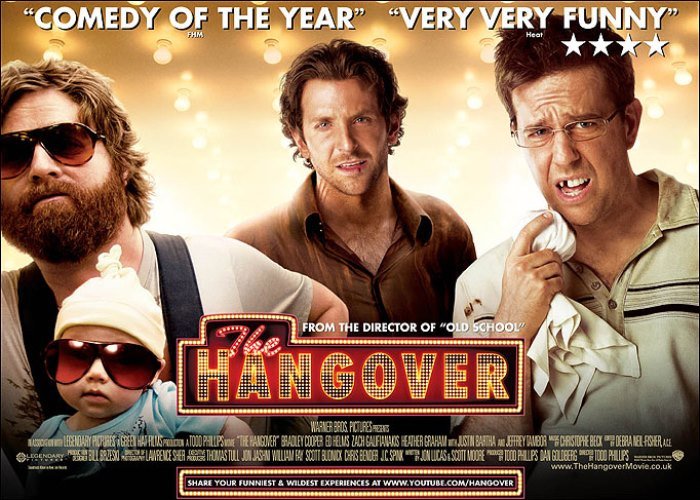 On its release, The Hangover became the poster-movie for stag do debauchery. Though audiences aren't gifted a glimpse into the night itself until after the credits start to roll, the film focuses on the aftermath of what can only be described as the wildest night out in history. We're talking random babies, stripper weddings, tiger fights- you name it, they did it. And we love it.
When to Watch… When the Hubby-to-Be is off on his stag. Yes, that may be a controversial 'when to watch' but just think, his could never be that bad… could it?
Click here to watch the trailer.
What's your favourite wedding-related film? Comment below!