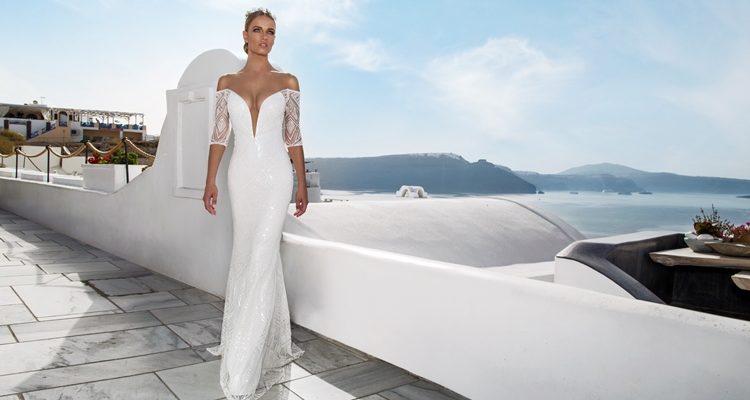 21 Daringly Low-Cut Wedding Dresses
Daring to bare as you walk down the aisle? Try on one of these low-cut wedding dresses for a dramatically unforgettable style.
Tired of the sweetheart, cowl, and high-necked wedding dress styles? Why not give a dramatic V-neck a go?
Bridal catwalks show no shortage of the stunning neckline and its varying silhouettes mean brides of any shape can pull the look off on their big day. Ranging from the demure to the seductive, low-cut gowns are great for ladies who are heavier in the bust and want to highlight their assets. Alternatively, brides with smaller cleavage can create a voluptuous illusion simply by choosing a dress designed to enhance.
2016 is filled with stunning designs from the world's very best bridal designers, and here's just a few you can look out for.
Subtle Styles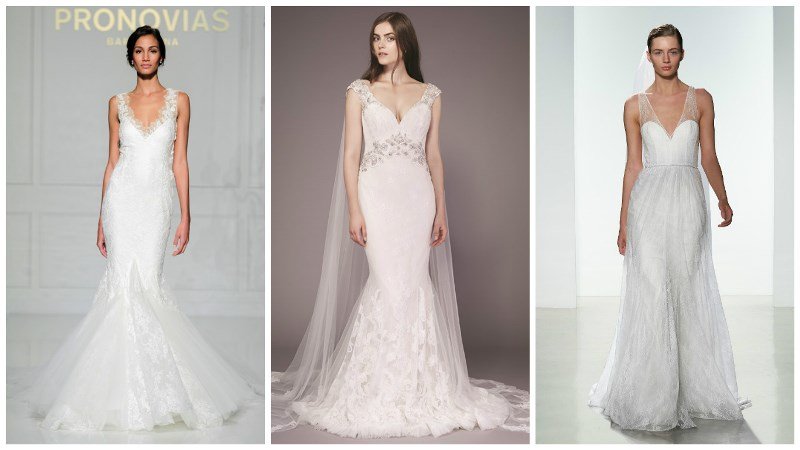 If you want to adopt a V-Neck but want to keep the look daytime and family appropriate, then go for a subtly dipped neckline. These styles keep the chest area fairly covered but drop slightly into the cleavage to show a hint of flesh. Great for church weddings or ceremonies which take place in the daytime in public, and guaranteed to keep your assets secured all day long.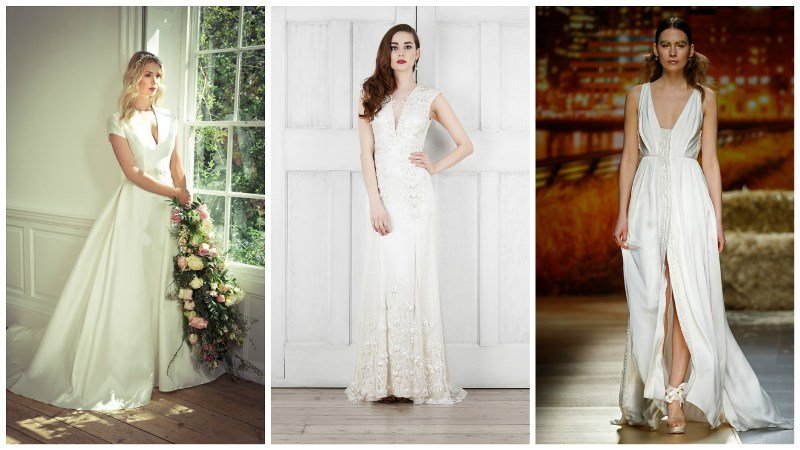 Dramatic Dips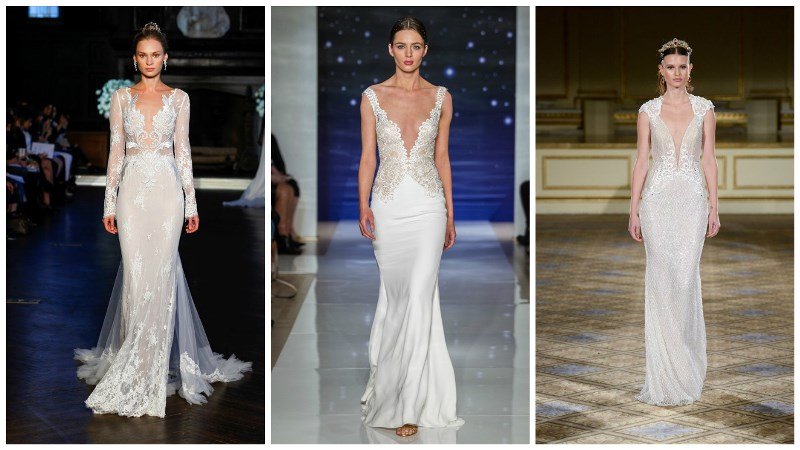 Many brides see their wedding day as the one chance they have to don a dress they'd never dream of normally wearing. That's why so many opt for a dangerously dramatic low-cut dress that has the WOW factor and is a sure show-stopper. These dresses feature cuts in the front that begin at the middle of the breast and typically go lower. The very ambitious bride can go for a style all the way down to the belly button if they like, but we prefer a line which ends just below the breast, keeping the look sophisticated.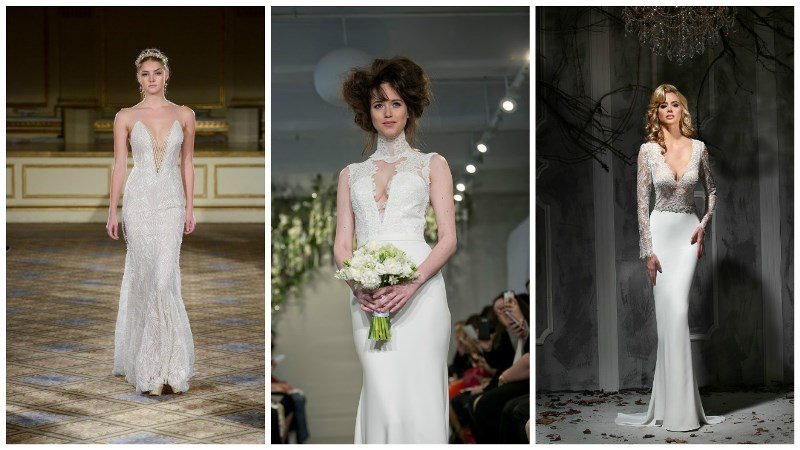 Beautiful Ballgowns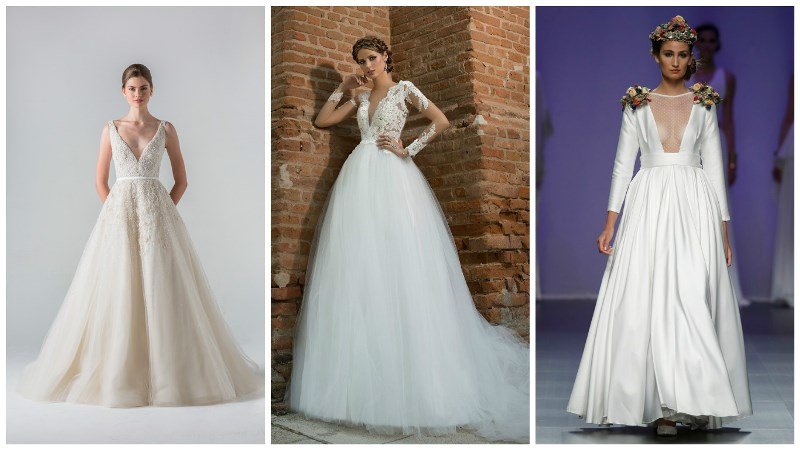 It's easy to fall into the trap of thinking that a V-Necked wedding dress must feature a tight, slinky silhouette, but designers have embraced the neckline in a variety of popular skirt styles. Creeping up for 2016 is the Low-Cut Ballgown, which consists of a princess-cut dress featuring a deep V exposing the chest all the way to the waist.
Out of the Ordinary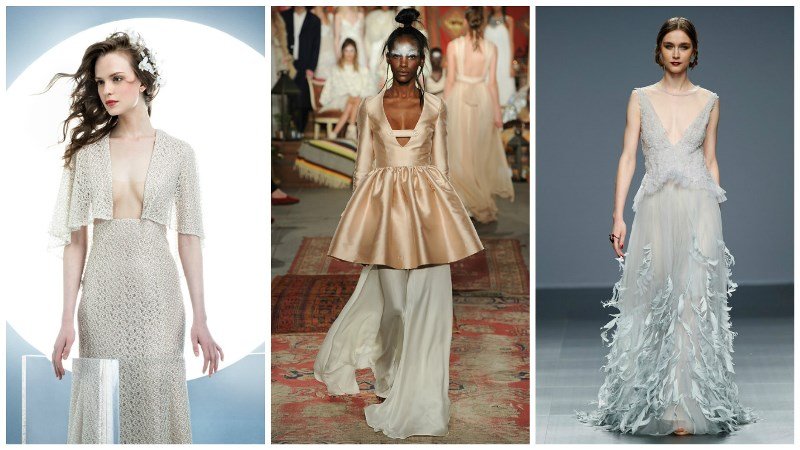 Shy away from the traditional low-cut gowns for an unusual take on the celebrated style. Feathers and off-white colours are set to be huge in 2016, so search for gowns featuring either the ethereal embellishment or the captivating colour. Meanwhile, with the new Star Wars flick taking the world by storm this Christmas we couldn't be loving the Houghton Bride collection anymore, who seem to have taken inspiration from the iconic film series.
Details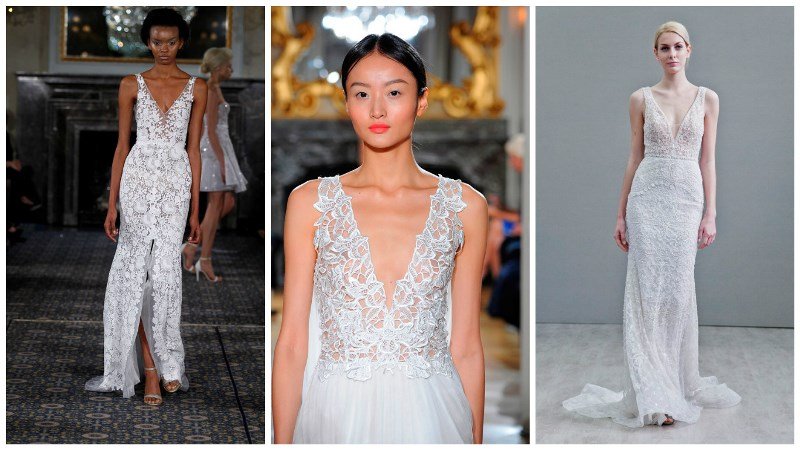 Embroidery, embellishment and sparkle are great additional elements to a traditional low-cut wedding dress. Think outside the box and incorporate some added sparkles or unique features, but be sure not to go OTT. If you're featuring an embellished neckline avoid headpieces or jewelry as well.
Top Tips for embracing a Low-Cut Wedding Dress:
Don't go cheap. If you want breast-related security in your gown, then you need to invest in a dress with structure and boning guaranteed to hold you in place.
Keep 'Boob-Tape' to hand. Its your best friend, trust us.
Consider your shape. Think about what type of V would suit your body shape, and keep you at your most comfortable.
Try on a variety of styles. Head to a reputable bridal shop and partake in their experience dressing many, many brides.
Featured Image: Julie Vino