For a Pinterest worthy wedding that will leave a lasting memory, treat your gusts to a tasty doughnut wall.
Last year we loved doughnut towers as a quirky wedding cake alternative but for 2016 the hottest trend to hit the wedding scene is doughnut walls. Not just a delicious dessert option, a doughnut wall can add a high visual appeal to your wedding that you can guarantee both kids and grown-ups will love!
High Impact
Nothing will wow your guests more than walking into a room and seeing a huge doughnut wall. Chances are your friends and family won't have seen one before and it'll become a talking point for years to come.
Easy to D.I.Y
Impressive wedding décor is difficult to recreate, which is why we have wedding co-ordinators but according to the talented team at style blog Oh Happy Day, doughnut walls are surprisingly easy to DIY.
It really is as simple as buying a pegboard and some pegs from a hardware shop and hanging a few doughnuts from them. Alternatively, if you're handy with a drill it can be cheaper to buy a blank canvas and put the holes in it yourself. Hurrah for all the couples who are doing it for themselves!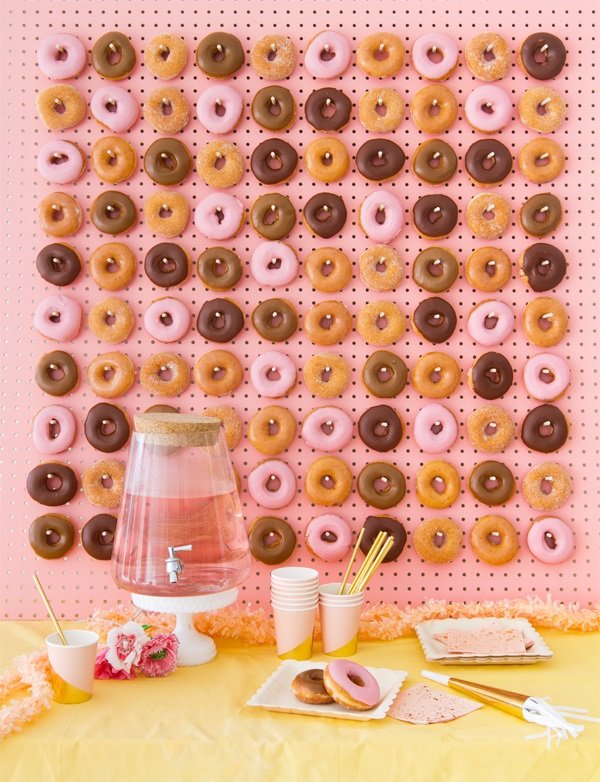 Taste
Serious talk – who doesn't love doughnuts? Although we don't understand it, we have heard of people who don't like cake and what better way to give them a second dessert option than a brightly coloured doughnut masterpiece?
Pimp your dessert bar
We love dessert bars, from candy carts to macaroon towers but it's always good to have a new kid on the block. Doughnuts are no stranger to a dessert table but a doughnut wall hanging above the sweet bar will take this trend to a new level.
Instagram
One of the nicest parts of the wedding is looking at the photos your guests have posted on social media the day after. An impressive doughnut wall will certainly have everyone tapping the share button leaving you plenty of cherished memories.
Featured Image- Moggiaevents Instagram
Facebook Comments