Rosspark Hotel, Ballymena are very pleased to announce that they are about to start work on a stunning new Wedding Ceremony building within the delightful grounds of the hotel.
Their exclusive new Wedding Pavilion will be available to Rosspark Couples who wish to get married within their lush grounds from Spring 2018.  This exciting addition to their Wedding Portfolio will be set amongst the trees in the midst of nature, yet only a few footsteps away from the main hotel, where you will return for your fairy-tale reception and to start your married life together.
The bespoke building, to be known as 'The Wedding Pavilion at Rosspark' will provide a unique ceremony room to accommodate civil celebrations with up to 130 guests.  The clean and contemporary design, which is in keeping with the existing hotel, will allow the happy couple the freedom to make the ceremony personal to their own needs.  The new building will also be flooded with natural light and surrounded by mature trees, offering couples a unique backdrop to say 'I do'.
The building of their Wedding Pavilion goes hand in hand with the Main Hotel renovations which will begin in January 2018.  This will see a full renovation of the Main Ross Suite; Lobby Bar; Restaurant and Reception Area. The Ross Suite will take on a modern feel, with a glitzy twist, and the feature centerpiece will be a spectacular Crystal facet Ring Chandelier.
At Rosspark Hotel, they host 'One Wedding A Day' and as an approved venue for Civil Ceremonies, Rosspark guarantees a memorable day.  On arrival, you will receive a truly warm welcome from professional staff before having dinner silver-served in the Ross Suite.  Their lush grounds offer an ideal backdrop for private and scenic areas for treasured wedding photographs.   Rosspark boasts a luxurious honeymoon suite, with living area, Jacuzzi and a wrap around shower.   A perfect way to end a perfect day and to start a new life!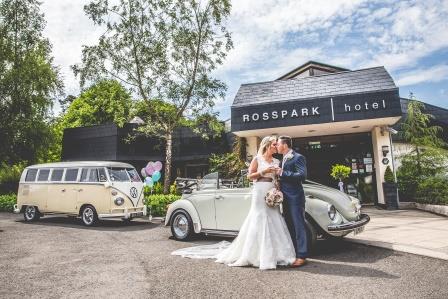 Plans of The Wedding Pavilion at Rosspark Hotel and the upcoming renovations will be available at:
Ross Park Hotel's Wedding Fair on Sunday 15th October.
Discover Rosspark and Discover your dream Wedding Day…
For more information call Rosspark Hotel 0n 028 2589 1663 or visit www.rosspark.com