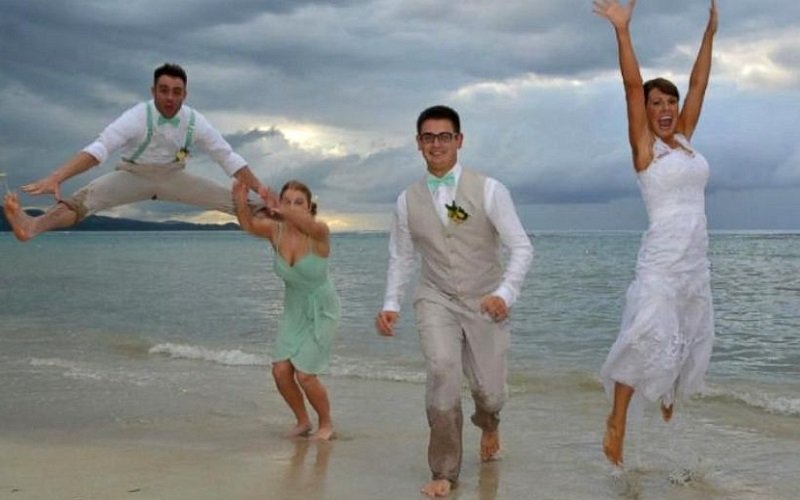 7 Worst Wedding Videos Ever
ABC News
Every bride's nightmare, check out the worst wedding videos you don't want anyone taking on your big day…
Research by Sony revealed that a third of people regret not having a wedding video. We've compiled a collection of rather regrettable wedding videos that we're sure those involved would rather forget.
In response to research findings that people regret not having a wedding video made of their big day, Sony came up with a bridal headcam design. Product developers said the bride could pin a discreet video camera into her veil or hair accessory and record a 'Bride's eye view' of the wedding day. The bridal headcam product didn't pass testing stages and won't make it to shelves.
While Sony's statistics state that a third regret NOT having a wedding video, we've a sneaking suspicion the people involved in the following clips regret having a wedding video.
1. THAT drunk groom
A regrettable wedding video that went viral this week features a drunken groom trying to lap dance his unimpressed bride before dramatically falling to the floor. Later in the clip family members escort him from the dance floor while the bride's friends comfort her – awkward!
https://www.youtube.com/watch?v=c2Om9URRhq4
2. A pretty spectacular wedding fail!
Most brides will admit to having teeny tiny concerns about the best man; will he chain your partner to a post on the stag do? Will he make inappropriate jokes insulting the priest/your elderly relatives/everybody at the reception? We're sure this bride didn't anticipate the disaster accidently caused by this best man.
3. Most dramatic non-bouquet catch
While the lady in this clip didn't quite manage to catch the wedding bouquet, at least she can rest assured knowing that she have it a good shot!
https://www.youtube.com/watch?v=oY9xesry08w
4. Accidental exposure
This poor bride suffered a pretty serious wardrobe malfunction!
5. The drunkest person at the wedding
We're not saying it's not ok for people to let their hair down at a wedding… we just wouldn't want to be this girl!
6. A Kodak moment
Every bride wants to get the perfect photo opp on their wedding day; perhaps this wasn't quite what she had in mind.
7. Worse speech ever
This awkward wedding speech is so awful that we weren't quite sure whether to be disgusted or laugh.