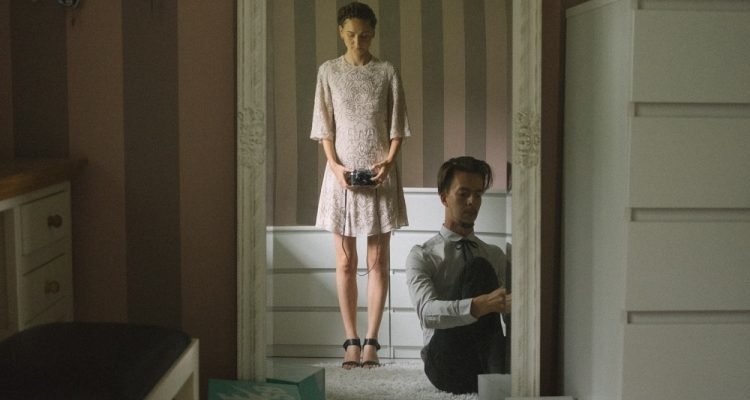 Bride takes her OWN wedding pictures and the results are outstanding
Couples spend thousands on booking a photographer to capture their wedding, but one bride shunned tradition to take her own wedding pictures.
Wedding photographers can be expensive simply because they guarantee newlyweds a series of timeless images that will last a lifetime. However one couple in Estonia shunned this security in favour of the bride becoming the wedding's official photographer, and the results share a candid glimpse into an ordinary young couple's low-key wedding celebrations.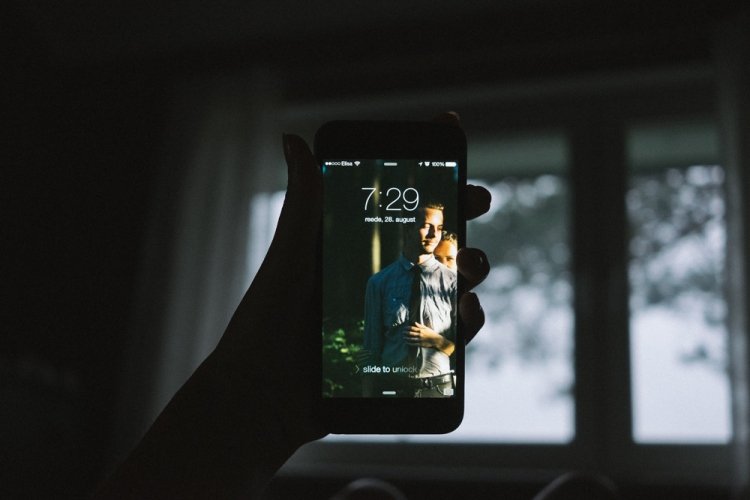 Lisa Lutts, 29, and her 26-year-old husband Henno did not want a big white wedding. Instead the pair, who together own a creative agency, knew they wanted a quiet celebration with their nearest and dearest. With a limited budget, Lisa decided to do the wedding photography herself and created a unique set of artistically-influenced shots which take the bride away from being the main focus and instead highlight the day's little details.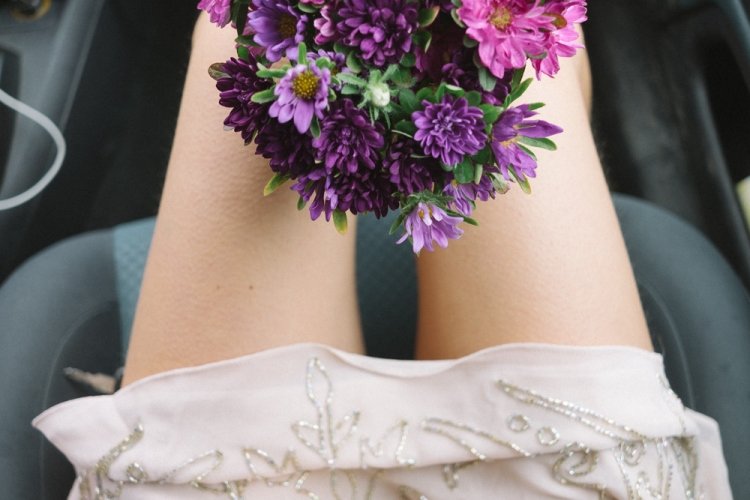 A glimpse through the images reveals that the couple's wedding day, August 28th 2015, began like any other. They spent the night together and woke up tangled in the sheets to the sound of an iPhone alarm. They dressed together, Liisa in a pale sequined mini-dress and Henno in a grey shirt, black trousers and Nikes.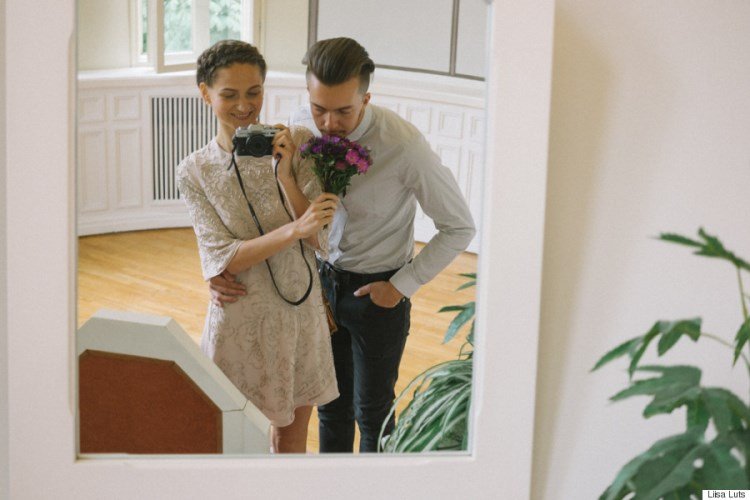 Liisa had her hair and makeup professionally done before adding a vibrant bouquet of purple and pink flowers to complete the look. Before they left for the wedding, the pair of course took a mirror selfie.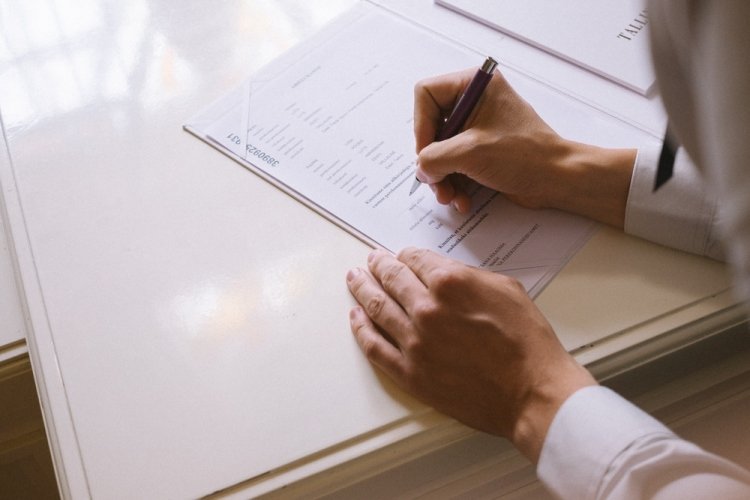 At the registry office, Liisa captured Henno signing the marriage certificate, as well as the officiant officially marrying the two. Her documentary-style images then feature the remaining moments of the day from her perspective- joining Henno in the marriage car, sitting with friends and family at the restaurant they chose for the reception, and sharing happy hugs with loved ones.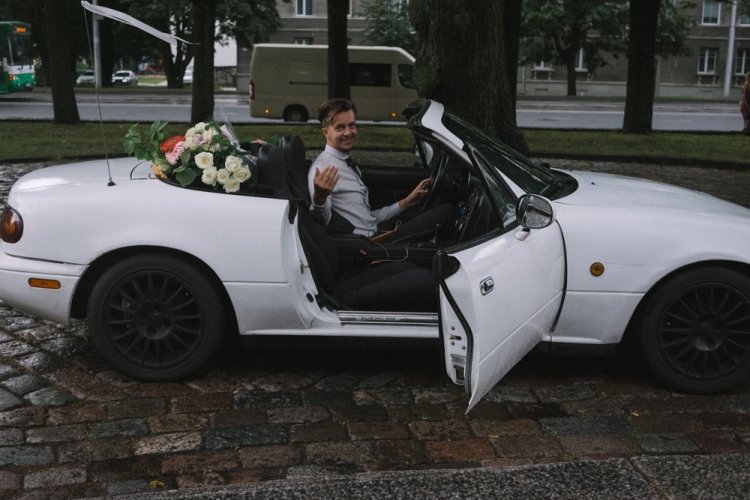 The final image of the day is of Liisa laying in bed as Henno sleeps beside her, holding her wedding rings over her mouth before she goes to sleep. The captivating images are a thought-provoking insight into the wedding day from the bride's eyes and tell a story to anyone who views them.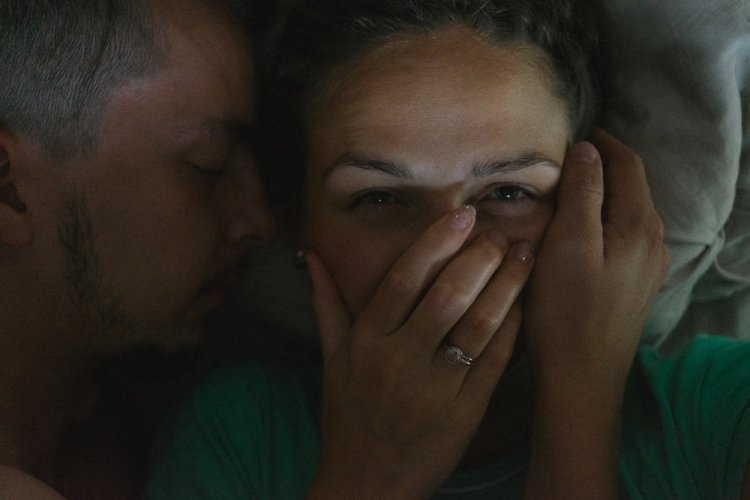 The simple wedding day is a reminder that you don't need extravagant shots to create meaningful memories, however we recommend documenting the day along with an official photographer. You'd never forgive yourself if something went wrong!