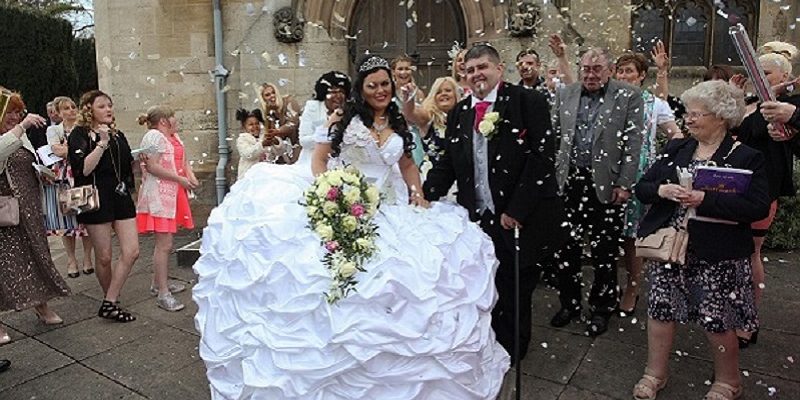 And the bride wore…. a ten stone wedding dress
A bride walked down the aisle wearing a ten stone wedding dress in what's being dubbed the 'ultimate Big Fat Gypsy wedding'
A bride walked down the aisle this weekend wearing a wedding dress that was heavier than her.
Rebekah Markham and Kevin Smith tied the knot in the West Midlands this weekend in what's being called the 'ultimate Big Fat Gypsy wedding'. A dwarf ran around entertaining the guests alongside Mickey and Minnie Mouse characters, but it was the bride's wedding dress that stole the show.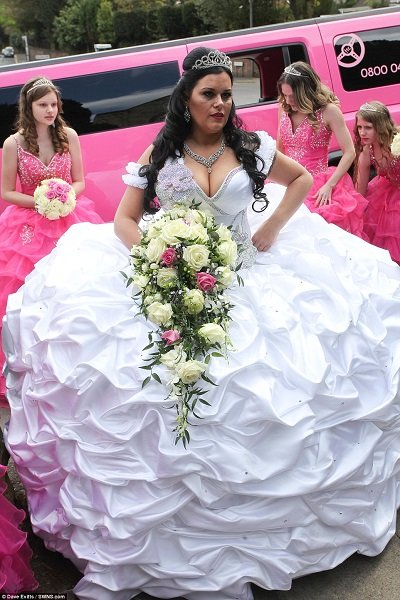 Weighing in a ten stone, the dress featured acres of fabric, eight metal hoops and was studded with Swarovski crystals. The ball gown had floral Swarovski crystal motifs on the chest and waist area and was accessorised with a sparkly tiara, drop earrings and matching necklace.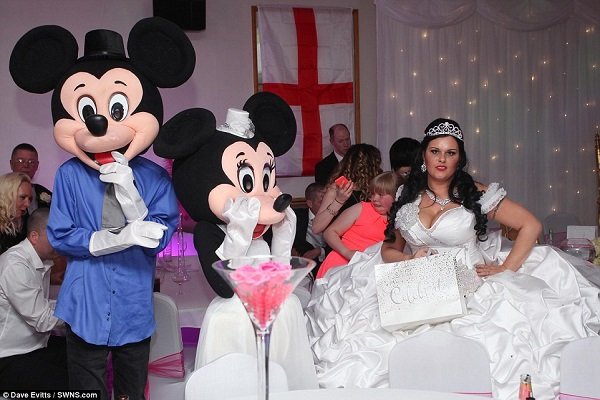 With the help of her bridemaids who wore Swarovski embellished pink, tulle ruffle dresses, it took Rebekah 20 minutes to put her dress on. The bride arrived at the wedding in a bright pink Hummer limo an hour late, she told the Daily Mail:
I made sure everything about our big fat Gypsy wedding wedding was big and my dress weighs 10 stone.

I designed it myself with the help of a Gypsy wedding dress maker and it is covered in Swarovski diamonds with eight big hoops including one which is made out of metal. It cuts into my waist and took 20 minutes to put on but it was definitely worth it.

We hired a dwarf to run around the tables to the Benny Hill music because I thought people wouldn't expect that."