This bold colour palette was last popular in the 70s, is making a major comeback.
Wedding planning just got a whole lot easier! Whether you choose spicy, autumnal vibes or more zesty pops of colour your personality will shine through with the help of some of our fabulous wedding ideas.
Orange is a great colour theme to run with, as it's flattering when paired with a wide selection of textures. From watercolour stationery to vintage velvet details, check out some of our favourite colourful ideas.
Dramatic Table Decor
The decorations you choose for your wedding venue have the power to set the tone for your entire wedding.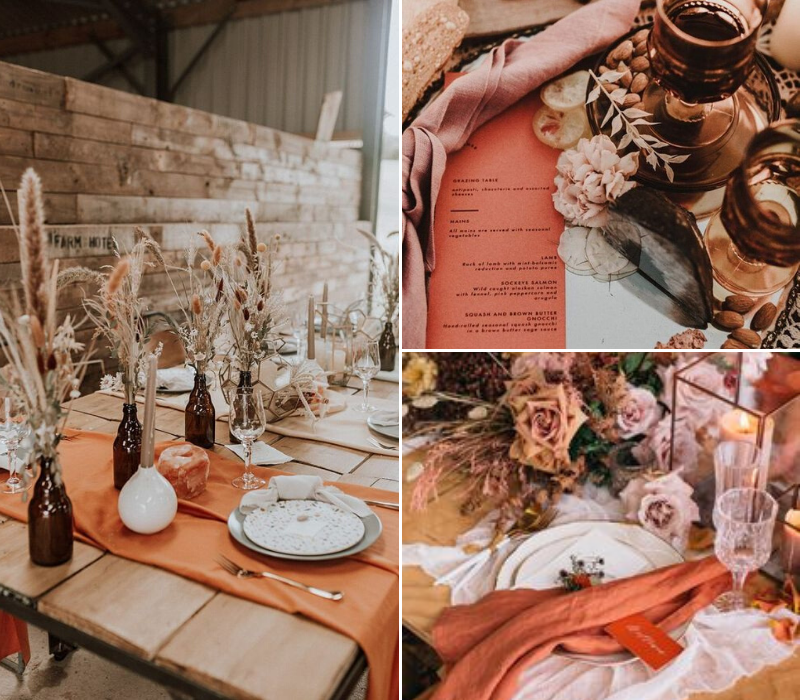 Where do your guests spent a significant part of the day…at their table. Linens, coloured glassware, plates, cutlery, candles and centrepieces all create the ultimate tablescape. Mix different heights, textures and shades of burnt orange across the table. The options here are endless.
Firey Bridemaids
When it comes to choosing a bridesmaid dress design, bold and bright tones, and even floral prints are customary for spring and summer weddings.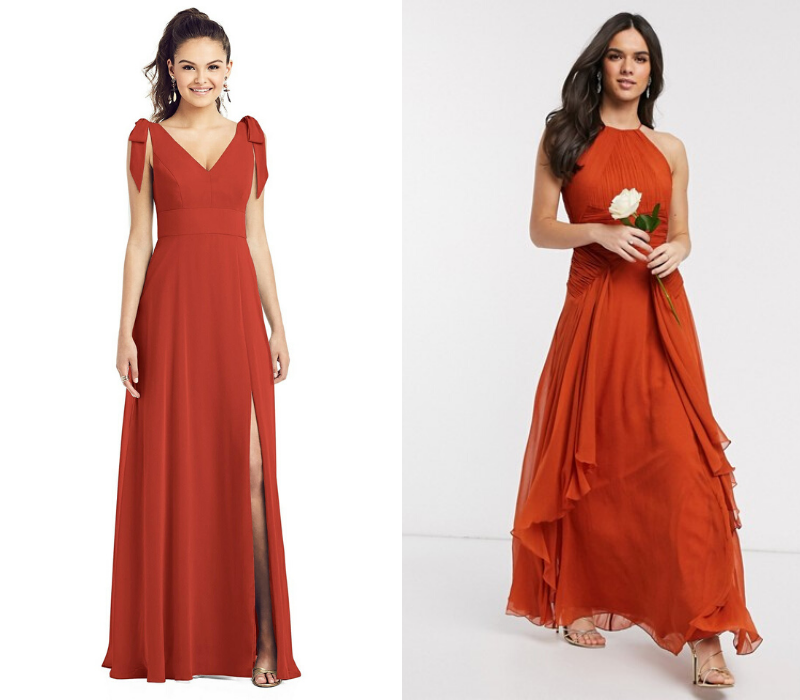 We're seriously crushing on this look for bridesmaids this season. It's playful and fun, at the same time still feminine and formal.
Bold Bouquets
We've found traditional bouquets in bold palettes and in unstructured form. Mixing textures and shapes within the bouquets is a huge trend recently, so it's time to go big or go home.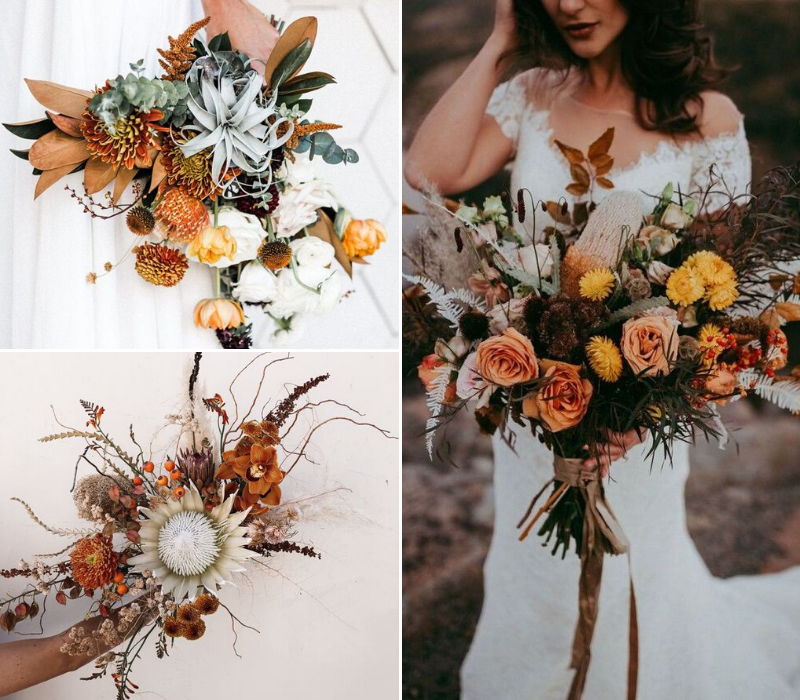 We are head over heels in love with the mesmerising apricot, coral and burnt orange florals.
Creative Backdrops
Designing a funky ceremony backdrop will instantly give your guests the WOW factor. You can mix these up using florals, wood, pampas, brick, balloons, fringe, anything your heart desires.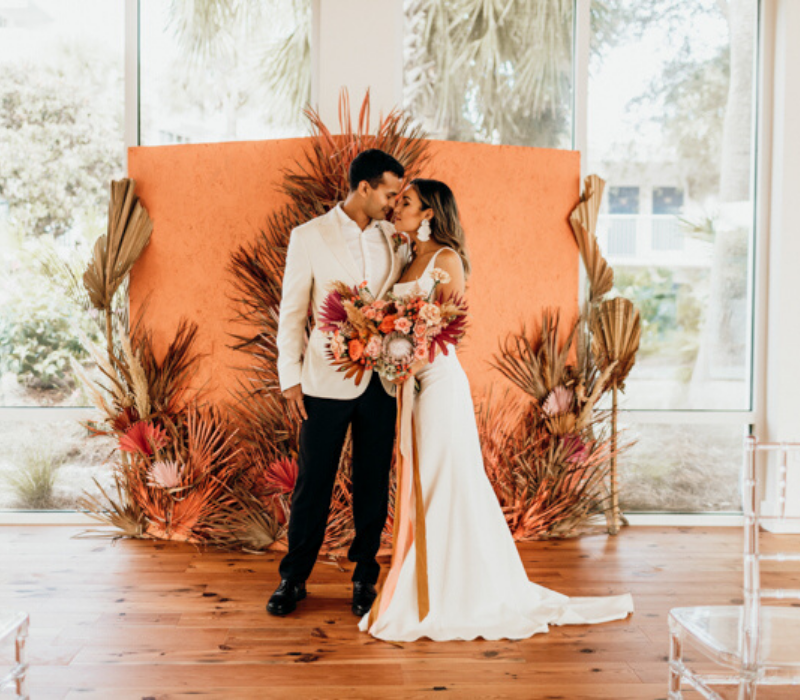 You can re-use your ceremony backdrop as a cool photobooth backdrop during your reception. Your guests will love taking selfies and posing in front of it, especially if it looks this cool – waste not, want not!
Colourful Cakes
You don't have to look too far to find a stylish and scrumptious wedding cake, we've been drooling over these gorgeous designs.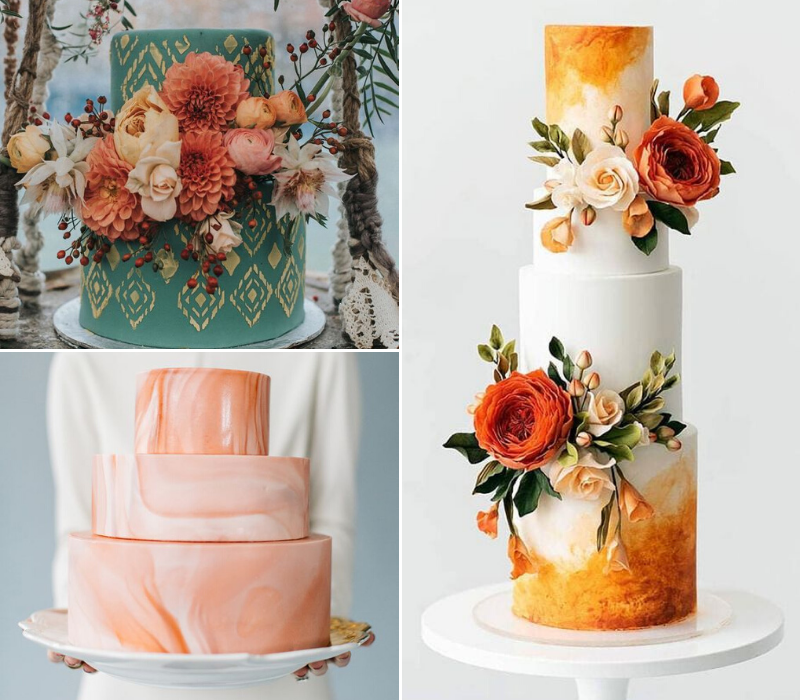 Don't forget fresh foliage and seasonal berried are another way to customise and add texture to your decor.
Signature Cocktails
Another popular hot-spot for guests to mingle would be beside the bar of course, so what better way to express your love for orange with some zesty signature mixes. You'll have them dancing all night long with just a few of these flavours.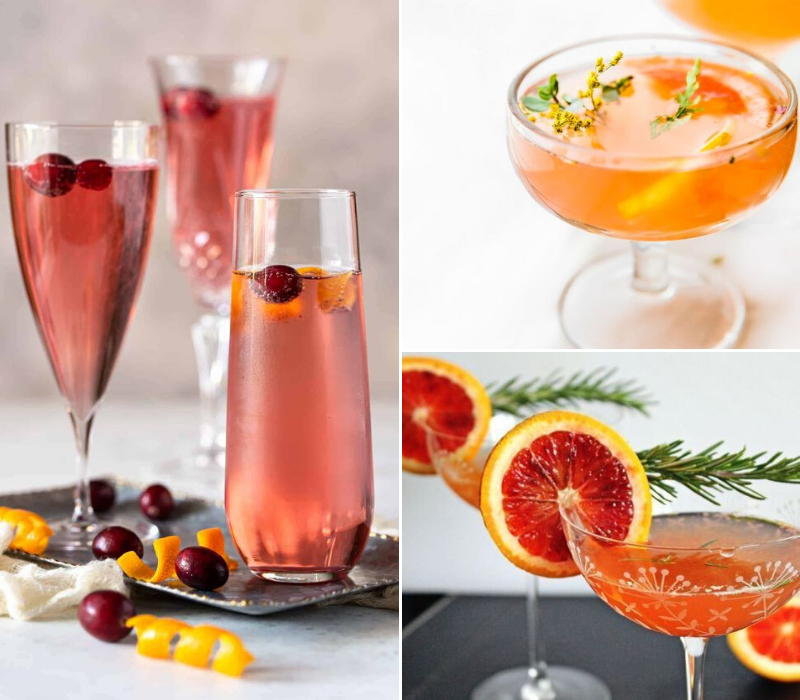 It's always nice to incorporate your two favourite drinks into your bar menu, then making one ultimate cocktail that can represent your marriage. Naming your signature drinks can also be a fun activity, we find the funnier the better!
Sunset Save the Dates
Stationery and wedding invitations are typically sent between 6-8 weeks before the big day, so this will be your guests first impression on you theme.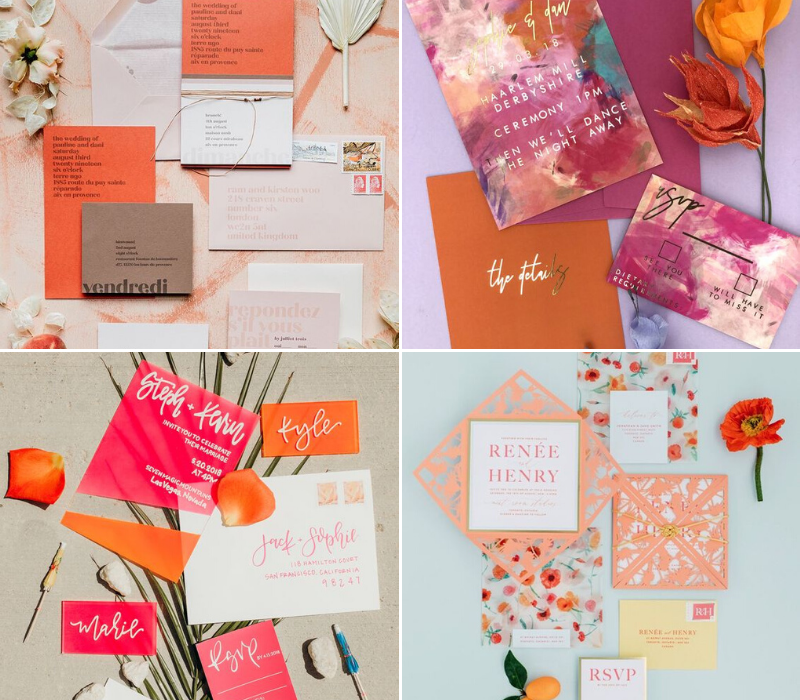 Creative couples can go wild for bold palettes, colourful graphics and vibrant textures. Meanwhile watercolour and pastels tones might work best for the more introverted couple, we love both options!
Smoke Bombs
Create unforgettable wedding photographs while putting on a show for your wedding guests with these fabulous smoke bombs.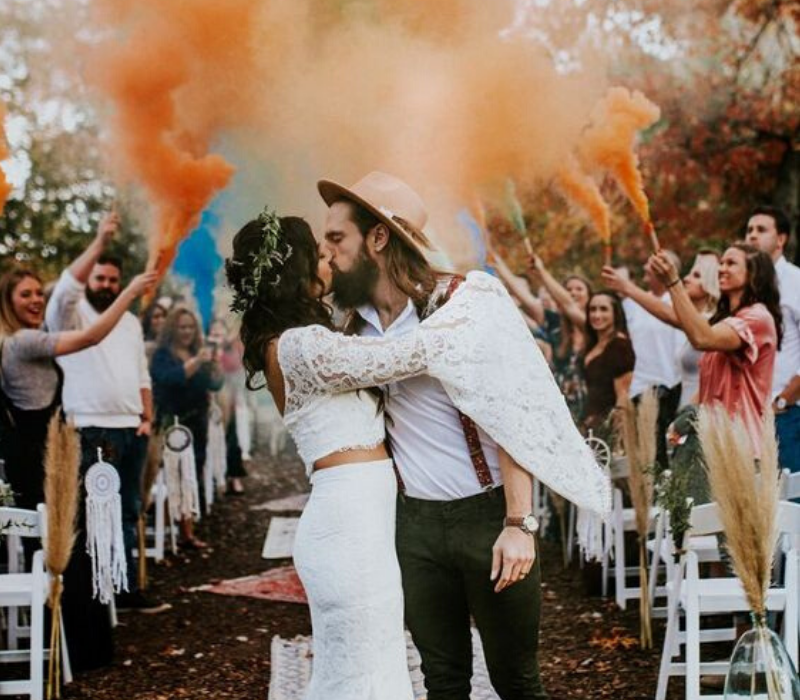 This bright pop of colour can be subtly held behind your backs, just be careful not to get any of it on your wedding dress!
There are so many fun and creative ways you can explore and experiment with colour on your wedding day.
___________________________________________________________________
Set Featured Image Credit – The Parks Gown from Chosen by One Day's Clair de Lune Collection