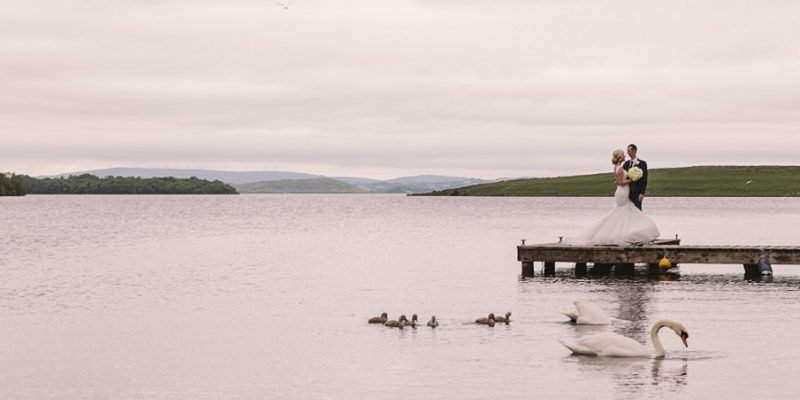 Celebrating 11 Years Of Love With A Lakeside Ceremony
~ Real Life Wedding
Michelle & Kai tied the knot 16th June 2017 with a ceremony and reception at Lusty Beg island in Fermanagh.
Photography by Mark Barnes Photography 
The Couple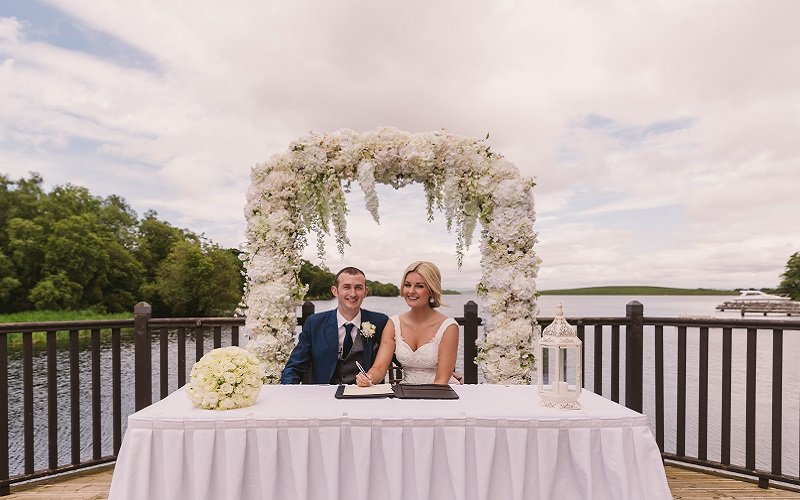 Michelle and Kai met at high school and were in the same group of friends growing up. The got together on Easter Sunday 2005 and have been inseparable ever since!
The Proposal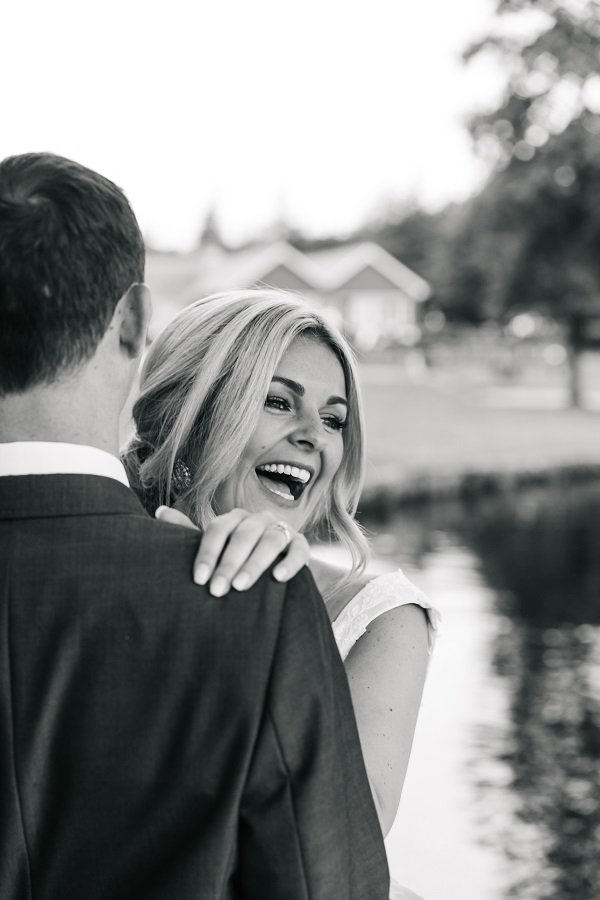 Kai proposed on Christmas Day 2017 which was the couple's first Christmas in their home together. "Kai had hidden the ring in my stocking," remember Michelle fondly. "Despite being together for ten years I really wasn't expecting it!"
Venue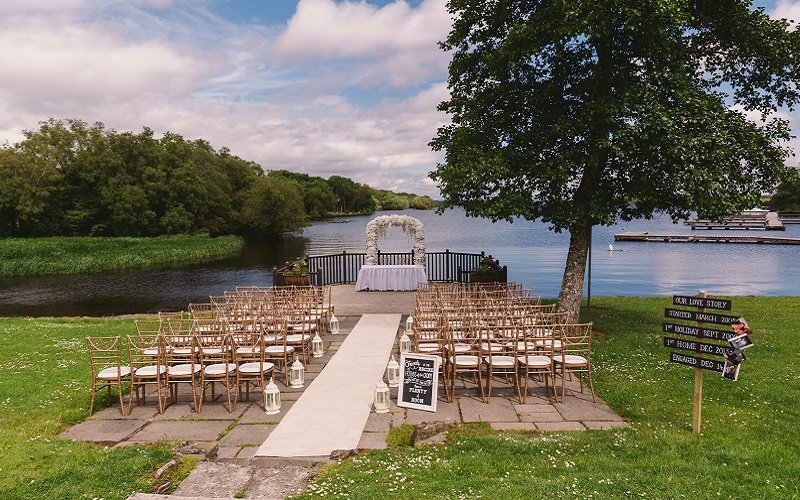 The couple chose Lusty Beg as their wedding venue. "We couldn't stop looking at Lusty Beg online," says Michelle. "We provisionally booked it at the Wedding Journal Show and went down the following weekend to view it in person. We both totally fell in love with the island."
Photography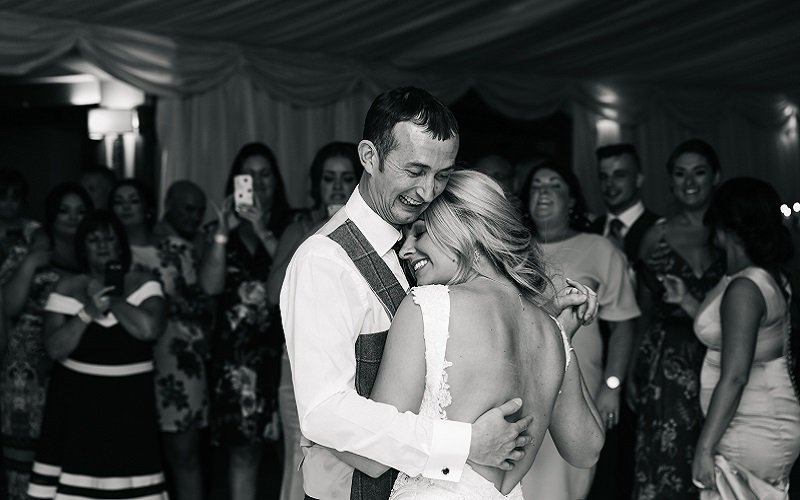 Michelle and Kai opted for Mark Barnes Photography to capture their big day. "I have known Mark since Primary School and have always loved his work," says Michelle. "I knew whenever Kai and I decided to get married we would use Mark! We are over the moon with our pictures and his packages are fantastic – I would recommend him to anyone."
Wedding Planner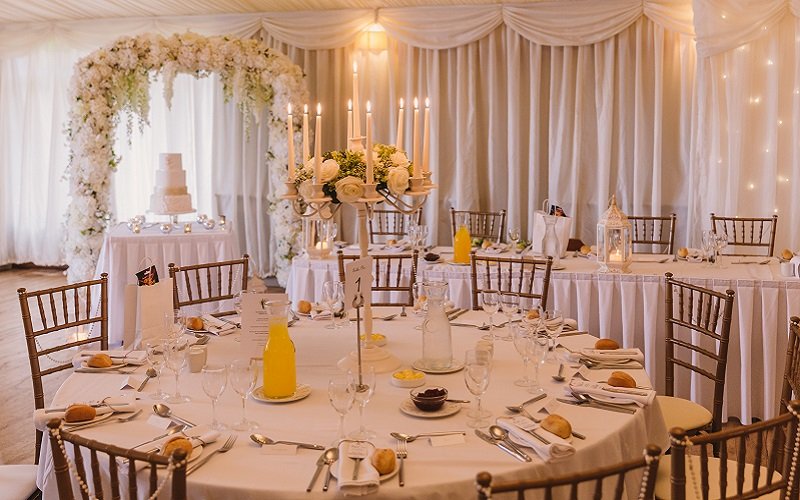 "I took care of everything myself, I am a bit of a control freak and love to plan parties! I really enjoyed the whole planning and styling aspect. For decoration I used McGarry Flowers, Swift Event Services and Lusty Beg provided the drapes and chiavari chairs as part of our package. We also made some outdoor signs ourselves.
Wedding Dress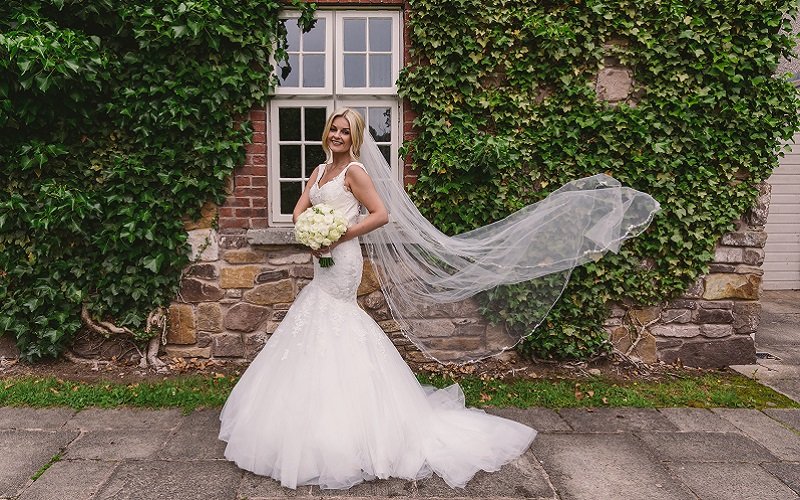 Michelle looked stunning on her wedding day in a white mermaid gown with lace detail and delicate straps. "My dress was Anrietta by Oskana Mukha, from Forever Bridal, Lisburn Road, Belfast.  The dress I tried on in the shop had a mesh covered illusion back and neckline but I had this removed as my dream dress was backless. I had drawn my dream dress before I had gone shopping and whenever I look back now it is just like my drawing; backless, mermaid style with lots of embroidery, diamantes, and beading – it was beautiful! " The bride paired her gorgeous wedding dress with Romy shoes from Jimmy Choo which were personalised with the couple's wedding date.
Groomswear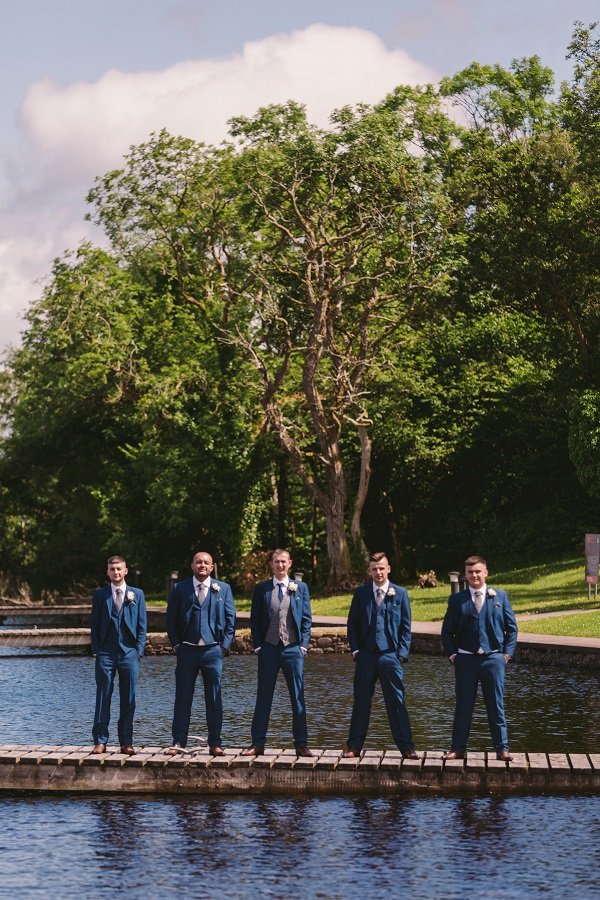 The groom and groomsmen wore suits from Focus Menswear in Bangor, County Down. "We had visited a few shops but the quality of the suits in Focus were the best by far," says Michelle. "All the groomsmen wore the same style of suit, but Kai and our pageboy had a grey tweed waistcoat with navy tie, whereas the groomsmen had a navy waistcoat and a tweed tie.  All of the mens' shoes were Ted Baker from Office."
The Bridesmaids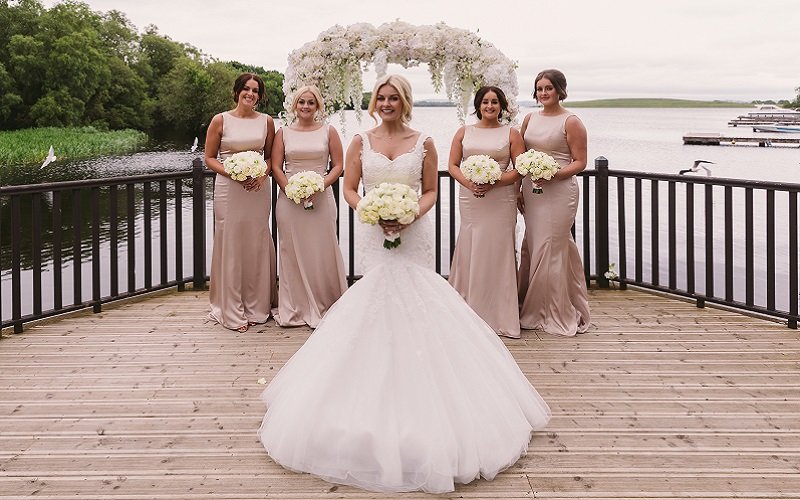 Michelle opted to have her bridesmaids' dresses made by Lynne Gregg as she couldn't find exactly what she was looking for anywhere. "I bought the fabric from Craftswoman Fabrics in Carrickfergus, and designed the dress in my head which Lynne was able to bring to life.  Lynne is amazing at her job and I could not have been any happier with the dresses, they looked amazing on the day and everyone has been asking where I bought them.  Lynne was also able to do the alterations on my dress, Mother of the Bride outfit and Flower Girl dress too."
Wedding Flowers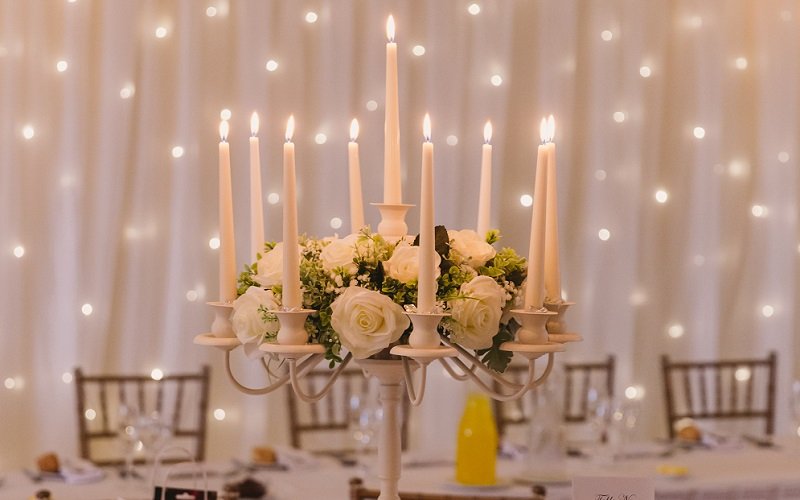 All the flowers including the breath-taking floral arch were by McGarry Flowers in Fermanagh. "I had originally booked them for just bouquets, says Michelle. "But after seeing what else they could do, I just had to have it!"
Table Plan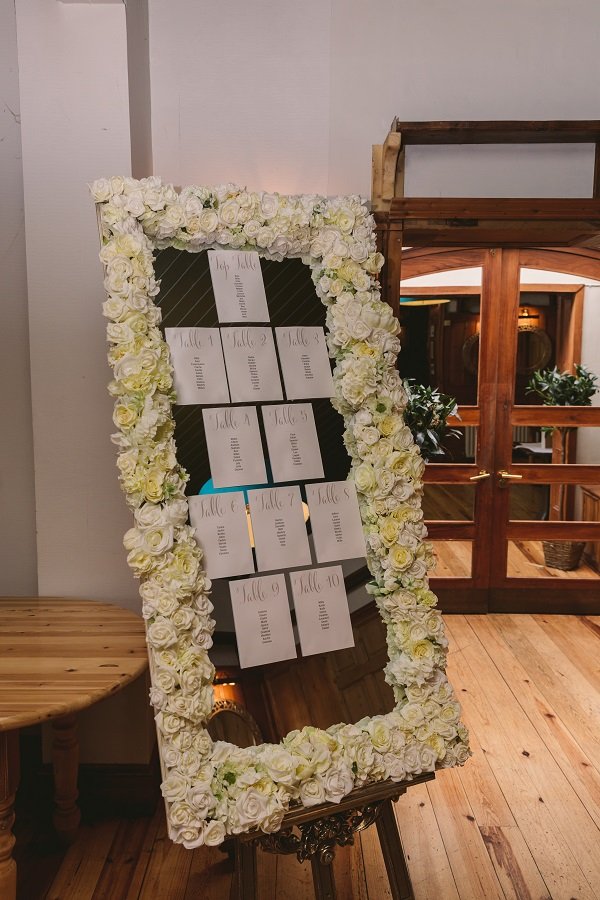 The rose arch, mirrored table plan was also by McGarry Flowers.
Stationery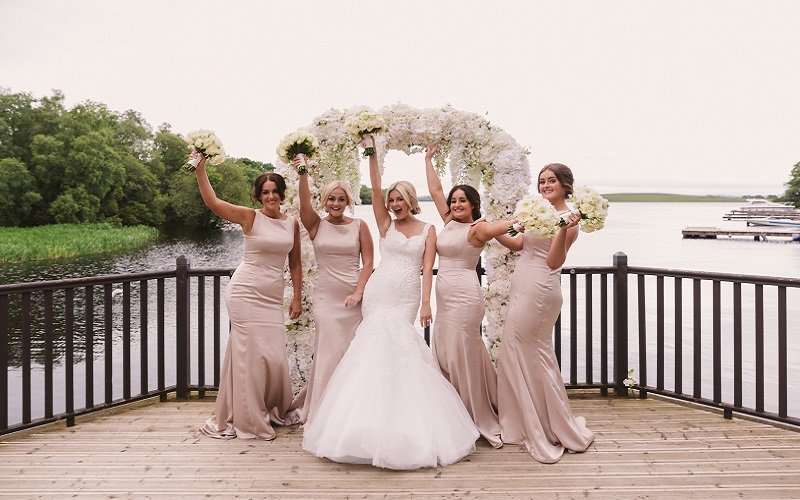 "Our invites, RSVPs, table name cards and table plan cards were all printed by Kaizen Print, Lisburn Road, Belfast.  Again, I had an image of how I wanted my invites to look, and Kaizen Print made this happen.  I had priced a few stationary suppliers and thought I would cut out the middle man and go straight to the printer which saved me a few hundred pounds!"
Mother of the Bride/Groom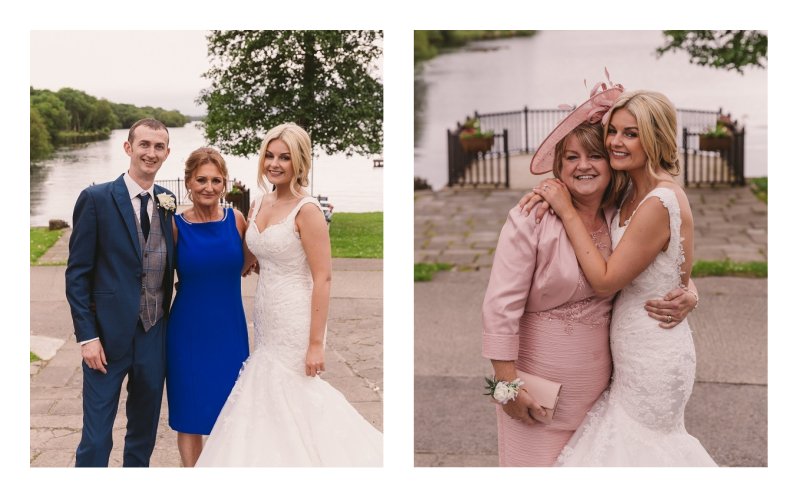 Both the mother of the bride and mother of the groom purchased their outfits from Jourdan, Lisburn Road, Belfast.
Wedding Cake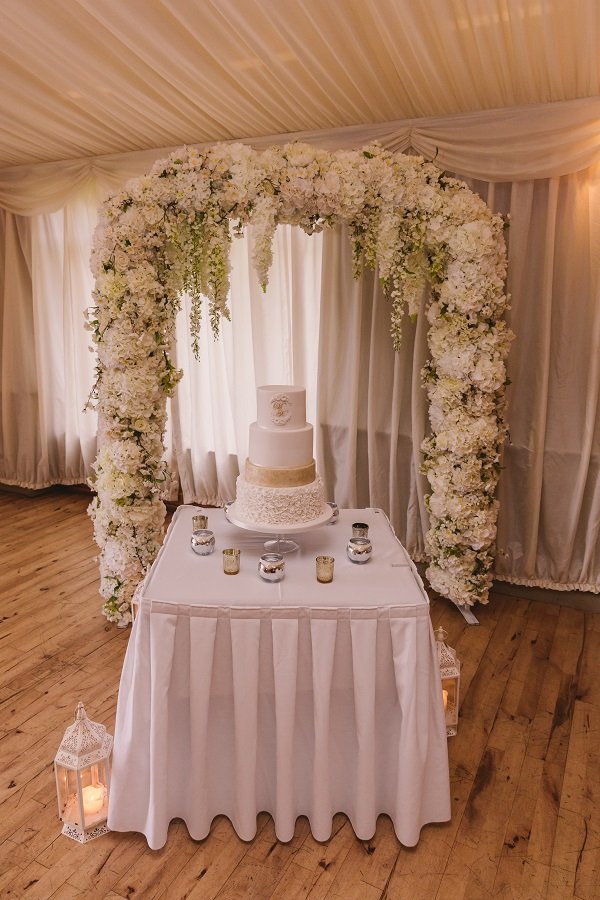 Michelle and Kai opted for an elegant design from Truly Scrumptious, Omagh. "We had three flavours – lemon, vanilla and strawberry & cream. The cake looked amazing and tasted even better.  We also ordered personalised cake boxes from eBay so our guests were able to bring the cake home with them."
Favourite Moment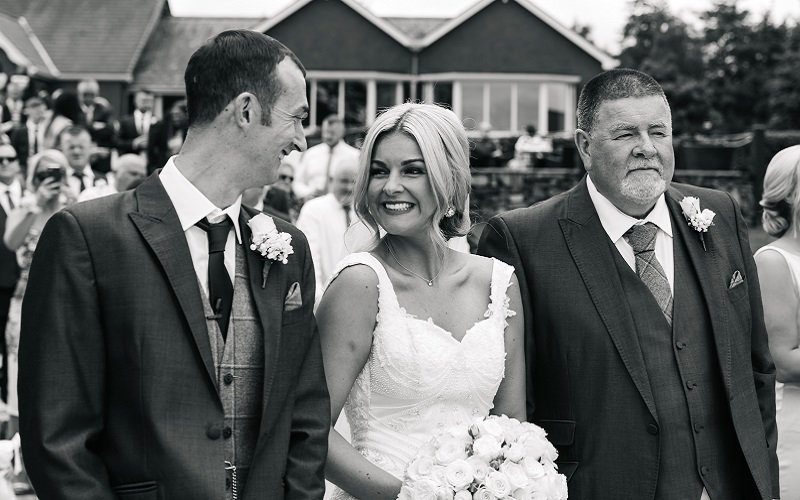 Groom: "Our first dance. We had our DJ (Ed Heaney) take 45 seconds of 'Ed Sheeran – Perfect' and 'JX – There's Nothing I Won't Do' and mix them. Our bridesmaids and groomsmen knew to join us on the dance floor as soon as they heard Nothing I Won't Do, and most of the guests ended up joining in as well – it was amazing!  And also seeing Michelle coming down the aisle."
Bride: "Standing with my Dad, watching my nephews walk my mum down the aisle and also watching my bridesmaids go down the aisle – all of our guests cheered and whistled as each of us walked down, the atmosphere was amazing and so exciting!  Oh, and seeing Kai at top of the aisle."
Top Tip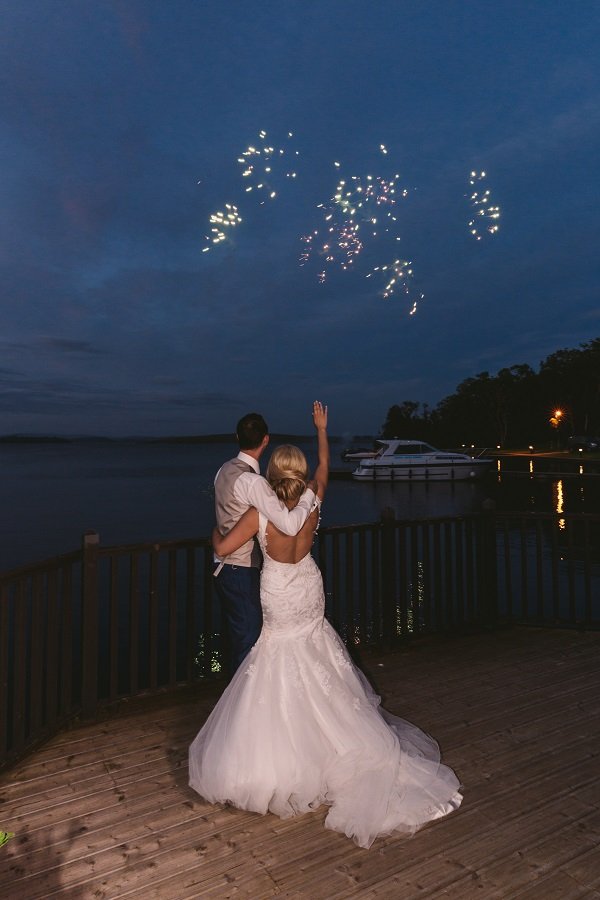 Groom: "Plan the wedding to how you want it, not to suit others."
Bride: "Don't think twice about a wedding videographer – we were both unsure as to whether we wanted one, and it was the best decision ever! Half of the day is a blur to us and it passes by so quickly so to have a video to watch over and over again is class."
Finding the right venue is one of the biggest decisions you'll make for your wedding. But don't worry! The brand-new Wedding Journal Directory of full of the very best Wedding Venues in Co. Mayo.