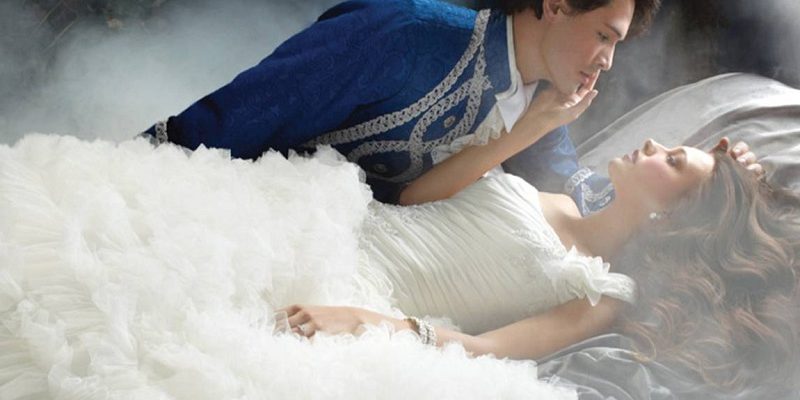 Disney Princess Bridal Gowns
If you've ever dreamed of being a princess on your big day then you'll love our guide to Disney Princess bridal gowns…

Yes, it's embarrassing, given that we're all adults here, but we may as well admit it. We have a bit of a thing for Disney, yes, we used to make our brothers sing A Whole New World with us. Yes, we pretended to be Ariel in the bath and yes, we stared longingly by the window for hours waiting for our own Prince Charming to ride by on a horse, plonk a glass slipper on our foot and make us his wife. Sigh.
But then again, we're pretty sure that most women, and some men, have done all that too. I mean, who hasn't AT LEAST practiced waltzing in their mum's heels around the hall singing Tale as old as Time… (Seriously, just us?)
No matter how fanatical you are about Disney, there's no denying that every bride wants to be a princess on her big day, and what better way to do so than with a fairy tale wedding gown from Disney Bridal designed by Alfred Angelo.
So which one are you?
Cinderella
Cinders shall go to the ball in one of these extravagant ball gown wedding dresses. Featuring form-fitting embellished bodices, these are sure to make an impact. And they won't turn into rags come midnight!
Ariel – The Little Mermaid
Only a mermaid style wedding dress would be fitting for this underwater princess. Cascading ruffles and waves of sequins add a real splash of drama.
Belle – Beauty and the Beast
These grand layered  wedding dresses are all about the warm romance that Belle exudes. Draped satin, lashings of tulle and endless organza make these gowns sway beautifully on the dance floor.
Snow White
These soft and gentle wedding dresses are perfect for a bride as kind and sweet as Snow White. The embroidered  flowers and apple motifs create an enchanting woodland theme. Best of all, they're not poisonous…but still don't go eating them.
Sleeping Beauty
With taffeta galore, these effervescent, heavenly wedding dresses capture the dreaminess and femininity of Sleeping Beauty. Just don't slip into a coma-like snooze when the party's over. Your hubby won't be best pleased.
Jasmine
These exotic wedding dresses are as decadent and luxurious as Jasmine herself with rich embellishment and dazzling jewels encrusted on the bodice. Your Aladdin will feel like his three wishes have been granted at once.
Rapunzel
Long draping that twirls around the skirt of these bridal gowns easily mimics the winding lengths of Rapunzel's braids. However, we think ten foot of hair might not be the best look for the big day.
 Tiana – The Princess and the Frog
With ruffles that come out of nowhere, these wedding dresses  have that exciting and lively jazz edge that Tiana is best loved for. You'll immediately start channeling her fun and vibrant character. It's really not necessary to go kissing any frogs though.
Featured Image- Alfred Angelo