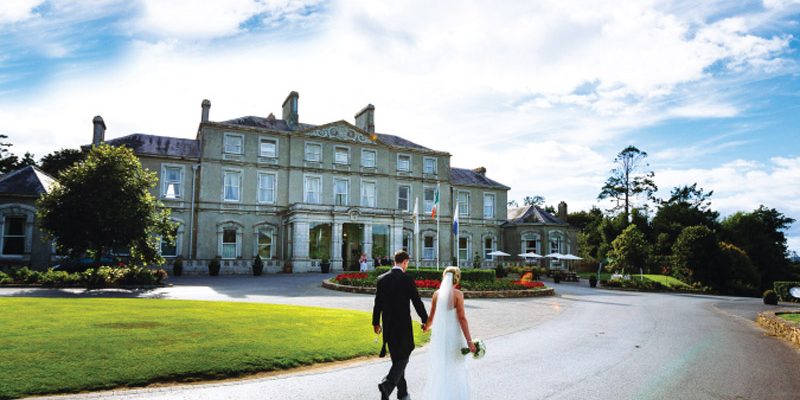 Fairytale Venues
A selection of Fairytale Venues in North & South of Ireland – highlighting some of the most enchanting places to get married.
The K Club
There is only one venue in Ireland that can create your perfect wedding weekend, The K Club. Picture yourself strolling along the River Liffey, taking enchanting photographs on our private island where wild flowers bloom at your feet as your guests sip
champagne on our terrace overlooking our private gardens. The K Club has truly mastered the art of magical fairytale
wedding days.
The K Club, Straffan, Co. Kildare Tel: (01) 601 7200 Email: weddings@kclub.ie Web: www.kclub.ie
Actons Hote
We put the Do in I Do. Actons of Kinsale is situated in heart of the colourful historic harbour town of Kinsale also referred to as the Gourmet Capital of Ireland. Our newly refurbished Ballroom is beautifully decorated, giving you a tasteful and luxurious backdrop for your wedding. Our accredited wedding planner, Mary, has helped over 600 couples to plan their wedding day… each day tailored to suit the couples own unique taste & style.
To book a consultation and to start the planning of your perfect wedding day, call Mary Kirby O'Donovan 021 477 9900 email mkodonovan@actonshotelkinsale.com web www.actonshotelweddings.com
Station House
Set in the heart of the Boyne Valley overlooking beautiful manicured gardens and trimmed woodlands, the Station House
Hotel is ideal for an outdoor or indoor wedding. The original turntable nestled in our manicured gardens transforms into a magical setting for your ceremony. Steeped in history with lots of original and quirky features, excellent food and friendly staff all make this the fairy tale venue for you.
Web: www.stationhousehotel.ie Email: weddings@stationhousehotel.ie Phone: 046 9025239
Ard Ri Hotel
The Ard Rí House Hotel is one of the most unique and finest locations in East Galway and a perfect setting for your Day of all
Days. Our team's expertise will ensure you will have only the happiest of memories to cherish and our magnificent wedding
packages are competitively priced with every detail considered. Our Main Ballroom the Turlough Mór Suite, can host
up to 350 guests, but for a more personal ceremony, the Kilcloghans Suite is the perfect choice.
Ard Rí House Hotel, Milltown Road (N17), Tuam, Co. Galway Tel: 00353 93 40100
Web: www.ardrihousehotel.ie Email: info@ardrihousehotel.ie
Faithlegg
8km from Waterford City, Faithlegg is a beautiful 17th century Georgian House decorated with sumptuous antique furnishings, open fireplaces and period paintings. Your fairytale begins from the moment you enter the estate for your dream wedding day. The Minaun Room is designed around a glass conservatory with views over the gardens, a private bar and personal terrace.
For a Faithlegg Fairytale from €60 per guest call Suzie on 051 380 582 or email events@fhh.ie
Clandeboye Courtyard
Set in the heart of Co.Down, Clandeboye Estate is one of the most beautiful private country estates in Ireland and a stunning
location for weddings and special events. Situated within easy reach of Belfast and the City Airport. From the moment you turn into the gates of the Clandeboye Estate and make your way along the winding avenue, you will begin to understand the spell bounding appeal of this historic home.
Contact: Karen Kane | Courtyard Manager Tel: 028 9185 3457 | 07739 447957 Web: www.clandeboye.co.uk | www.facebook.com/clandeboye | www.twitter.com/clandeboye