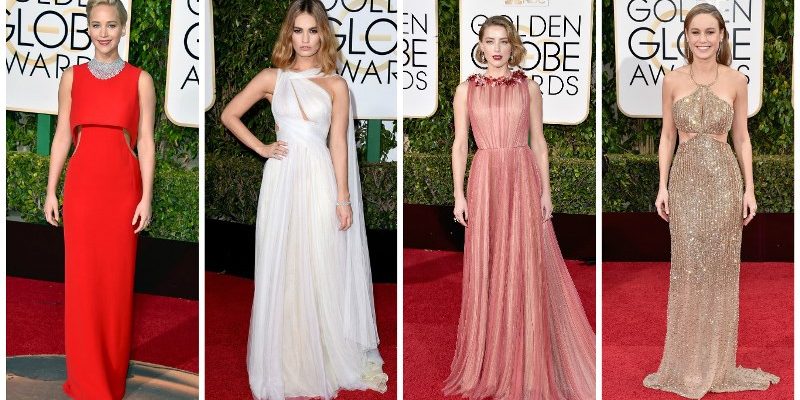 Fashion from the Glittering Golden Globes 2016
Awards season has kicked off, and we have all the latest fashion and beauty bridal inspiration from the Golden Globes 2016 red carpet.
If you weren't dressed in glitter, bridal white or bold colours chances are you were forgotten on the red carpet at the 2016 Golden Globes. Celebrity A-List stars turned out in the droves to attend the first gala event of awards season, and what they wore showcased a series of trends we're positive will be popping up at weddings over the next year.
Most notably an endless array of celebrities turned to the classic white for their drop-dead gorgeous gowns- providing endless fashion inspiration for 2016 brides-to-be looking for their dream dress. Recently-engaged Eva Longoria embellished her figure-hugging gown with a pop of floral colour (perfect for spring), meanwhile Jane Fonda proved that no matter how old you are bridal white can be worn by anyone!
Our favourite all-white look had to come from English starlet Lily James though, who transformed herself into a Grecian Goddess with her asymmetrical, chiffon offering.
Meanwhile other stars turned to dresses which sparkled and shone to mark the beginning of the awards season- think shades of gold, heavy sequins and shimmering fabrics- and for those craving a pop of colour, bold and daring hues were definitely a favourite as well. Jennifer Lawrence wowed the crowd in a bright red number, while Jennifer Lopez made an impact with dramatic yellow.
Finally, sheer panels, sexy cut-outs and high necks all featured heavily, making this carpet one we won't forget in a hurry.
Here's our full round-up of the best dresses and trends on the Golden Globes 2016 red carpet.
Bridal White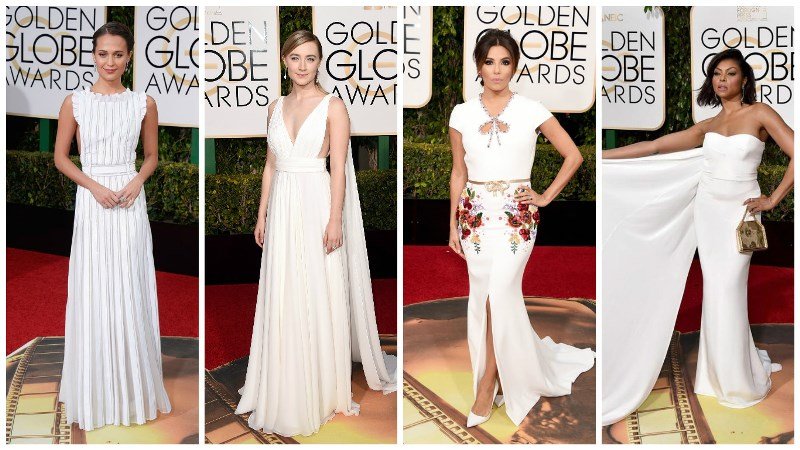 We're over the moon that bridal white took centrestage at this year's Golden Globes! How gorgeous would any of these floor-length gowns look walking down the aisle?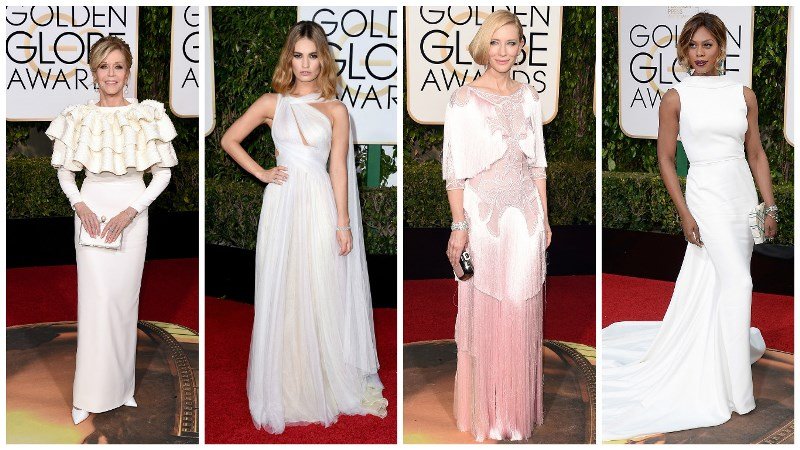 Jane Fonda defied the ages by adding a modern collar to her slinky gown, but Lily James stole our heart and looked flawless while doing it in her choice of dress! Meanwhile Cate Blanchett took a blush-white approach for her beautiful, 20s-inspired Givenchy dress.
Sparkles and Glitter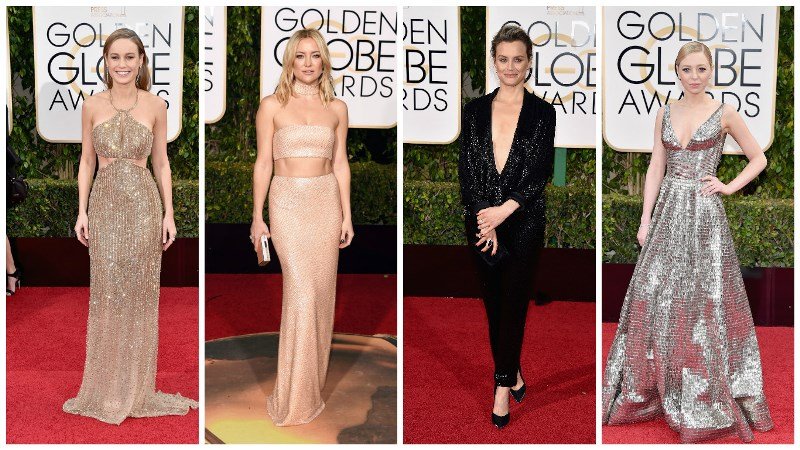 But bridal white wasn't the only colour we saw on the carpet! Plenty of stars used the opportunity to showcase their sparkling finest and they certainly were unmissable on the red carpet. Our favourite- Brie Larson. With cut-outs, a halter-neck and a gorgeous golden hue, we think she was completely on-trend.
Vibrant Colours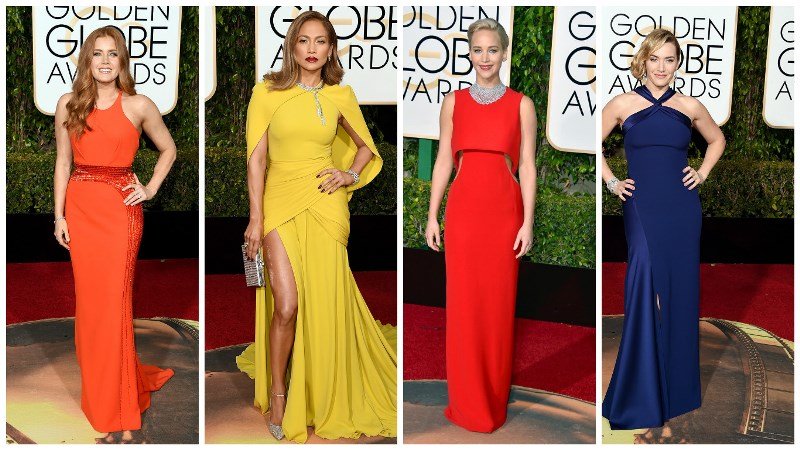 Hues of midnight blue rocked the runway, as well as lemon yellow, neon orange and of course- dramatic red which Hollywood favourite Jennifer Lawrence rocked fabulously.
Look of Love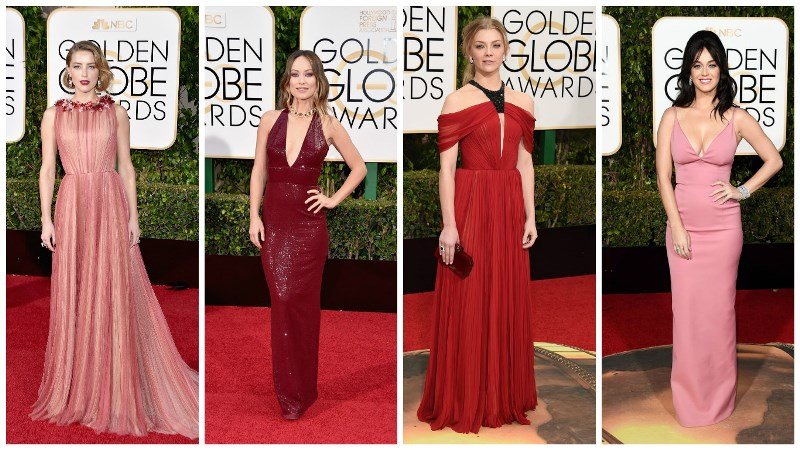 It appeared as thought many starlets had Valentine's Day on the mind when they selected their gowns, as the red carpet was awash with reds, pinks and everything in between. Johnny Depp's missus Amber Heard went for an elegant, floral number, whilst Katy Perry highlighted her cleavage with an unmissable V-neck.
Little Black Dresses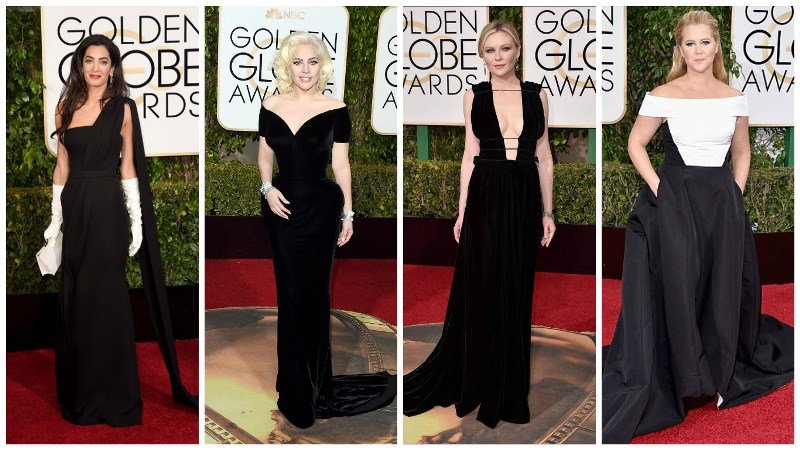 Finally, we have to note the number of Little Black Dresses that made their way to the Golden Globes. Lady Gaga opted for a 50s-style hourglass dress, whilst Kirsten Dunst gave a very impactful display by revealing her cleavage all the way down to her waist.
Finally..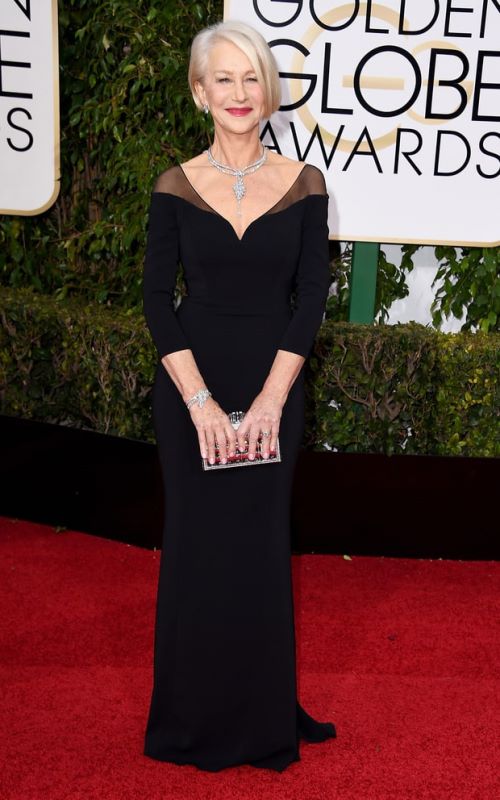 Can we all just take a moment to appreciate Helen Mirren? Not only is Helen is a talented actress with years of service to the industry under her belt, but everytime she rocks a red carpet she does so flawlessly. This simple, black dress is modernised perfectly with sheer shoulder panels and finished off nicely with a bit of necklace bling. Mothers of the Bride take note!