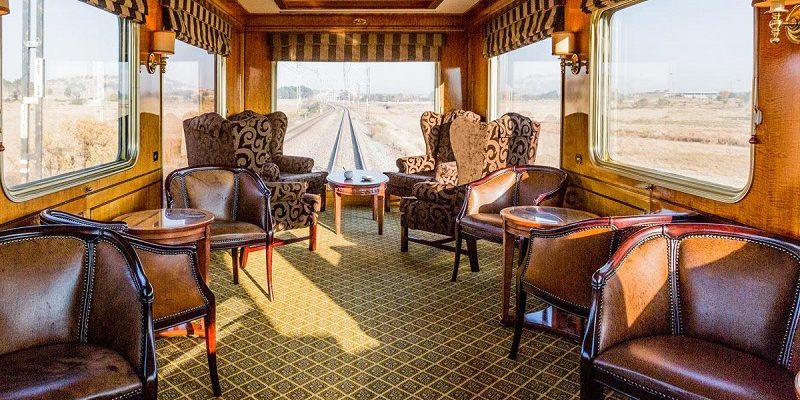 Get Your Honeymoon on Track with South Africa's Blue Train
One of the world's great luxury train rides, South Africa's Blue Train offers couples a honeymoon with a difference…
The Blue Train is a South African institution born out of the steam locomotives that in the 1920s rolled between Johannesburg and Cape Town carrying passengers connecting with ships departing for England. Refurbished and re-launched in 1997, it is now the world's great luxury train ride running between Pretoria and Cape town (or vice versa) taking honeymooner's through some of the most breathtaking countryside to be found anywhere in the world.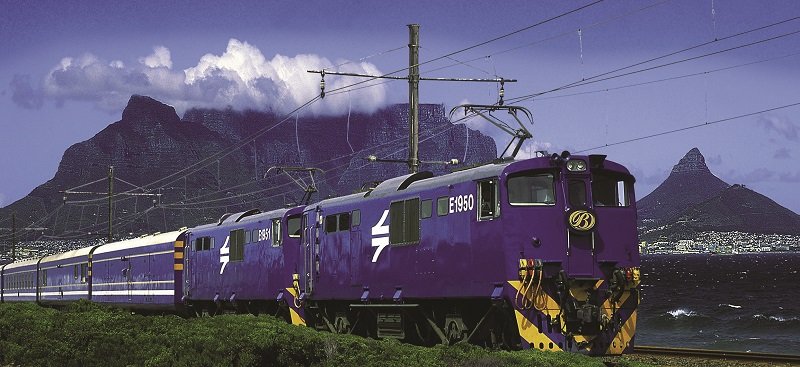 All Aboard
Guests check in at least one hour before departure at The Blue Train lounge in either city.Two luxurious trains make the 27-hour (994 mile) each way journey sleeping up to 82 guests in 41 suites.
Following departure from Pretoria, and after brunch and high tea, the train arrives at Kimberley Station. Guests alight at a quaint station and visit the nearby diamond museum to view the legendary Kimberley hole. Back onboard guests are free to refresh themselves and enjoy pre-dinner drinks.
The dining car provides seating for up to 42 people. Silver cutlery and crystal glassware on crisp white linen set the tone perfectly. Expect two sittings for lunch and dinner.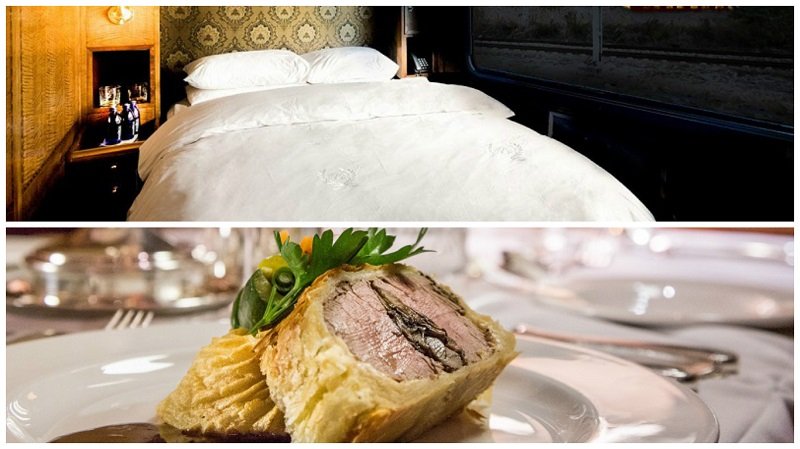 Lunch is a smart-casual affair; dinner is jacket and tie for the men and elegant wear for the ladies, while breakfast is casual and perfectly fresh. Meals are served to a selection of tasteful background music, ranging from smooth jazz to light classical to the mellow tones of the Soweto String Quartet. Each of the trains has two lounges: the main car in which high tea is served each afternoon, and the club car where guests can relax over a glass or two of South Africa's finest wines or spirits before or after service.
Rose Petal's & Sparkling Wine
Each suite has its own marble tiled bathroom with either a shower or bath and gold fittings. The butlers and staff make sure they spoil newlyweds on board with sparkling wine, rose petals and gifts. Beds have been custom-designed for The Blue Train – your butler will pull them out, already made, from a space in the suite wall, converting the lounge into a comfortable bedroom with hi-fi, audio CD, movie channels and even WIFI on the move!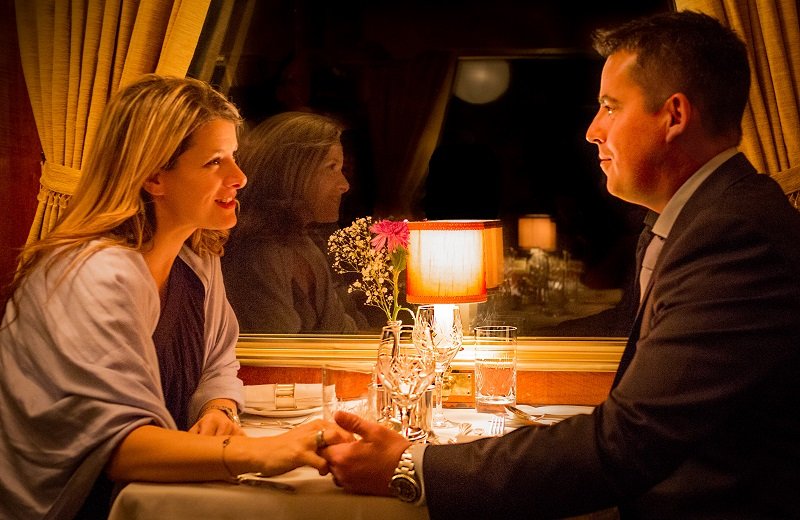 A video camera on the front locomotive gives a driver's eye view of the scenery and is shown on your TV channel in the suite or on a screen in the club lounge. Your romantic hideaway also has a writing desk, ideally positioned next to the window, where you can enjoy the view in style whilst putting pen to paper.
The Blue Train will be heading up to "Big 5″ country this July and August with the launch of its brand new Hoedspruit departures. These new routes will enable some fantastic new 'rail safari' combination packages with the many wildlife reserves and private safari lodges in the Greater Kruger and Sabi Sands area. The Kruger National Park home of Africa's Big Five: Elephant, Lion, Rhino, Leopard and Buffalo and other unique wildlife is in the top three destinations that visitors want to see while on holiday in South Africa.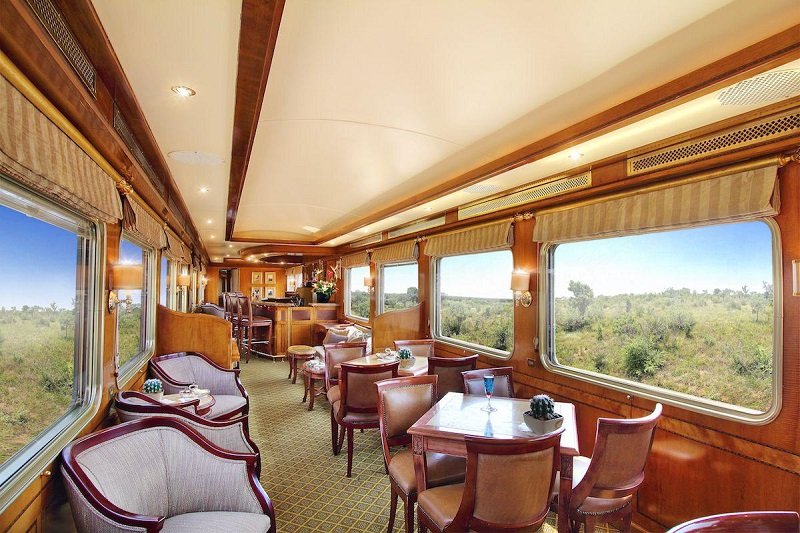 What's included?
Accommodation in twin or double bed with private facilities, breakfast, lunch, afternoon tea, dinner and alcoholic beverages with excursions as stated above.
Transfers to and from local hotels can also be arranged. Rates vary from R17, 010 (approx £820) to 21,179 (apporx £1,000) South African Rand in low to high season based on two people sharing.
For details visit www.bluetrain.co.za
Getting There
Turkish airlines fly daily from Dublin to Johannesburg or Cape Town via Istanbul. Their business class service is by far the most impressive of the Middle Eastern carriers departing Ireland. "Flying Chefs" make you feel like a star with "Turkish Hospitality" above the clouds. For great fares visit www.turkishairlines.com
Author Robert Walshe is a travel broadcaster with Q Radio.