Well what a year it's been – and after yesterday's tough news I think we all need a pick me up.
Look no further, our 2021 spring issue has arrived…YAY! We got so many messages over Christmas from our gorgeous readers when our next issue would be dropping. We wanted to give you something that was super informative, filled with the most up-to-date wedding news, restrictions and guidelines, but also something gorgeous and fun.
So here it is – The Fashion Issue, filled with beautiful gowns and elegant designs from the world's leading fashion designers. We've got bridesmaids, MOBs and groomswear covered too.
We speak to real life newlyweds who share their expert advice on planning a wedding during a pandemic – don't miss that on page 65. If you're just about to start your wedding journey, you'll need to find a venue first. We've got Ireland's most chic fairytale castles and most fabulous honeymoon suites inside.
There's so much to see and do on every page, with interactive videos and PDFs to download. Don't forget to save our FREE digital library directly to your phone, for complete access all our latest issues in our handy APP.
Enjoy a sneak peek through some of my favourite features!
Interactive Bridal Gallery
Take a look at some of our favourite bridal designers to discover which looks suit your signature style. Sit back and enjoy their recent campaign videos, if you spot a dress you love – simply click the link to their stockists page and find your local boutique…it's that easy!
Bridal Fashion For All
No matter your shape or size, your wedding dress should make you feel empowered and beautiful. We've got gowns designed to enhance the fuller figure and embrace those curves!
Finishing Touches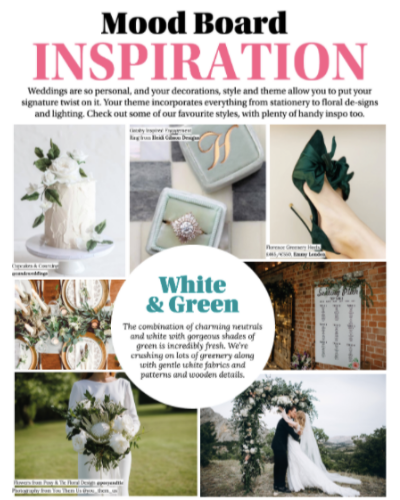 We explore the chicest colour palettes trending for 2021, and how you can style your day with a few of these gorgeous finishing touches
Venue Inspo At Your Fingertips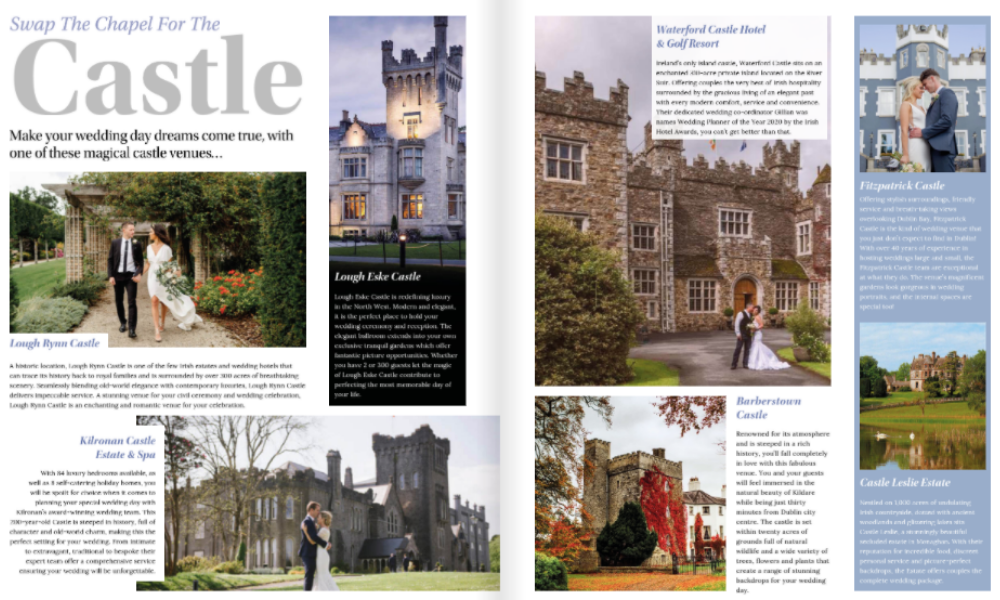 Make your wedding day dreams come true, by choosing one of these incredible Irish castles as your ultimate wedding destination.
Special Interviews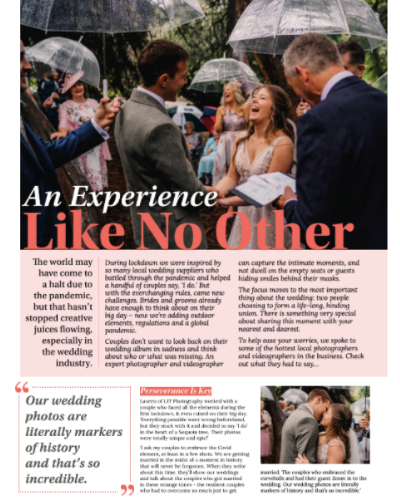 The world may have come to a halt due to the pandemic, but that hasn't stopped creative juices flowing. We spoke to some of Ireland's hottest photographers and videographers to see how they now capture more intimate weddings and elopements.
We hope you love this issue as much as we loved writing it for you.
Happy planning – Emma, Deputy Editor xx