Could you be our next lucky couple? Here's what to expect from our amazing Win A Wedding competition!
We're on the countdown to the Wedding Journal Shows this August and September – and once you buy your ticket, you'll find everything under one roof to plan the wedding of your dreams, including our renowned catwalk shows, wedding inspiration, exclusive offers and VIP treatments.
But one of the biggest highlights is going to be the amazing chance to win a 30K Dream Wedding!
So what's going to happen? When you buy a ticket online or fill in an entry form at the show this August and September, you will be automatically entered for your chance to win this amazing wedding of a lifetime. 
The winner will be announced on Sunday afternoon at the big finale when you could be walking away with the wedding of your dreams.
RELATED TO: Find Your Dream Dress At Our Bridal Catwalk
Full details and suppliers are still a closely guarded secret, but here's what happened at previous Wedding Journal Shows to give you a taste of what's in store…
Last year's Belfast winners, Nicole and Chris, beat thousands of couples to win our Win A Wedding competition, recalling the exhilarating moment on stage when they reached the final, which involved a Mr and Mrs competition.
Nicole says: "I was literally speechless when they said our names. Both of our mums came running to the edge of the stage jumping up and down with their eyes full of tears and when I came back over to Chris, he had started the waterworks too.
"It was totally surreal for us and the shock really took over.'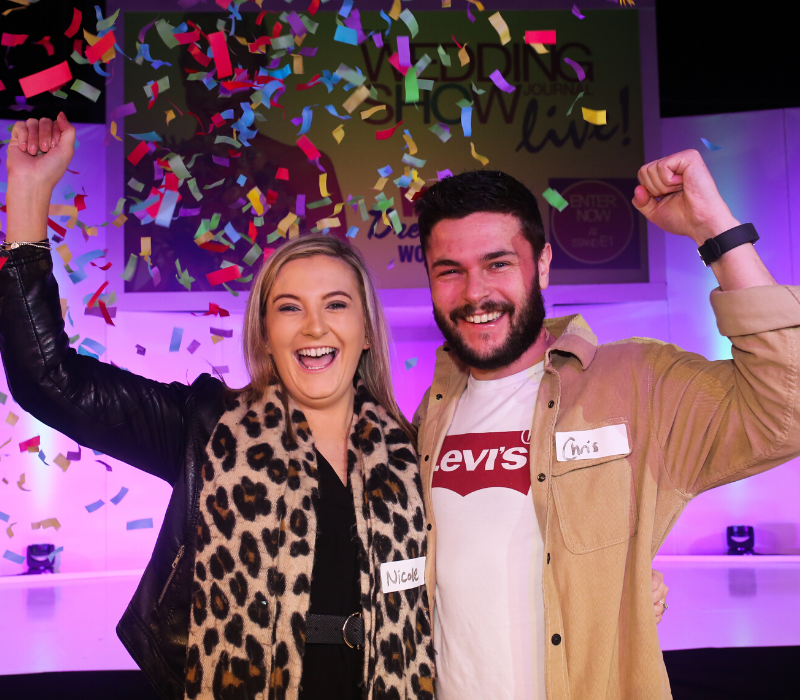 The pair won bridalwear by Tomorrows Bridal, groomswear by Red Groomswear, floral couture by David McConkey, venue styling by Charm Wedding Studio, jewellery by Murray & Co, photography by Paul McGlade Photograph and a seven night stay at the 5* Palms Resort in Zanzibar and business class flights with Ethiopian Airlines.
RELATED TO: Treat Yourself To A VIP Girls Day Out At The Wedding Journal Show
They revealed they had had to put their wedding plans on pause after discovering they were expecting their first baby and it was amazing to be able to put their wedding plans back on track.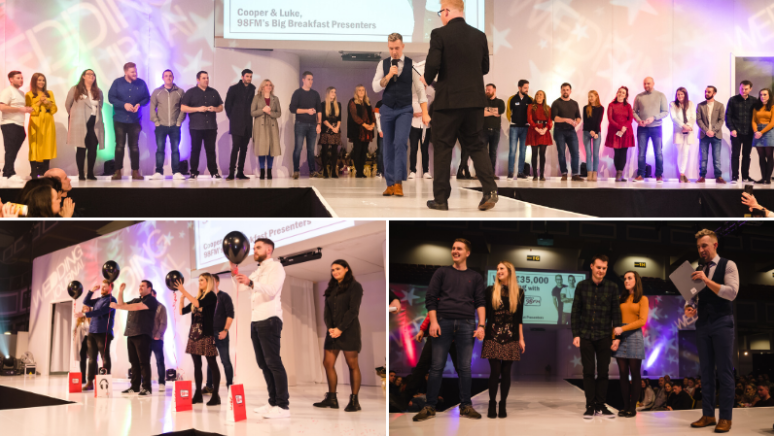 "We will always be so grateful for the opportunity and thankful that we took the leap and entered the competition. It will most certainly be a story for the grandkids of how we went from not even liking each other to where we ended up. It's really been a dream come true," Nicole said.
Meanwhile, Dublin winners Amy and Sean revealed they had just been about to put a deposit on the cake when they decided to wait for the result of the competition – only to find they had won!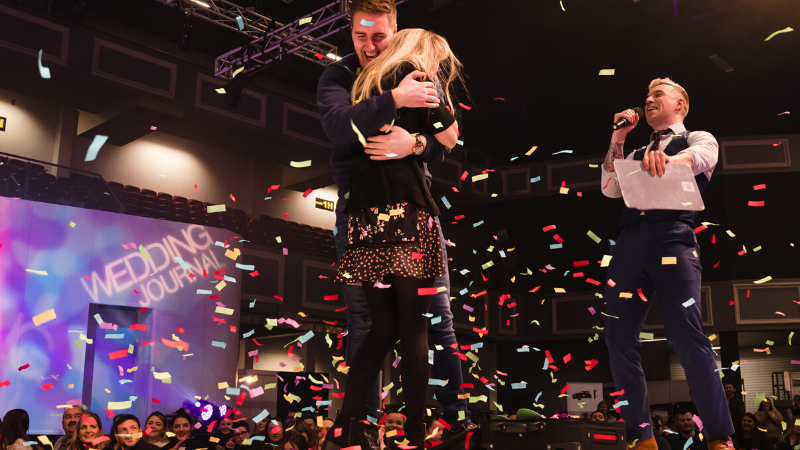 The pair won a honeymoon to Zanzibar, bridalwear from Fiona Todhunter Bridals, groomswear from Best Menswear, photography, videography, hair & make-up from Stephen Mac Productions, Wedding Flowers by Josephine, stationery from Occasions by Sacha, cake from GBC Cakes, and entertainment from Bentley Boys.
"We were in complete shock- I'd say you could see from my reaction in the video. I was absolutely speechless!!" Amy said.
RELATED TO: Ultimate Wedding Checklist: 12 Months To Go
"It just felt so surreal, we never expected to win anything like that in our lives. It's such a life changing prize and we honestly cannot express how over the moon and grateful we are to have won.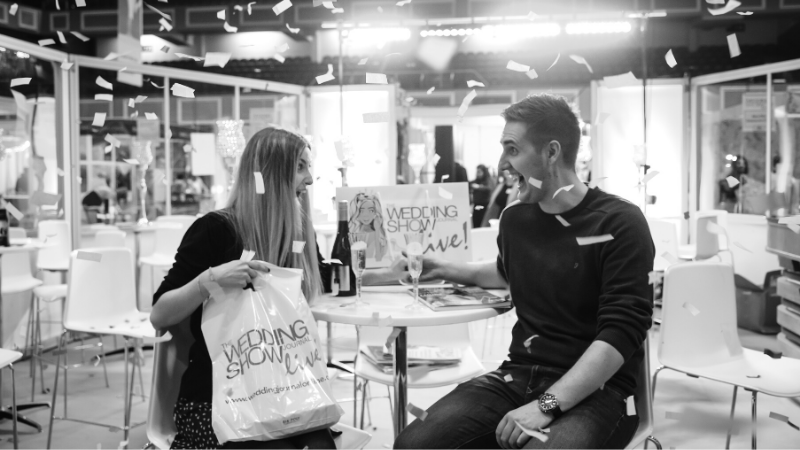 "We are so lucky to have the best of the best of everything for our wedding and it wouldn't have been possible without you all. You've taken so much pressure off our wedding planning, thank you to you all from the bottom of our hearts."
So if you want to win a 30K wedding at the forthcoming Wedding Journal Show – just watch this space for details of what's up for grabs this time and how to enter!
Join us in Dublin (27th & 28th August) and Belfast (24th & 25th September) to find everything you need under one roof to plan the wedding of your dreams.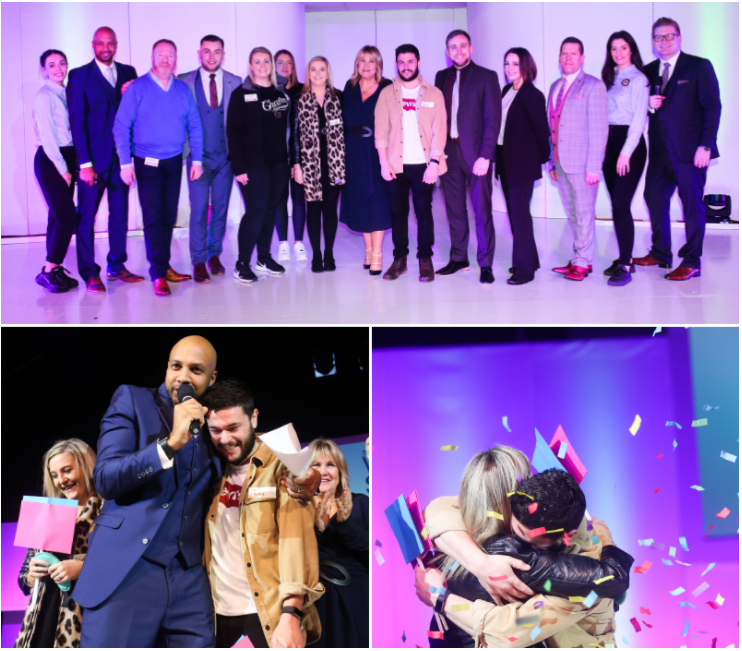 RELATED TO: What To Expect At The Wedding Journal Shows 2022
Looking for the latest inspo and ideas? Tickets for the upcoming Wedding Journal Shows are on sale NOW.