After a whirlwind romance, publishing tycoon Rupert Murdoch and Mick Jagger's former lover have tied the knot in a lascivious two-day celebration in London.
The pair, who went public with their romance back in October 2015, announced their engagement in January and have wasted no time in showing the wedding world how its done with a fabulous two day wedding event taking place in London over the weekend.
Beginning on Friday, Rupert Murdoch and Jerry Hall were spotted at St. Bride's Church on Fleet Street where it was revealed they had officially wed in an intimate civil ceremony. With Rupert dressed in a crisp blue suit and Jerry looking casual in a soft blue coat covering what appeared to be a navy dress, onlookers considered this to be the extent of the pair's wedding plans. But that was definitely not the case!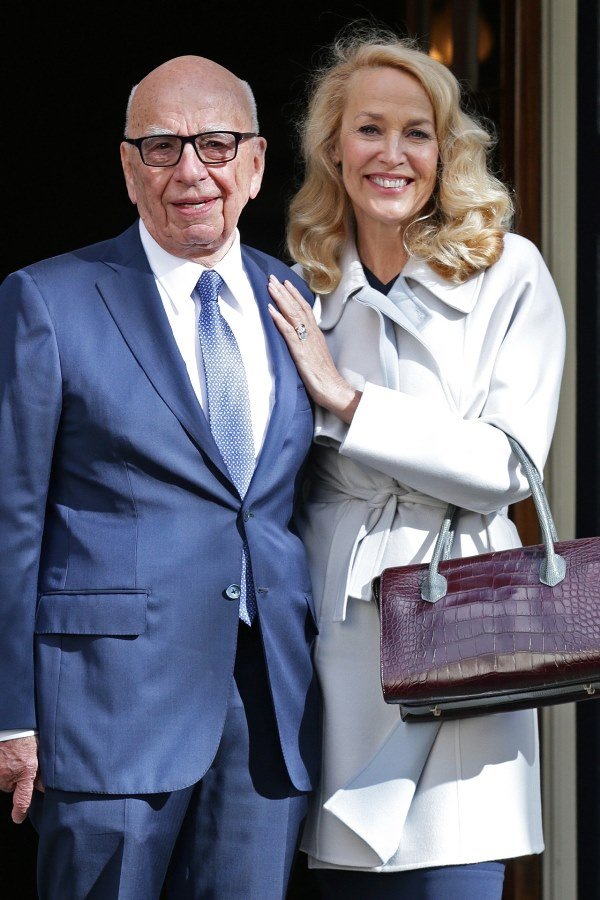 On Saturday morning, the newlyweds returned to the church complete with full wedding regalia, their families, and of course a host of celebrity guests which thrilled the paparazzi. Blue was the colour of the day with Jerry wearing a gorgeous sky blue Vivienne Westwood dress featuring sheer sleeves and a matching headband with a small veil. Her flowers were modest and tied with a white lace ribbon, and she even donned a traditional blue garter, a glimpse of which was given as she arrived at the venue.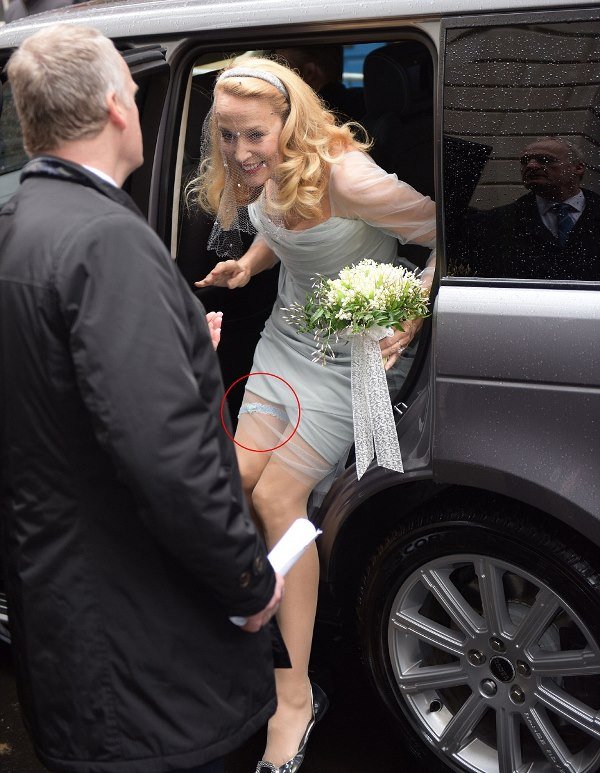 She was swiftly followed by two of her children from her relationship with Mick Jagger, model Georgia May Jagger and Lizzie Jagger. The beautiful girls were also dressed in blue, albeit a slightly darker shade than their mother, and wore their hair in loose waves with minimal makeup. We love their glittering shoes, which Georgia wore with a heel while Lizzie opted for the flat version.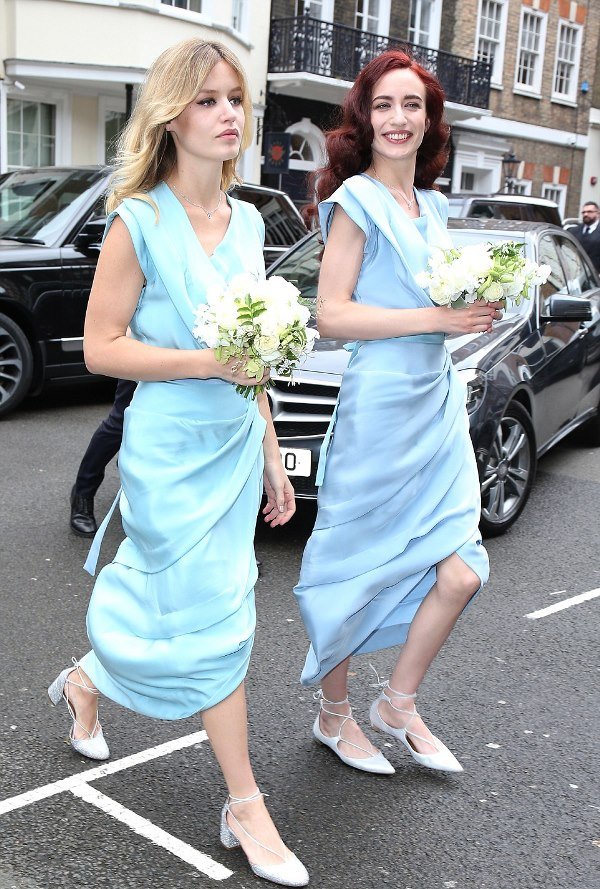 Completing the 'Something Blue' bridal party were Murdoch's daughters from his last marriage to Wendi Deng. Grace and Chloe Murdoch looked picture-perfect in their flower girl dresses which had a Disney-esque quality to them. With fitted bodices and tulle skirts, both girls looked undeniably like Sleeping Beauty and even had quaint flower baskets to complete the look. Pictured below are the girls with Jerry Hall's four children from Mick Jagger- Gabriel, Georgia May, James and Lizzie.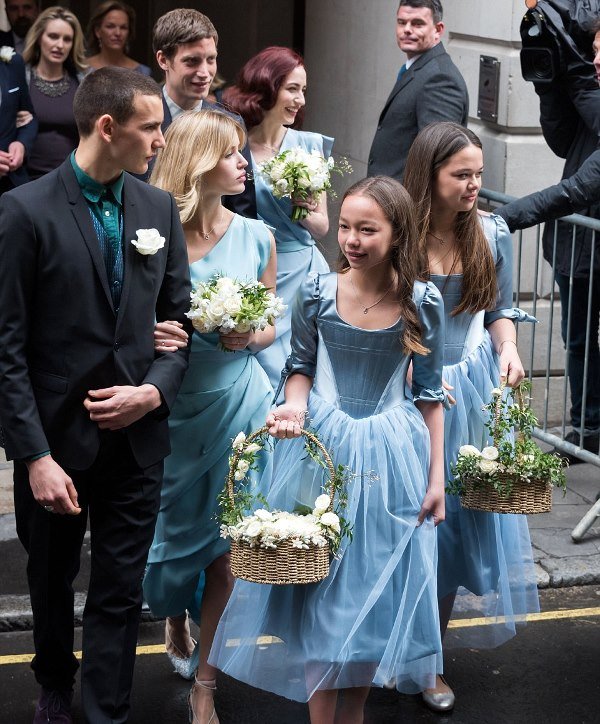 Following the second ceremony, Murdoch and Hall posed happily for photographers who no doubt appreciate the openness of the celebrity couple's wedding celebration. With Rupert himself a well-known media mogul its no surprise that he wanted to indulge the local media.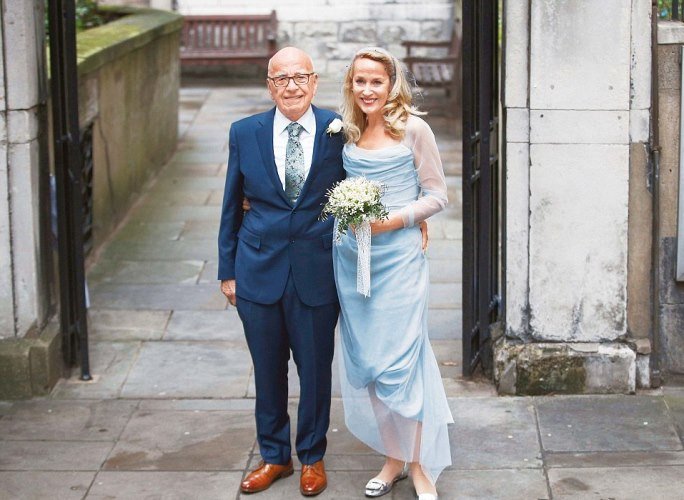 Afterwards, the bridal party and guests went to Spencer House in London's St James to enjoy a breakfast-style wedding reception and were snapped outside on the balcony chatting amongst each other.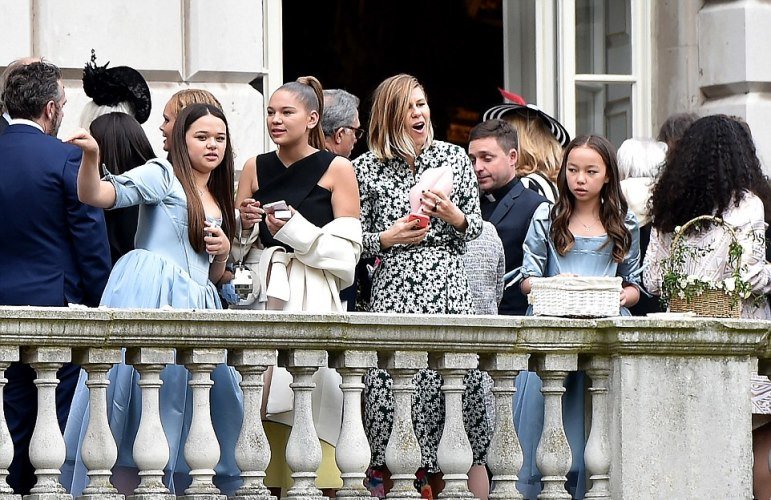 In attendance on the day was famous News of the World journalist Rebekah Brooks and her husband, as well as Murdoch's son Lachlan Murdoch who is executive co-chairman at Hollywood's 21st Century FOX, as well as other A-list family members like Jade Jagger, Andrew Llyod Webber, Richard E. Grant, and many more (not pictured).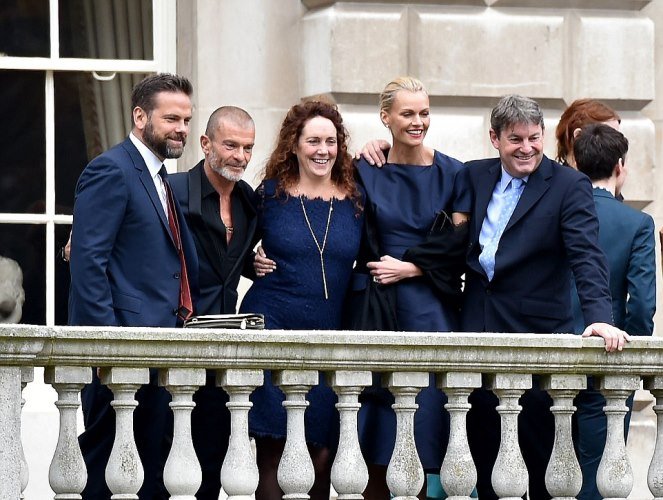 The wedding reception was also rumoured to have included Scott's Restaurant in Mayfair where everyone feasted on oysters, caviar and champagne.
Next, the newlywed couple is rumoured to be on their way to Mexico for their honeymoon with Rupert Murdoch tweeting he was about to take ten days off of Twitter and was the happiest man alive. He certainly does look thrilled in all the snaps we've seen, and a big congrats to the pair!