They've made things official with an intimate court wedding… but keep an eye out for a big Italian wedding soon!

Kourtney Kardashian (43) and Travis Barker (46) have official tied the knot saying 'I do' with a courthouse wedding in Santa Barbara on Sunday 15th April.
The two previously held a ceremony last month in a chapel in Las Vegas with an Elvis impersonator, although there was no marriage license – until now!
RELATED TO: Did Kourtney Kardashian and Travis Barker Get Married In Las Vegas?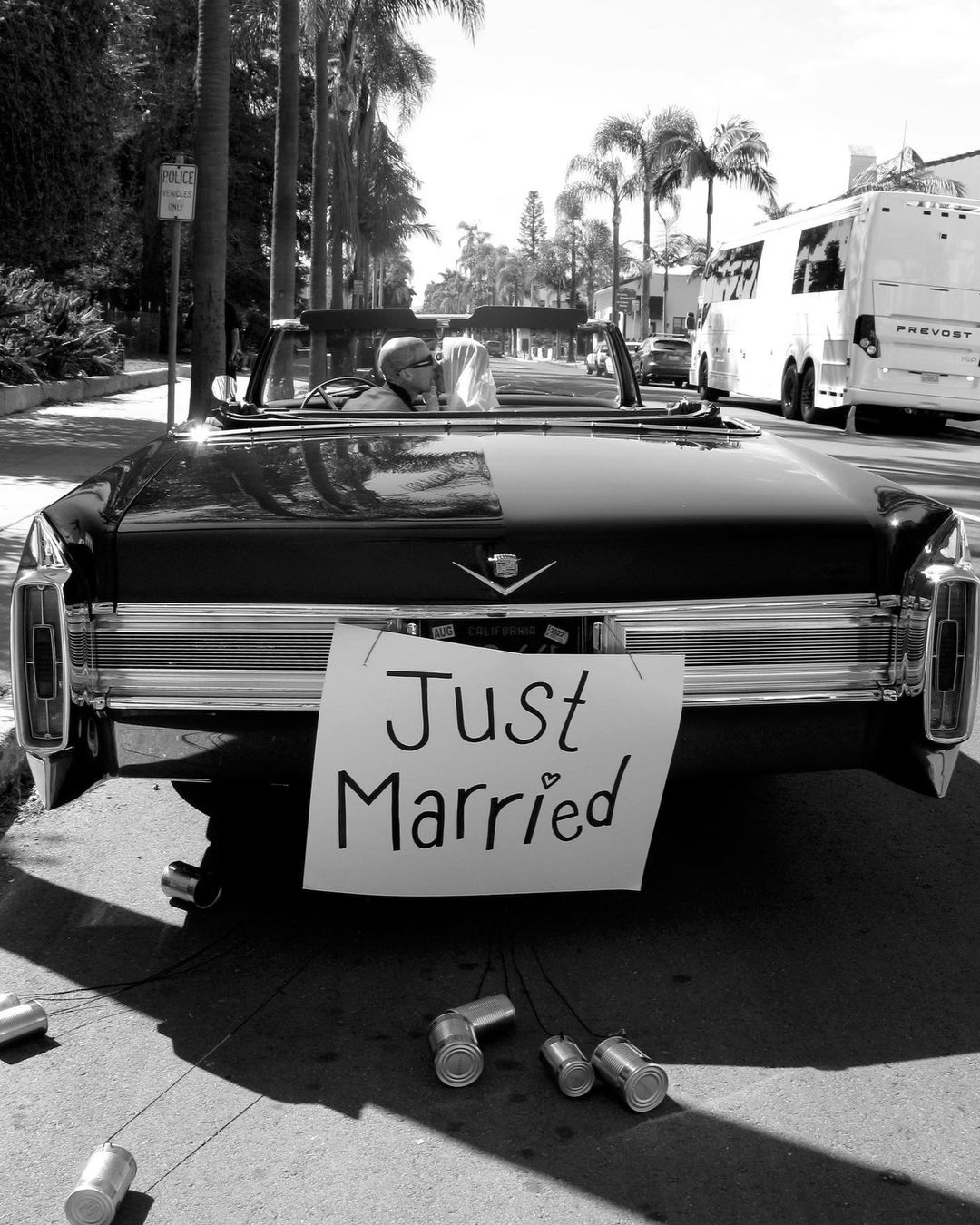 The newlyweds have now shared their first photographs from the official wedding on Instagram where we see the bride and groom driving away in a lowrider convertible looking as loved up as ever!
RELATED TO: Why Kourtney Kardashian's Engagement Ring Is The Most Popular Style
Kourtney and Travis who are are known for their PDA, were surrounded by a few close family and friends such as Kourtney's grandmother Mary Jo "MJ" Campbell and Barker's father Randy Barker who were by their side the day of the wedding.
Kourtney and Travis both captioned the photographs: "Til death do us part."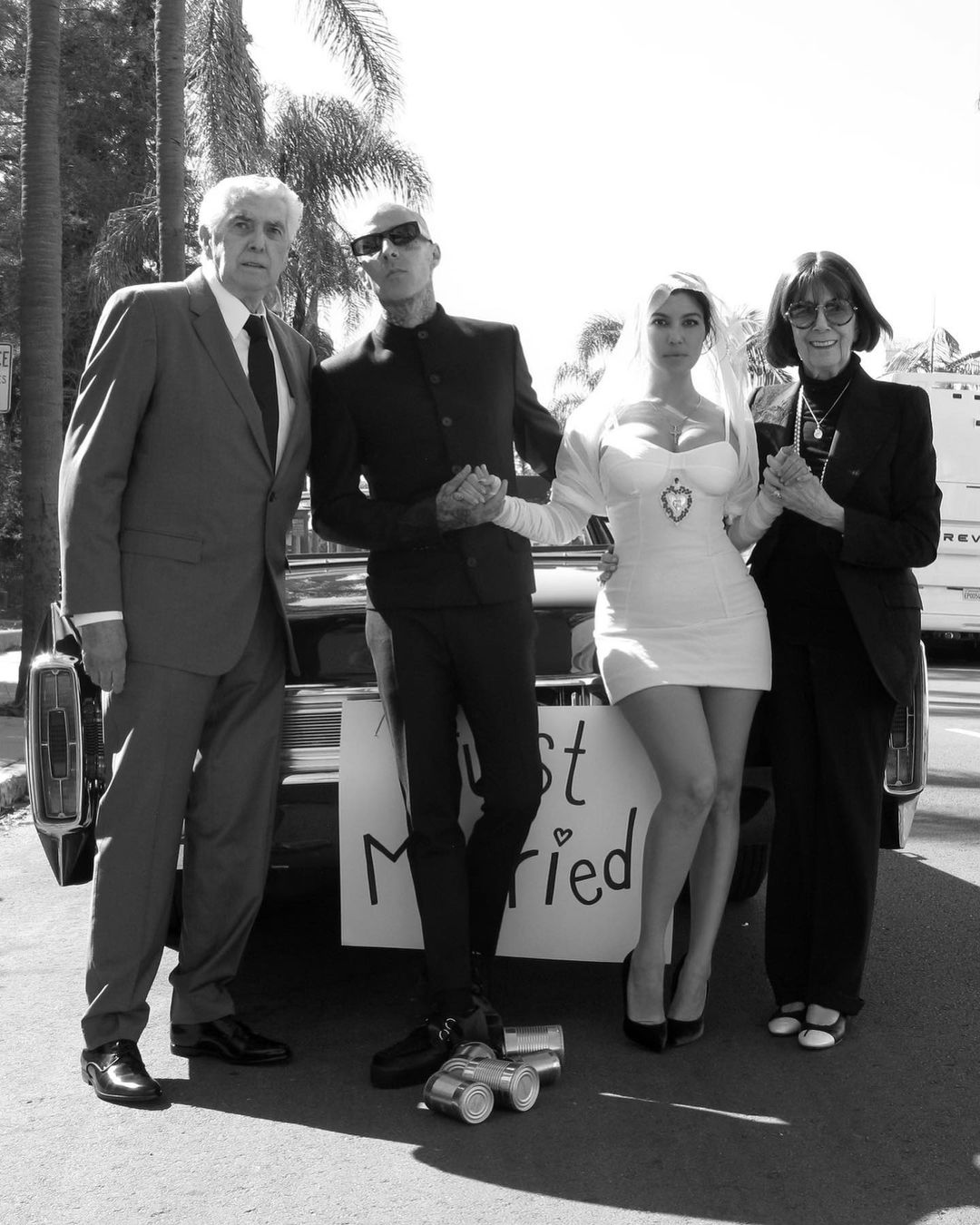 Kourtney wore a white strappy mini dress with a heart embellishment on the bodice, paired with a veil, velvet high heels and a cross necklace.
She wore her hair in an updo and her makeup seemed simple and classic. Travis also went with a classic look wearing an all-black tuxedo, black shoes and black sunglasses.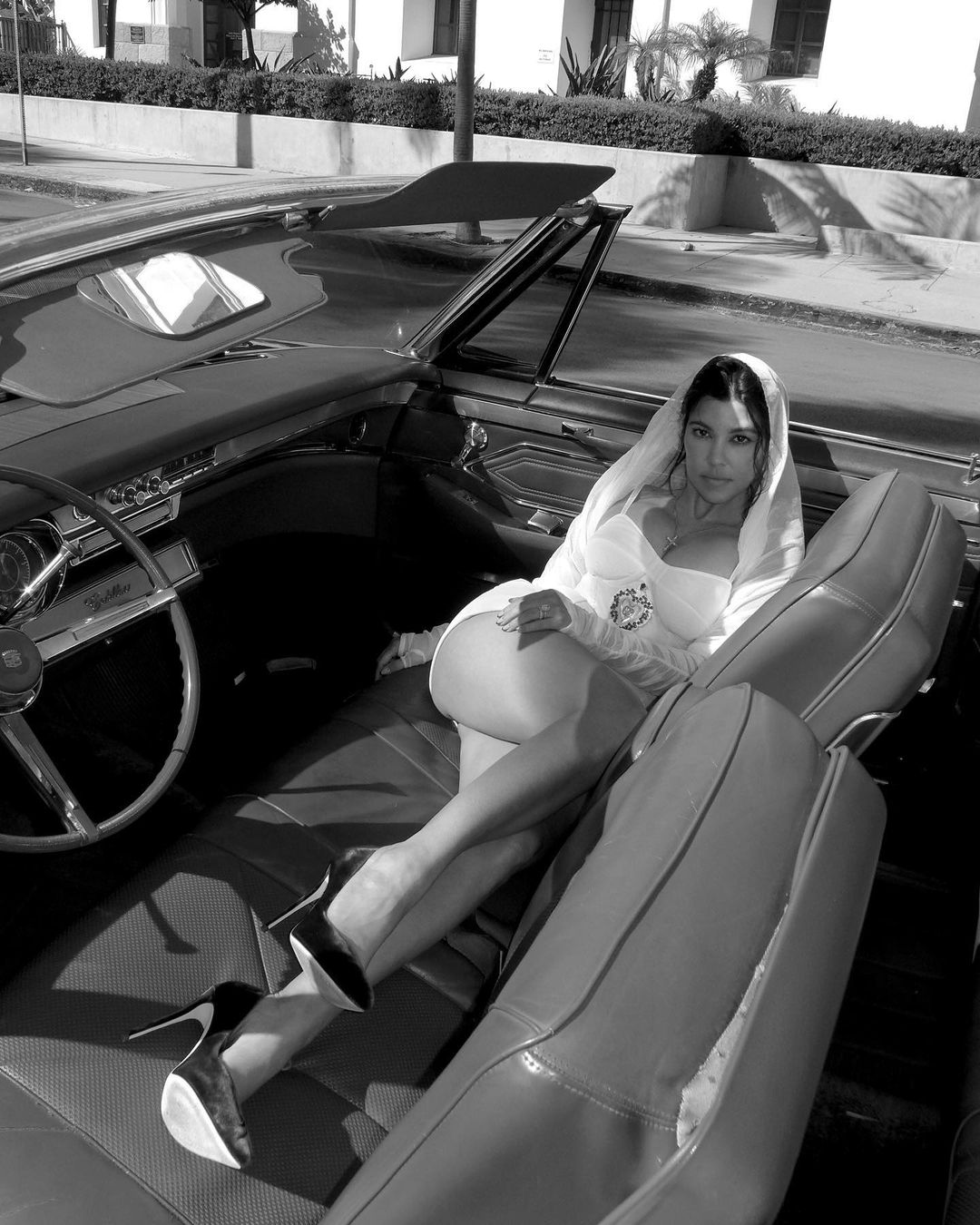 The Kardashian family shared their excitement for the two underneath Kourtney Instagram post with Mother Kris Jenner saying 'I love you 😍' and sister Khloe commenting '❤️❤️❤️'.
However, Sunday's wedding isn't the last of the celebrations as according to TMZ, People and Entertainment Tonight, Kourtney and Travis are planning another wedding ceremony in Italy in the near future!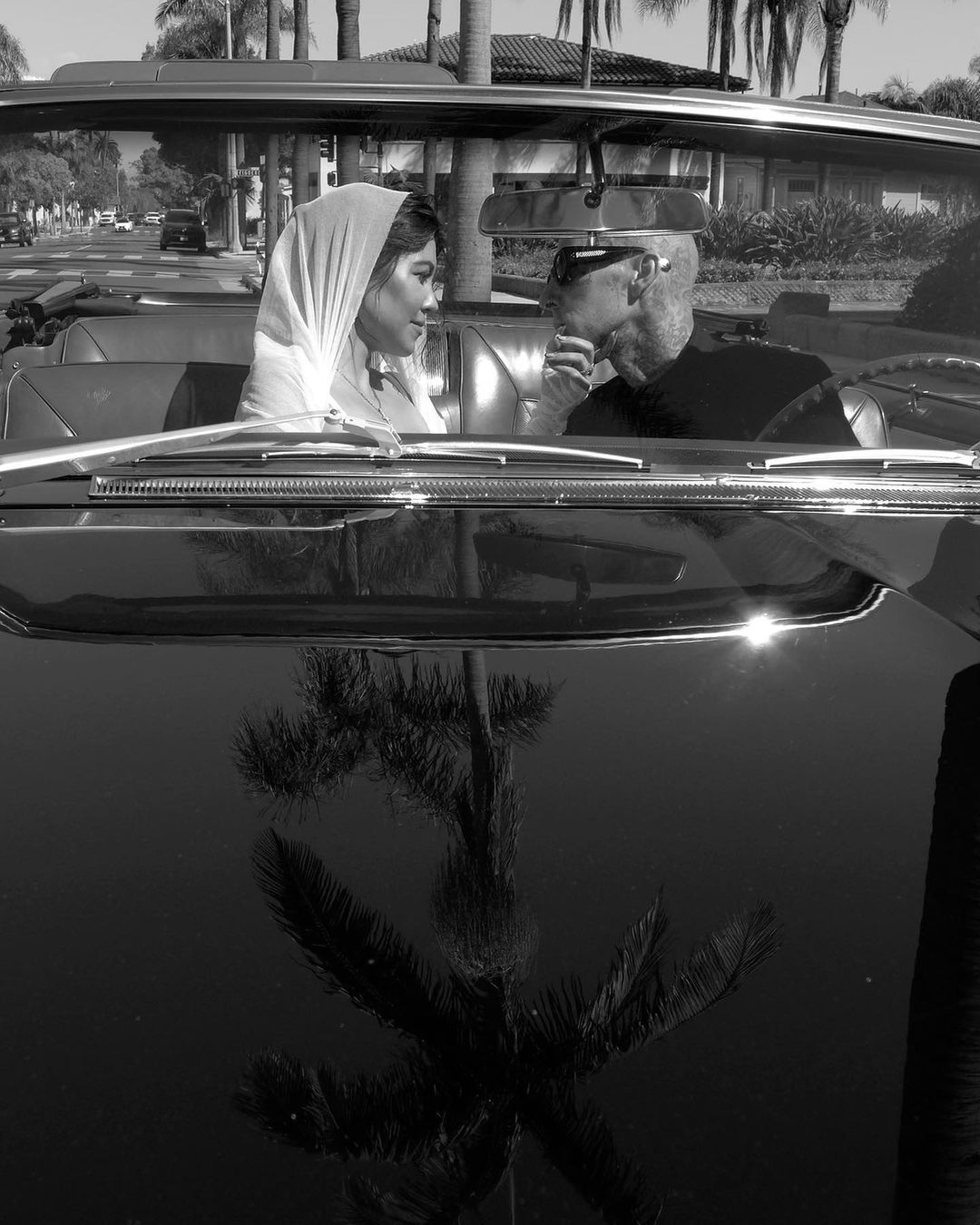 Kourtney and Travis first announced their engagement in October after only eight months of dating and going official, just days after Valentine's day.
RELATED TO: Kourtney Kardashian Says 'YES' To Marrying Travis Barker
The two both have children from previous relationships and are in the midst of trying for a baby together as we see them actively going through fertility treatment in the newest Disney + and Hulu series 'The Kardashians'.
Kourtney shares son Mason (12), Reign (7) and daughter Penelope (9) with Scott Disick and Travis Shares sons Landon (18) and daughter Alabama (16) with his ex-wife Shanna Moakler.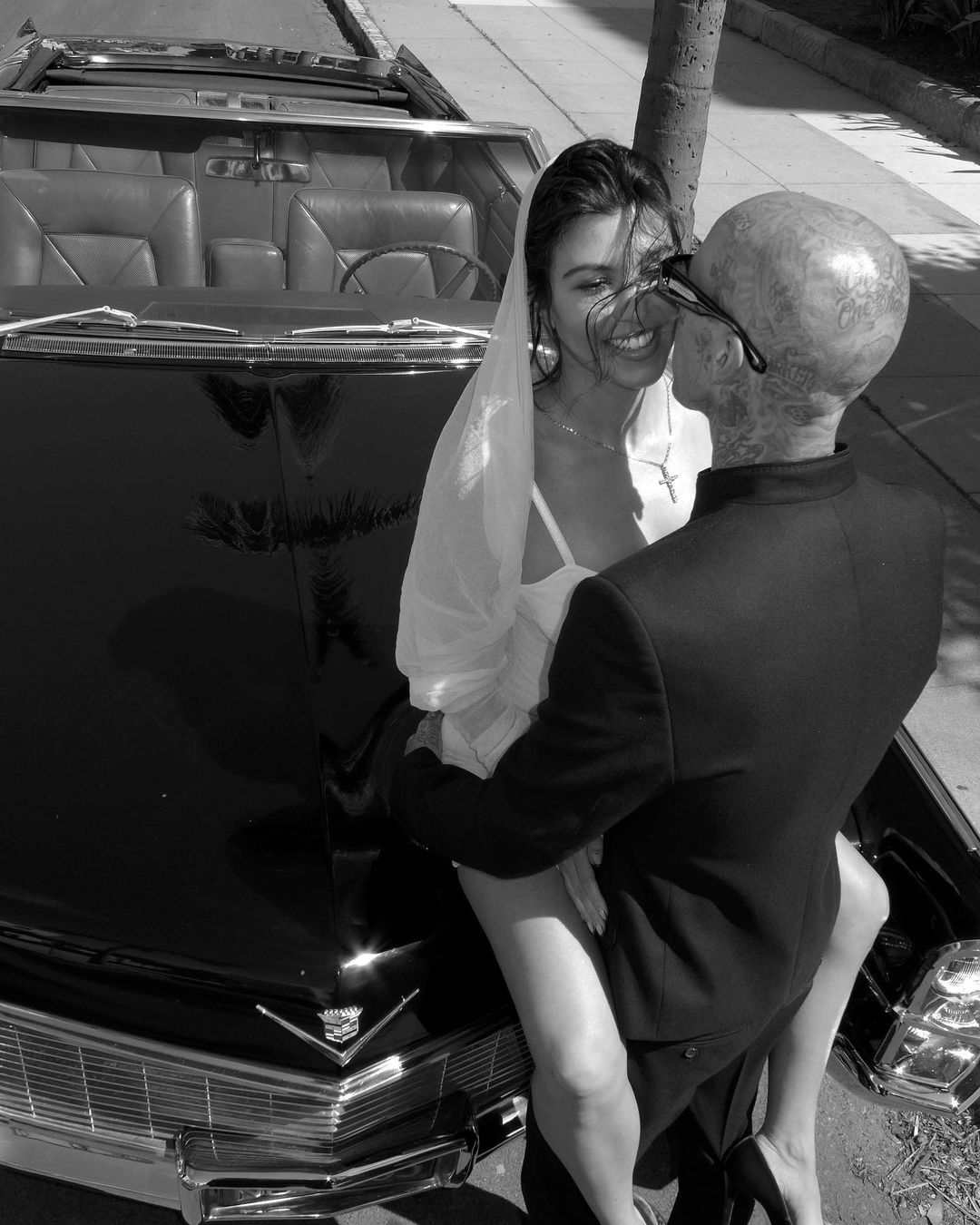 Stay tuned for more updates and celebrity news to come!