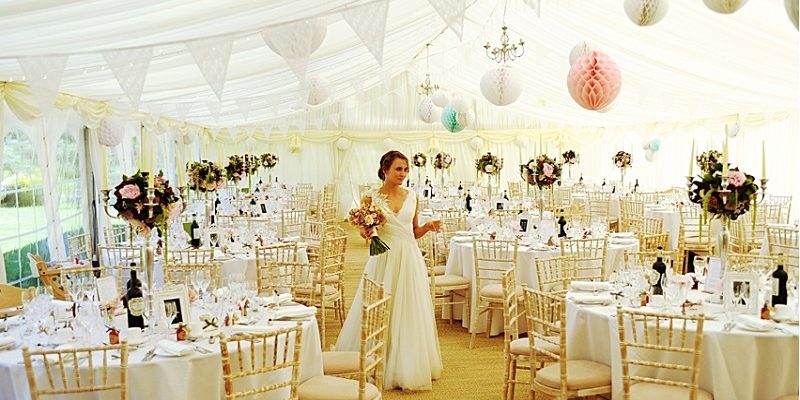 Make Mine a Marquee Wedding
 Elegant, romantic and free to decorate anyway you want, why not have a marquee wedding?

Do you remember when a marquee wedding meant a damp smelling tent that took off like a paperbag in a thunderstorm when the slightest gust of wind came?
Well those days are well and truly gone, so there's no need worry about granny soaring away with your wedding venue, Wizard of Oz style. No longer looking like unstable tents, marquees have progressed to become semi permanent structures with walls, floors and central heating. They offer comfort and more importantly, they are totally unique, like a blank canvas for you to create the exact wedding you want.
Types of marquees
Brides and grooms are no longer confined the the white billowing tent style marquees of yesteryear. Today's marquees are designed to be wedding wonderlands and can be as simple or as extravagant as you please.
Choose from marquees that have glass walls, floor to ceiling wall that can be fully opened and American style 'clear marquees' with a totally clear roof and sides.
On top of this there are the more traditional Tipis or Katas, which are spacious and atmospheric. These can be set up as a single structure ro joined together to accommodate larger wedding parties in excess of around 300 wedding guests.
Comfort
Marquee structures of all styles are now so advanced that they can be used throughout the year. There are even marquee heating systems that are thermostatically controlled to ensure that even during the winter months, you'll be kept lovely and warm inside.
The… em…toilet situation
Toilets can be as basic or as plush as you want them, ranging from simple portaloos to fully stocked toilet trailers with separate entrances for ladies and gents. The can even be seamlessly enclosed in the marquee so guests don't have to go outside.
Brides and grooms also sometimes choose to place items such as toiletries, scented candles and flip flops for dancing inside the toilets to dress the space up. You can go to more extravagant lengths if you wish as have your bathrooms dressed in the theme of your wedding. Perhaps a sparkly twinkling haven complete with fairylights and chandeliers for the ladies and a suave gentlemens club for the boys.
Where to put your marquee
If you or someone you know has a large garden, or you want to place the structure on private land such as a field, then only the permission of the landowner is required. If the marquee is going in a public place, than permission from the relevant authorities will be needed, so be sure to do your research.
Cost
As for the cost of the basic marquee structure, this will vary depending on the size of marquee you need, but prices start from a reasonable £2,500 for a marquee that will accommodate 50 people, rising to five figures sums. "One of the main advantages of having a marquee wedding is that the couple set the budget rather than it being set by a hotel or venue," says Noreen from Pavilion Marquees. "Therefore it really does come down to how much a couple have to spend. We would not mislead a couple by saying that a marquee option is the cheapest venue to have, however it certainly is the most personal."
Our marquee wedding
Gail & John Turley
Why a marquee?
"I decided on a marquee wedding because home is so special to me," begins Gail. "I have endless happy memories of that house so it seemed like a good opportunity to add more. Also, I really didn't want a typical hotel wedding, I wanted to make it a day that was more personal to us. And finally, we love a party and knew that the celebrations would go on all night! And the next day!
Who was your supplier?
"We used AR marquees from Armagh who were really great.  They couldn't compare on price with others and allowed us the marquee 10 days prior to the wedding so we could decorate. The bar was actually a stable and the marquee company provided fab luxury toilets."
Décor & finishing touches
"There was lots of work to be done to garden so it was a joint family effort.  The groom's party became landscapers while bridesmaids made tea and served beer for weeks before the wedding.  It was all great fun and allowed everyone to get to know each other.
"I also spent a lot of time planning decor for outside the marquee.  Fairy lights, wee quirky signs and lanterns, unfortunately the weather was rubbish and I don't know that anyone really noticed!  That's my only regret!
"Inside the marquee was easy, I wanted a country vintage feel and along with drapes it didn't really need much.  Mum collected all the vintage china from charity shops and boot sales and now rents it out for weddings, hen parties, christening etc!  It's her new hobby!"
Feature image- Mike Legg Photography