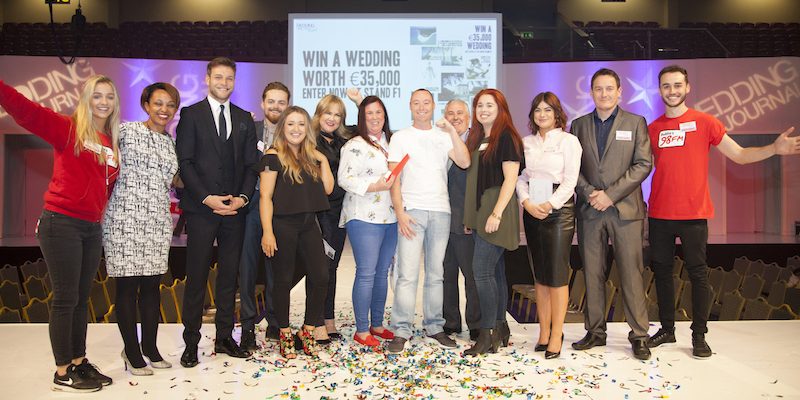 Meet The Winners Of Our €35,000 Wedding
Sarah Kearney and Stephen Dempsey were the lucky winners of the Wedding Journal Show's amazing €35,000 wedding!
Sarah and Stephen were entered into the Win a €35,000 Wedding with the Wedding Journal Show's via the competition run with media partner 98FM. It was actually Sarah's friend Sandra that entered on their behalf and surprised Sarah with the news that they were through.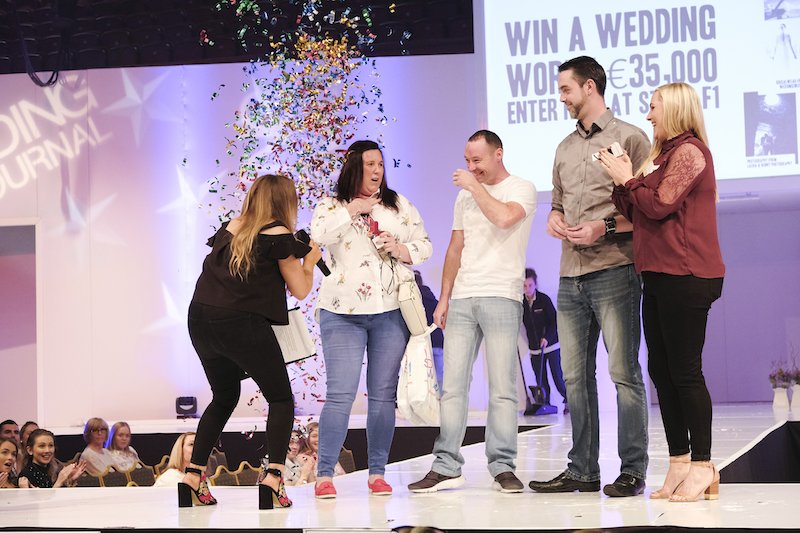 One of 12 couples to go through to the live final on stage at the Wedding Journal Show in Citywest Convention Centre, Dublin on Sunday 24th September, the couple couldn't believe their luck when they won this amazing prize.
As Sarah commented when we spoke to the couple on the day, 'We're in shock. I honestly can't believe that we've won – and neither can any of the family I have phoned to tell! When Sandra told me she had entered us and we were to be in the live final I nearly didn't do it – I just can't believe it!'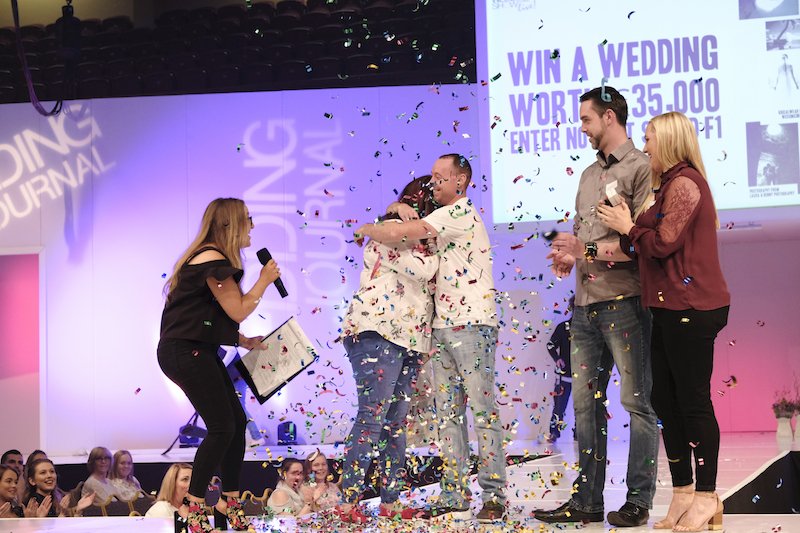 Sarah and Stephen have five children between them, 20-year-old Adam, 18-year-old Jade, Chloe, 15, Jake 13 and Kyle who is eight.
'Stephen and I have been together for 11 years, originally meeting through mutual friends,' explains Sarah. 'Stephen proposed five years ago and we just haven't got round to marrying because as I sure you can appreciate, with five kids to take care of, time and money, have held us back.'
So, although life was getting in the way of the couple finally tying the knot, they have decided to marry this summer and were planning a modest celebration with close friends and family in a local hotel.
'We were planning a late church wedding from about 6.30pm on the 3rd August 2018, with a family party in a hotel afterwards, but now that we have won this, we can have the wedding we have always wanted.
'I was just going to buy a second hand wedding dress, but to think I will now be getting to wear one that is designed to fit me perfectly is a dream come true,' adds Sarah.
'Neither of us has ever been married before, so to be marrying each other with all of these prizes to make it such a special day is just perfect. I can't wait to start planning our big day now!'
What They Won…
A honeymoon in the Seychelles staying at CaranaBeach Hotel, Mahé and Denis Private Island
A pair of business class return flights from Dublin to the Seychelles with Ethiopian
A wedding reception in Boyne Hill House
Bridalwear from weddingdress.ie
Groomswear from Remus Uomo
Wedding photography from Laura & Benny Photography
Wedding Videography from Greenhouse Films
Featured Image Credit: L-R: 98FM Promo Team Member; Meseret Tekalign, Ethiopian; Gary Walsh, Remus Uomo; Rhys Green, Greenhouse Films; Rebecca Shekleton, 98FM; Wynn Penton, Show Director; Winners Sarah Carney & Stephen Dempsey; Tony Flynn, Ethiopian; Laura Benson, Laura & Benny Photography; Leone Clarke, Boyne Hill House, Alan Neale, weddingdress.ie; 98FM Promo Team Member. Photography by Square Peg Photography.