An innovative new wedding trend is emerging – hiring a wedding painter to capture the special moments of your day on canvas
Artist Paddy Martin, also known as The Wedding Painter, noticed there was a gap in the market for wedding portraits and decided to fill it. WJ asked Paddy why more and more couples are commissioning paintings of their nuptials, he said:
The wedding portrait market does seem to be growing and I think this is down to photography being almost a saturation point. These days everyone has a phone in their pocket, so if you have 300 guests at a wedding you potentially have 300 photographers.

In addition to this, I think couples want their wedding to be different and striking which is getting them looking for things that are really original and personal to them, and what is more personal than a one off portrait?"
Paddy is based in the UK and paints mainly from photos. He works around Europe and is "no stranger to the Emerald Isle" having painted for Sinead O'Connor.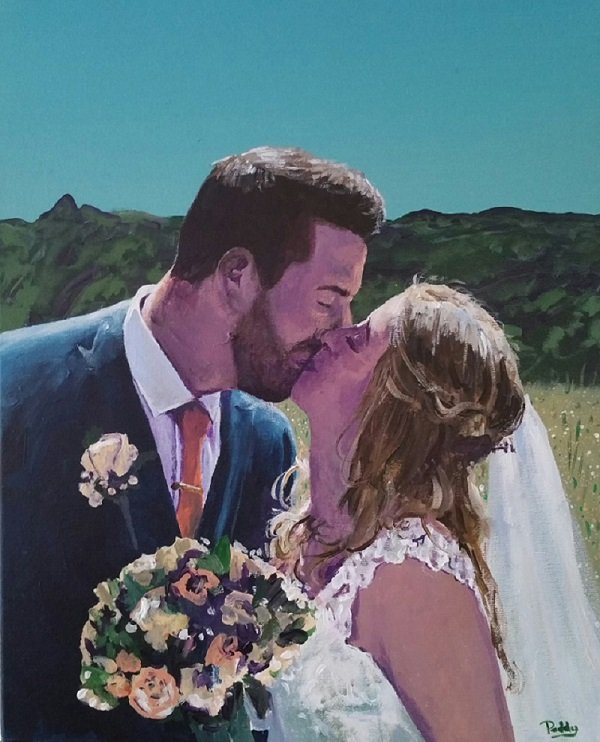 Wicklow based wedding dress artist Audrey Vance founder of Wedding Dress Ink, is a professional wedding dress painter. She paints wedding dresses from photos. Audrey tells us more:
The very first wedding dress illustration was inspired by the romance of my own wedding day and a wedding dress that embodied all my hopes and dreams. When friends started asking me to create illustrations for them I realised I wasn't the only one and now I'm lucky enough to capture that same sentiment and love every other bride has for her wedding dress through Wedding Dress Ink.

It can be really difficult to give a thoughtful yet personal gift. A wedding dress illustration is such a unique momentum to give a girl because it really captures her 'red carpet' moment and is an heirloom piece of art for her home."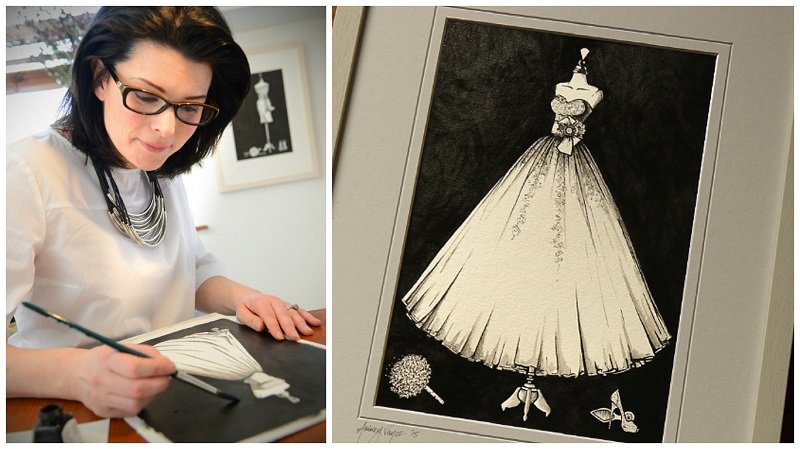 Popular in the states, there seems to be a gap in the Irish market for live wedding painting as a form of entertainment for guests. American wedding artists Ben and Jennifer Keys founders 'Wed on Canvas' paint wedding live on location across America. Jennifer says:
It's really fantastic entertainment for the wedding reception. Most people have never experienced seeing a skilled artist create a painting from start to finish over the course of the evening. Guest tell us that they are amazed watching the painting evolved from a sketch to a finished painting over the course of the night.

We dream of each painting becoming a legacy piece that's passed down to their children's children one day and treasured for generations to come."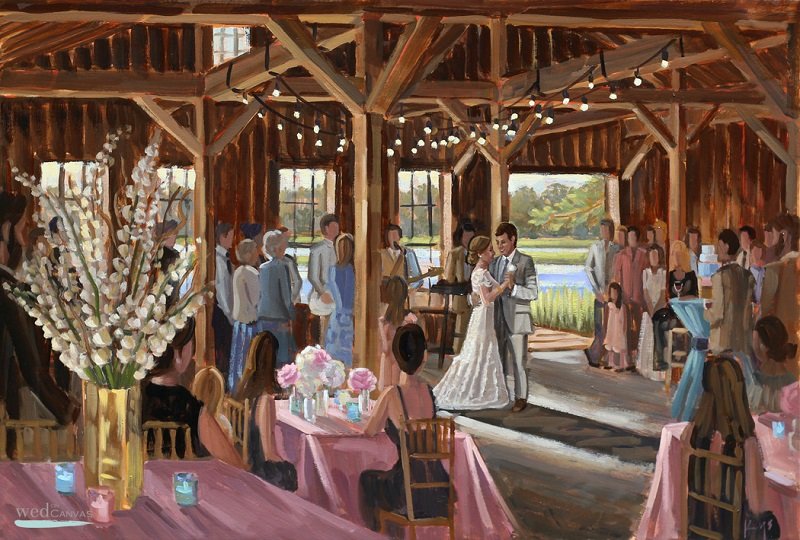 Featured image photo credit: Wed on Canvas