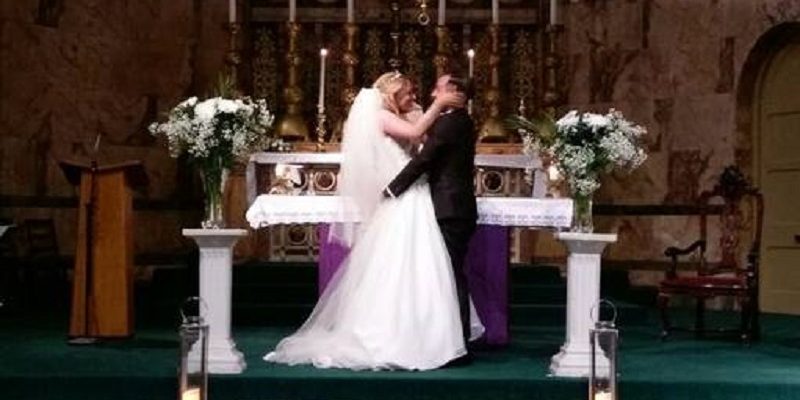 Newlyweds appeal for ring lost on their wedding day
A couple who got married on Saturday are appealing for help locating a wedding ring which was lost in a Dublin taxi en route to the ceremony
A couple are searching for a Dublin taxi in which a groom's wedding ring fell off a wedding cushion on Saturday, en route to the ceremony.
Best man Darragh Doyle began a social media campaign to help the couple locate the missing ring, searching for a Dublin taxi driver who picked up a fare outside the Shelbourne on Saturday (December 12th).
The mother of the bride who was wearing pink, sat in the front seat of the taxi and was carrying a cushion with the wedding rings on it. The mother of the bride was accompanied by two other ladies, all of whom are from Donegal. After they got out of the car they discovered one of the rings was missing, presumed to have fallen off in the taxi.
Darragh told the Independent.ie that the bridal party had substituted a ring on the day but the couple would love to get the platinum ring back due to "huge sentimental value".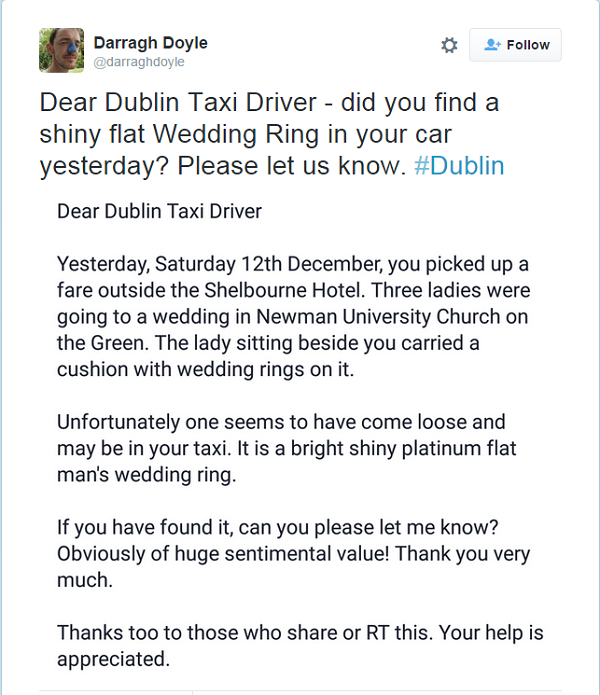 Darragh and the groom Sean Earley, are asking if the taxi driver remembers picking up the three ladies and has found the ring. He can contact Darragh here or Sean here.
Things didn't go according to plan for the newlyweds this week as the bride's parents were marooned in their home in West Donegal  due to flooding caused by Storm Desmond. A fishing boat became an emergency means for transport for the couple to escape the flood waters to travel to Dublin in time for the wedding.