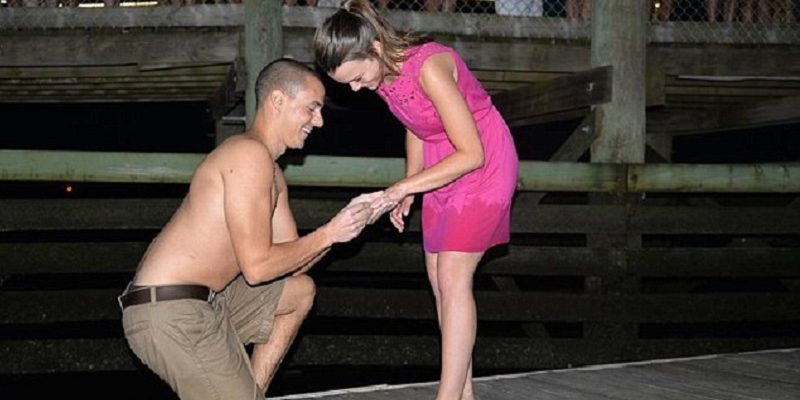 Oops! Man drops engagement ring into sea during proposal
Oops! Man drops engagement ring into sea during proposal – find out what happened next…
Matthew Picca planned a romantic proposal next to sea, in Southport. He got down on one knee to pop the question to his girlfriend Kayla Harrity, and took out an engagement ring box as his delighted girlfriend watched in surprise.
However Kayla's surprise quickly turned to horror as the ring slipped out of the box, through the cracks in the pier, and into the sea – and this was before Matthew even had a chance to propose. Clearly distraught Kayla started sobbing. Meanwhile three friends who had been enjoying pints at the bar, saw the whole thing. The kind-hearted bystanders put down their beers and jumped into the water fully clothed to help look for the missing ring.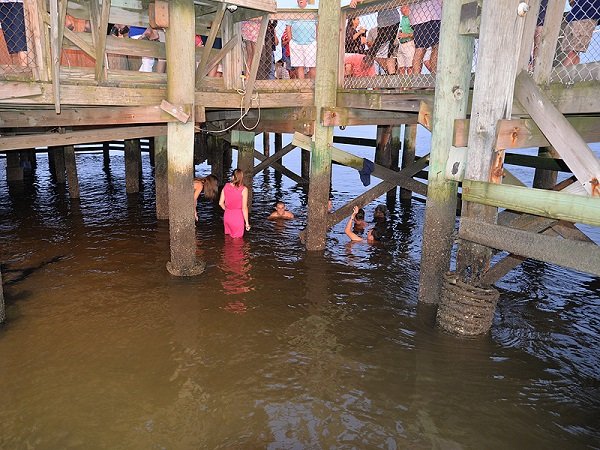 Kayla's sister grabbed Matthew's smart phone which had a torch and jumped in also. She didn't manage to locate the ring and broke the phone in the process. Kayla herself ran around frantically searching for googles, she says:
I covered my face and began to cry because I knew my boyfriend was devastated.

After ten flashlights, and five pairs of goggles and over 1.5 hours of searching in the water… the ring was found!"
One of the good Samaritan bystanders had managed to locate the lost ring much to the excitement of Kayla and Matthew, and the crowd of locals who had come together to help them. As the ring was returned the bystanders cheered and chanted "propose again," eager to see a happy ending to the real life engagement story.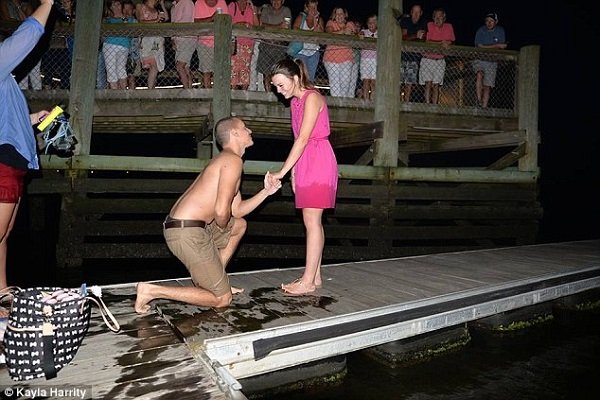 Kayla said:
It was the best feeling in the world. My fiancé, soaking wet, smelling like salty, fishing water, proceeded to get down on one knee and put the beautiful ring on my finger!

It was a total shock that he even found the ring. We walked upstairs and bought the men who helped us a round of shots. They were amazing and we are so grateful to have their help that night.

It was definitely a night to remember!'
Featured image credit: Kayla Harrity, www.dailymail.co.uk