Hollywood's glitziest night returned with a bang for 2016, and A-List stars even dressed up in bridal to outshine each other at the Oscars.
Before we begin a round-up of what can only be described as the acting's world's most fashionable event, a big round of applause most be given to Leonardo DiCaprio who after 20 years of being in the running, FINALLY scooped a coveted Oscar for his performance in The Revenant. The world waited with baited breath as the Best Actor category arrived and no one was left disappointed when Leo was finally able to climb to the stage to accept the award he so deserved, and also give a riveting speech on the effect climate change is having across the globe. Congratulations Leo- we all know it was your time!
Now, onto the fashion.
The red carpet this year saw less traditional gowns than ever before with starlets attempting to 'out-sexy' each other at every corner. Deep V-Necks, skin-shimming fabrics and thigh-high slits were on the menu for Hollywood's leading ladies, as well as sheer cut-outs and skinny stilettos.
Here's what you need to know about the Oscars 2016 red carpet:
Wedding Dresses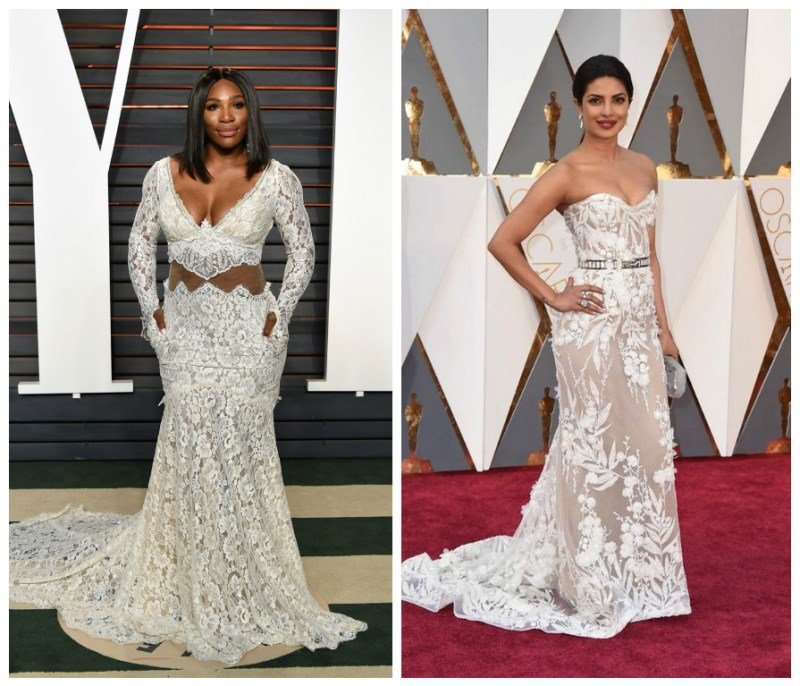 Fashion-forward and queen of 'Athletic-Sexy', Serena Williams donned a stunning Galia Lahav wedding dress when she arrived at the famous Vanity Fair Party, post-Oscars. Yes, we know it was technically after the ceremony but when a starlet wears bridal to an event we need to shout about it! Serena wowwed in the form-fitting, low-cut number which featured heavy lace and long sleeves. Meanwhile former Miss World winner Priyanka Chopra also stepped out in bridal from one of our favourite designers- Zuhair Murad.
Pastel Bridesmaids Shades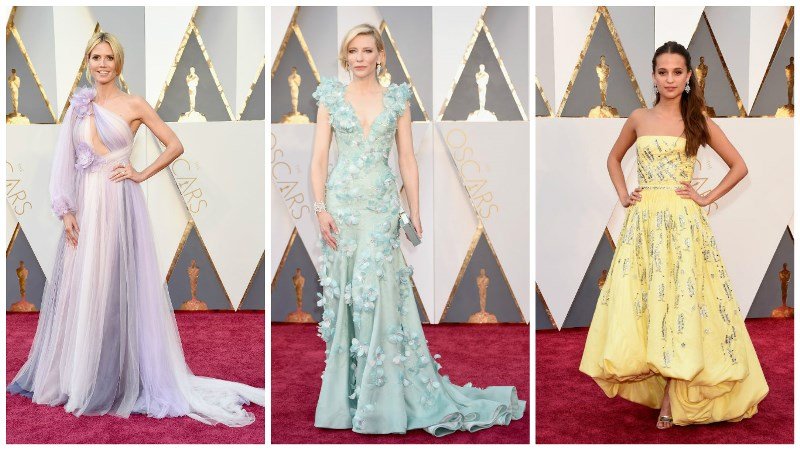 With Spring on its way, we at Wedding Journal HQ can't help but notice the classic pastel bridesmaids colours on show at the Oscars. Supermodel Heidi Klum may have missed the mark with her marshmallow-inspired gown but the lilac shade was perfect for bridal. Cate Blanchett showcased her hourglass figure in a floral, sky blue number which almost could classify as neon- a daring choice which has left us on the fence as to whether we love it or loathe it. Finally, winner of Best Supporting Actress Alicia Vikander took inspiration from Disney's Beauty and the Beast for her strapless, scalloped gown and while she may have stood out at the Oscars, her lemon dress would look right at home on the right-hand side of a bride.
Sequins Everywhere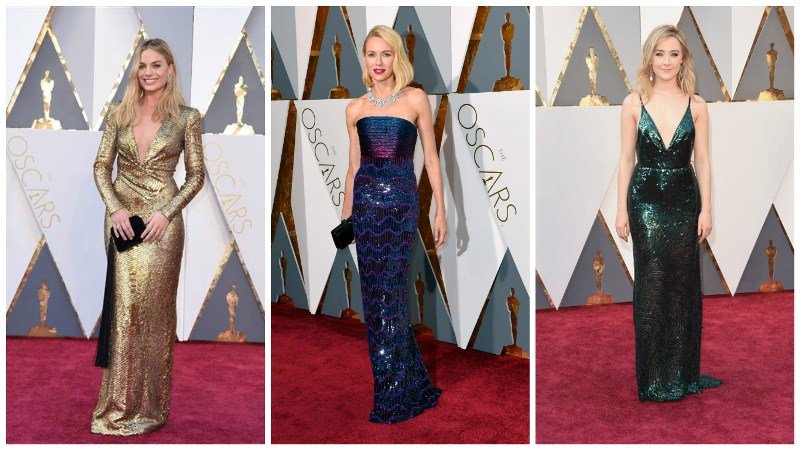 There were times during the Oscars were we did question whether the stars thought it was New Year's Eve as so many turned up in glittering sequin designs. The always gorgeous Margot Robbie mimicked the look of an Oscar statue herself with her shining gold gown, while Naomi Watts highlighted her slight frame in a mermaid-inspired look. Irish starlet Saoirse Ronan also jumped on the sequined bandwagon in a moss green, low-cut number, perhaps a nod to the green lands of Ireland.
The Letter V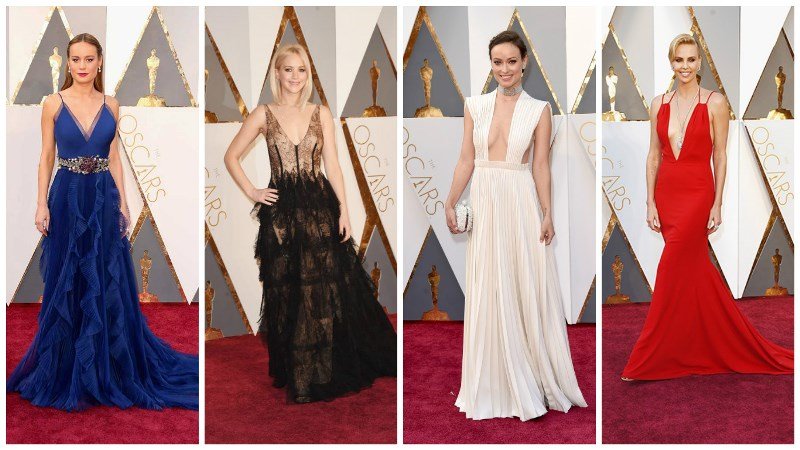 If there's one thing we know about Hollywood its that they dare to bare. Best Actress winner Brie Larson wowed in cobalt blue and showcased her enviable decolletage while doing so. Jennifer Lawrence also decided to embrace the V in her gothic, tulle number but her neckline was no match for Olivia Wilde or Charlene Theron, who won the 'low-cut' competition by embracing slashes all the way to their waists.
Big Bold Solid Colours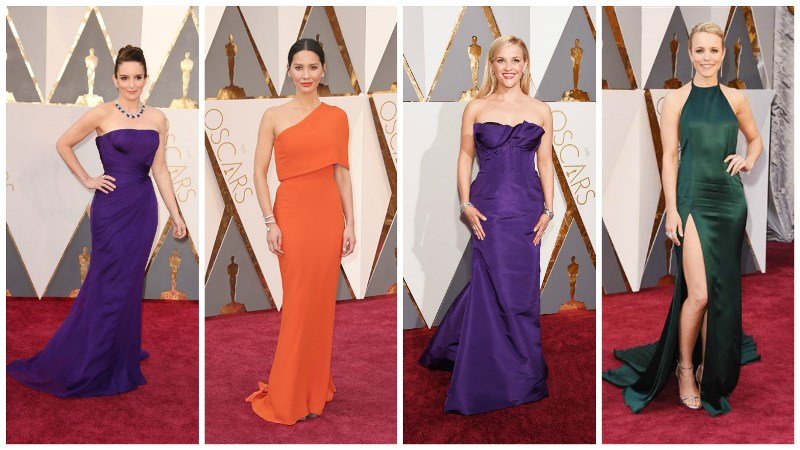 Tina Fey and Reese Witherspoon must have decided to go to the Oscars as twins as their purple gowns bore more than a few similarities! Both deep purple in hue, strapless and fitted at the waist, the Hollywood ladies look fabulous but we can't help but feel sorry for them as every actress wants to look unique! Olivia Munn went for bright and bold orange for her one-shouldered while Rachael McAdams brought sexy back in a slinky moss green number.
Bridal Inspired (but not quite wedding dresses)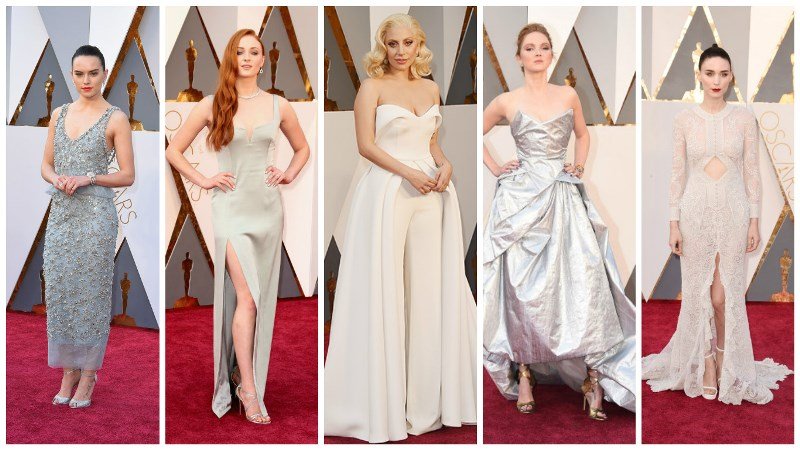 Finally, we have to give honourable mention to the ladies who dabbled with bridal-inspired fashion but fell short of committing fully like Serena or Priyanka. New to the scene since her Star Wars debut, Daisy Ridley went for a demure sequined number with a hint of grey-blue- ideal for a 1920s inspired bride. Game of Thrones star Sophie Turner turned on the sex appeal in her slinky, white-grey dress, while Lady Gaga went for a strapless jumpsuit look that has proven to be a big hit on the bridal scene recently. British model Lily Cole made an appearance is a futuristic silver ballgown, and finally Rooney Mara mixed classic bridal with a hint of sexy through slits and cut-outs.