The Wedding Journal Brand
Wedding Journal Reader Awards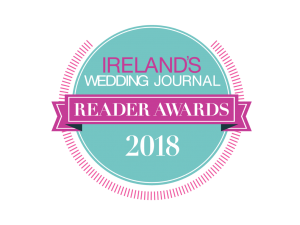 Now in their seventh year, these prestigious awards have grown into the leading industry event and are renowned for being a celebration of the best of the wedding industry in Ireland.
From 18 categories, the 2018 awards have grown to offer 37 award categories for businesses in Northern Ireland which will see the winner toured at a Gala Black Tie Event in the Crowne Plaza Hotel, Belfast on 10th June and 34 award categories for businesses in the south of Ireland which will see winners honoured at a Gala Black Tie Event in Ballsbridge Hotel, Dublin on 24th June.
The Wedding Journal Reader Awards receive unparalleled support from the wedding industry and businesses take to email, Facebook and Twitter to rally support and encourage customers to vote for their chosen supplier.
With such enthusiasm from the industry and from brides and grooms across the country, you NEED to be a part of these prestigious wedding awards.
Returning for the seventh year, The Wedding Journal Reader Awards are Ireland's leading awards for the wedding industry and act as an industry guide to brides and grooms when deciding which businesses and suppliers they can trust with the organisation of their wedding day.
This year, these prestigious industry awards have expanded on the categories, allowing for even more recognition and reward for those endeavouring to give Irish brides and grooms their best day possible.
Wedding Journal Magazine - Ireland's No.1 bridal magazine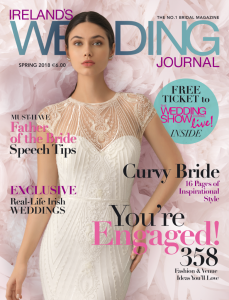 Published quarterly, Wedding Journal is sold in newsagents and supermarkets across the north and south of Ireland and has won a number of awards for its strong local content, stylish fashion shoots, informative articles and award-winning design.
Covering all aspects of the modern Irish wedding, Wedding Journal is essential reading for every bride-to-be with information and advice on planning the perfect day with suggestions for wedding venues, wedding dresses, bridal beauty, entertainment, wedding gift lists, honeymoons, competitions and so much more.
This quality editorial is supported by advertising from the leading names in the industry including Debenhams, Galgorm Resort & Spa, Justin Alexander, Watters and Dessy, alongside local boutiques and Ireland's leading wedding suppliers.
Wedding Journal magazine has a huge media following with a dedicated and growing fanbase of over 200,000 on Facebook, Twitter, Instagram, Pinterest and Google+.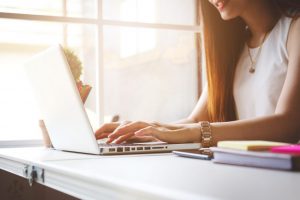 Generating more than 250,000 page views per month from over 80,000 visitors, the website is Ireland's leading wedding portal and features Ireland's top Wedding Directory and Dress Finder.
Ireland's Wedding Journal also boasts a massive database of over 25,000 brides-to-be.
Completing the successful Wedding Journal brand, The Wedding Journal Show complements Wedding Journal magazine and WeddingJournalOnline.com by providing couples with the opportunity to plan their wedding via face-to-face encounters with over 250 prime businesses at each event.

Autumn and spring shows are held each year in the Titanic Exhibition Centre in Belfast and the Citywest Convention Centre, Dublin.
Each show attracts over 10,000 visitors, the largest demographic being females aged 18 to 35 and features a number of unique selling points including a sensational bridal catwalk and VIP Lounge.
Promoted through a comprehensive advertising and marketing campaign, The Wedding Journal Show partners with leading media brands including 98FM, Xposé, Ireland AM, Weekend AM, Irish Daily Mail, Evoke.ie, and Q Radio to ensure the show reaches a nationwide audience.