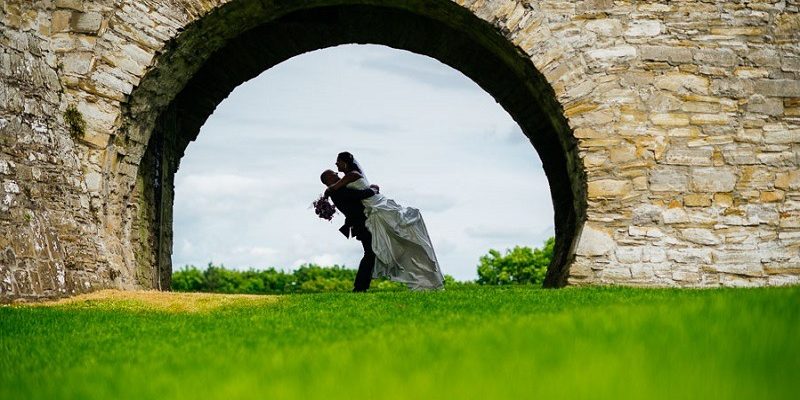 Real Irish Wedding – Alex and Ingrid
~ Real Life Wedding
11th June 2014. Ceremony and reception at Knightsbrook Hotel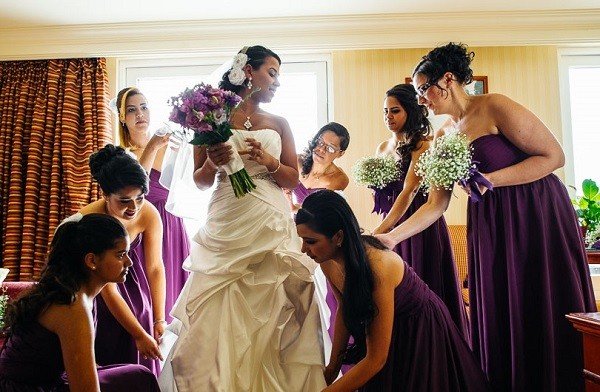 The couple
It was Alex's legs that first caught her attention Ingrid admits, "We first met at a house party and Alex had just come home from a football match. I remember he had legs like Roberto Carlos!"
She recalls, "He helped me get some drinks but we barely spoke as he was very shy. Then we were tricked by our friends; one friend said I was interested in him and gave him my number, the other gave me his number and said he wanted to ask me out."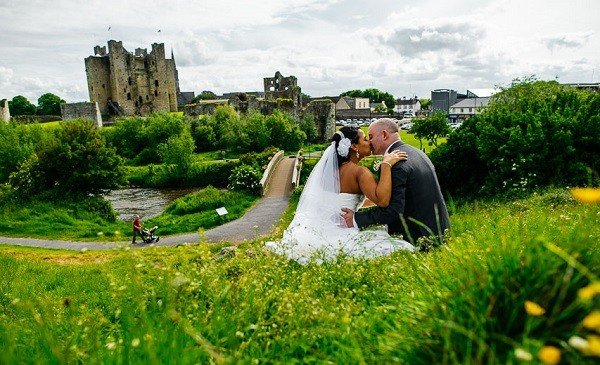 The proposal
"We went to Brazil to meet my family – it's customary to have an engagement party and to propose in front of all your loved ones," Ingrid explains. "He surprised me with a beautiful engagment ring and a speech in Brazilian Portuguese that made everyone cry. All my family and friends were there to witness it. It was very special."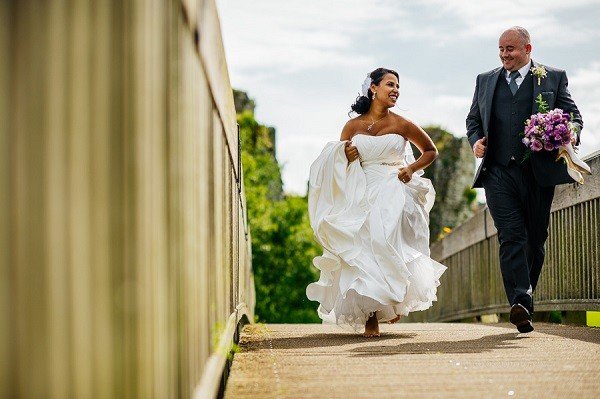 Venue
The couple looked at a few boutique hotels looking for an 'intimate and romantic' wedding venue. "We chose Knightsbrook because it offered everything we needed and the staff are excellent," Ingrid says. "The food was great, the ceremony felt really intimate and spiritual. The dinner and party afterwards was a lot of fun and everything just seemed to all fit together on the day."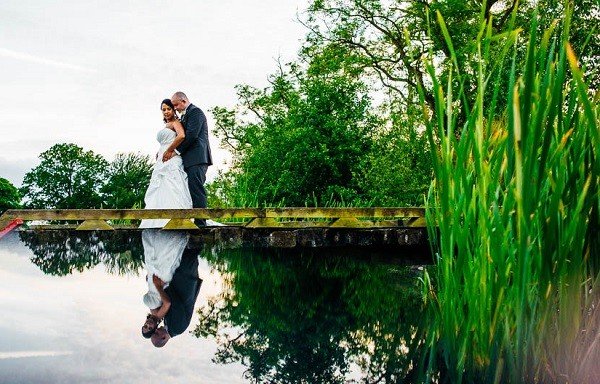 The theme
Ingrid and Alex wanted to incorporate handmade touches where possible. "The colour theme was aubergine and white with a hint of green." Ingrid says. "We made the bridesmaids bouquets by hand using baby's breath and lace ribbon, and a tiny version with green ribbon for the boys' boutonnières. We had a candy table and most of the decorations, sweets and wrapping were made by my family." Alex created a website with full details of the wedding with a RSVP function.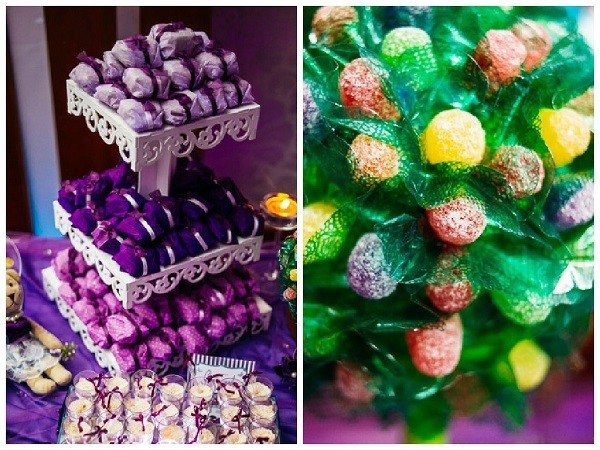 Wedding dress
Ingrid's beautiful dress is from Bridal Outlet Ireland. "I really felt like a bride as soon as I put it on," Ingrid recalls. "My bridesmaids got really emotional. I can't explain why – but it was perfect. It was a simple design but elegant. It's a strapless, white dress with a belt that really suited my Brazilian figure. I had a matching veil and the simplicity of the dress enabled me to add some accessories to compliment the look."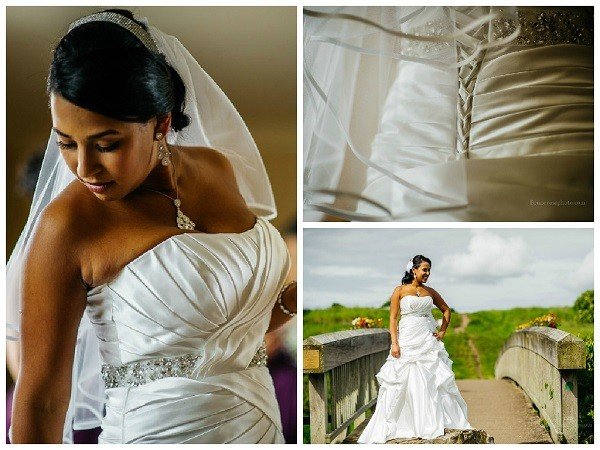 Grooms wear
The suits were provided by Tangos.ie which is owned by Alex's cousin.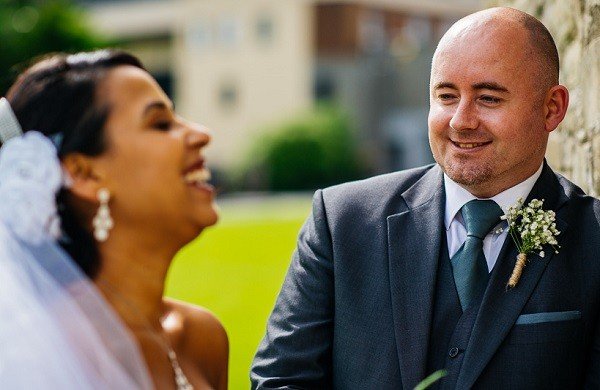 The bridesmaids
Keen to include her sisters, cousins and friend, Ingrid had six bridesmaids who wore aubergine strapless dresses from JJ House. "We only had to adjust two slightly – they were perfect!" Ingrid smiles.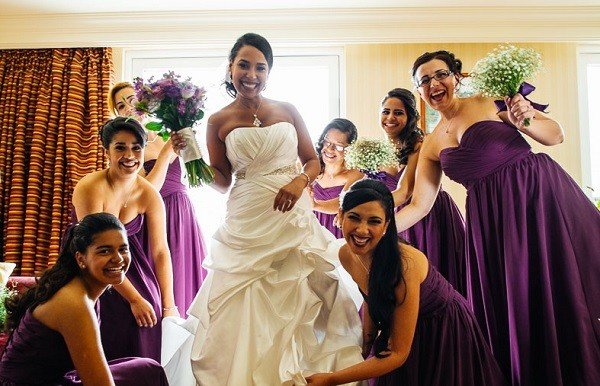 The flowers
"We made our own bouquets. We bought three bouquets from Smithfield Market to give to my auntie, my step mother and my mother in law. Smithfield also made my bouquet which was replicated from a style I found on Pinterest."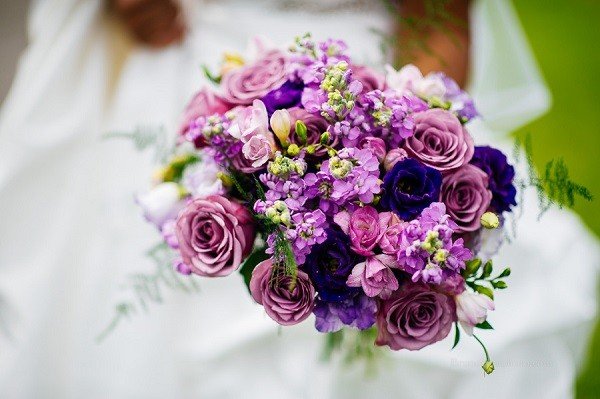 The cake
"The wedding cake was four tiers of red velvet which is Alex's favourite, white sponge with coconut filling – traditional in Brazil, and finally passion fruit cream – my favourite," Ingrid explains. "It was made by Simone from Cakes to Friends, and decorated with ribbon and a broach my family brought from home. It was exactly how I dreamed my perfect cake would be."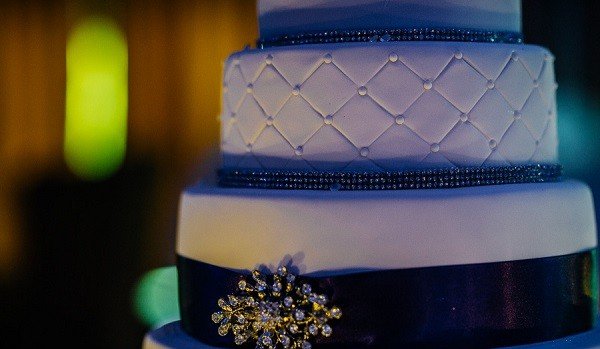 Favourite moment
Alex: "When we danced into the main room to the tune of 'Happy'. Everyone was put in a good mood and it set up the rest of the day."
Ingrid: "Walking down the aisle when everyone took a breath; I wasn't sure if it was because something was wrong or I was beautiful!"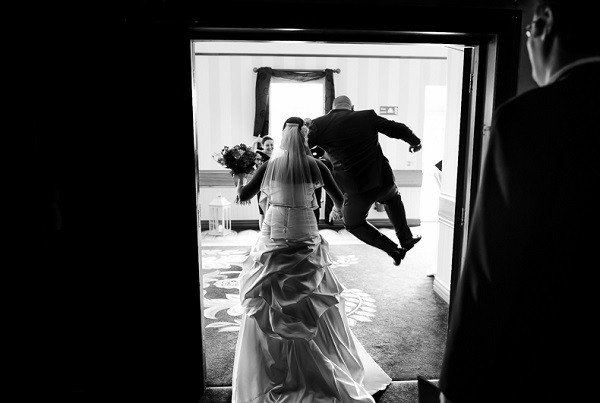 Top tip
Alex: "Whatever needs to be done to make your partner happy on the day, this is what you need to do. If your partner is happy then everyone is happy! It's a very special day but it's only one day and it's over very quickly, so enjoy it."
Ingrid: "Trying to do as much of the work yourself as possible can seem like a crazy idea, but you would be surprised what can be done with the help of friends and family. For us, the candy table was the cherry on the cake for all the guests; they loved it."