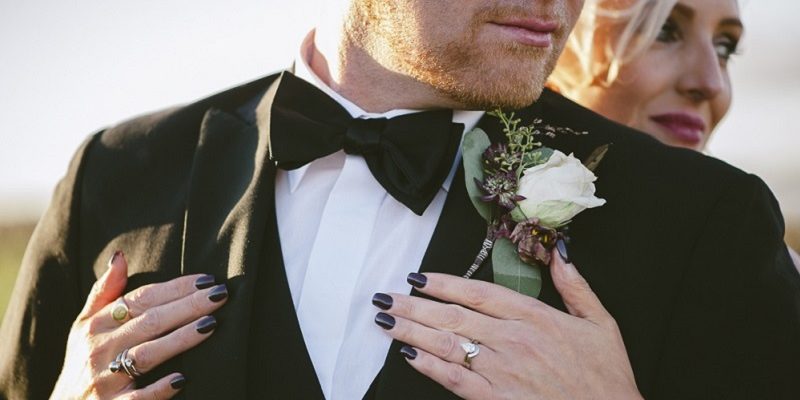 Real Irish Wedding – Claire Lambe & Chris Moore
~ Real Life Wedding
31st October 2015. Ceremony at Coleraine Methodist Church, followed by reception at Roe Park Resort, Limavady
Photography by Francis Meaney
This couple went for a super sleek Art Deco themed day
The couple
"I was at talking to Chris' sister at a mutual friend's house and she thought Chris would like me so told him to friend request me on Facebook.," Claire begins. "Much as he didn't want to, a few months later he did, on my birthday. Two days later we went on our first date and we hit it off right away."
 
The proposal
Chris whisked Claire away for a stay in the Galgorm Resort and Spa. As they were getting ready for dinner Chris asked his other half to meet him downstairs. Claire went down and was approached by the concierge. "He asked me to follow him outside where a Rolls Royce car was sitting at the door," Claire recalls. "He opened the door for me to get in, and no sign of Chris! He drove me out and back through the main entrance, towards an old stone church building and led me inside.  When I walked in, there were fairy lights everywhere, candles and our favourite songs playing. At the top of the church was a table with champagne, strawberries and a letter.  Still no Chris! I was reading the letter when Chris approached. He got down on one knee and said 'Would you do me the honour of becoming my wife?'  Immediately I said yes, through the many tears."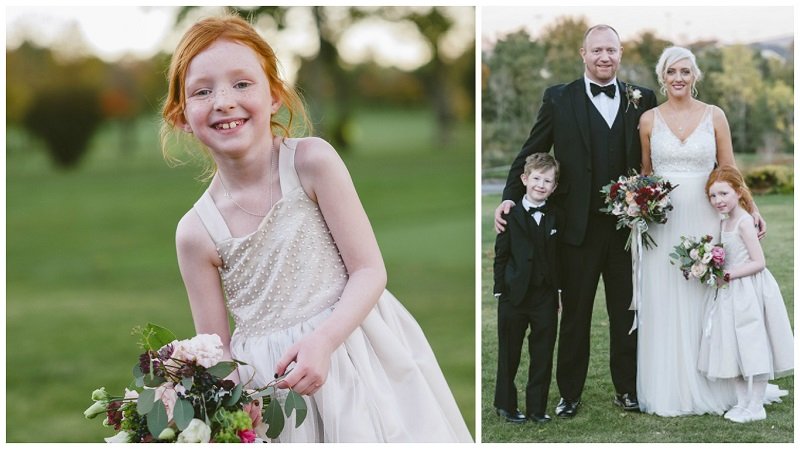 Venue
The couple chose the Roe Park Resort in Limavady wedding venue because they love the North Coast and felt that the hotel and its grounds were just beautiful.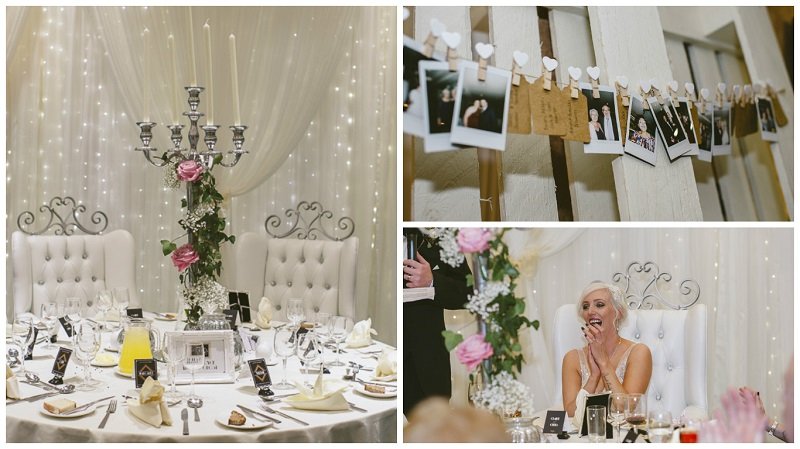 Theme
"We went for an art deco theme, black and gold and very classic style," Claire explains. "It was incorporated into the day with the style of the room, the colours, the cars and the suits."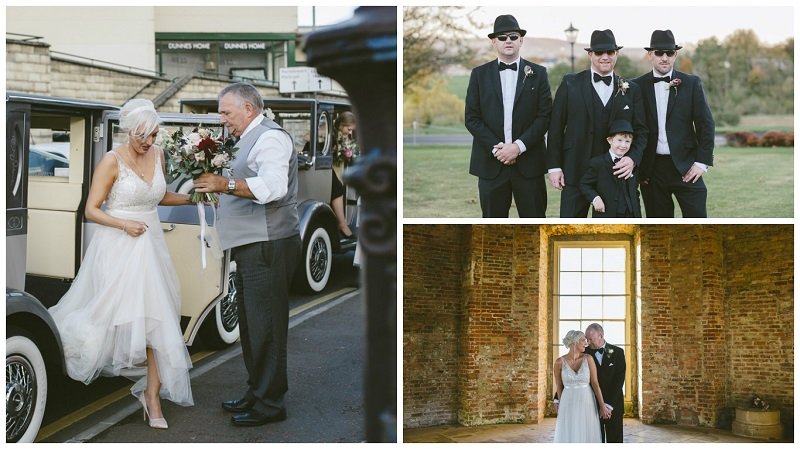 Wedding Dress
The bride wore a champagne coloured Watters wedding dress from Marie Me Bridal, Randalstown.  "It was beaded on top with a low V back which was sheer with beading," Claire says. "The skirt was satin with tulle overlay and a small train at the back. I loved wearing it because it was simple yet effective, comfortable and light."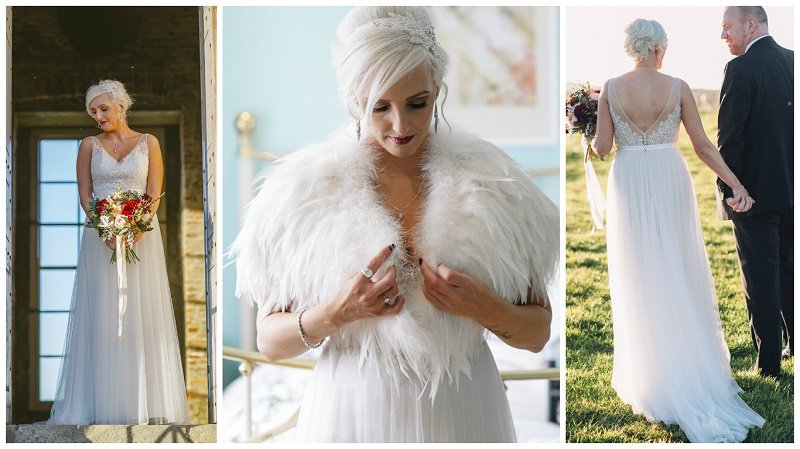 Groomswear
The groom, bestman, groomsman and pageboy wore black tuxedos with bow ties from Red Groomswear.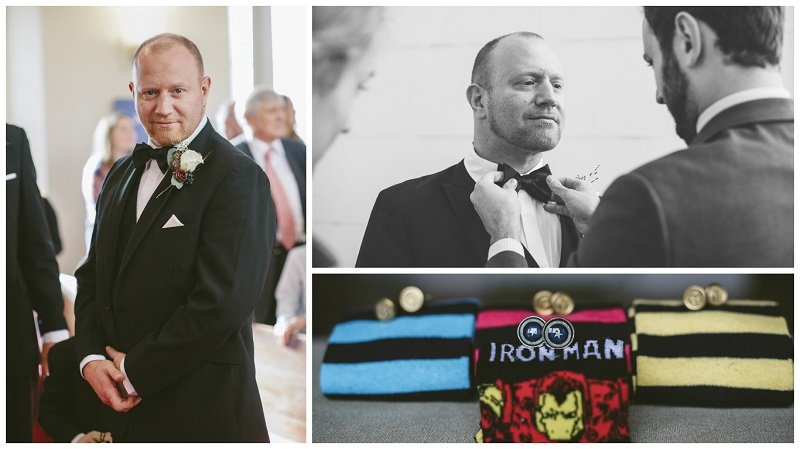 Bridesmaids
"The bridesmaids wore Sorella Vita; the two senior bridesmaids wore long gowns and the junior bridesmaids wore tea length," Claire says.  "I actually bought these off a Chinese website called Phoebe Bridal for a fraction of the price in the shops."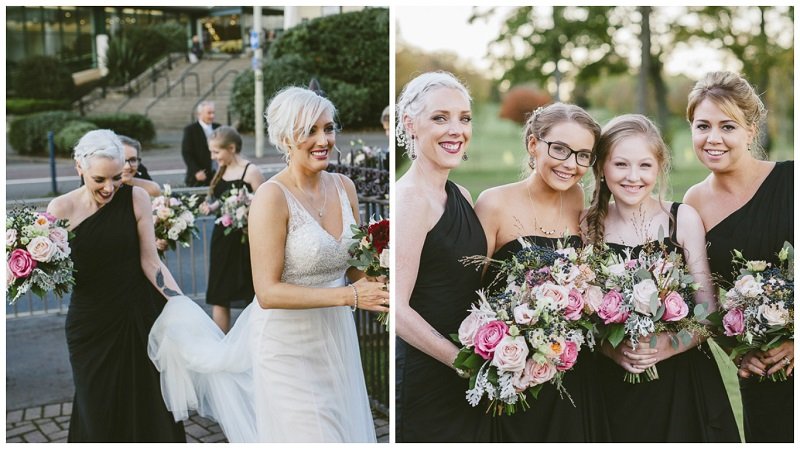 Wedding flowers
The Flower Room, Belfast provided the wedding flowers.  Claire's bouquet was a combination of dark red chrysanthemums, pale pink and peach roses and David Austin Juliet roses, with berries and a pheasant feather to add to the theme. The bridesmaids' flowers were deep pink roses, pale pink roses, gypsophila and lots of foliage to accentuate the colours.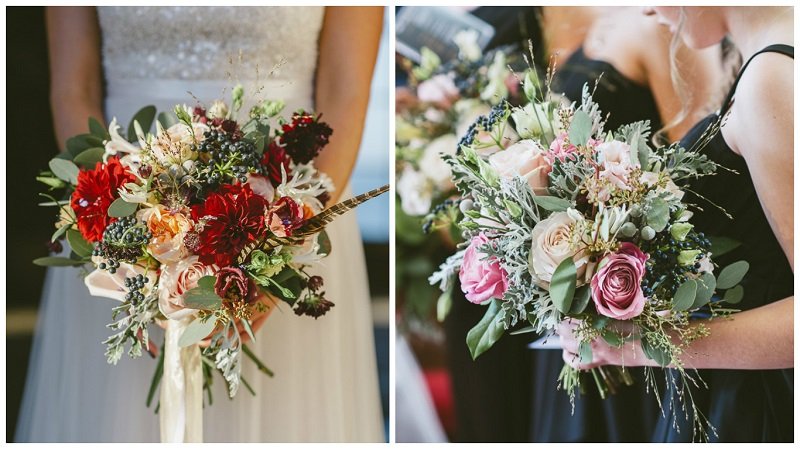 Stationary
The White Letter designed the Art Deco themed black and gold invites. "Kerry also happens to be a very talented personal friend, it was great to work with someone who knows what I like and puts exactly what my ideas are onto paper," Claire enthuses.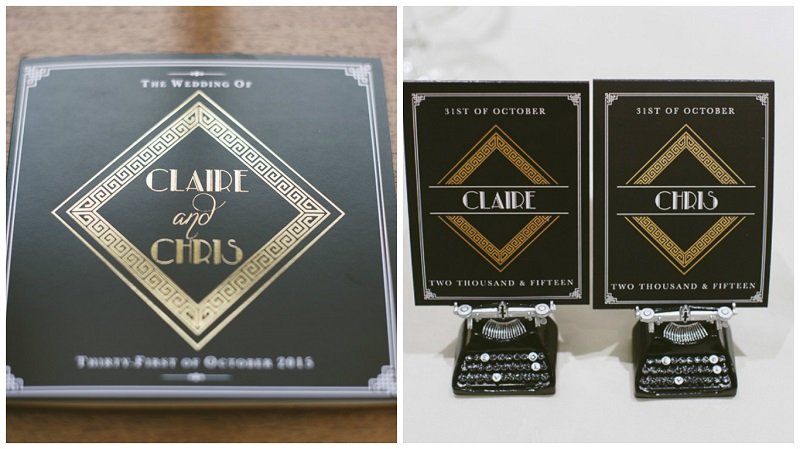 Wedding cake
A family friend made the four-tiered wedding cake. The cake alternated between square and round design, had black ribbon and pearl detail, with pink sugared ice roses. The cake tiers featured flavours; fruit, chocolate, passionfruit and fruit again.
 
Mother of the bride / groom
Claire's mother wore a cobalt blue Diane von Furstenberg design from Cruise. The mother of the groom wore an aqua green dress and jacket from Queen Bee, Fivemiletown.
Favourite Moment
Chris:  "The moment I turned around at the front of the church and saw Claire for the first time is my favourite of the day.  She looked radiant and the memory of that moment will stay with me forever."
Claire: "Walking up the aisle and when Chris turned to see me coming towards him.  Once I saw him smiling at me, I knew it didn't matter if the rest of the day fell apart.  I was marrying my best friend, and I knew that from then on, I couldn't be happier."