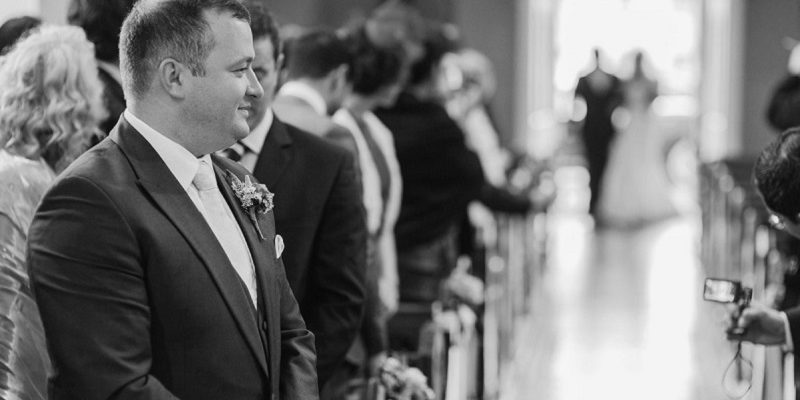 Real Irish Wedding – David Tonery & Christina Sim
~ Real Life Wedding
25th October 2015. Ceremony at Bansha Church, Tipperary, followed by a reception at Kilshane House, Tipperary
From long distance love to an East-meets-West wedding
Photography by Tommy Hannon from Molten Sky Media
The couple
The couple met on a night out in Galway one Christmas. Christina is from Malaysia but had been living in Galway and David is a Galway native but lives in London. After only two dates David returned to London and so began a long distance relationship, with the pair flying between two countries for a number of years.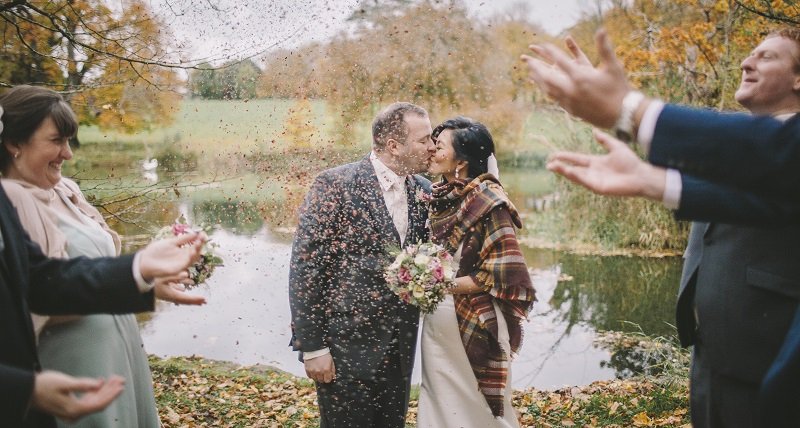 The proposal
"On Christmas Eve I took Christina for a walk along the Claddagh where the river Corrib meets Galway Bay," David recalls. "At Nemo's Pier I got down on one knee and produced an engagement ring and she said yes – after the initial surprise which left her speechless for a few minutes! I managed to design the bespoke ring and planned the entire surprise proposal without her being suspicious at all." Christina adds, "I was completely taken by surprise and loved the ring."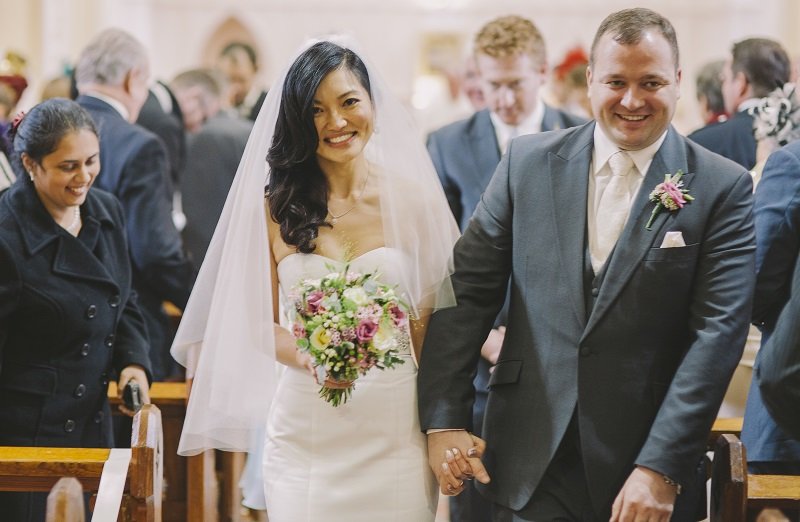 Venue
"Christina didn't want a typical hotel wedding," David explains, "and we both wanted somewhere private and exclusive, but organised and professional. Kilshane House had the perfect ambience we wanted. We knew it was the one when we both walked out picturing our wedding there."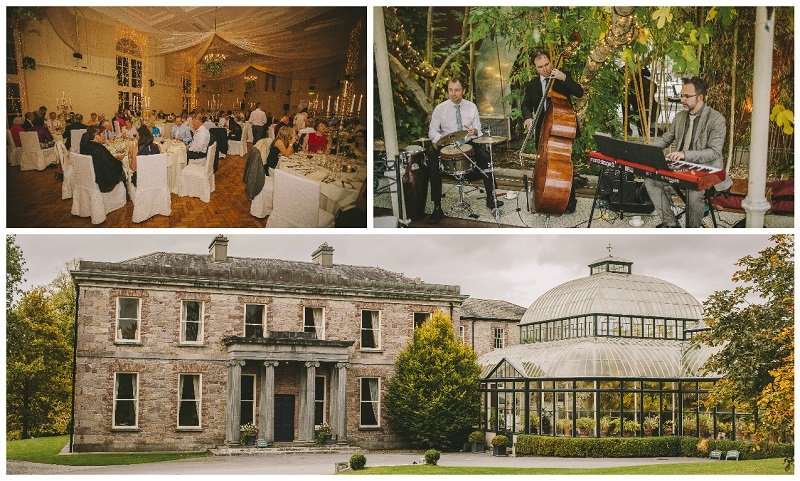 Theme
The couple opted for a 'mix and match' theme that incorporated personal touches that told their story and a little of the East-meets-West. The colour scheme was mint green and pink.
Wedding dress
Christina designed her own wedding dress which was custom made in Malaysia. "I had a dress in my mind and I couldn't find it. So it was made bespoke by the wonderful team in Enya Mareine Boutique," Christina says. "I was so lucky as it was sent over only three weeks before the wedding, Phew! I loved it as I felt completely me, but totally glamorous at the same time – and it is one of its kind. I couldn't wait for Dave to see me in it on the wedding day."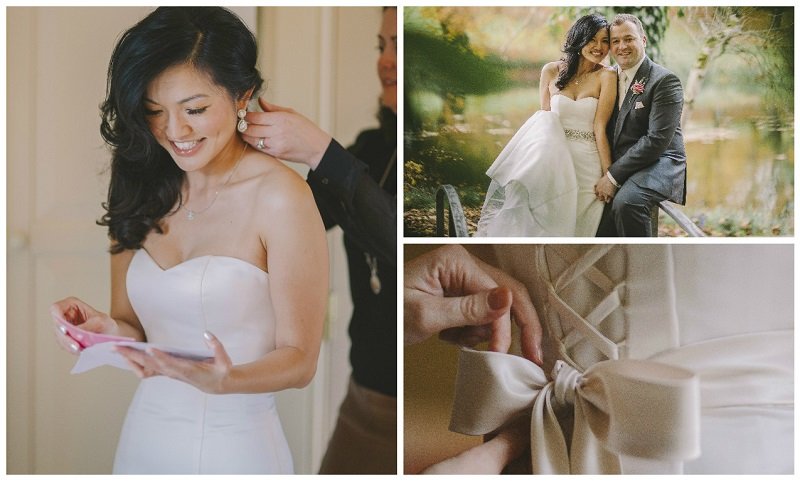 Groomswear
The groom wore a three-piece suit from Martin Feeney Formal Wear, Galway with an ivory tie to match Christina's dress. "He had the sports car socks and the fuel gauge cuff links to inject a bit of fun and reflect his passion for cars," Christina explains.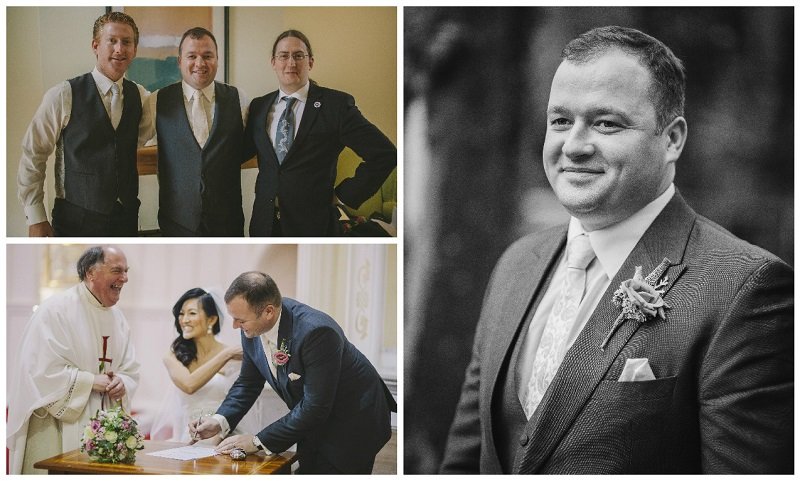 The bridesmaid
The bridesmaid wore a mint green chiffon dress from Debenhams.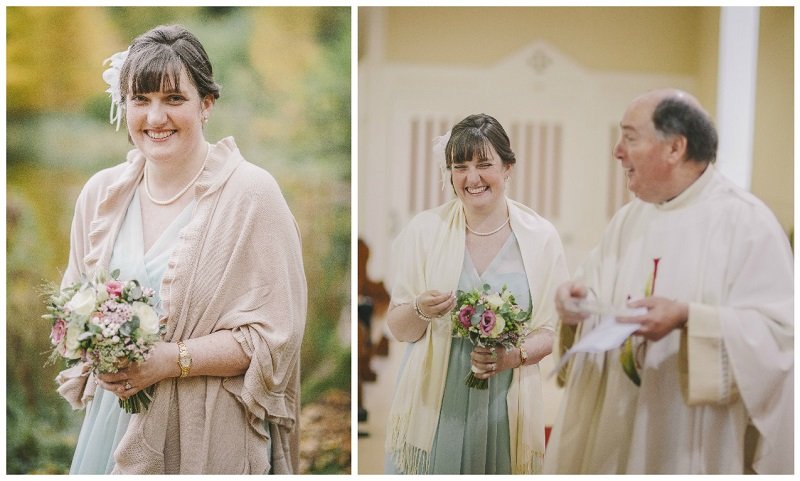 Wedding flowers
"We both knew we wanted the bouquet to be rustic, seasonal with variety of flowers and textures with pink, minty green and cream tones," Christina says. "We wanted it to be fun but elegant. Our florist, Michelle from Cashel Flowers, understood what we were after straight away and made it an easy enjoyable process. The centre pieces were handmade light bulbs with flowers to reflect the bouquets and flower arrangements in the church. They hang off the candelabras, giving a floating effect."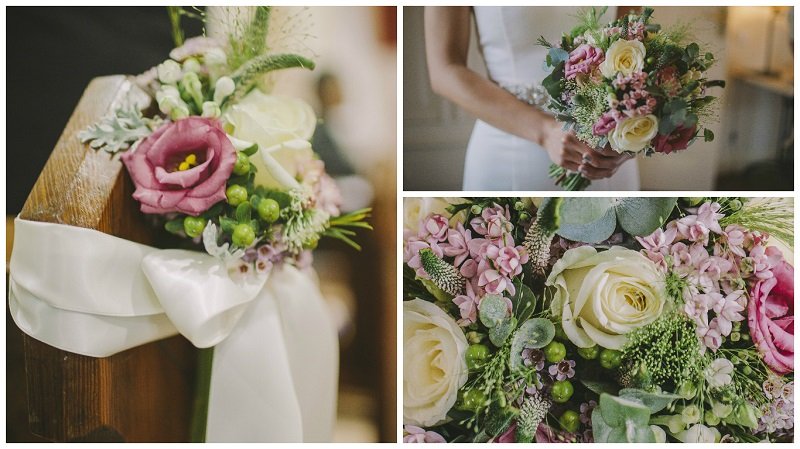 Stationery
The couple designed all of the wedding stationery – from the wedding invites to the church wedding booklets, which were actually wedding scrolls.

Wedding cake
Chef Ralf from the Kilshane House created the four-tier wedding cake. "It was a fresh cream and sponge cake with the chef's special recipe, of layers with orange-mascarpone, chocolate and vanilla… yummy!" Christina enthuses. "It was decorated with fresh seasonal fruit and flowers. We had discussed our ideas with Ralf and he made it all come true and more. He even handcrafted the tree board it sits on with our names and wedding date and it now sits proudly on our mantelpiece."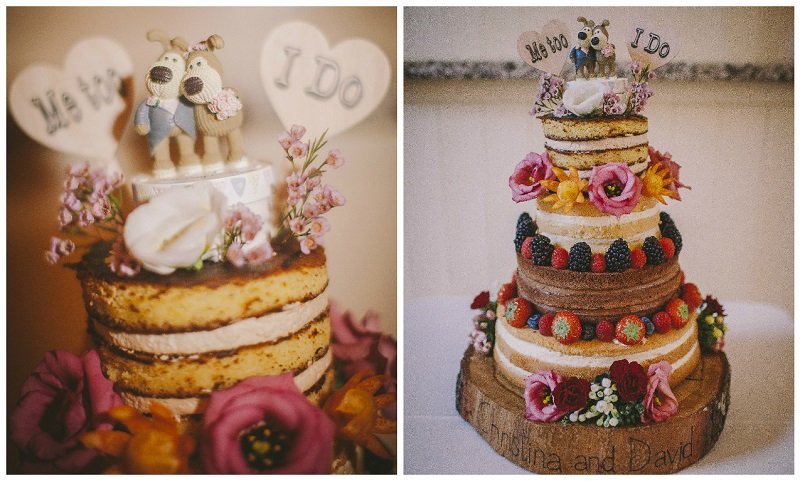 Favourite moment
David: "When she said 'I do'."
Christina: "When I see Dave looking at me with his big smile as I walk down the aisle and I can't wait to say I do. Oh and watching the amazing fireworks wrapped in his arms as the new Mrs Tonery."