24th October 2015. Ceremony and reception at Mount Druid, Co. Westmeath
This wedding involves a romantic leap year proposal followed by a 'Wedstock' themed do
Photography by Pawel Bebenca
The couple
Dubliners Julie and Fergal got together with a little help from their friends. "We met through close friends – I think there was a bit of match-making going on and they were spot on," Julie begins. "We met in Ferg's local pub and hit it off immediately. After meeting a few more times over the coming months, I got impatient and made the first move and kissed him. We started dating from then on and have been together ever since. The day we got married was the day we met in that pub, seventeen years previous."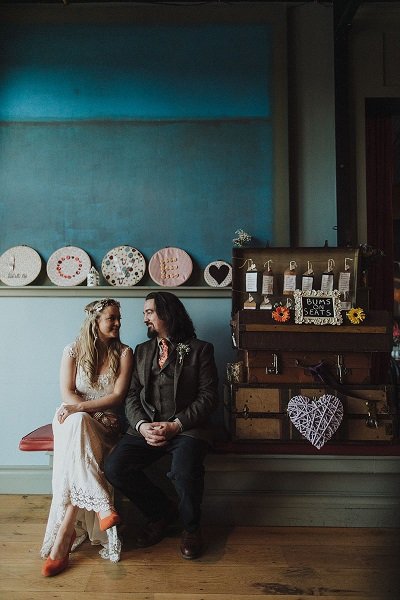 The proposal
Julie continued 'making the first move' and proposed to Fergal in 2012 during a romantic trip along the Causeway Coast. "Thirteen is a lucky number in his family so I decided to carry on the luck and proposed on our 13th anniversary," Julie explains. "It also happened to be a leap year. I told Ferg that we were having a romantic picnic on the beach. Despite the sun shinning it was pretty cold and he thought I was cracked, wanting to have a picnic in February. He suggested having the picnic in the car instead. You can imagine my blood pressure rising! I insisted on having our picnic on the beach and eventually got him down to Whitepark Bay beach.
"I told Ferg I had an anniversary present for him and I gave him a photo-book filled with photos of the two of us. After he flicked through it, I told him close his eyes. When he opened his eyes I was holding a sign with the words, "An Bposfaidh Tu Me?" Ferg loves Irish which is why I decided to propose in Irish. He was so shocked and thrilled at the same time. There was lots of laughing and a few happy tears. After he said that it was such a pity that I didn't have a ring, now that we were engaged. I then took a little box from my handbag and said, 'actually I do'. He took it from my hand, opened it and asked me to marry him."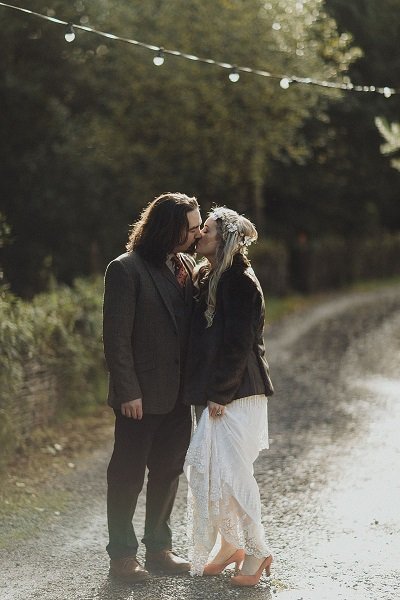 Venue
On the lookout for something a little bit different and quirky, the couple sourced Mount Druid online. "Mount Druid was the first and only venue we viewed, and we fell in love with it," Julie says. "It is a family run, glamping wedding venue on a 100 acre site. The accommodation consists of yurts, shepherds huts, and Father Ted caravans nestled amongst the trees. They have big comfortable beds, wood-burning stoves and candles. There is a red tin chapel for the ceremony and two big rustic barns with antiques and restored furniture, for the reception. We love nature and the outdoors and just adored the setting of Mount Druid and the staff were amazing."
Theme
"We had a number of themes intertwined; it was rustic barn/festival/autumnal wedding," Julie explains. "We both love music and Ferg plays guitar and is in a band, so we called our wedding event 'Wedstock'. We had four live bands play throughout the day which we felt gave a great party atmosphere. The main barn also has a huge stage and that also gave a festival feel to it. To tie in with the festival theme we hired a 1979 vintage Volkswagen campervan for the weekend. Myself and Ferg made bunting which was hung in the chapel and the barns. Our colour theme was brown and orange which tied in with the autumnal colours and woodland setting. I collected 200 jam jars and over two years I decorated them with lace, hessian and ribbon in the theme colours. We also collected pine cones and used these alongside wooden log discs to decorate the tables."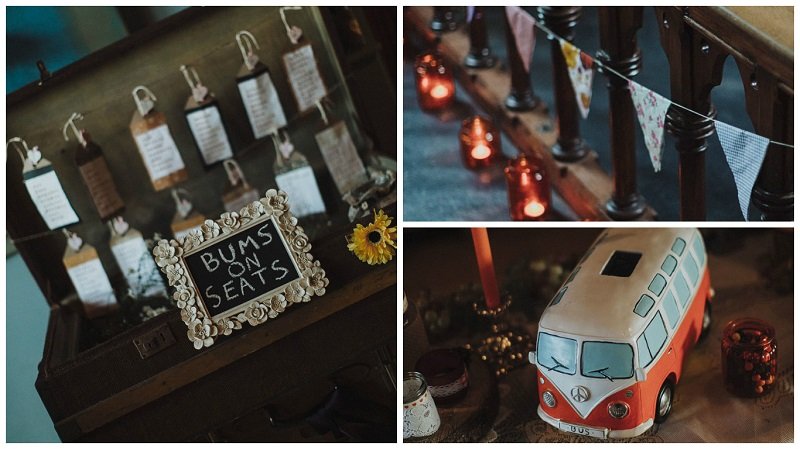 Wedding Dress
The bride wore a stunning wedding dress by Claire Pettibone. "I didn't want something traditional. I wanted a dress that reflected my personality and that I felt comfortable in," Julie explains. "I am a hippie at heart and I love how romantic, vintage and bohemian Claire Pettione's dresses are. Kristine is made from Victorian embroidery and lined with ivory silk charmeuse. It has a sweetheart neckline, sheer back, cap sleeves, and a heart shaped train. I loved wearing this dress and felt so comfortable in it."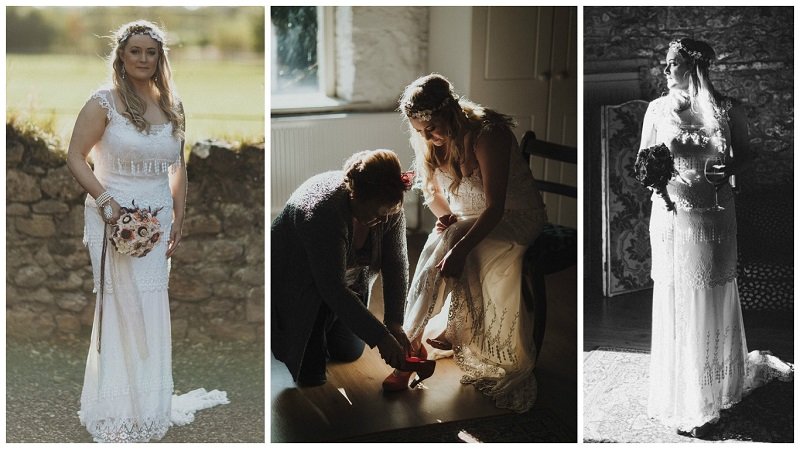 Groomswear
The groom wore a John Rocha suit and shoes by Caterpillar.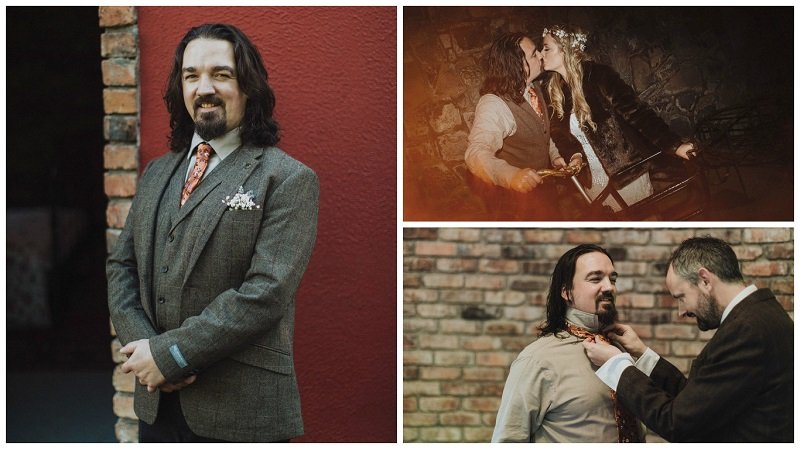 The bridesmaid
The bridesmaid wore an ASOS gowns which was accessorised with a jacket from Vera Moda and Clarks boots.
Wedding flowers
Julie wanted a bouquet that would stand the test of time so she made the wedding bouquets using fabric flowers and jewellery with sentimental significance. "Each piece of jewellery has a story, whether it was given to me by Ferg, or a friend for my birthday or belonged to my great-granny," Julie explains. "I had all of this sentimental jewellery sitting in a drawer so it was great to be able to use it in this one piece and now I'll have it forever. I wanted real flowers for the tables in the main barn. I love wild flowers and my sister came across Seonaid Renton (Love Irish Flowers) at a market in Carlow. All her flowers are naturally grown and seasonal, and her arrangements are stunning. I gave her about 35 of my decorated jars and she filled them with beautiful seasonal posies."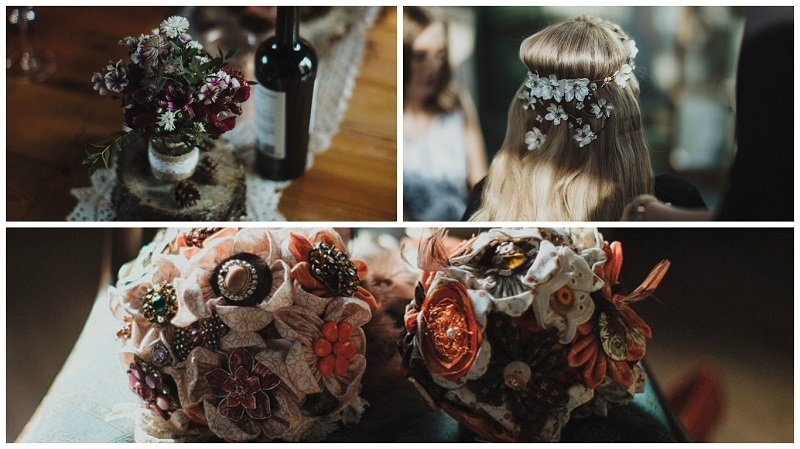 Stationery
Caricaturist Niall O'Loughlin created the wedding invites and sketched the guests on the day.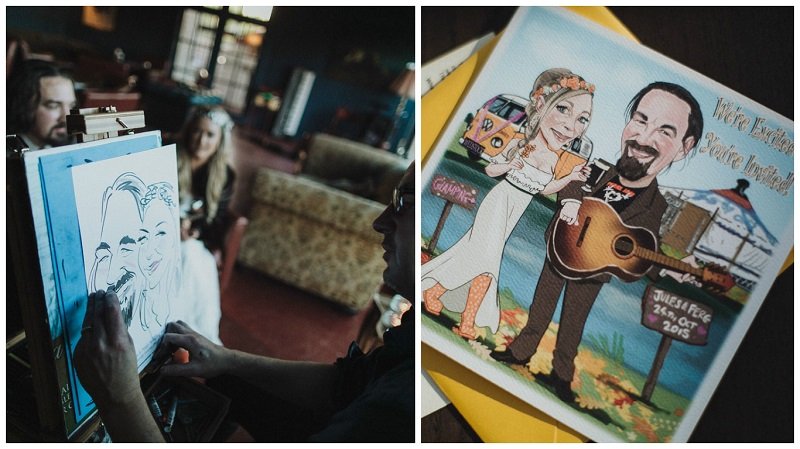 Wedding cake
The cheese wedding cake was supplied by Sheridan's Cheese Mongers. "We didn't want a traditional sweet wedding cake so we decided we'd have a wedding cheese-wheel cake instead," Julie says. "We chose four cheeses to make up our cake; coolea, cooleeney, knockanore, cashel. We arranged it with wooden log discs, decorated it with fruits and flowers and placed a mini campervan on top."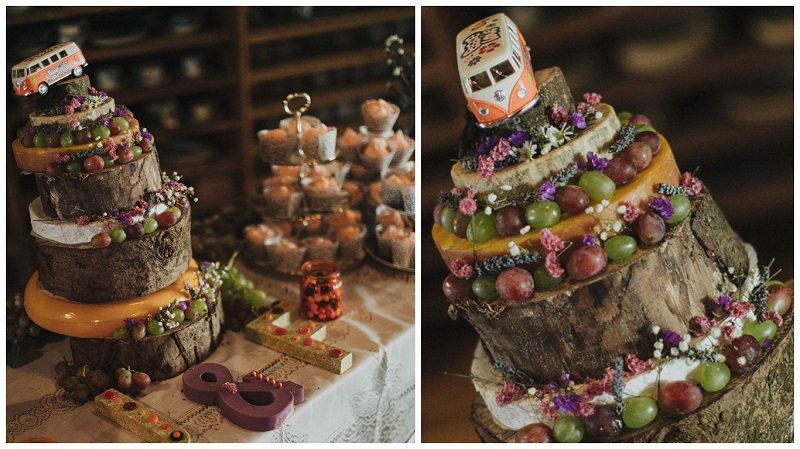 Mother of the Bride
The Mother of the Bride wore a dress from Monsoon, accessorised with a Pamela Scott stole.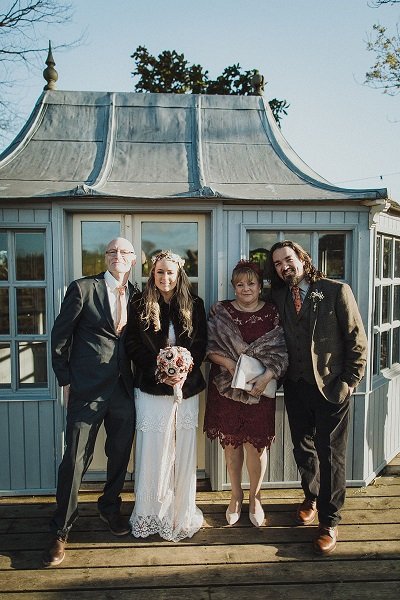 Favourite moment
Fergal: "Myself and Jules didn't have a top table with family or the wedding party. We sat together, just the two of us at the top of the room. I think my favourite part of the day was sitting there and watching all our friends and family chatting, laughing and having fun. Throughout the meal people would come up to hug and congratulate us. There was such an amazing feeling of fun and love in the air."
Julie: "Walking down the aisle hand in hand seeing the big smiles and hearing the cheers and clapping from all our friends and family. I really enjoyed greeting all our guests. It's a really special moment and quite overwhelming."