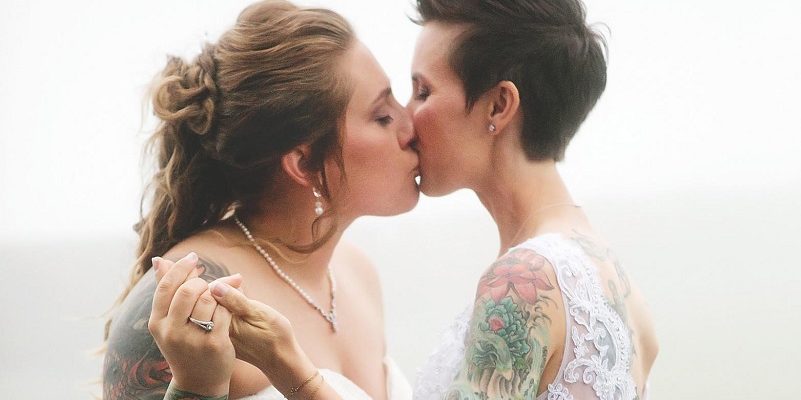 Real Irish Wedding – Kristina Messenger & Jennilee Duckett
~ Real Life Wedding
June 19, 2015. Ceremony at Cliffs of Moher, O'Brien's Tower followed by reception at McDermott's Pub, Doolin, Co. Clare
This couple married one misty day on a cliff top in County Clare
Photography by Yvonne Vaughan Photography
The couple
American brides Kristina and Jennilee met while playing in a local softball league in 2013, they became firm friends before their friendship blossomed into love.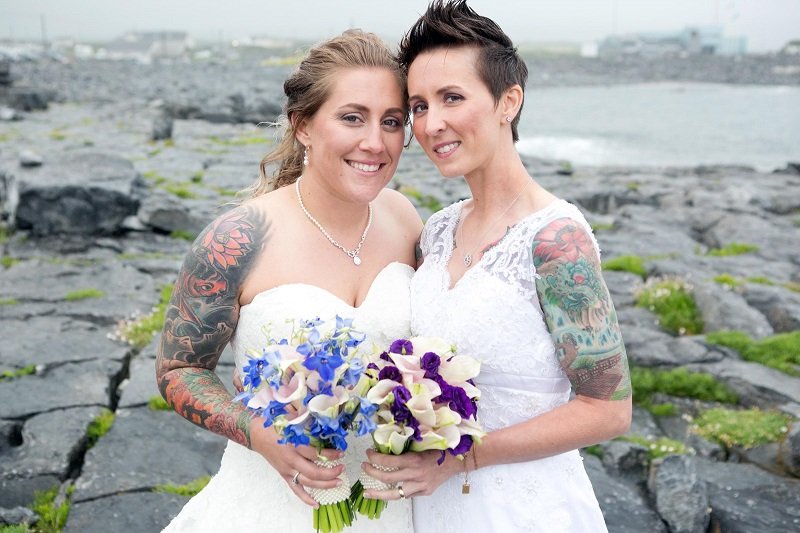 The proposal
Kristina popped the question on March 29th 2014. She decided to recreate one of Jennilee's happiest childhood memories of being a cabin by a lake. Kristina rented a cabin for the weekend and invited three close friends along. "I told Jennilee I was going to go downstairs make her some coffee," Kristina begins "then my friends and I got to work; we had arrows cut out of cardstock that was used for directional signage for Jennilee. We laid them from the bedroom to the main floor, out onto the deck and down the pathway to the edge of the lake. Along the way there were mementos of our relationship e.g. a softball, a banner from a party my family had when they met her, moving in together, when 'I love you' was first said, etc. Jennilee followed the arrows stopping at each memento, she eventually came to me where I went to one knee and proposed. She said yes!"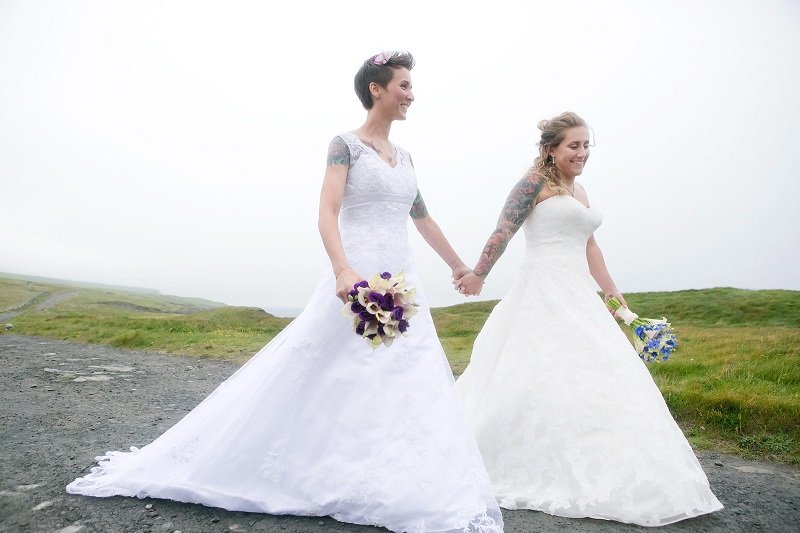 Venue
"It was a dream of Kristina's that if she ever got married it would have to be in Ireland on the Cliffs of Moher," Jennilee says. "We chose to have a dinner at a local pub for the reception. After visiting numerous places we determined that McDermott's Pub was the location we wanted, it was what we were looking for; a traditional Irish Pub with great food, good people and music."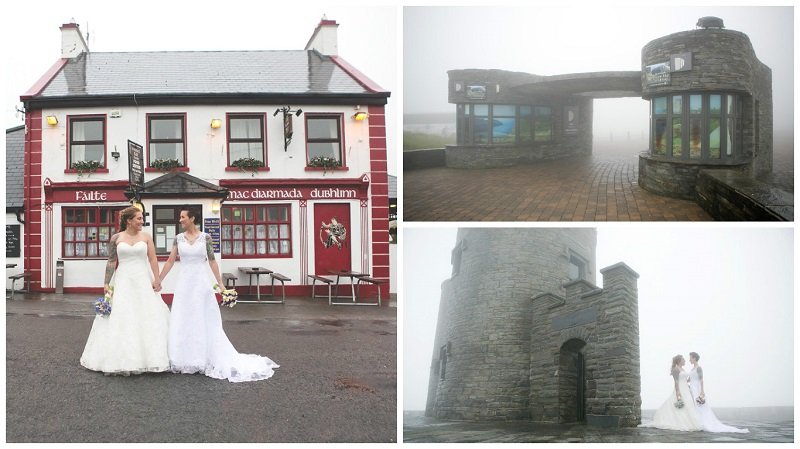 Wedding dresses
Jennilee wore an Essence of Australia gown and Kristina's dress was from Jasmine Bridal of Chicago.
Bridesmaid dresses
The bridesmaids on Kristina's side wore matching dark purple bridesmaid dresses from David's Bridal, and Jennilee's bridesmaid wore a dark blue dress, also from David's Bridal and the groomsman wore dark grey trousers and a dark blue shirt with matching tie.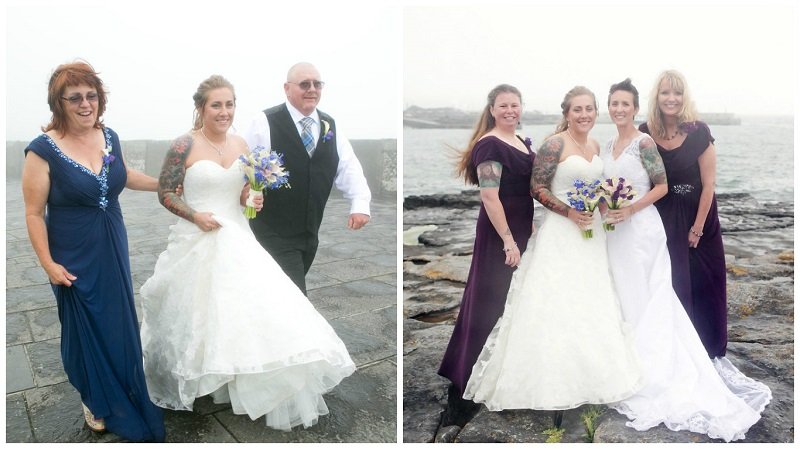 Wedding flowers
Lawless Flowers, Limerick created the wedding flowers. Kristina's bouquet contained blue flowers with white Calla Lilies and Jennilee's contained dark purple flowers with while lilies.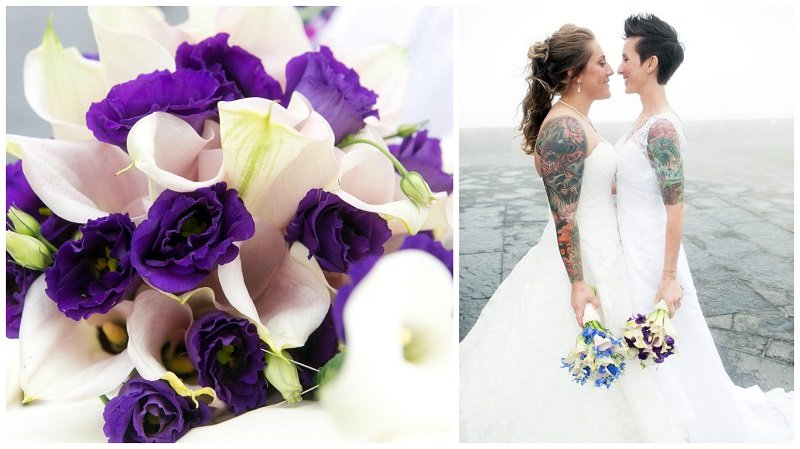 Favourite moment
Kristina: "My favourite moment was during the first look when I saw Jennilee for the first time on our wedding day."
Jennilee: "After the ceremony when we walked out of the tower together and had a special moment alone prior to the walk off the cliff."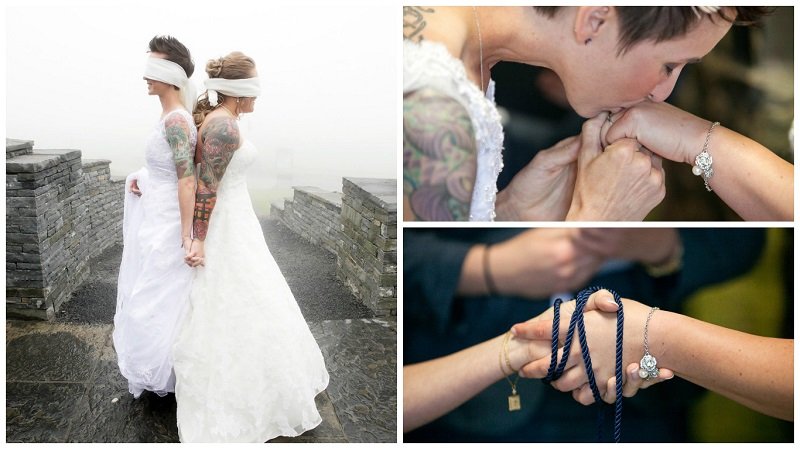 Top Tip
Kristina: "Have patience and acceptance that not everything will go as it is planned but in the end it will all work out."
Jennilee: "Be clear and concise with expectations of bridesmaids."