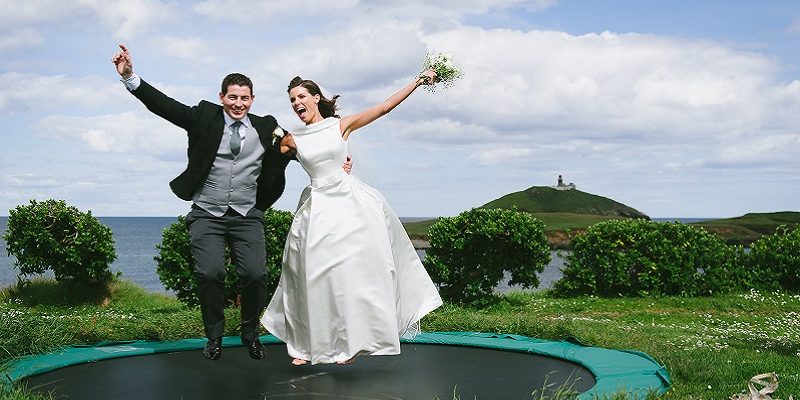 Real Irish Wedding – Leanne Matson & Seamus Galvin
~ Real Life Wedding
Real Irish Wedding – Leanne Matson & Seamus Galvin
29th May 2015. Ceremony at 'Star of the Sea' Church, Ballycotton followed by reception at 'The Grainstore' at Ballymaloe House Hotel, Cork
This wedding is a combination of 'timeless elegance' and good old fashioned fun
Photos by Rory O'Toole Photography
The couple
Living in two different countries couldn't keep this pair apart, "We were introduced by mutual friends in London. I was working as a stockbroker in Dublin and Seamus as a Civil Engineer in London at the time so we did long distance for a year or so before travelling to Sydney together," Leanne begins.
 
The proposal
Seamus popped the question in the picturesque New Zealand town of Queenstown on 27th December 2013. "Having booked the Onsen Hot Pools under the stars and overlooking the mountains, Seamus hopped out to grab the camera and told me to turn around and look at the view for the photograph," Leanne recalls, "when I turned back around he was on one knee holding a box that had a stunning solitaire on a yellow gold knife edge band which he had had made in South Africa. Despite being a total surprise, it was perfect for me. We celebrated over dinner at Botswana Butchery on the water. He had asked my Dad six months beforehand in person."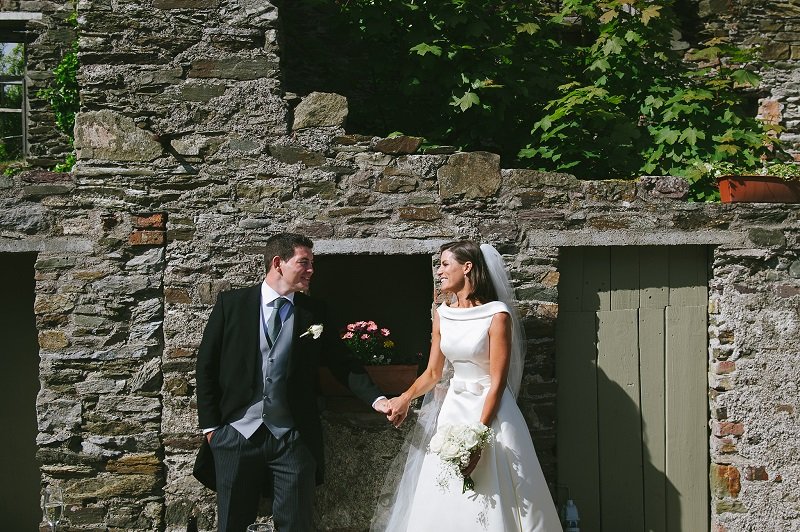 Venue
"I have holidayed with my family in Ballycotton since I was a baby (in fact my Dad has holidayed there since he was a baby too!) so it is a special part of the world to my family," Leanne says. "My parents have a summer house overlooking Ballycotton lighthouse and I knew I wanted to get ready there. The 'Star of the Sea' Church also has a fantastic view and a close friend of my Dads who is a bishop also holidays there and kindly offered to take time out of his busy schedule to marry Seamus and I. We chose 'The Grainstore' at Ballymaloe for the reception as it felt homely and personal with a country feel. The grounds were an excellent backdrop for our photographs."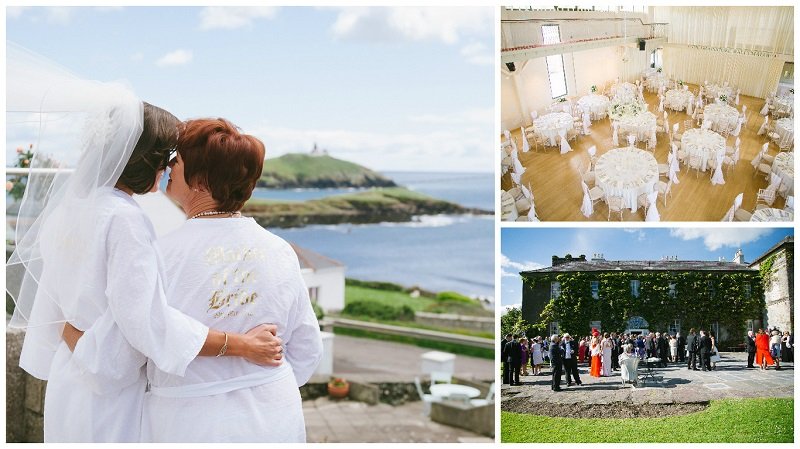 Theme
"I really wanted timeless elegance and natural colouring," Leanne explains. "I went for ivory dresses, had fresh flowers in my hair and decided on fresh flower halos for my bridesmaid and flower girls. It was summertime so I loved the idea of being by the sea. We ended up bouncing on my nephews' trampoline in front of the lighthouse in the sunshine."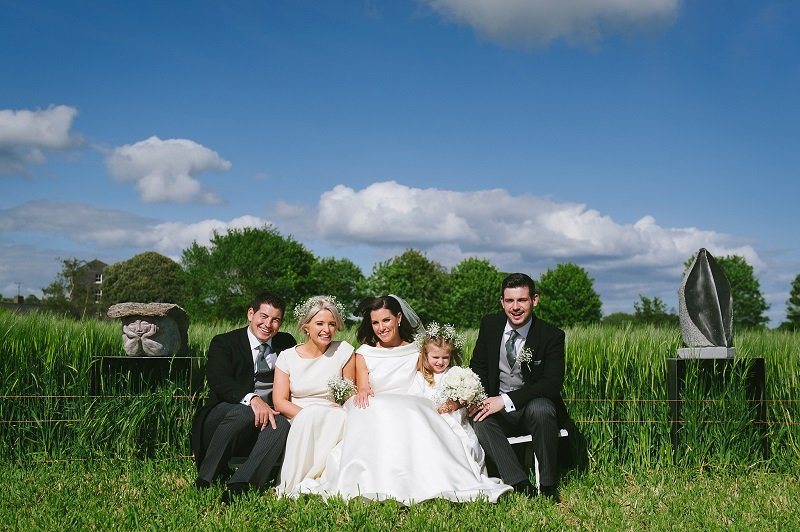 Wedding Planner
Kate Deegan from Perfect Details planned the wedding and did a 'spectacular' job. "She executed the hanging flower arrangements perfectly and the room was dressed as I had imagined it. She was so easy to work with and had some great ideas." Leanne enthuses.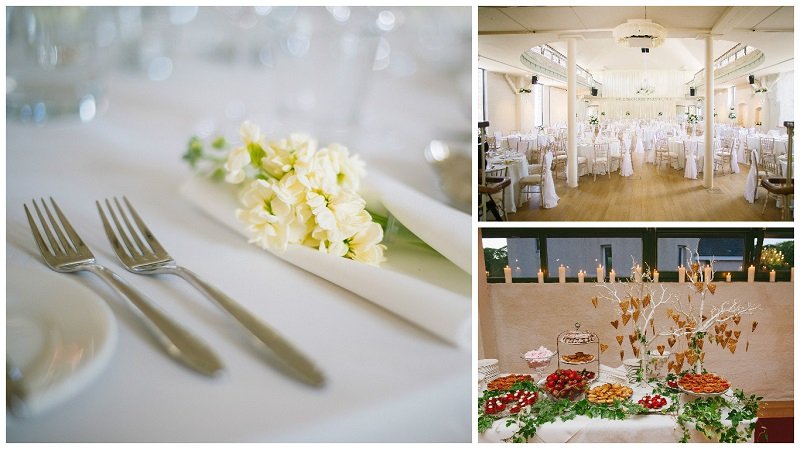 Wedding Dress
The bride wore an elegant ivory duchess satin wedding dress by Alan Hannah from the Fairy Godmother boutique in Middleton. "It was timeless and elegant with a channel bow at the waistline and a cowl neckline that ran into a deep V at the back," Leanne says. "I had two veils, one long and one short, both with a simple thin satin trim. I wore the short over my face coming up the aisle, the long for the rest of the mass as I wanted the back detail to show through only one layer and the short again for the reception."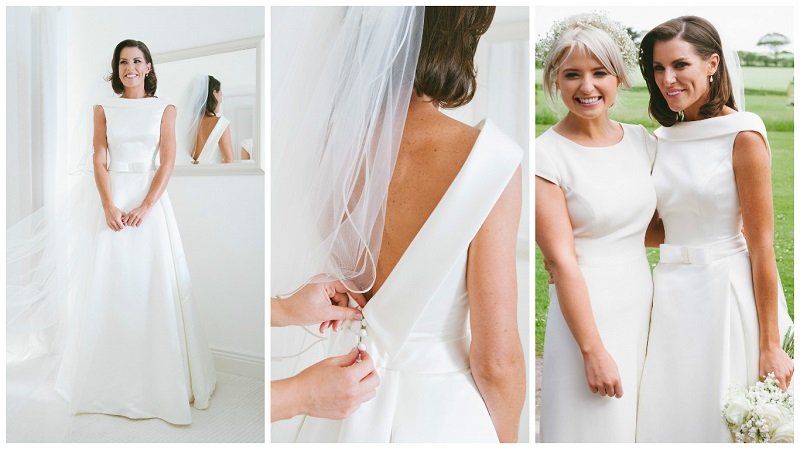 Groomswear
Seamus wore a three-piece suit, pinstripe grey trouser, grey waistcoat with matching tie and cravat and black jacket with tails. His best man and brother, Paddy, father-in-law Harry and Dad Seamus Snr wore the same.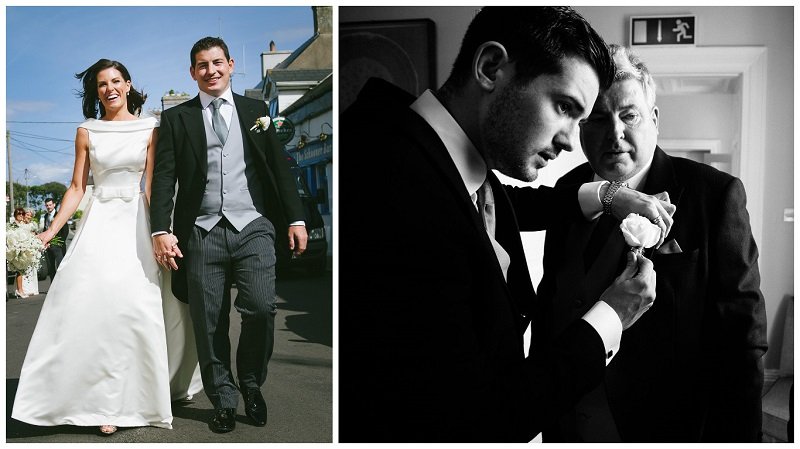 Bridesmaid dress
Bridesmaid Katie Twomey wore ivory capped sleeve long dress with button detailing all down the back, from Alternations by Kate, Cork.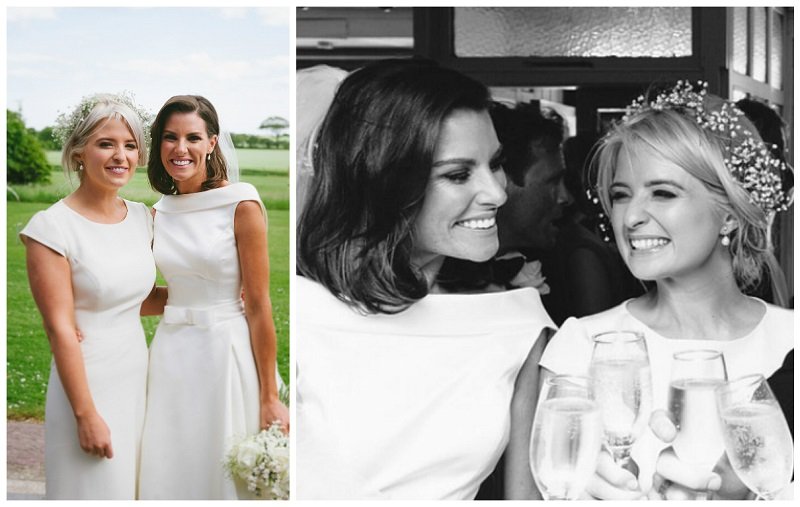 Wedding flowers
Florist Margaret Ahern, who is based in Ovens, Cork sourced and arranged the wedding flowers. "My favourite aspect was the natural floral arch over the main doors of the church," Leanne recalls, "I loved it so much that my wedding planner transported it so that it could be part of the styling at the reception venue too. Waste not!"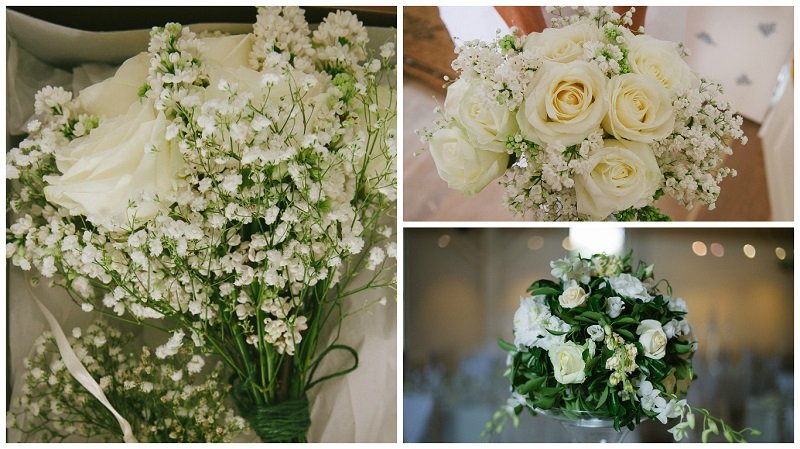 Stationery
"The wedding invites were a big thing for me, I felt they set the tone of the wedding and I wanted them to be elegant and simple," Leanne recalls. "I also wanted something personal so my cousin, artist Eilis O'Toole drew a sketch of The Main House at Ballymaloe for the front. I choose Ailbhe from Ink Pretty on Baggot Street in Dublin and she didn't disappoint. They were on ecru card with navy thermography print and indigo taffeta lining the envelopes. The mass booklets were printed by Lee Press in Cork, the talented Eilis O'Toole again kindly drew a sketch, this time of the 'Star of the Sea' church in Ballycotton."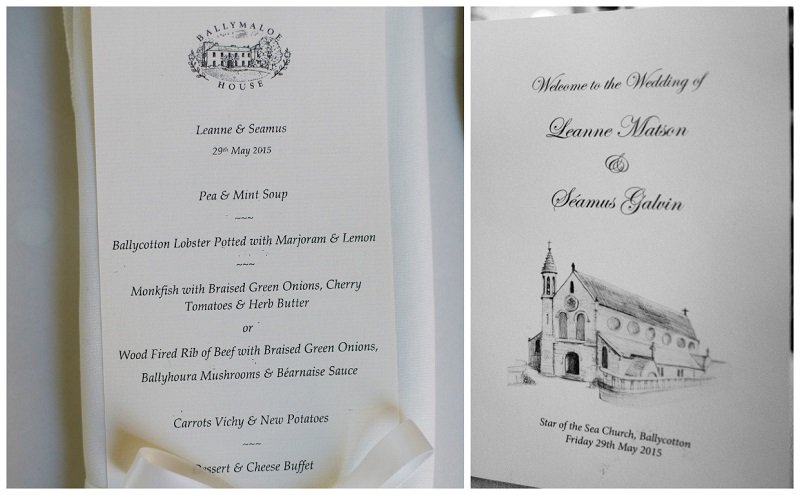 Wedding cake
"Seamus' fabulous Aunt Jetta Weld made and decorated our three-tier wedding cake," Leanne says. "It was lemon sponge, chocolate biscuit and fruit cake, and it was gluten free. It was delicious and it was devoured!"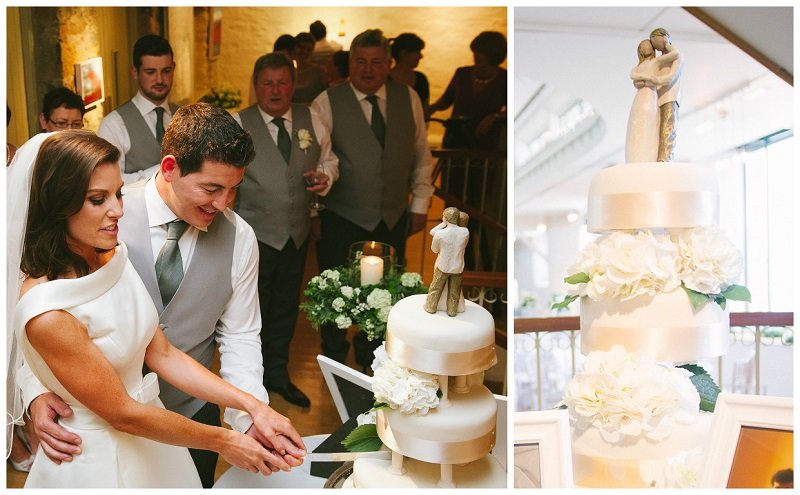 Mother of the Bride/Groom
Leanne's mother Barbara wore a dress by Parisian designer, Paule Ka which was bought from Catherine McCormack in Adare. "It was ivory and black in colour with her signature bow detailing at the waist. She matched it with a Paule Ka hanbag and heels as well as a stunning wide brimmed hat made especially by Celestine McCoy at Hattitude in Kinsale," Leanne explains. "Seamus' Mum Geraldine wore a black and cream Escada dress from Brown Thomas, Dublin with a subtle pink floral print and a black and pink headpiece made by Aoife Hannon."
 
Favourite moment
Seamus: "Hearing my new wife's speech, she had kept it as a surprise; it was a poem she had written herself."
Leanne: "The heartfelt kiss and hug from my Dad when I sat down from saying my speech. He was beaming!"