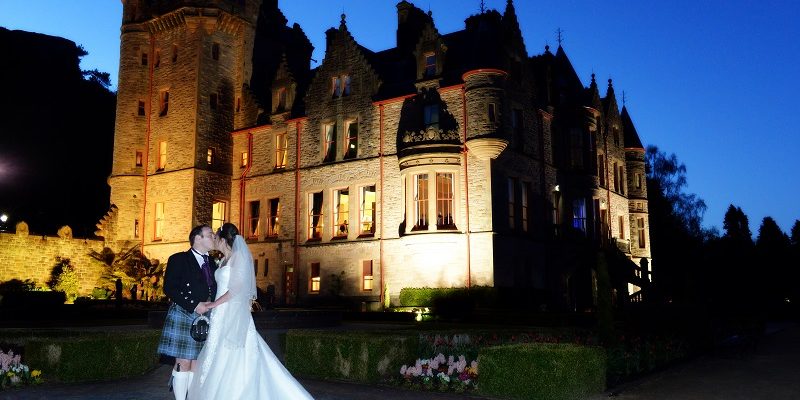 Real Irish Wedding – Peter Faragher & Alana Mc Caughan
~ Real Life Wedding
From Finn McCool to tartan touches – this couple put their own unique twist on their special day
25th April 2015. Ceremony at The Church of the Immaculate Conception, Ballycastle, followed by a reception at Belfast Castle
Photography by Frazer Smyth
The couple
A mutual love of rugby first brought Peter and Alana together. "I moved to the Isle of Man in 2005 to finish my Marine Biology degree and joined the local rugby club," Alana beings. "Pete played for the same team and often helped out at our training sessions. We became friends over the next five years and things progressed from there."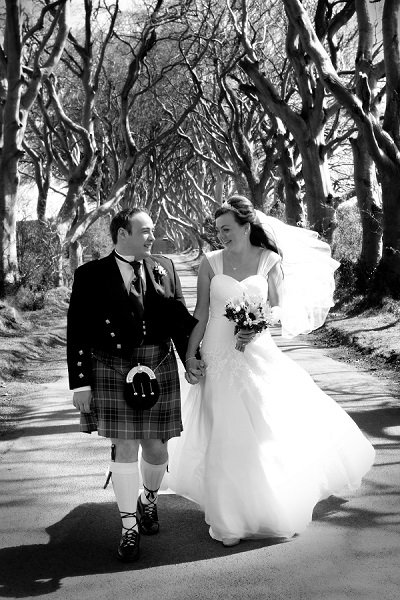 Proposal
"On one of our first dates Pete took me to a lovely beach on the west of the island near his parent's home," Alana recalls. "We talked about our dreams for the future and firsts that we wanted to share together. Fast forward to our three year anniversary Pete took me to the same beach at sunset to walk our boxer puppy Lola. Half way along the beach Pete got down on one knee and proposed. He had originally planned on making a harness for Lola to wear but having taken her for a walk in the woods to try it out, Lola took off through the trees with the ring on her back chasing rabbits. At that point Pete decided to go with the traditional down on one knee rather than risking Lola taking off into the Irish Sea with the ring attached!"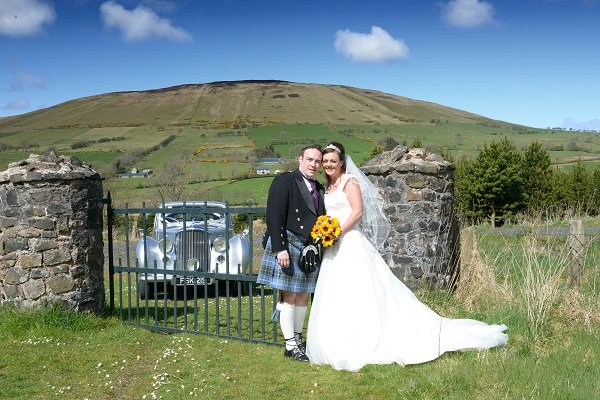 Venue
Alana's mother grew up on the Antrim Road, Belfast and Alana has happy childhood memories of visiting Belfast Castle as a child. "My mum has a photo of me standing on the steps as a little girl pretending to be a princess," Alana says. "The minute Pete proposed I knew that I wanted to get a chance to be a real life princess on those steps."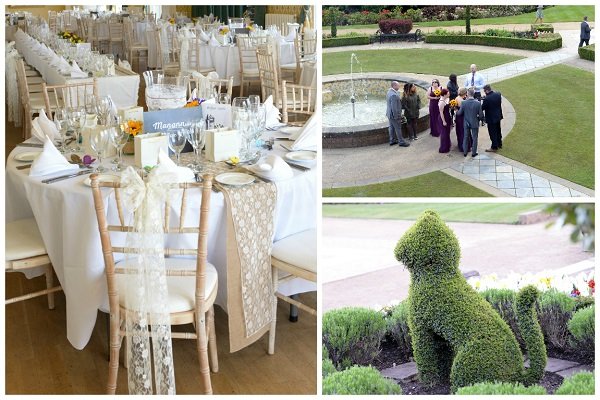 Theme
The wedding was themed around the colours of Peter's Manx Tartan kilt. "The tartan is made up of five colours: blue for the sea, green for the hills, gold for the gorse, purple for the heather and white for the cottages. The Isle of Man is derived from Ireland originally – Finn MacCool threw a clod of earth, more commonly known as Lough Neagh, at the Scottish giant and it landed in the middle of the Irish Sea making the Isle of Man. The table names were all named after Manx and Irish myths and legends with the top table being called Finn MacCool."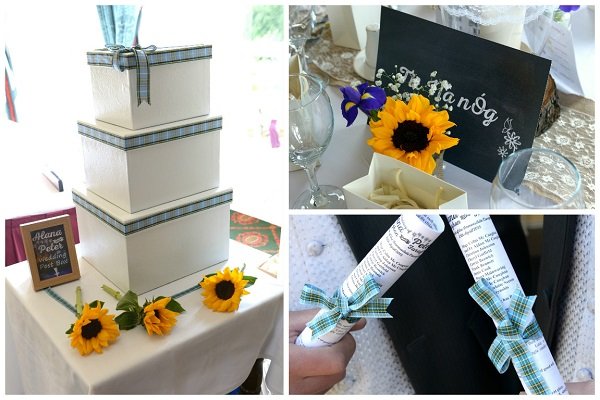 Wedding Dress
Alana's wore a stunning Ella Rose wedding dress by Private Label By G from Diamond Bridal, Garvagh. "It had a sweetheart neckline with lace, diamantes and peals, with a fitted bodice and a wide floating skirt," Alana says. "The first time I put it on I remembered that it swished and I felt like a princess. When I added a tiara I knew that this was the one."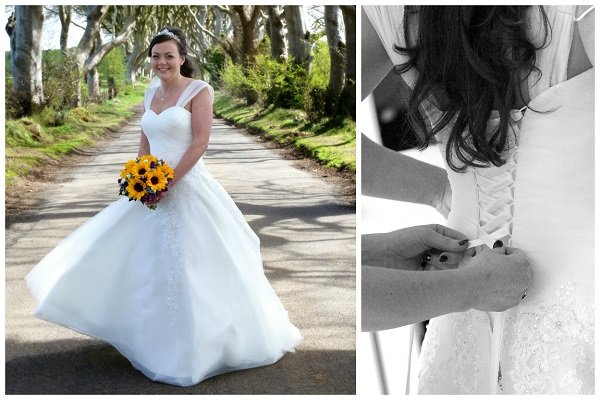 Groomswear
Pete and his groomsmen all wore Laxey Tartan kilts hired from Mostly Manx, Isle of Man.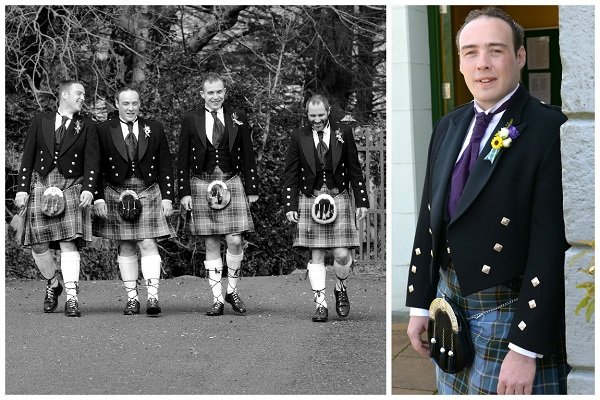 The bridesmaids
The bridesmaids wore dresses by Kenneth Winston from Diamond Bridal, Garvagh.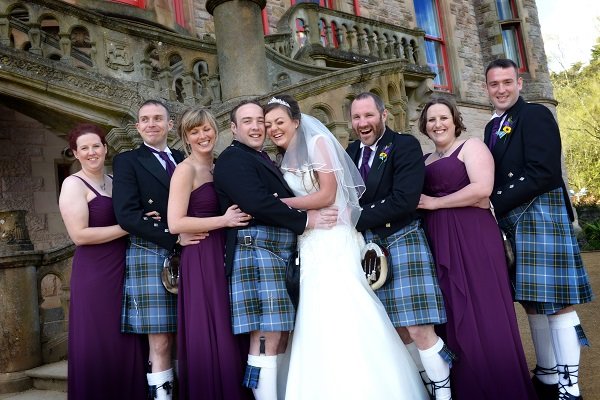 Wedding flowers
Lynda Ferguson and the team at Leaf Designs created the wedding flowers and room décor. "When I first spoke to Lynda about thoughts for the wedding all was going really well until we realised that sunflowers in April were next to impossible!" Alana recalls. "Lynda showed me some other options but promised to try her best.  It wasn't until the very morning of the wedding when my chief bridesmaid, Chrissie, brought my flowers up to my room that I knew for definite that I had got my dream flowers. In my bouquet Lynda also incorporated clusters of tiny handmade roses made from Manx tartan ribbon allowing the tartan theme to continue."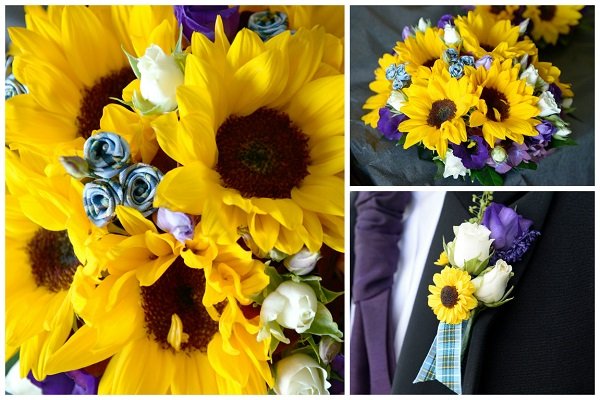 Stationery
The stationery was provided by Love22 in Magherafelt.  As the couple were unable to bring their beloved pet puppy to the wedding they decided to use her on the Save the Date.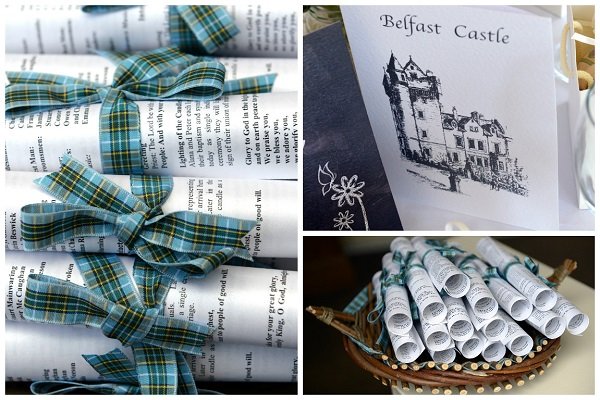 Wedding cake
The bride's mother just so happens to be a former Home Economics teacher who has published her own cook book. Alana's mum and the couple enjoyed lots of taste testing sessions to figure out which flavours worked best.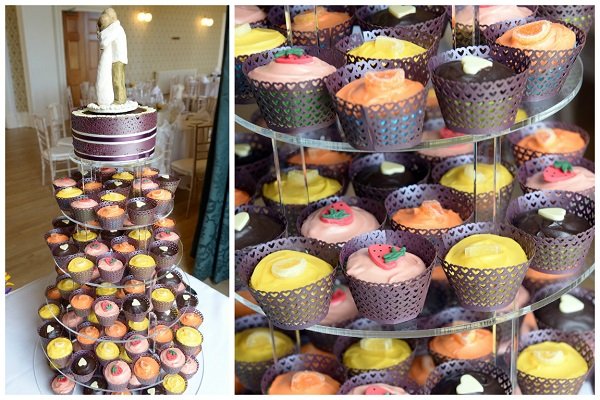 Favourite moment
Peter: "Standing at the altar and turning round to see Alana walking down the aisle towards me was the best bit of the whole day for me. Seeing how beautiful she looked and knowing that in a matter of minutes we would be husband and wife made me the happiest man in the world."
Alana: "Walking into the church and seeing all of my closest friends and family standing in the church waiting to witness me marry Pete was a wonderful moment.  Knowing the effort that people had gone to, to ensure that they were able to share our special day with us was a very special feeling and made me feel very lucky to have such amazing people around us.