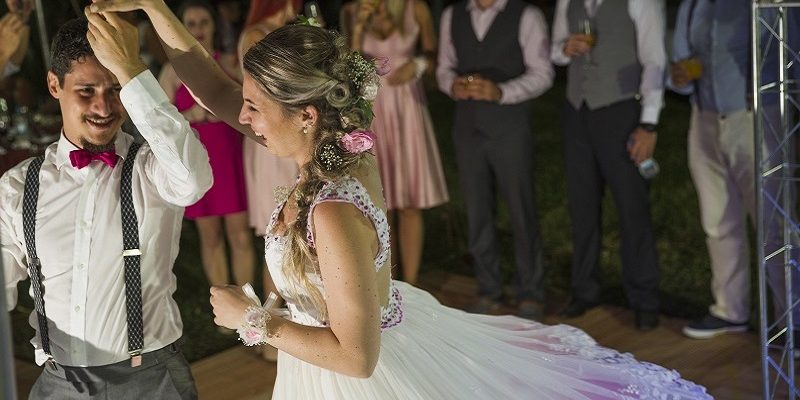 Real Irish Wedding – Raquel Jinkoski & Lucas Laronga
~ Real Life Wedding
16 January 2016. Ceremony and reception at Raquel's childhood home; a small farm in Rio Pardo, Brazil
The couple met in Temple Bar and married on a Brazilian farm
Photography by Massafelli Photography
The couple
Brazilian couple Raquel and Lucas first met in Temple Bar, Dublin. "My best friend Debora wanted to buy a ticket for a concert to watch the band she loves, but didn't have a credit card to buy it online," Raquel begins. "At the English school she looked for someone who could lend it, and the groom's best friend Renan had one. My friend Debora invited him for a pint to pay the favour done for her. That was when I met Lucas, we met at Porterhouse Pub at Temple Bar and since then we fell in love with each other. Eventually Debora and Renan became our bridesmaid and groomsman!"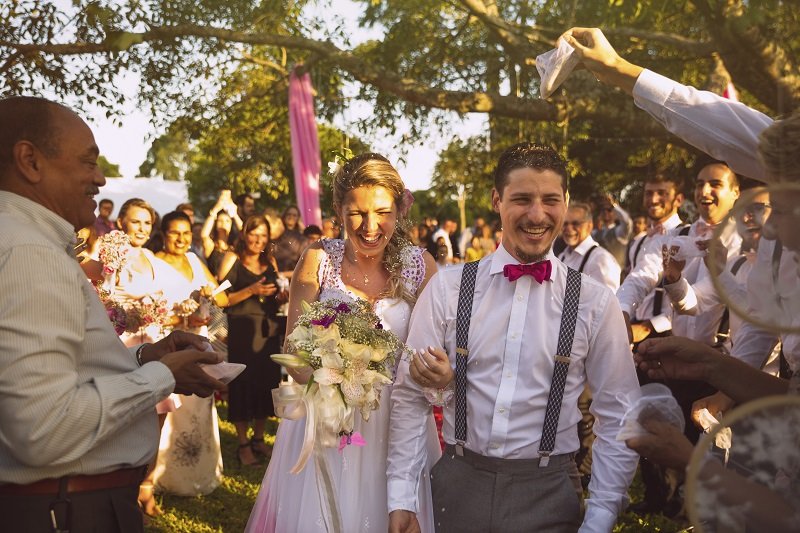 The proposal
"This marriage happened because it was meant to be," Raquel says, "I had to go back to Brazil with the possibility of never coming back, but I sorted things out in Brazil and decided to come back to Ireland for Lucas. As Brazilians need visas to stay in Ireland we had to find a way out to never be apart again. Lucas had the Italian passport and during a surprise dinner that I gave for his birthday, he proposed to me. No ring, no bended knees… just love. In his own words, he wouldn't stand to lose me again. I said yes!"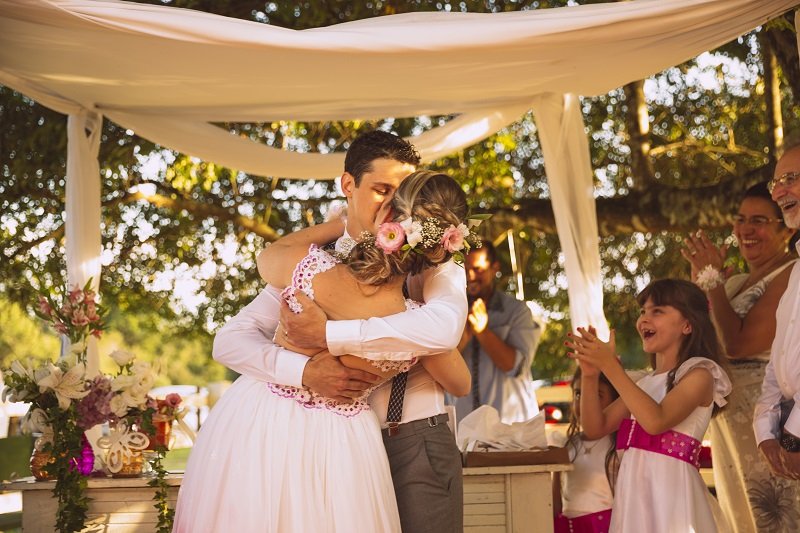 Venue
"We love Ireland and we plan to live here as many years as possible, but home is always home," Raquel says. "We chose my family's farm because we wanted an outdoor wedding as we love nature; the soft feeling of grass under our feet, the sweet smell that comes with the breeze, the warmth of the sun… and it had to be in Brazil because almost no one would be able to come to Ireland."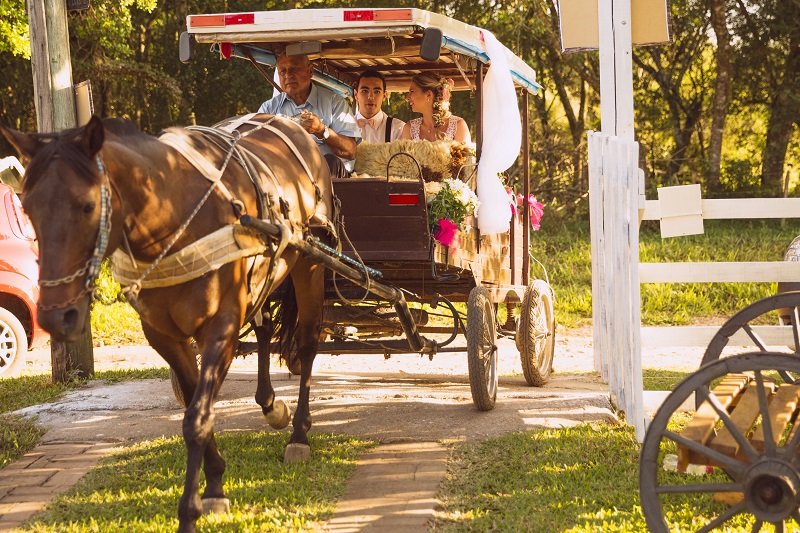 Theme
The couple had a 'traditional music and food from the south' as their wedding theme, with a barbecue reception on the farm. "The decoration was more like a 'colourful, peace and lightness' theme," Raquel explains, "with pink, white, red, crystals, birds, butterflies, pearls and flowers to bring good vibrations and happiness."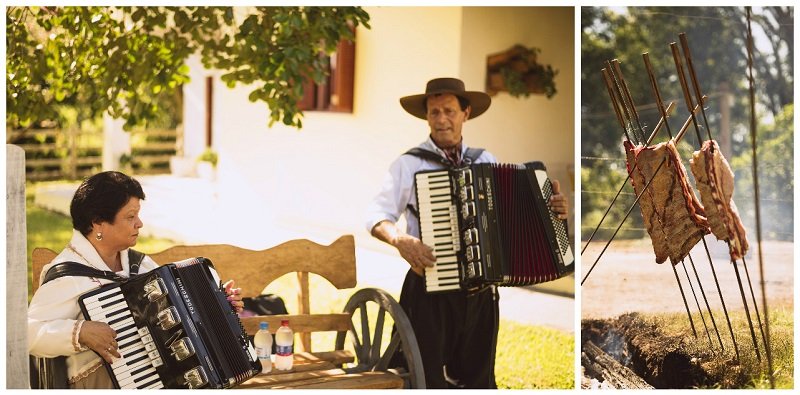 Wedding planner
"Being born in small towns brings some advantages! My neighbours Paulo and Daniela are events planners and they looked after everything," Raquel enthuses. "My mother and sister made most of the contacts and decisions when we needed someone in person there for contracts and to try the cake and all that a wedding involves. We wanted to appreciate the local suppliers; flowers, desserts, buffet, tents, sound gear, violinists… some of them have really small and local businesses, and Paulo really attended to our request and made contact only with these suppliers."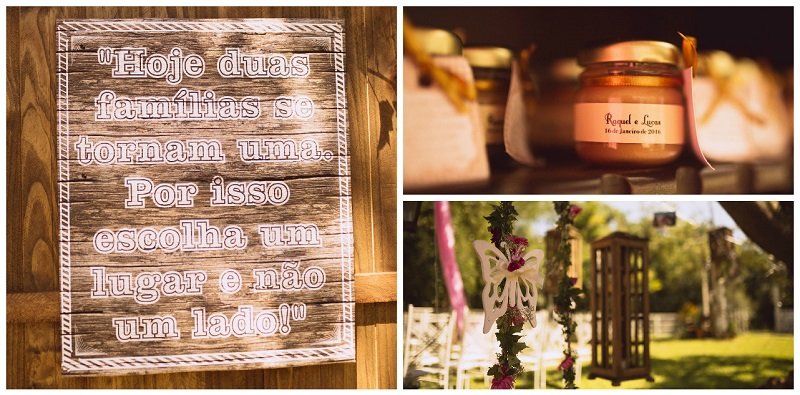 Wedding dress
The bride's dress was custom made by a tailor Sara Todente in Rio Pardo, Brazil, with measurements sent via Skype and email, and Raquel's mum acting as a 'go between'. Raquel felt 'like a princess' wearing her gown, she said: "I love colourful things and a white dress was never my dream. I also didn't want something too long or too tight. I wanted a dress I could dance, spin and walk comfortably. Then I remembered my mother's wedding dress and wanted something similar. She actually gave me hers and allowed me to make changes. We used only the skirt. Sara dyed the silk in magenta and made layers to make the gradient look. Then she embroidered the dress with sequins and laces. It was light, colourful, full of details… it was just perfect!"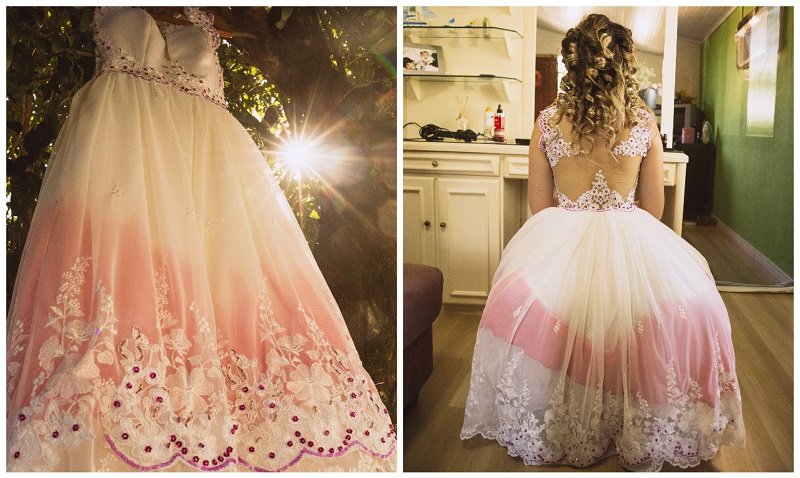 Groomswear
Lucas wanted a light suit considering the wedding would take place during summertime in Brazil, and he found one in Arnotts, Dublin. The groom's shoes were from Vans and his bow-tie was bought in Dorian Black, Dublin.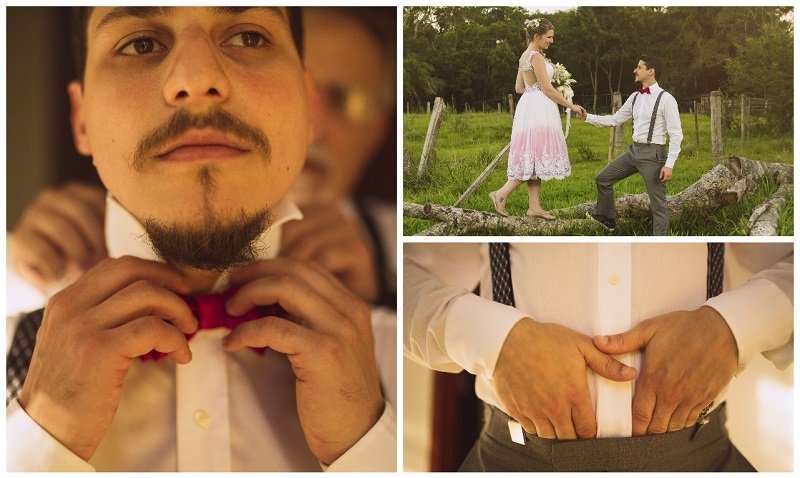 The bridesmaids
Sara Todente also made the bridesmaid dresses taking into consideration the hot weather. "She used a light fabric to give movement when they walked and the colour, light pink, was also to transmit the peace and good vibrations that we wanted," Raquel explains.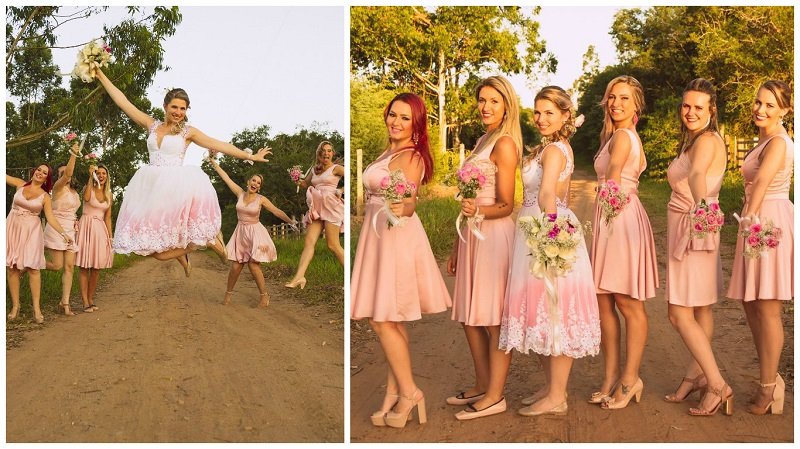 Wedding flowers
Paulo D'corações supplied the flowers. "I love lilies; they are my favourite flowers and nothing would make me happier than have lilies in my bouquet, I also had flowers in my hair," Raquel says.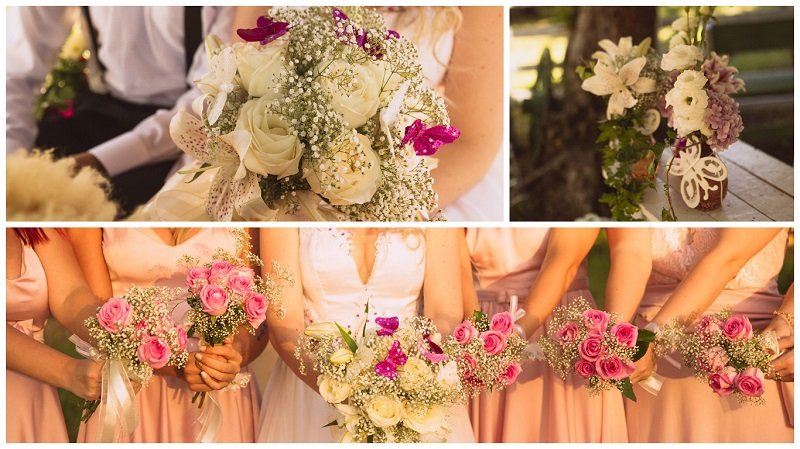 Stationery
The groom is a graphic designer and he made the wedding invitations, logo and signs. "Part of the decoration was handmade by Lucas's mother and the memento was a Brazilian sweet made by my grandmother," Raquel explains.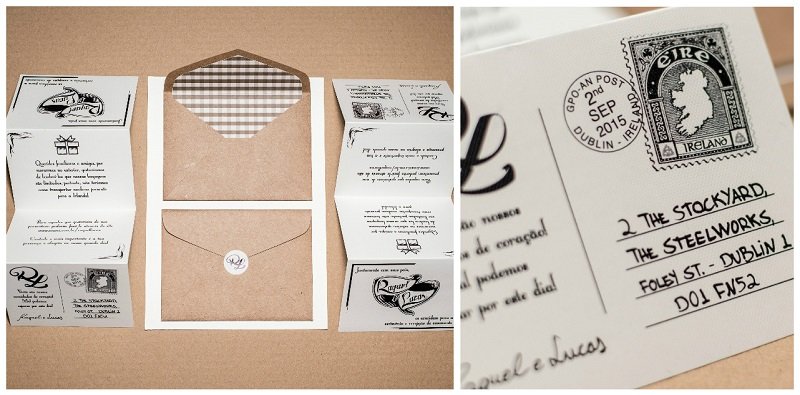 Wedding cake
Local pastry chef Cleusa Pritsch created the wedding cake.
 
Mother of the bride/groom
The Mother of the Bride wore a dress made by Sara Todente, and the Mother of the Groom wore a dress made by Maria de Fatima Forti, Sao Paulo.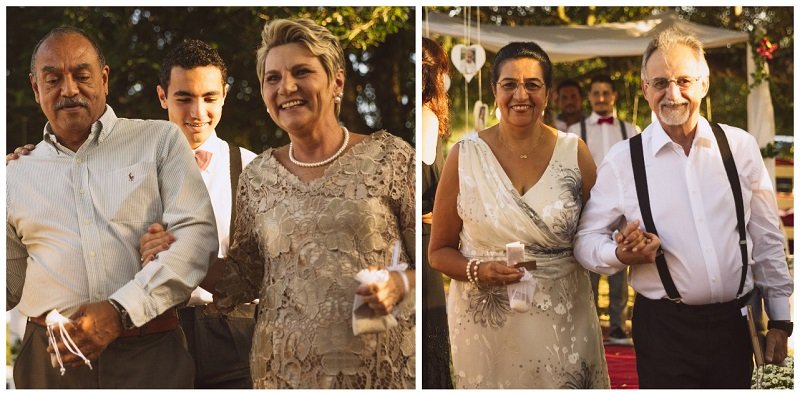 Favourite moment
Lucas: "My favourite moment was when I was heading to the altar with my mother beside me, and all my friends I hadn't seen for years, right there with me celebrating one of the happiest moments of my life."
Raquel: "The dance. We didn't practice the dance, not even for one hour! And still it was funny, smooth, no wrong steps – just Lucas and I surrounded by smiles and tears from the guests and family. It was perfectly synchronised just like we are."