Bronagh and Antony married last summer they enjoyed a Belfast city centre wedding reception with friends and family in Deanes at Queens.
Bronagh Johnston and Anthony Byrne met at a mutual friend's party back in 2013 and instantly clicked and became friends.
While they talked every day, work commitments meant they didn't date for a year until Anthony finally invited Bronagh out for a coffee.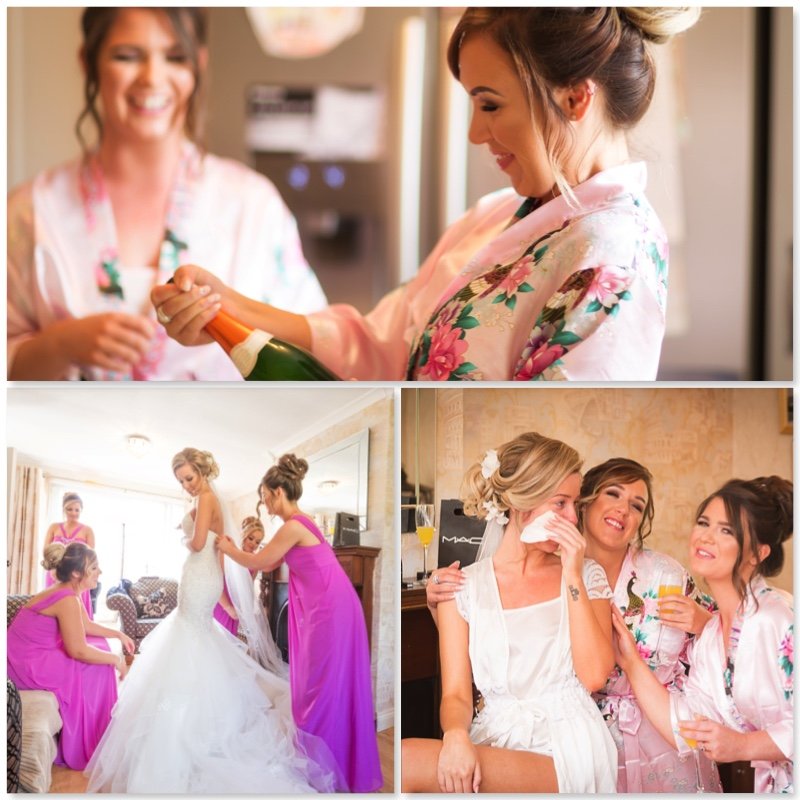 'We went for an ice cream and a walk around Antrim Lough on a sunny day,' recalls Bronagh.
'He finally plucked up the courage to kiss me,' she adds, 'and the rest is history we have been together ever since.
Two years later the couple were holidaying in Thailand when Anthony had planned the surprise of Bronagh's life.
"We were in Koh Lanta staying in a fabulous really romantic hotel which Anthony had booked.
"Anthony told me we were going to have dinner early as he was hungry (which was nothing new). We came back to our villa and he disappeared for an hour and half saying he was going to the bank link. When he came back he suggested we go to the beach bar first for cocktails.
"When we got there, there was this fabulous display of white drapes and orchids and candles everywhere. It was on the tip of my tongue to say 'you'd never do anything like this for me', when Anthony said this is where we are eating tonight.
'I went over to sit on his knee to give him a kiss and thank him and he said – when you are here I want to ask you a question, will you marry me. I was speechless and burst into tears. He then produced this amazing ring and I finally spluttered out a yes. I couldn't eat my dinner, I just kept looking at my ring sparkling in the sunset."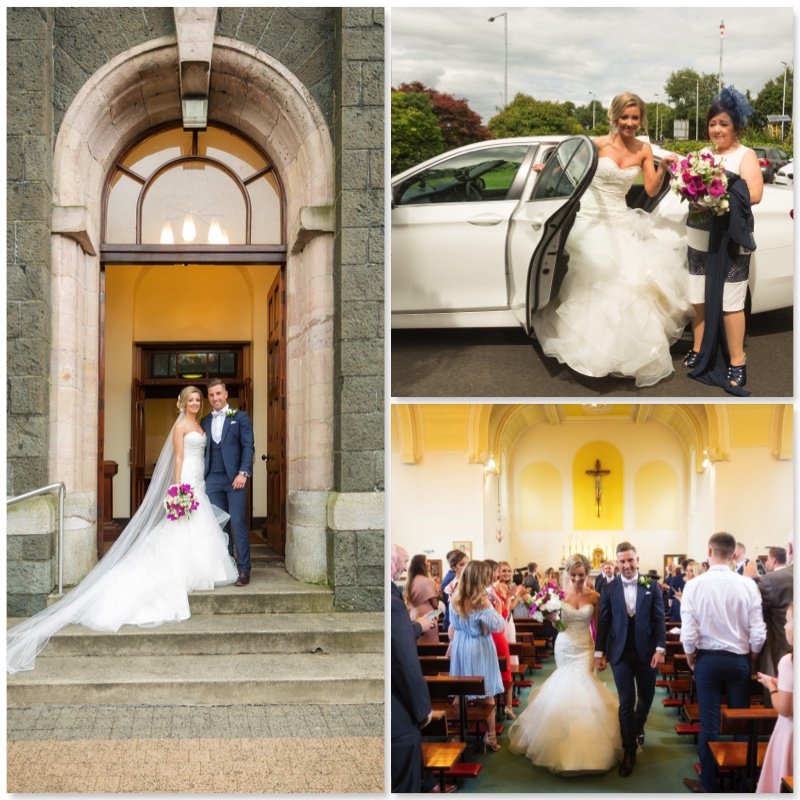 When it came to the planning the couple decided that they didn't want a ballroom type venue.
'In the end we chose Deanes at Queens as we wanted somewhere different with character and the food was an important factor as well.
'As soon as we went to see it I fell in love with it. I loved the natural light coming into the room and the open plan was classy and elegant. Anthony was sold on the fact that guests could have fillet steak cooked to order from the menu,'
The couple were determined the day would run at its own pace one of the key elements was on entertainment which was wide and varied. As Bronagh explains, 'We had a range of entertainment throughout the day. To start with we had Irish dancers from the Peacock Academy of Irish Dancing along with Davey Music who played live instruments .throughout the meal we had Ricky Lormier on his acoustic guitar. During the day we had DJ Jon Boi as MC and DJ Hixx from Cool FM later in the evening. We also had Sapphire entertainment for fire breathers when it got dark. To top things off we had a couple of number one break-dancers taking part in a dance off.
'The sun was shining down and it was beautiful and everyone got to use the outdoor patio area during the cocktail reception."
They chose Rob Gardiner from G4 Photography, a family friend.
'His photos are very natural and he captured the day exactly how we wanted it and he got all the action shots we wanted. I couldn't have asked for better.'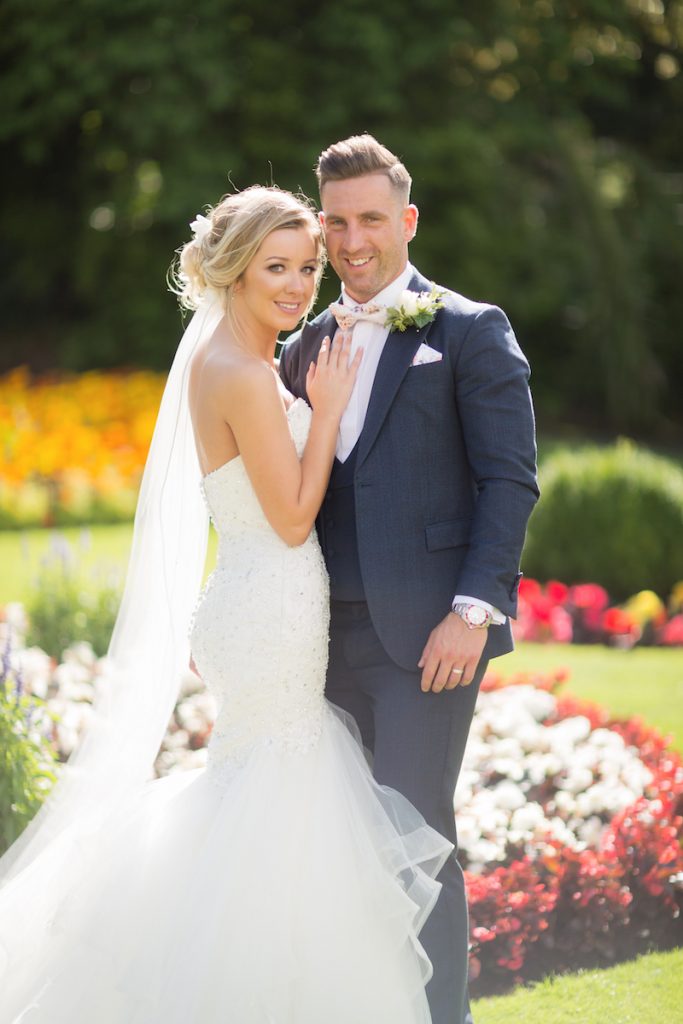 When it came to styling the venue the couple enlisted the help of their florist Helen from Ivy Lane Floral who put flowers in vases on the tables and large floral hoops behind the top table. They also hired a floral wall from Andies Crafts which proved a great pit stop for photographs during the reception.
'My wedding dress was from designer Danielle Couture, it was called Eve from the Phoenix range. I loved it as it was a trumpet style and fitted me like a glove. I felt really beautiful in it. I changed the back as I didn't want a corset style and opted for buttons instead. If it was acceptable to wear it every day I would and I'm toying with the idea of having it framed.
'Anthony and his groomsmen rented their suits from Red in Belfast. They picked floral bow ties which matched perfectly with the bridesmaids.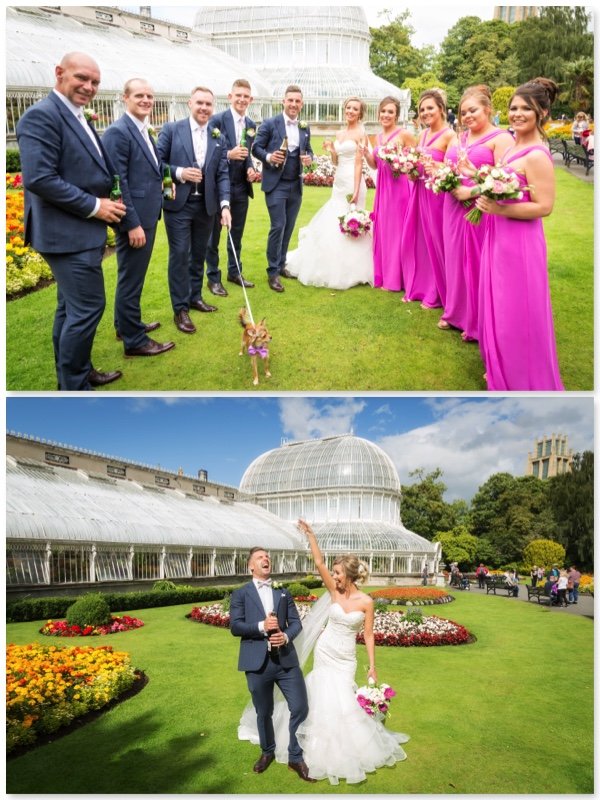 'They wore floor length Grecian style dresses from Naomi Bridal in Ballyclare. The designer was Hilary Morgan and the colour was Dragon Fruit.'
Again the couple enlisted a friend of the family when it came to the stationery.
'A friend did our invites and table plans. It was all quite plain on an ivory shine rose embossed card with a slight rim of silver. They were very elegant.'
Bronagh's sister runs Caolifinnes Cakes and did a fantastic three tiered job – one vanilla, one chocolate chip and another mint chocolate chip and iced in butter cream. It also had a floral arrangement on the top.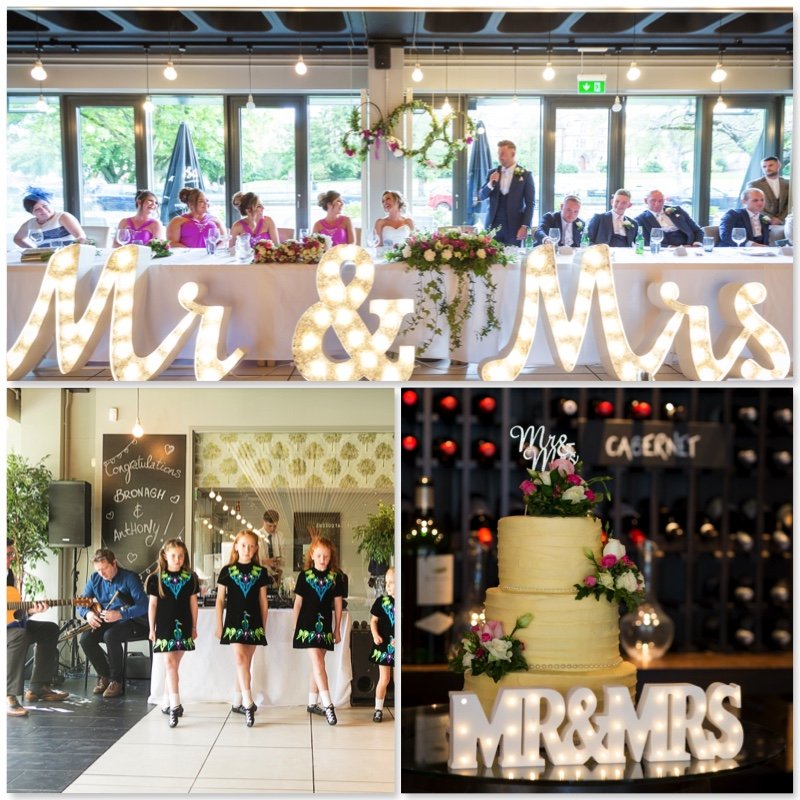 When it comes to selecting their favourite moment from the big day, Bronagh says, 'My favourite moment was taking our seats before dinner, Anthony had arranged a selection of my favourite Beyoncé songs to be played and seeing all our friends and family together was a moment to cherish forever.'
Anthony adds, 'Coming back from having our photos taken hand in hand with my wife as our friends and family sat outside in the sunshine at Deane's and cheered us on as the sun beat down.'

The Couple's Top Tips
Bronagh says, 'Don't stress the week before the wedding – everything will fall into place and be perfect. If only I knew on the run up to the wedding what I knew after I would have been much more relaxed. Enjoy every moment
Anthony says, 'Take a moment to really take in when you are planning for the big day When the day arrives just enjoy what you have achieved. It really is the best day of your life.
For more real-life weddings click here