How They Met
In their early twenties, Celine and Niall became fast friends before circumstances took them away from Ireland at different times. During the Christmas of 2012, the pair bumped into each other on a night out and shared their first kiss. After three cinema dates, they knew it was the real thing and started a relationship, the rest is history!

The Proposal
The couple had been together for four years before getting engaged. During this time they bought a house together and celebrated their anniversary every Christmas. The Christmas of 2016, Celine got the surprise of a lifetime when Niall popped the question in their home! 'It was very personal' admits Celine, 'I was so surprised!'
The Day
Wanting something alternative that offered a barn or marquee style as well, the couple began searching straight away. They came across Hotel Doolin online and booked a viewing. During their viewing they found out it was booked out for the year ahead but had just received a cancellation for the following September. Seeing it as fate, the couple did not hesitate to book it!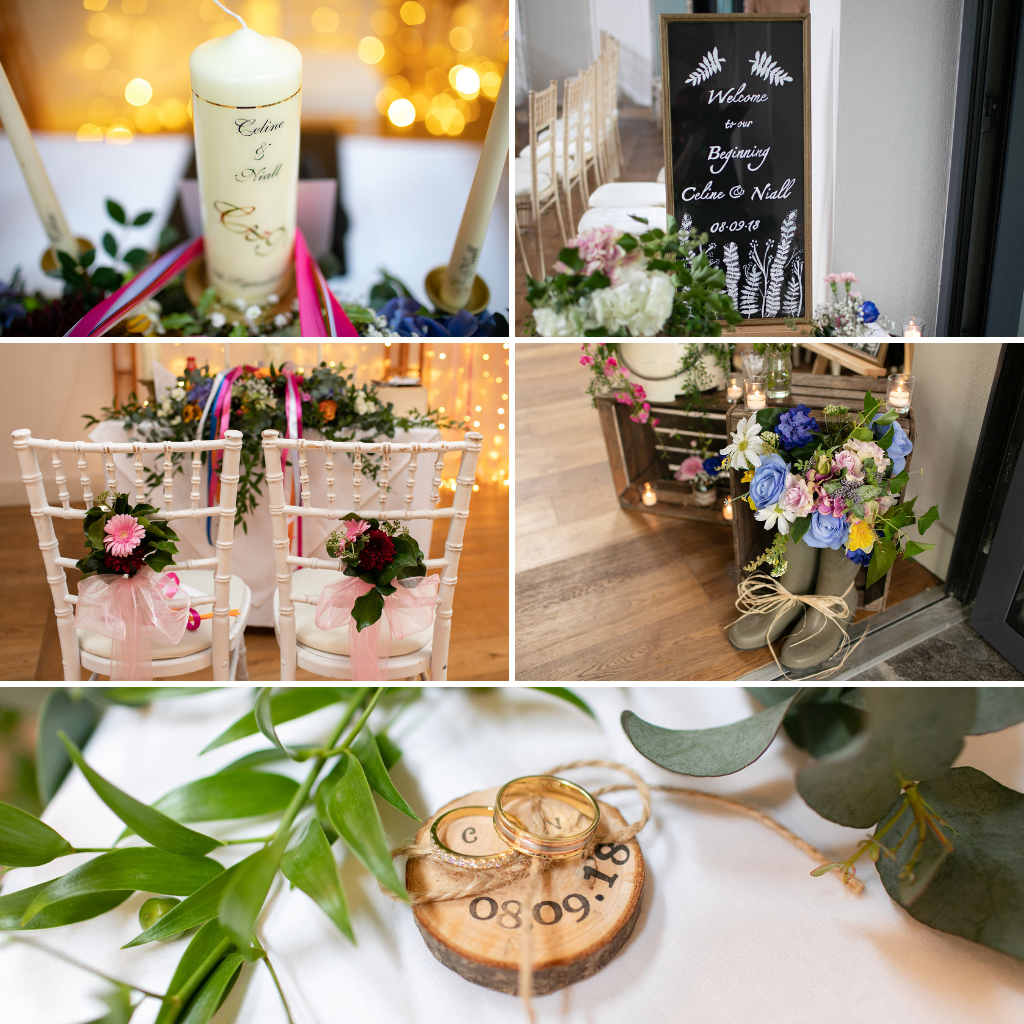 'We fell in love with the barn and the location,' they confess, 'And bringing our family and friends for a weekend in Doolin was a bonus!' Celine and Niall sent handmade 'Save the Dates' to their guests a year in advance, giving them enough notice to enjoy their weekend away in Doolin.
The must have themes were bohemian, rustic and especially relaxed! These themes helped the couple stay true to who they are as they wanted a wedding that reflected their style. The entire wedding was a break from tradition and was filled with colour and fun. 'Our ceremony was very personal,' comments Celine, 'It was bursting with emotions and a few tears were shed.'

What The Bride Wore And The Rest
Celine visited two boutiques to try on dresses but admits that it was more for a day out with her bridal party and mum to sip the champagne and go out for lunch after! Celine's motto was 'don't spend too much money on a dress you'll only wear once!' After doing some research online, Celine found her dream dress on online retail store ASOS. She just knew she could make it work. When it arrived, her mum got creative and with some patience and care, made it personal!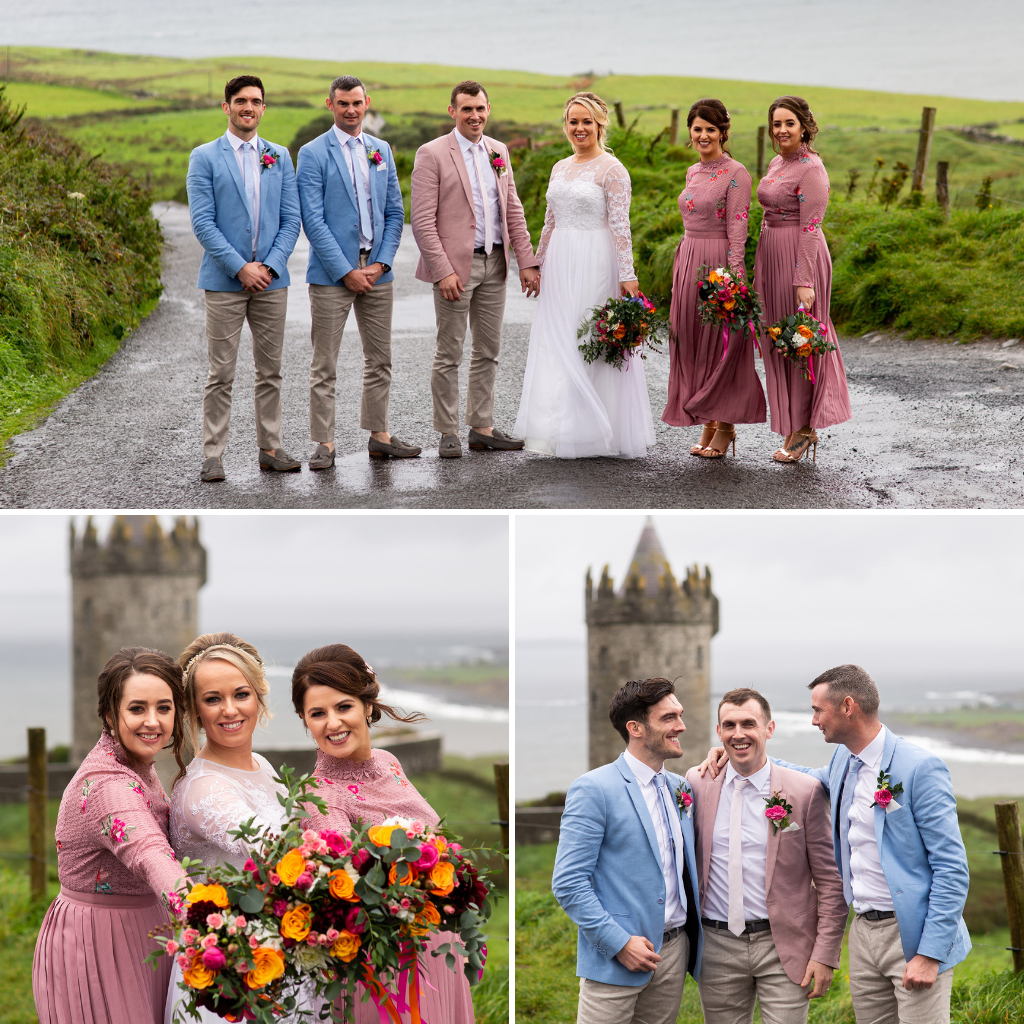 Lining in the form of a silk slip was added, and together they hand sewed over 1,000 pearls and beads into the embroidery details on the dress! The end result was more than Celine could have dreamed off. 'It wouldn't have been possible without my mum's incredible hard work. I definitely think it's a great heirloom to pass down the generations!'
Going with the theme, Celine found her bridesmaids and groomswear on ASOS too. Straight away they were a hit with the bridal party!
Photographer
Although they kept researching photographers, Celine and Niall kept coming back to Mrs RedHead's style. They both agree she was amazing from start to finish, even travelling all the way to their hometown for an engagement shoot!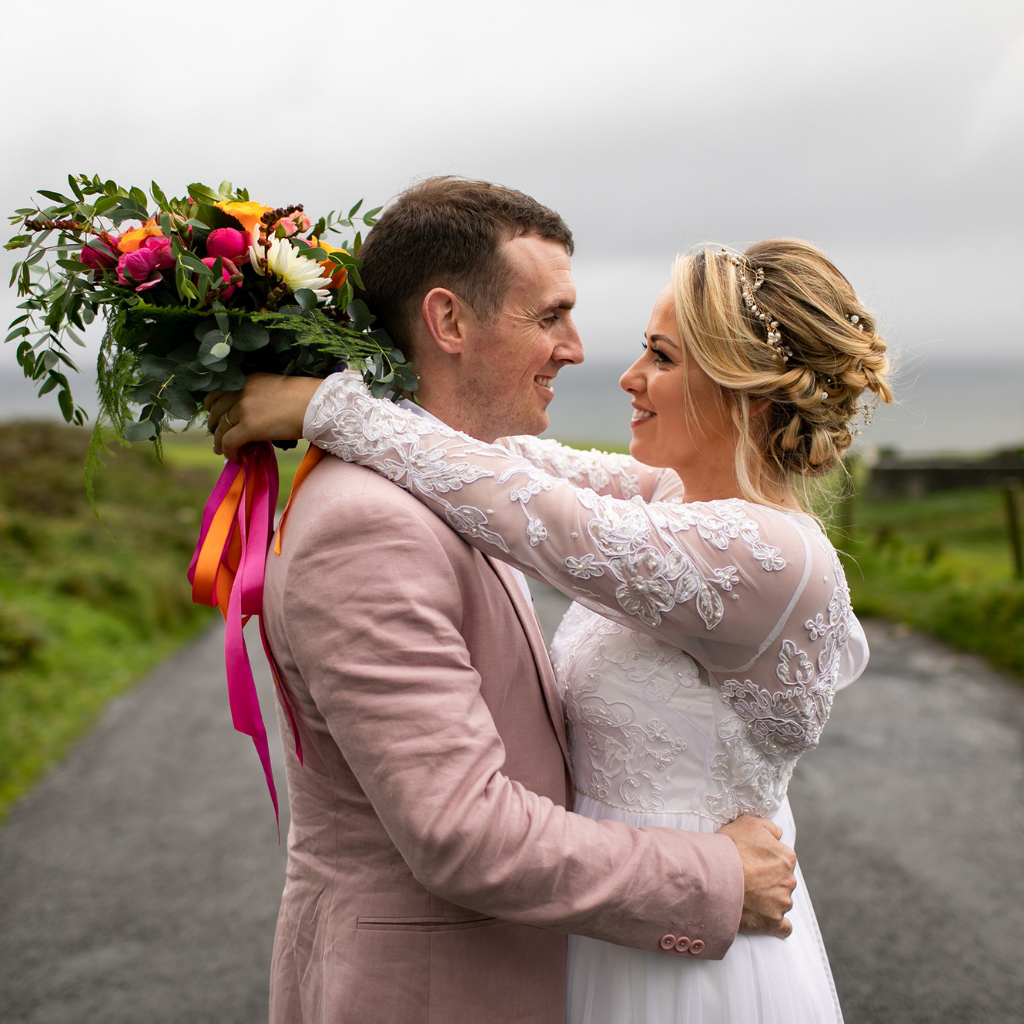 'From the moment we met her, we knew we had made the right decision. Her style is very creative and she captured amazing pictures in a documentary style without being obvious and her location choice in Doolin was superb!'
Decór
A lot of the wedding decór was taken care off as part of Celine and Niall's package with Hotel Doolin. Celine also had Louise from Grace Events on hand to look after items such as centrepieces and wedding styles.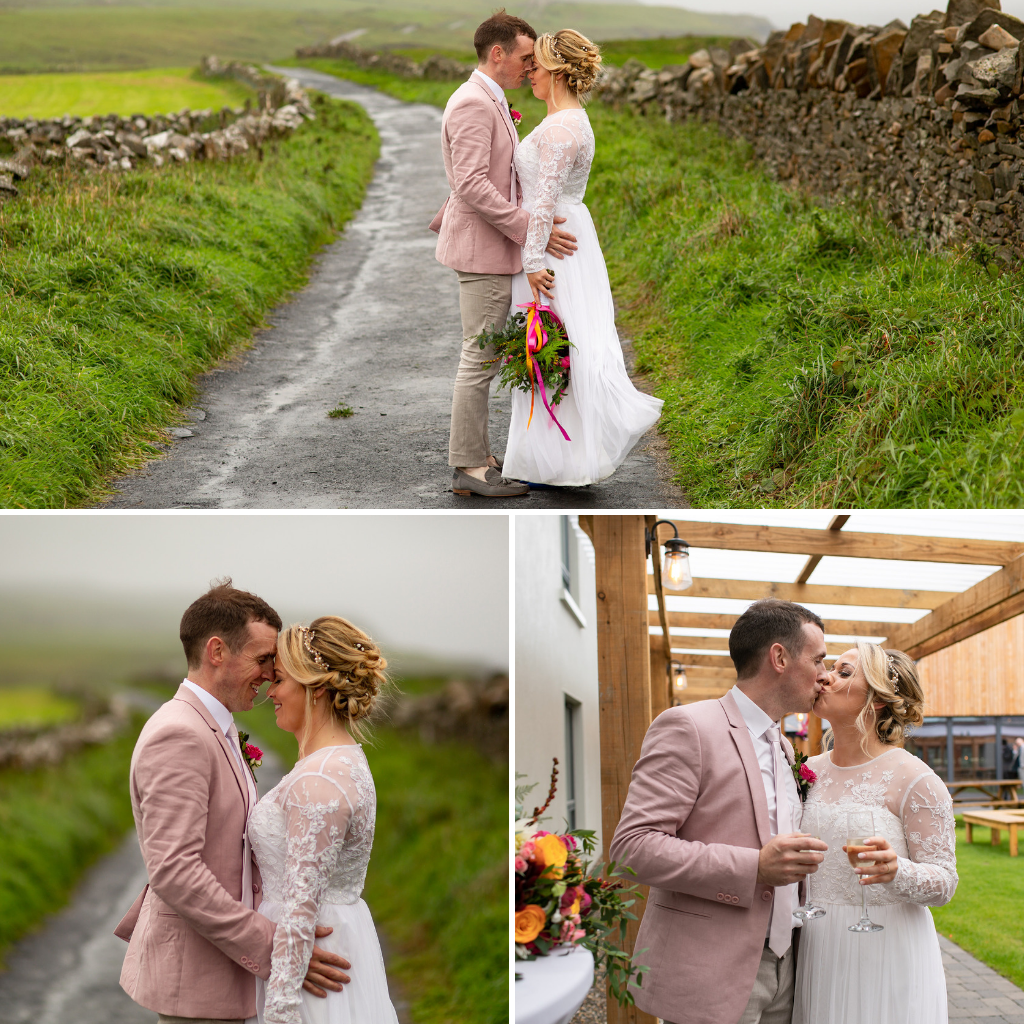 Celine came across Helen's Garden when she was out and about in Kinvara, and knew immediately it was perfect. Having many flowers home grown in her backyard, Celine was able to find her favourite flower; the Irish wildflower Montebretia. By using that, incorporating the colours of the bridesmaids dresses, the blue from Celine's shoes and plenty of foliage, Celine's dream bouquet became a reality! 'I also gave Helen colourful ribbons to tie around the bouquets,' she adds.
Coordinating with Louise from Grace Events, they let her know exactly what they wanted. In a team effort, they created the beautiful backdrop of fairy lights and colourful ribbons.
When it came to stationery, Celine and Niall got their hands busy! As mentioned before they sent 'Save the Dates'; this was done on kraft paper for a rustic style and kept this theme running. Each wedding invitation was handmade and personalised, a labour of love some would say!
The tables were all named after wild flowers and on the day, guests were treated to pressed Irish flowers on kraft paper at their table that had been collected in the run up to the day.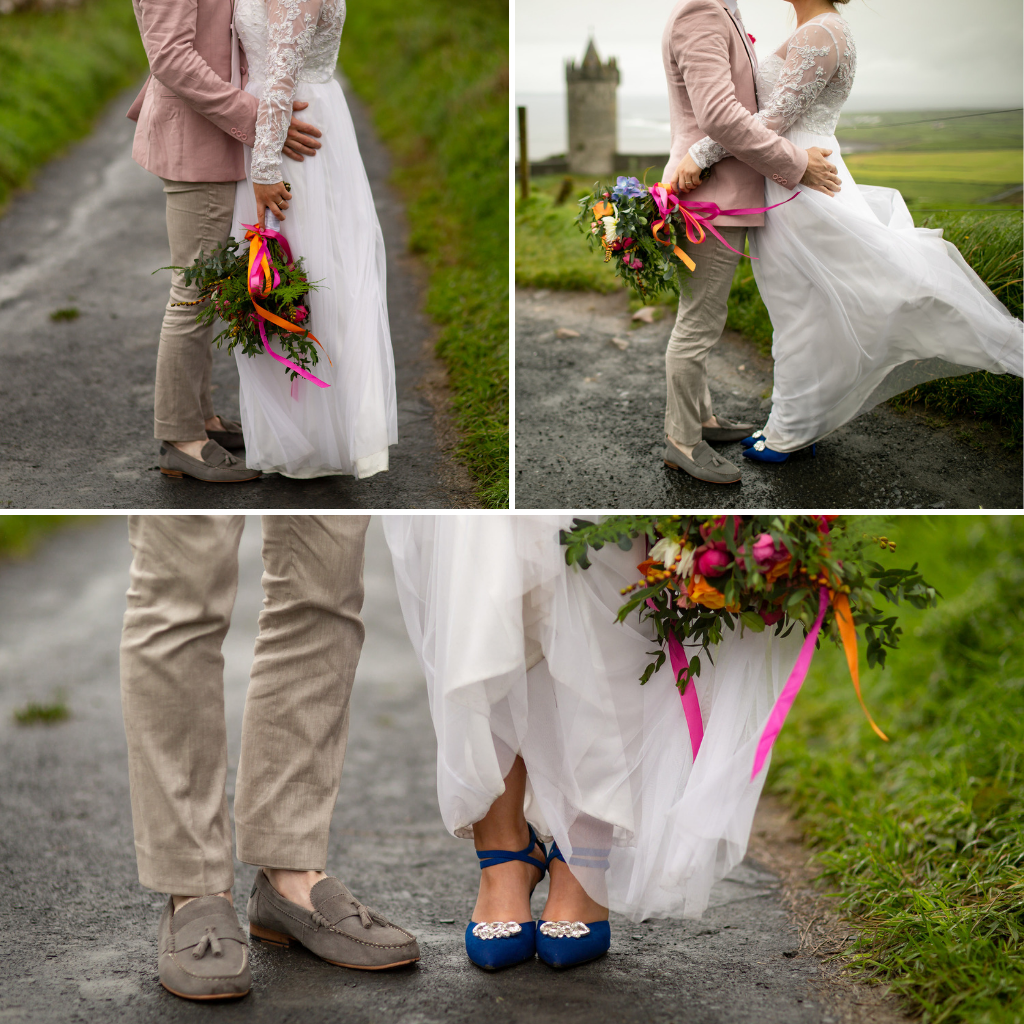 Favours consisted of wildflower seeds, with a note inside to help save the bees and a thank you note for joining in their big day. The couple kept themselves busy with DIY welcome signs, a detailed schedule of the day and much more!
Food
Celine and Niall kept with the relaxed theme and had a buffet styled menu. Initially they were nervous at this idea, but as soon as they had their taster, they knew it was the right decision!
'There was a huge variety of food which suited everybody,' they comment. 'The guests were delighted that they could help themselves with seconds and getting ice cream cones. The feedback was brilliant too.'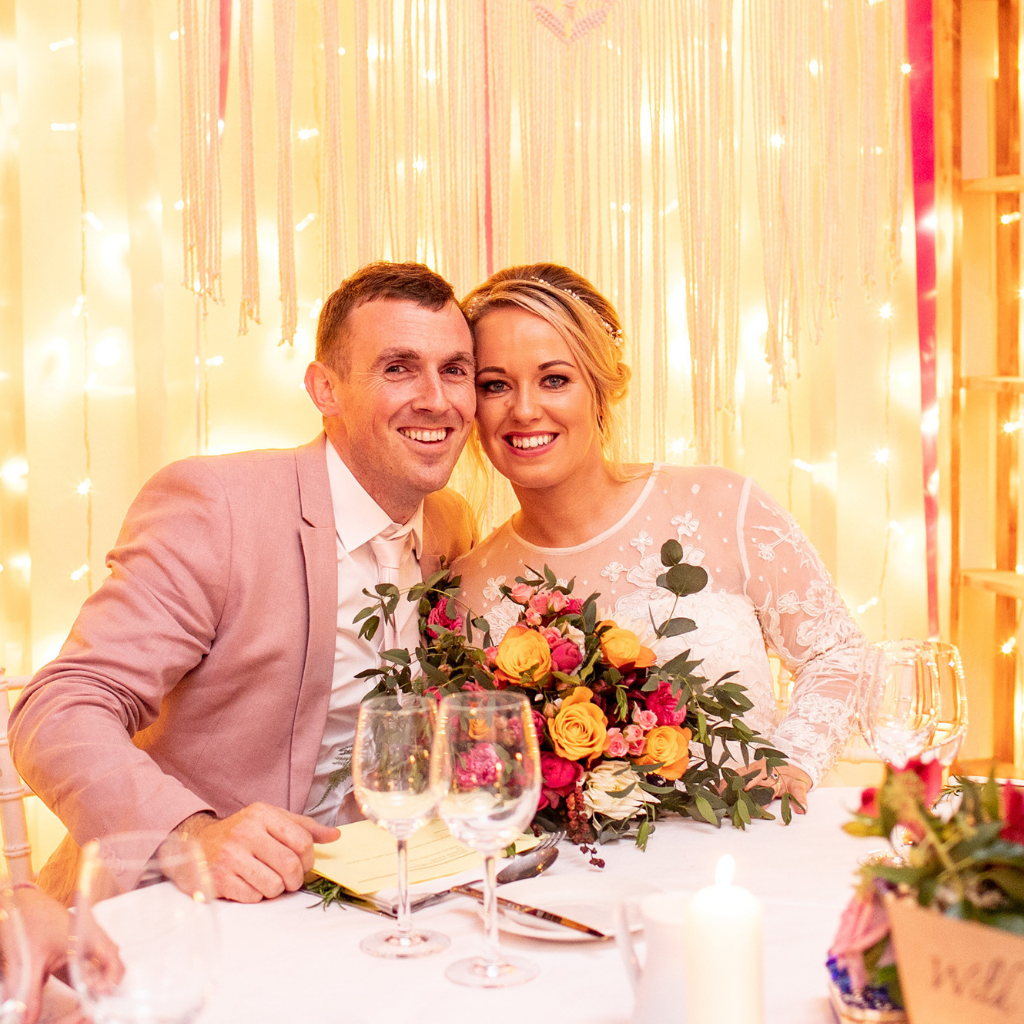 For starters they enjoyed a Lemonade stand, Gin and Tonic, Whiskey, and nibbles of Irish tapas. For their main course the guests had a choice of Hog Roast, Pulled Barbecue Pork, Irish Beef, Seafood Paella, Thai Style Chicken Curry. Then they were treated to Afternoon Tea styled desserts of Bailey's Cheesecake, Mini Eclairs, Key Lime Pie, Chocolate Bon Bon and Fruit Tartlet. There was also an ice cream cart and a midnight supper of Southern Fried Chicken and Pizza in takeaway boxes!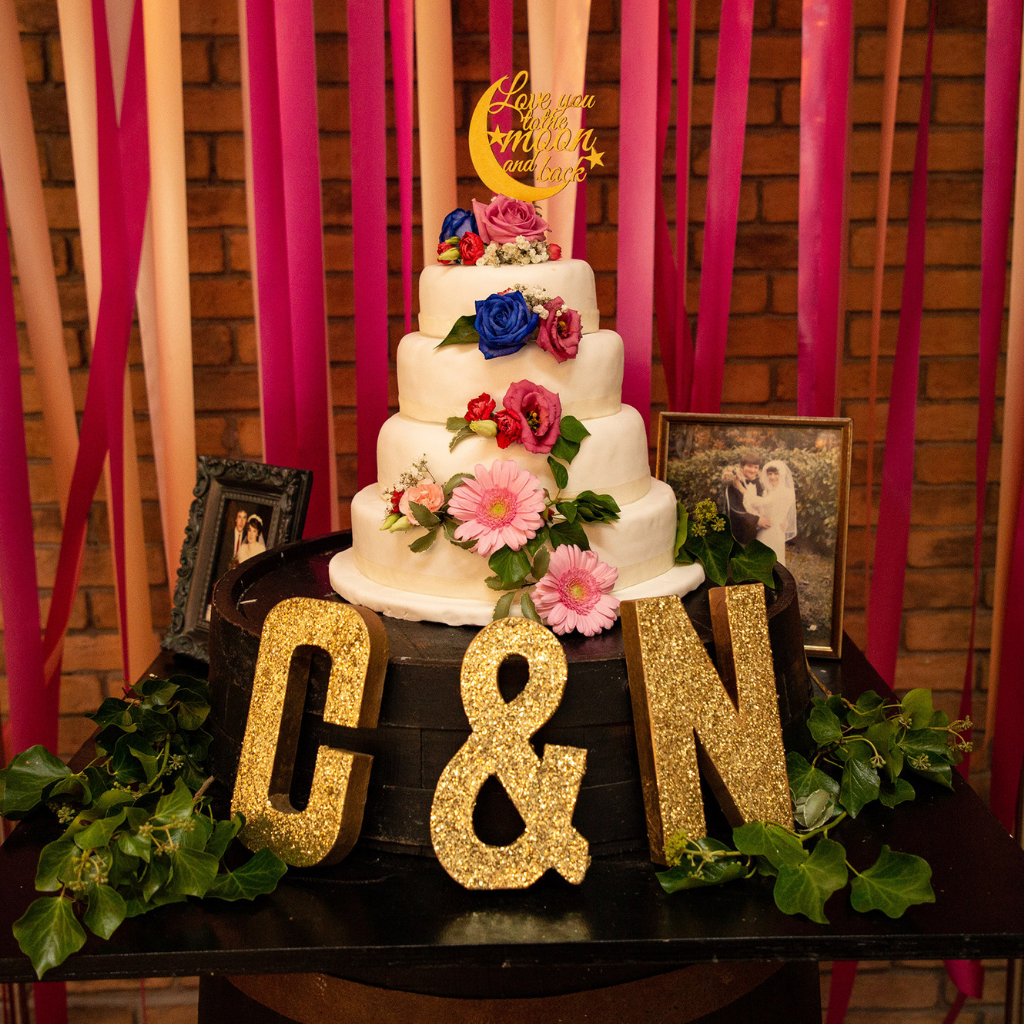 Celine's mum also made her wedding cake! It had a tier of traditional porter cake followed by two tiers of chocolate biscuit cake. It was decorated with fresh flowers and read 'Love you to the moon and back' on top of it. In front of the ribbon wall sat photos of Celine and Niall's parents on their wedding days.
Favourite Moments
Niall, 'It's hard to pick but I enjoyed being in the side bar with the bridal party before we were called into the reception. It was a great to get a moment to relax before heading in for the meal.'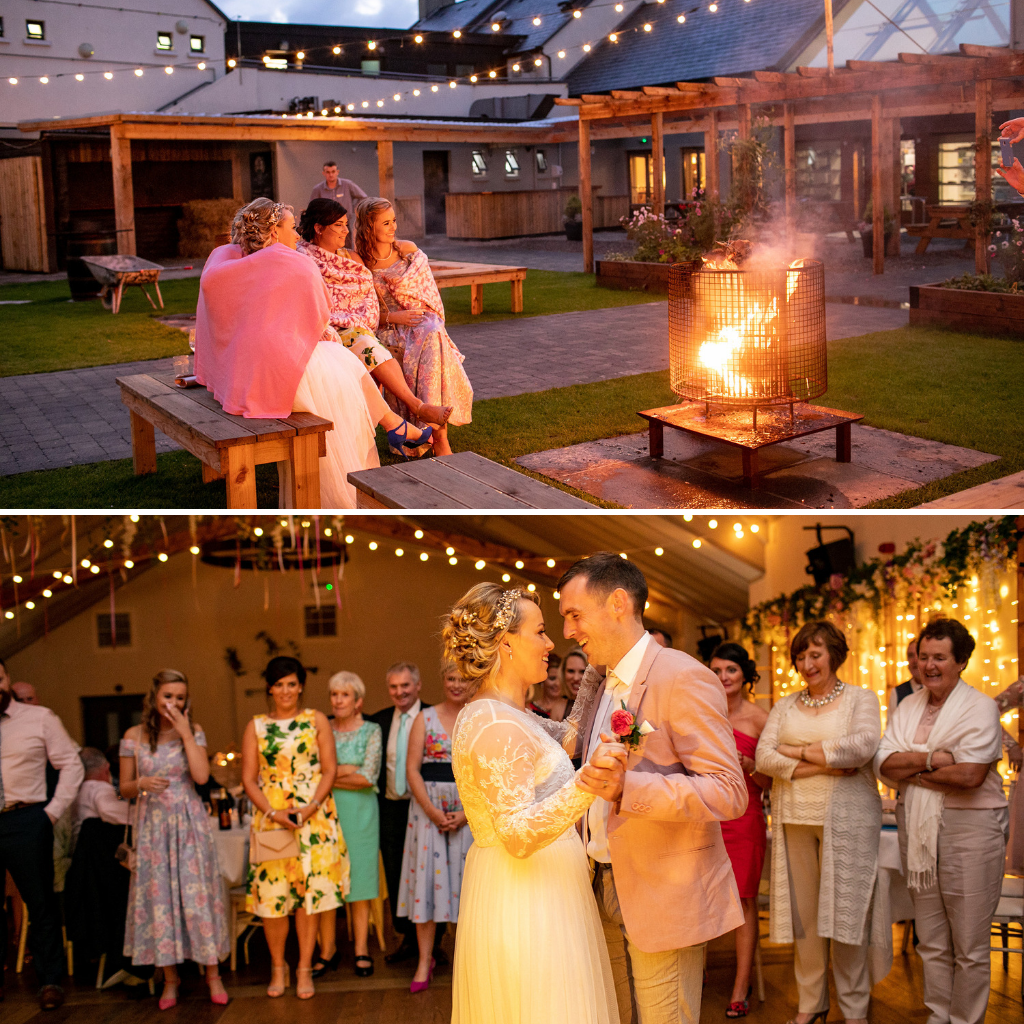 Celine, 'Standing with Niall on the old stone road, taking a moment together as the mist rolled in behind us. It felt very romantic, as if we were the only two there.'