Eibhlín and Andy tied the knot July, 07 2016 at Huntington Castle, with a wedding that perfectly reflected their personalities.
Photography by PhotoMV
The couple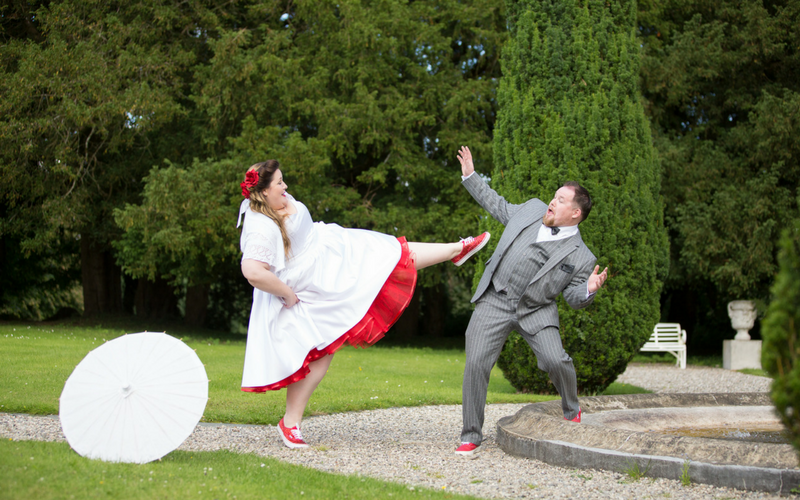 The couple had known each other for years through a mutual friend but didn't really see eye to eye as teenagers. This all changed after a chance meeting at a charity event when they were both at on the right page of their lives. "One thing led to another and seven and a half adventure years later we were getting married – something neither of us never thought we'd do!"
The proposal
"As a couple we spend a significant amount of time in our car which is where a lot of our life events have happened, so the proposal was no different, says Eibhlín. "Andy popped the question one evening on the way home. He didn't have a ring yet but had the ideal design in his head and his uncle, a jeweller, brought the idea to life. The actual giving of the ring also happened in the car. It was snowing pretty heavy one night and Andy used this excuse to pull the car over. He then flamboyantly produced the ring, as only Andy could!"
Venue
The couple originally decided on a destination wedding but changed their minds after discovering the cost it would have on their family and friends. Knowing a traditional wedding wasn't for them, the pair pushed the decision to the back of their minds for a few weeks. One day while out walking at Huntington Castle, a venue 10 minutes from their home, that neither of them had visited before, the wedding fell into place.
"There was so much about the venue that just worked for us. From the time we met with the owner Alex, we knew it was the right fit. He told us the castle was ours for the day and gave us some useful suggestions on how to make it our own. We were able to have our own caterers and provide a free bar for all our guests – one of Andy's main criteria for the day. The main attraction was the garden. We had always imagined getting married outside, but living in Ireland there was a pretty high chance it would rain. Luckily at half one on the big day, the clouds parted and the sun shone. Half the country had Children of Prague in their back gardens for us!"
Theme
"We didn't start off with any theme in mind, but as we progressed a loose 50's theme emerged, says Andy. This was mainly shown in our clothes and the music we chose. Eibhlín walked down the aisle with her father to Sha-Boom by The Crew Cuts."
Photography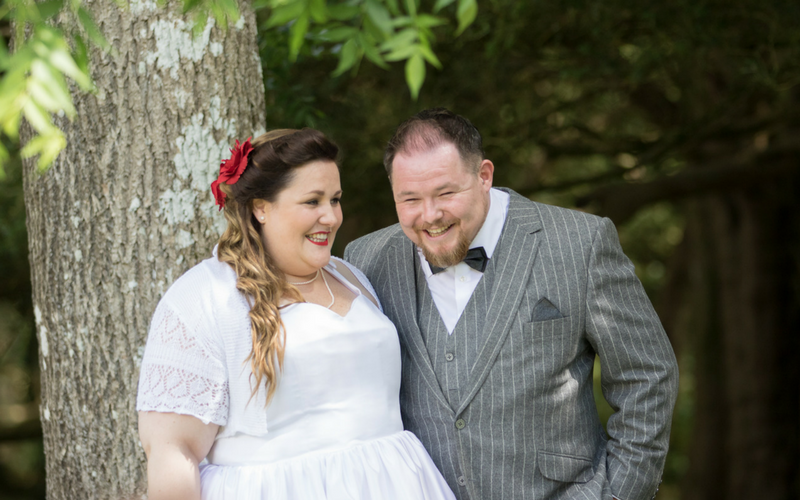 "After the venue, the photographer was the absolutely most essential part of our day. We looked at over 100 photographers and their work and again nothing really spoke to us until we happened across PhotoMV. We didn't want traditional wedding portraits because we are far from traditional people. We wanted the day to be fun and have everyone involved and for that reason, we wanted a person who was going to capture that spirit.
From the first time we met Mario, we just knew the fit was right. He was fun, relaxed and really understood us as a couple. He offered great suggestions and captured everything we wanted from the day. The feedback from our guests was that they really enjoyed his company too; one of our guests event commented that the photographer made the day for them!
The photos were stunning, we spent hours going through them and have recommended Mario to everyone we know who is getting married."
Wedding planner / Venue stylist
Eibhlín and Andy planned everything themselves and split the organising 50/50. "Alex at Huntington Castle was a great help, as were our caterers. It feels like a huge injustice to call them just our caterers as they did all the cooking, serving, set up and dressing of the tables, managed the bar and looked after every single guest."
Wedding dress
When deciding on their wedding budget Eibhlín and Andy chose to prioritise food and drink for the guests over clothes they would only wear once. From the beginning Eibhlín knew she would like something simple. "It's not difficult to find a plus sized wedding dress, but it is pretty difficult finding the right one!" Eibhlín's stunning dress came from Honey Pie Boutique and was a 50's style tea length halter neck gown with a red petticoat. When it arrived it was altered by In Stiches, Arklow to have a sweetheart neckline. Groom, Andy made Eibhlín's shoes and had a great time explaining to his work colleagues why he was covered in glitter for a few days!
Groomswear
Andy's suit was made by Brendan Kidd on Capel Street. "They're pretty legendry in there and even though they might have though the idea a little crazy at times, they made the exact suit Andy wanted, says Eibhlín. "We found material online with little tortoises on it (we keep tortoises as a hobby!) and the guys in Brendan Kidd were able to integrate the material into the waistcoat and even the lining and pockets on the suit. It was perfect"
The wedding party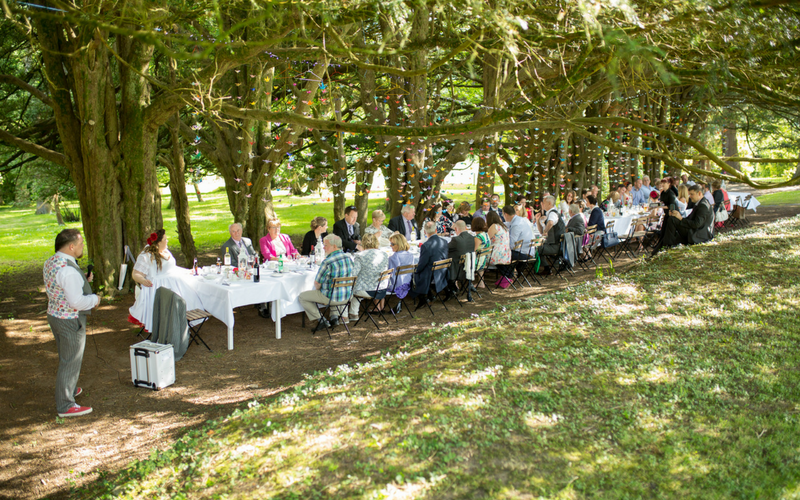 The couple didn't have any bridesmaids or groomsmen as they had a small wedding and wanted everyone to feel equally involved.
Wedding flowers
This crafty couple made the wedding flowers themselves. Eibhlín made the flowers for her bouquet from origami and Andy put the whole thing together! Since the venue was outdoors and in such a beautiful location these were the only flowers they needed.
Stationery
Eibhlín and Andy also made their own invitations. The invitations were an envelope consisting of a wedding dress on one side and a tux on the other. The wedding details were printed on a card inside.
"We personalised the place cards by taking our guest's heads and putting them on 50's style clothes on Photoshop. These were then cartoonised and coloured by hand."
Wedding cake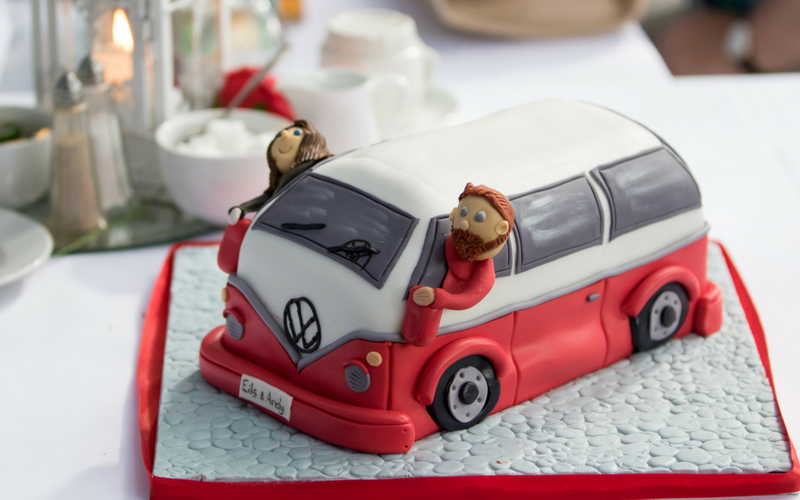 "Andy is a massive Volkswagen fan and we incorporated this into our big day with the delicious vanilla sponge VW Camper Cake from the Cake Creator in Gorey. Traditional wedding cakes can be expensive and we wanted to something that spoke to our guests about who we are. The Cake Creator is very reasonably prices and did an amazing job with our cake!"
Favourite moment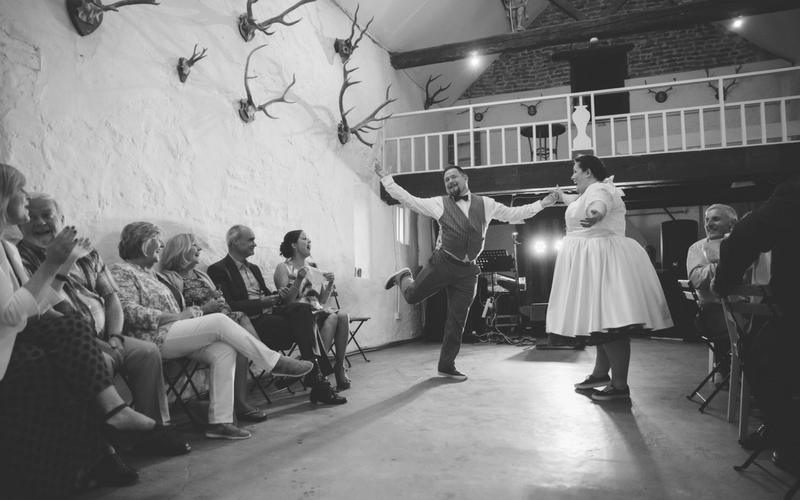 Groom: "It's hard to pick just one favourite moment of the day. The whole day was full of moments that will stay with me forever. One that comes to mind is when my brother started the music and my eyes were drawn to my soon to be wife walking down the garden path, with her dad by her side. She had the biggest smile on her face and she seemed so relaxed. The sun was splitting the rocks and I could not wait to give her a kiss under the tree and tell her how beautiful she looked.
Bride: There were so many amazing moments; the day was pretty much made up of favourite moments! If I had to pick one though, it would have to be walking down the garden with my poppy and seeing all our guests and Andy standing waiting for me. It was so intimate and special to see what we had planned for months looking so much better than I could have imagined.
Top Tip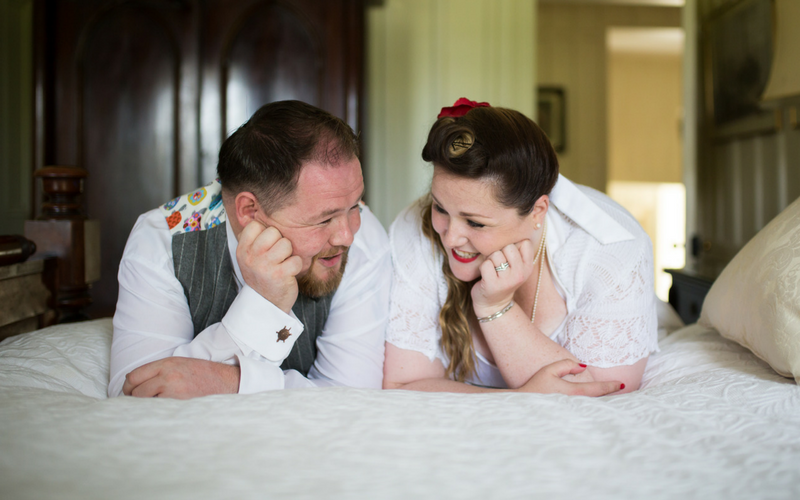 Groom:  Don't be afraid to plan a wedding that's outside the box. The days of a traditional wedding are over.  Communication is the key to easy planning and a successful wedding day. Eibhlin and I talked about every aspect of the day and what we wanted for our wedding. The term "less is more" is often used in day to day living but it worked for us. The biggest tip I could give anyone is to remember, it's just one day. People tend to forget why they wanted to get married in the first place; the marriage is the important part.
Bride: Do your own thing. Everyone told us this, but it is so much harder to do in reality. Everyone would say "Do it your own way… but you should do this…". One thing we found when talking to other married couples is that they all had regrets of some kind about their day and it was usually around guests they felt obliged to invite, food they were suggested to serve, the band they picked etc. We did everything we wanted and tried to avoid outside influence – I'm happy to say I have no regrets!