HOW THEY MET
Mark and Patrick met through the dating website Plenty of Fish in 2014 and once the couple finally started talking they just couldn't stop!
THE PROPOSAL
Mark proposed to Patrick on Tyrella Beach in County Down after three months of careful planning. 'I chose a date and location that was very special to us,' remembers Mark fondly. 'We almost didn't make it down to the beach because Patrick thought it was too cold but I put my foot down. I packed a box complete with a scroll in a bottle and after I had popped the question we threw our wishes into the sea!'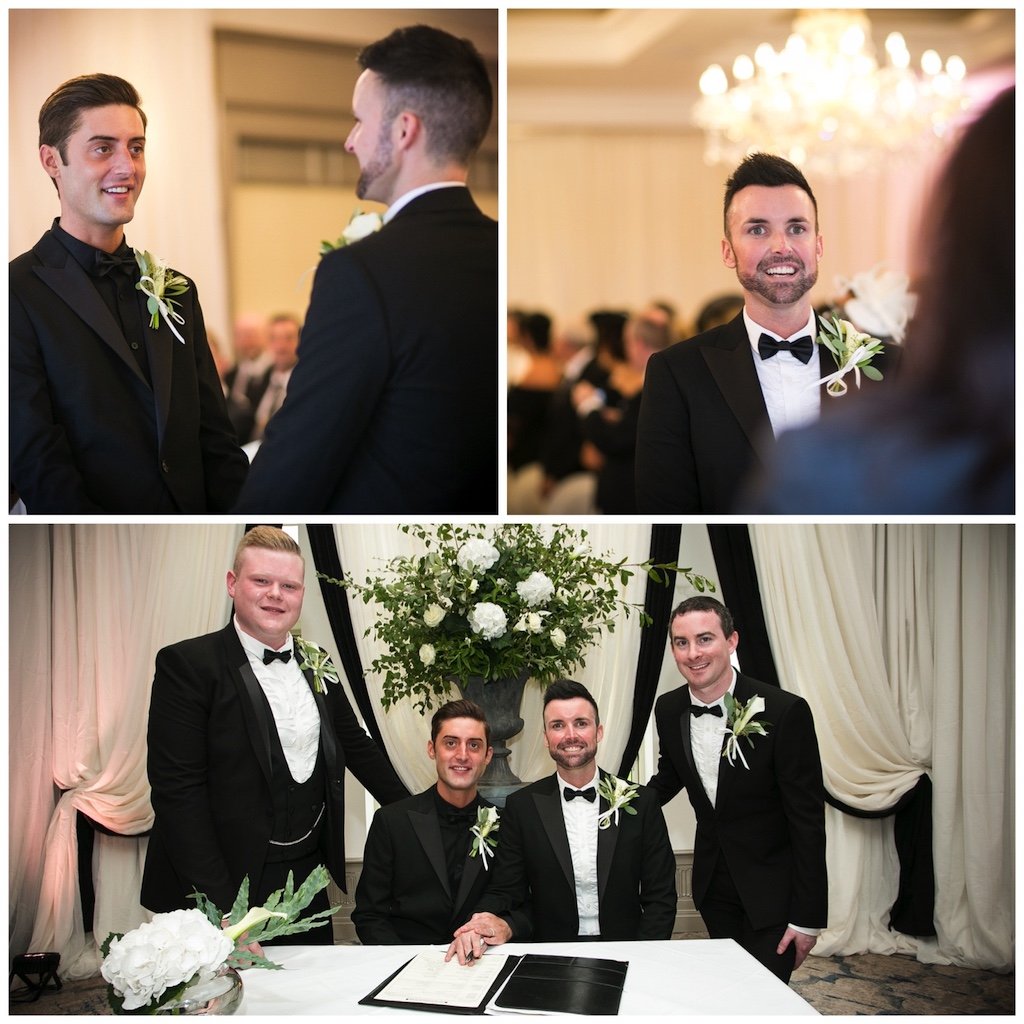 THE VENUE
The couple chose their wedding venue after a last minute decision to have a night away in July. Mark said: 'When we arrived at Lough Erne Resort we saw a message scrolling across the television advertising wedding tours. Having been engaged for a while, we thought "why not?" and booked one for the following morning.'
THE DECOR
The couple opted for a black and white theme for the big day. 'Having worked in events for most of my career I knew the classic effect that black and white has,' said Mark. 'Patrick also loves the colours, so black and white was the order of the day, from the room dressing to bridesmaids and all the guests in-between.'

With Mark's attention to detail and Patrick's need for all things spectacular, the couple chose to plan the wedding themselves with a little help from Blue Moon Event Design and The Flower Room Holywood. 'The décor had a beautifully bespoke feel to it and Gary and Kathryn from The Flower Room provided the Calla Lily and were amazing at bringing our thoughts to life.'
WHAT THE GROOMS WORE…& THE REST
Both grooms looked elegant in tuxes from a variety of ASOS brands finished with statement black, boxed, tailed jackets from Zara. They were matched by their best men who wore a selection of formalwear also from ASOS.

The bridal party was completed by best women Emma and Nicki, who wore hand-beaded couture gowns from MaryRose McGrath which featured dramatic overskirts and statement trains.  Patrick said: 'The dresses were the one aspect of the wedding that we wanted to go BOOM! Everything else was elegant and understated but the best women dresses were full-on glamour.' MaryRose and Patrick designed the gowns together and the look was completed with a chic hairstyle from the team at Hair Bar in Crossgar.
CAPTURE THE MOMENTS
Having known Brendan Gallagher on a professional level, it was only natural that Mark chose him to photograph his wedding day. Mark said: 'Brendan had previously taken a fantastic photo for us at a Belfast event. Add that to his hilarious wit, unrivalled creativeness and tendency to be early for everything – he was the only man for the job!'
IT'S ALL IN THE DETAIL
Tying in with the glamorous theme of the day, Mark and Patrick's seven tier wedding cake was a show-stopper! Made by Madame Cocoa, each tier had a unique flavour such as raspberry and lemon.
The pair opted for a simple and conventional table plan with one twist – doing away with the top table. Instead, Mark and Patrick chose to sit with 20 of their best friends for the wedding reception. 'It was always our intentions to sit everyone on a table that brought out their fun side and that idea included us too,' said Patrick.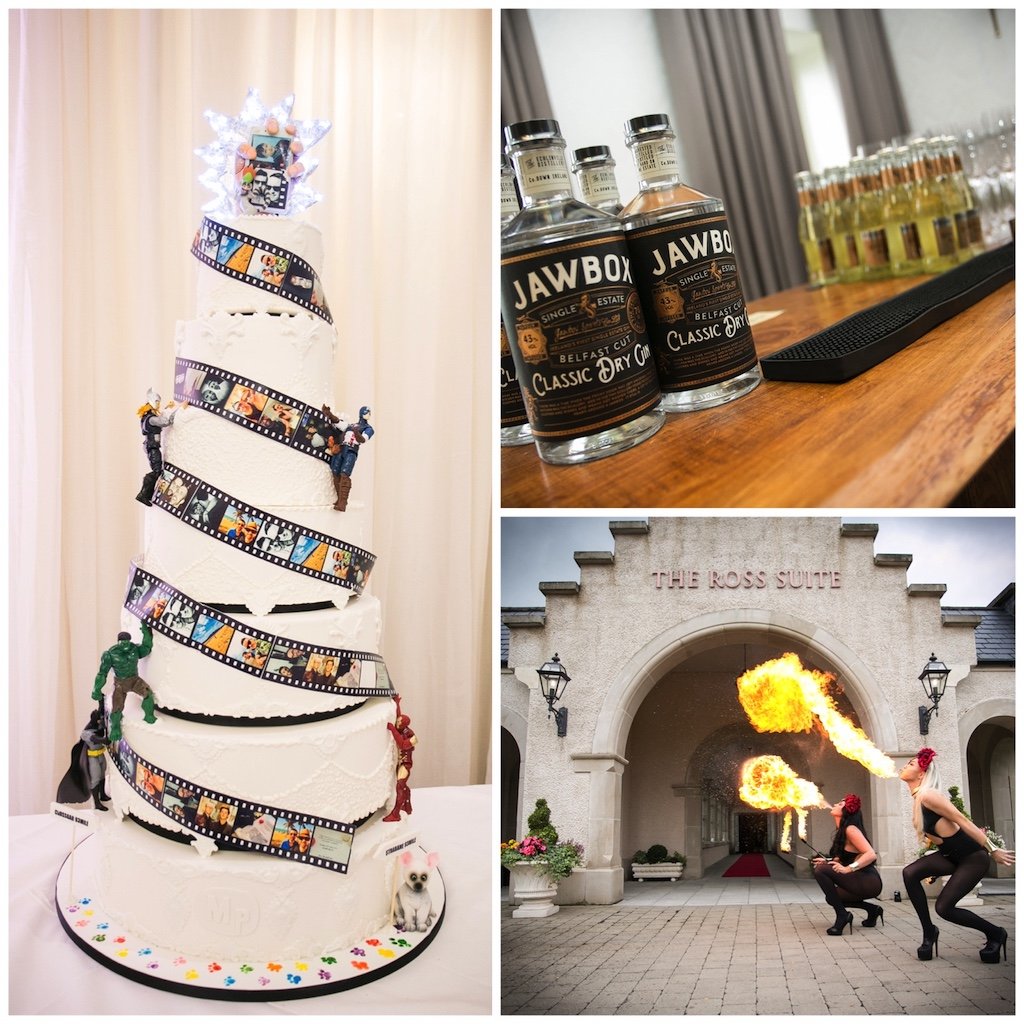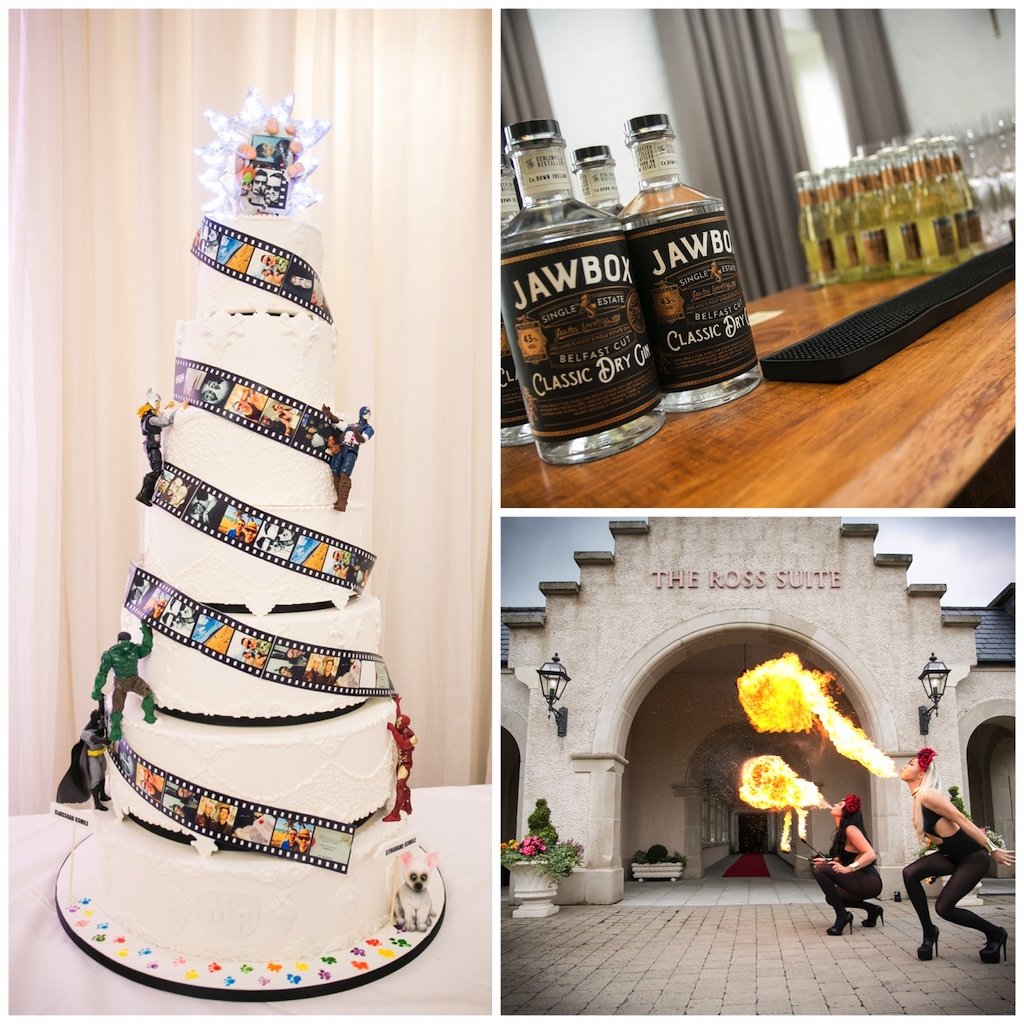 Speaking about the wedding, Mark said: 'The day itself had a fantastic party atmosphere as we chose not to do the traditions that we didn't find fun. We had no speeches and first dance, but had a guitar reception with gin and gingers, and our guests were greeted by Fire Angels at the drawbridge entrance. We rounded the day off with fireworks at dusk and a 90's masquerade rave into the wee small hours.'
Mark's favourite moment from the wedding was 'being surrounded by everyone on the dance floor while the paper cannon fired above, whereas Patrick fondly remembers, 'walking into the room to see so many people happy and excited for you.'

THE LAST WORD
So what is Patrick and Mark's top tip for other couples? 'Talk to each other and compromise. A lot will change along the way so just roll with it. Forget about the what, why and where, it's only about you and the people who share it with you.'
—————————————-
Mark & Patrick's Dream Wedding Team
Venue – Lough Erne Resort
Bridesmaid's Dresses – MaryRose McGrath
Venue Styling – Blue Moon Event Design
Wedding Cake – Madame Cocoa
Wedding Flowers – The Flower Room, Holywood
Photography – Brendan Gallagher Photography