How They Met
Hannah Creaney and Chris Brown met when they were introduced by friends at a Christian festival called New Horizon in 2011. After a brief chat, they parted ways and later picked up a friendship when they both attended the CU at their university.
'It's a debate over who made the first move because although Chris asked me for my number, it was me who rekindled the conversation from summer after recognising him!' Hannah remarks. They dated from February to the summer time before deciding to make things official.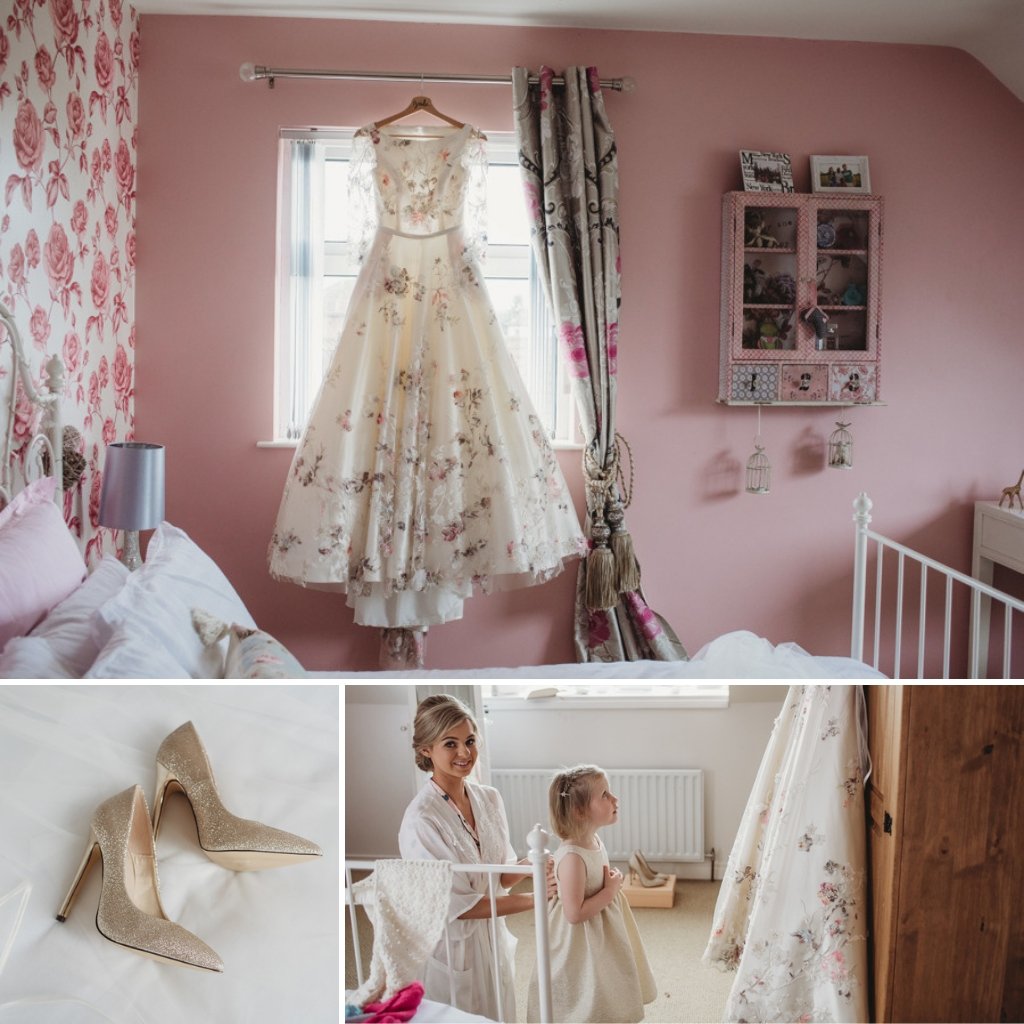 Both Hannah and Chris knew the moment they wanted to spend their lives together. After a trip to Uganda in July 2014, where they spent a month volunteering, Chris whispered to Hannah on the plane home if she would like to get married. 'It was at this moment we became unofficially engaged.' An official engagement didn't take place for three years as life got busy; they moved to Uganda for missionary work and Hannah started a university course when they returned home. 'Once we did get engaged, we were married within ten months, we figured we had waited long enough!' she laughs.
The Proposal
On 7th December 2017, Hannah woke to a beautiful blanket of snow. Although she had a busy weekend ahead, life stood still as it does when it snows in Ireland. Chris, who lived over an hour away in Newcastle, managed to make the trip to Dungannon. He spontaneously suggested they go sledding in Hannah's local park with her dog Toby.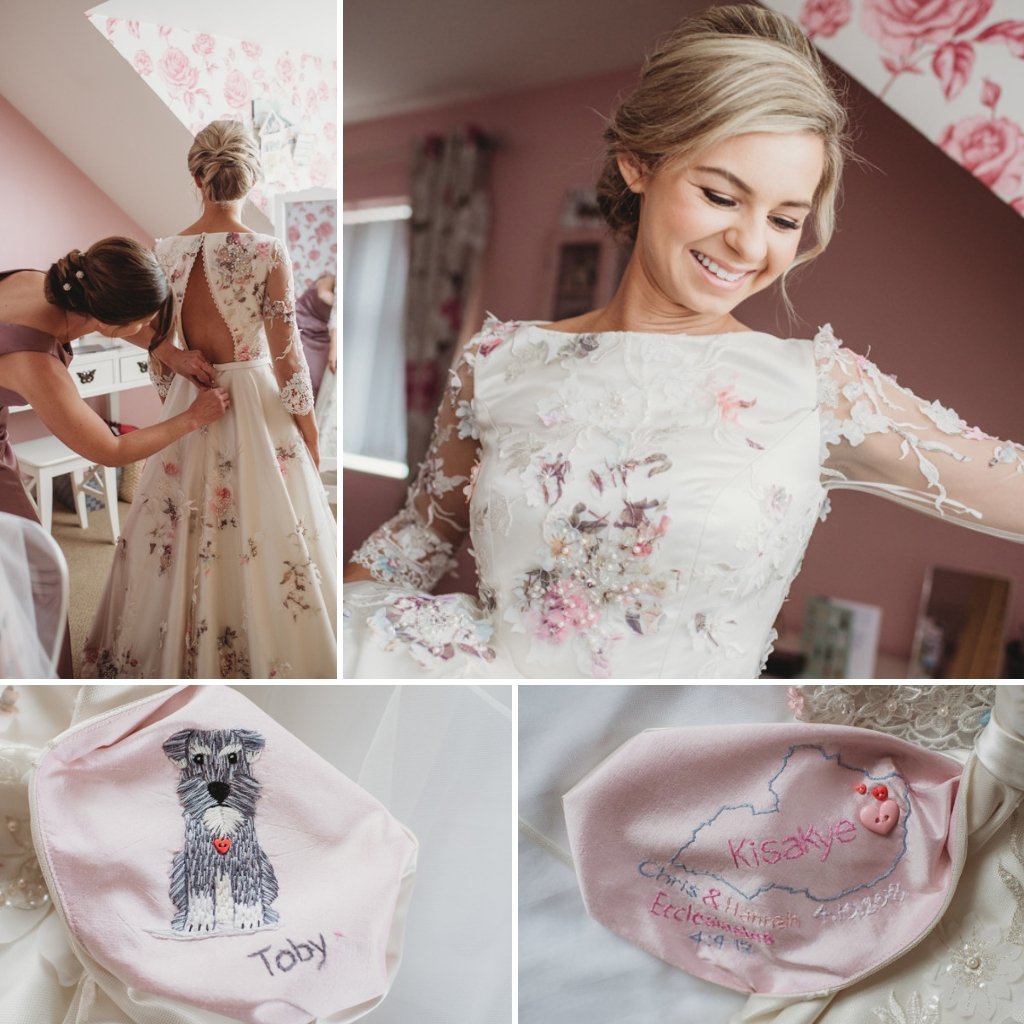 As she threw a snowball at Chris, Hannah teased him about getting his knee wet, implying he would be getting down on one knee in the snow. She was very surprised to learn this was his plan! A grin appeared as he said he knew she would guess. He produced a little velvet box that held the ring Hannah had picked almost three years ago.
'Over the years, Dungannon Park has held so many precious memories for me and that's another special one to add to the list! Toby was very excited too!'
The Day
Chris and Hannah picked Lusty Beg Island Resort as their venue for their big day. They wanted to focus their day on the finer details and support local talent. As well as that, the most important theme for them was a God-centred one; 'We wanted our wedding to be a reflection of His love for us,' they comment.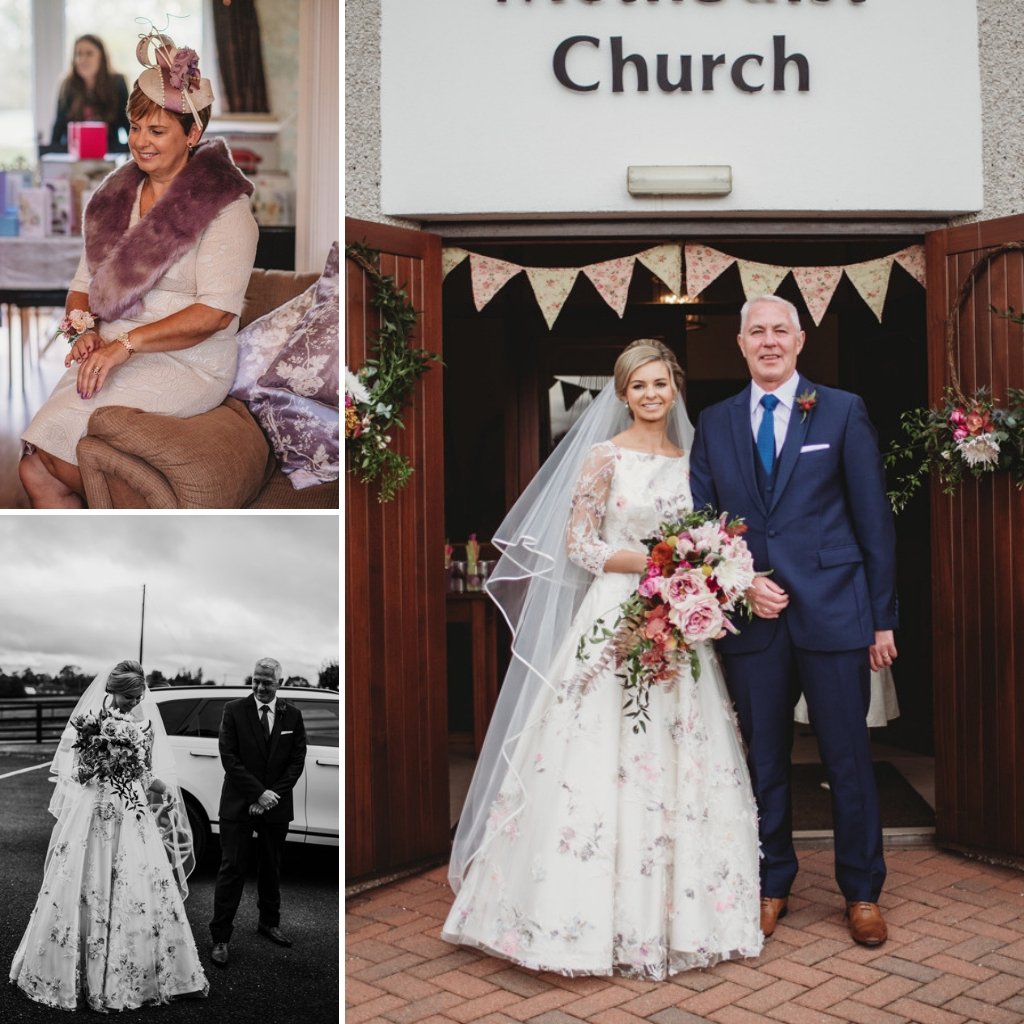 Choosing to plan and style the day herself, Hannah reveals it got very busy! She advises brides about taking on too many opinions. 'I am quite decisive, but I panicked myself that I was making decisions too quickly and not surveying all the options,' she comments. In hindsight, she knows it's nearly better to just decide and move on.
Photographer
Love and Light Photography took Hannah and Chris' engagement photos and immediately put them at ease with her relaxed personality.
After their experience and seeing their engagement photos, they knew it was exactly what they wanted for their wedding day.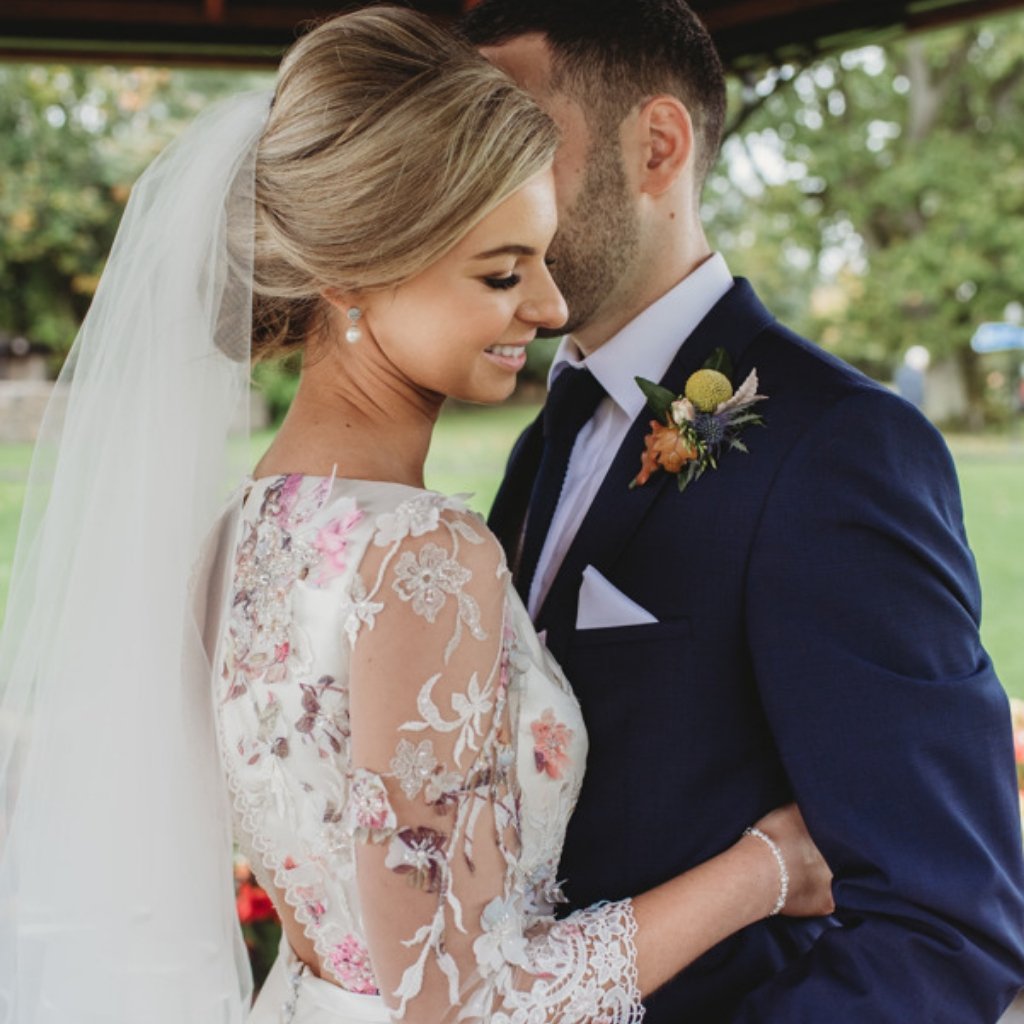 They chose Jacqui because they loved her work and style of photographs. 'I really wanted cheerful, light and bright photographs. Photos that would be timeless and portray the little details of the wedding,' Hannah remarks.
What The Bride Wore And The Rest
Long before Hannah even visited a bridal shop, she knew exactly what she wanted and who she wanted to make her dress. 'Elizabeth Frances Bridal makes the most beautiful dresses and I knew about a gorgeous applique fabric she had used before and I knew that's what I wanted,' she remarks.
Although Hannah knew what she wanted, she feared she had decided too quickly and the pressure of trying dresses on and having the 'experience'. She visited a boutique and tried on lots of dresses, but the problem was she liked them all on her! 'This left me confused and went with plan A to get my dress made. It was the best decision ever.'
Hannah's dress was made to the finest detail thanks to Elizabeth's brilliant talent. The result was a beautiful lace and silk gown with splashes of coloured flowers embroidered throughout. It also featured pockets with sentimental pieces embroidered in them; her dog Toby and the country of Uganda.
Choosing her wedding to be a great time to challenge herself, Hannah committed to designing and making the bridesmaid's dresses herself. 'I wanted something simple as my dress was quite detailed.' Following the same neckline as her wedding dress, Hannah made a classy, lilac dress for her sister Christine and a mini replica for her junior bridesmaid, her niece Ruby.
Décor
The beautiful flowers came from McGarry Flowers, Maguiresbridge, and Hannah herself.
Picking up silk roses and orchids in a sale, she took the array of pinks and burnt oranges to McGarry Flowers to see if they were appropriate to use. They very skillfully included the silk arrangement into their beautiful arrangement of fresh flowers. 'I loved my bouquet and I still have the silk flowers in my kitchen. No one knew my bouquet was partially artificial, they all looked so real!' she recalls.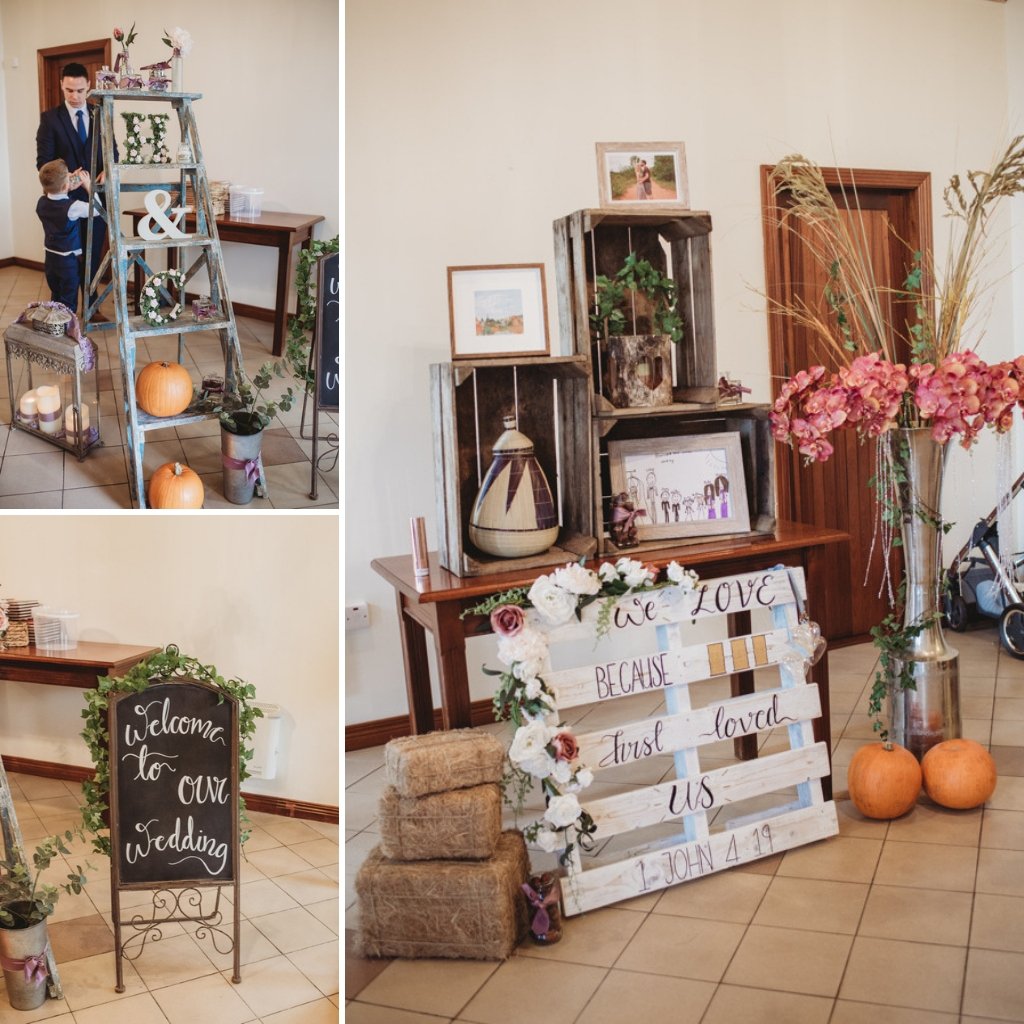 McGarry Flowers also decorated the church. Opting for something a little different, Hannah asked for hoops with flowers at the door of the church, commenting this was her favourite arrangement. Inside the church, there was a greenery garland around the pulpit. 'It took my breath away when the church doors opened for me to walk down the aisle. Chris too, of course!' she laughs.
Hannah undertook the table planning and room décor herself with the help of her mum and friend. Painting a pallet with their theme verse, 'We love because He first loved us'; she added it to the rustic ladders, apple crates, letter welcome signs and bunting in the entrance of the church.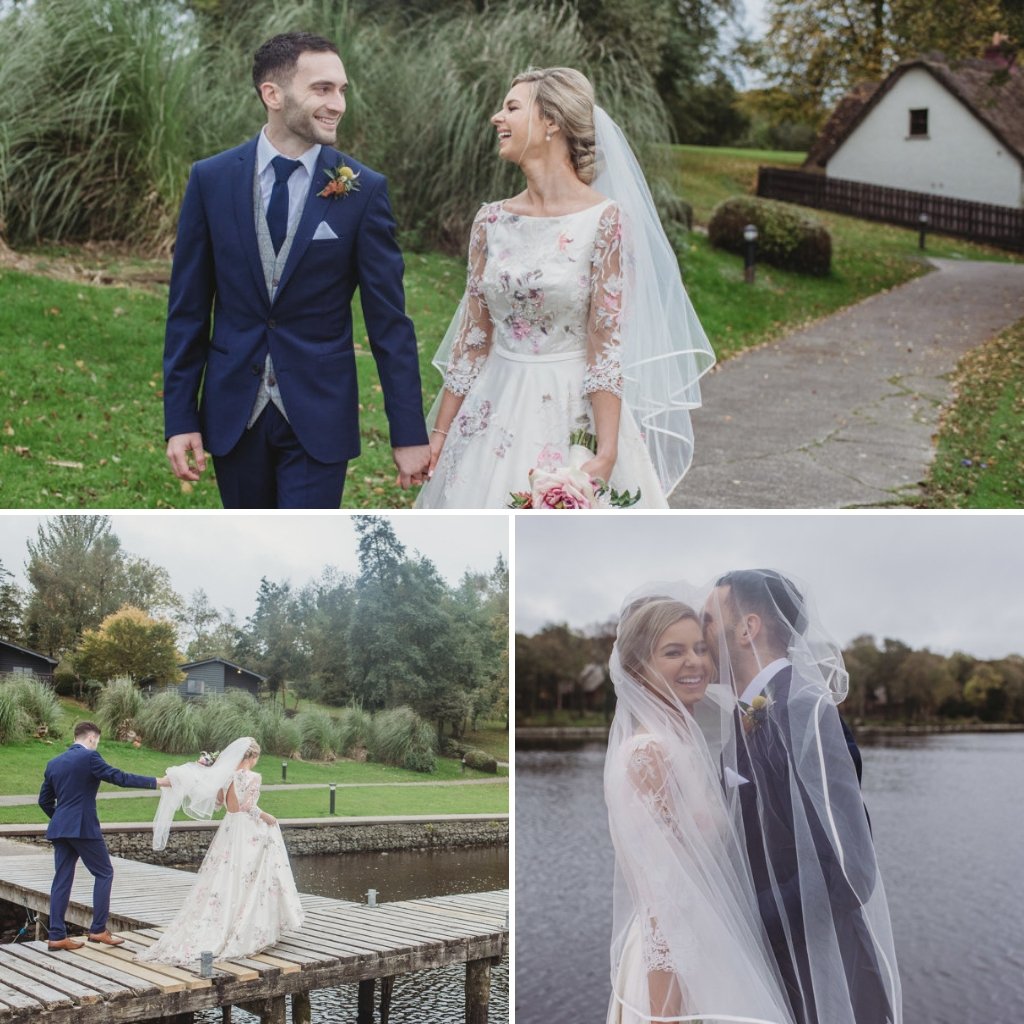 For the venue, McGarry Flowers added a display of fairy lights at Lusty Beg, adding a spectacular look to the hanging white drapes at the doors. 'I'm really glad we went for this in our venue, it made it look so special for us and the guests,' she comments.
The table plan was made out of a gilded map of the world and the countries Hannah and Chris had visited. 'It seemed only right to have Uganda at the top table!'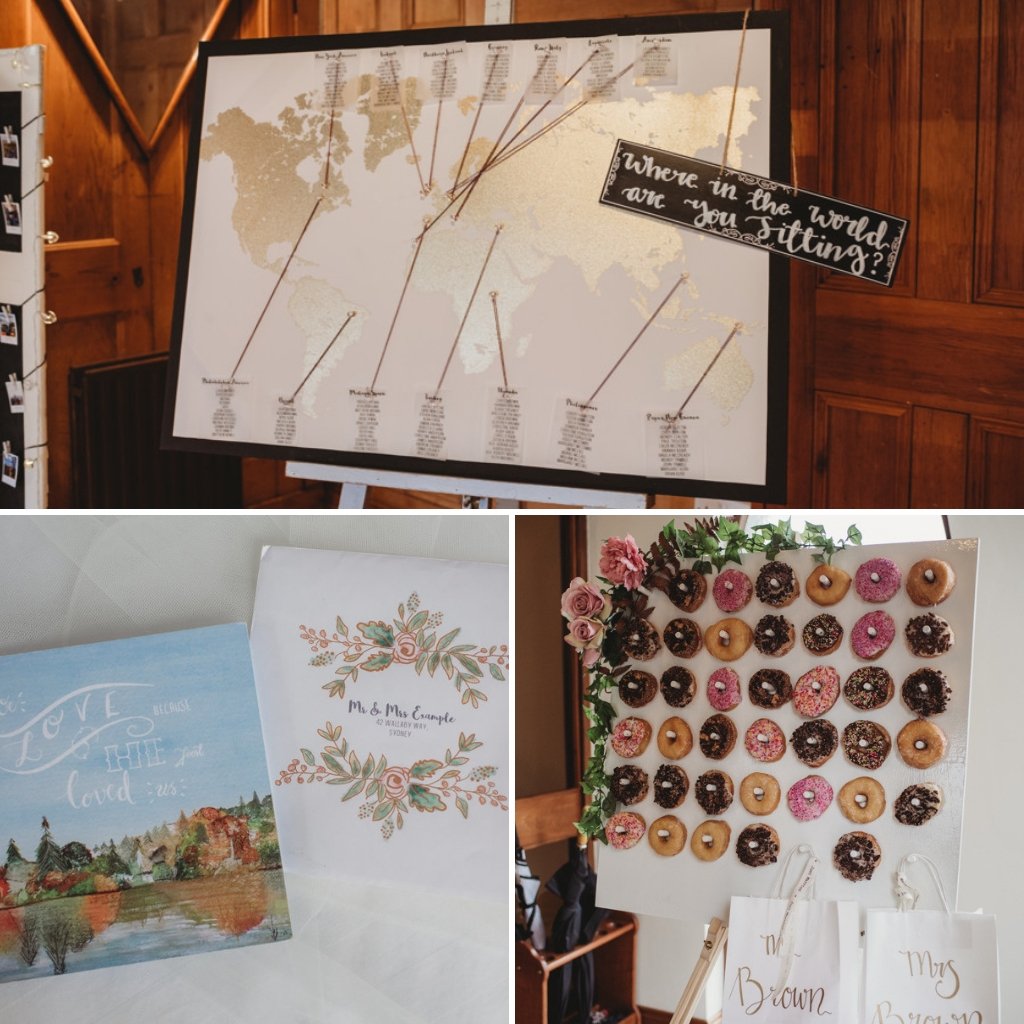 Another challenge Hannah set herself was to make her own stationery! It was easier this way as she knew exactly what she wanted. She painted an Autumn scene of Dungannon Park and edited it on Adobe Illustrator before adding other iPad drawings to the inside and envelope. MaGowan's Prints, Belfast were a great help throughout the printing process.
'This definitely stretched my creativity as it was something I had never done before. I now have my invite framed and on display in my living room which is a special reminder of our wedding,' she adds.
Opting out of an order of service, Hannah made a PowerPoint for the church service, featuring lovely graphics and the design from the invites.
Food
All the guests bar Hannah enjoyed a delicious turkey dinner from Lusty Beg's set menu. Hannah isn't fussed on turkey, so Lusty Beg accommodated their bride and served her a yummy chicken curry and rice dinner, she comments 'it was absolutely delicious!'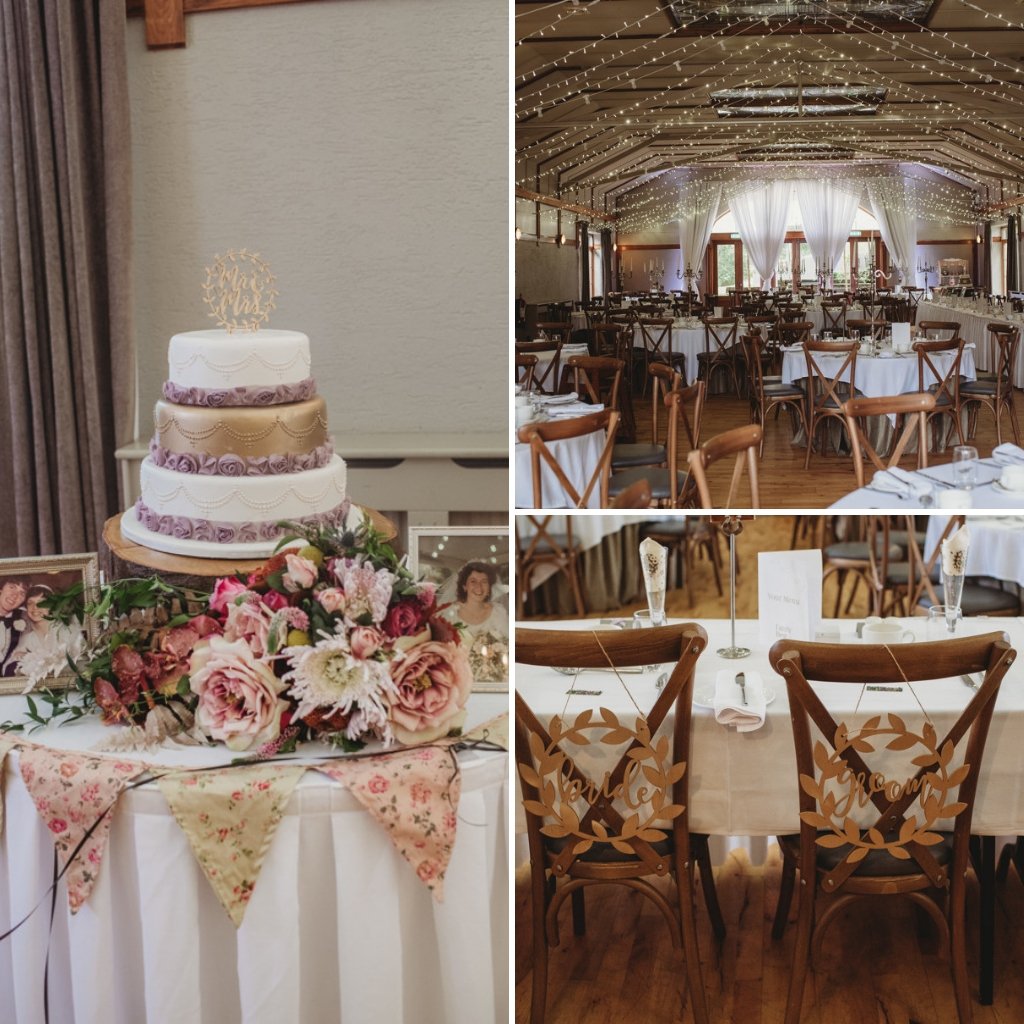 Chris and Hannah's cake was a display piece only. Hannah comments 'it was actually a fake cake from my brother's wedding two years ago.' She spray-painted it, added ribbon and a topper, commenting she saved quite a bit of money!
However, guests were kept sweet with a choice of five flavours from their delicious slab cakes baked by Cherry Tree Bakery, Lisnaskea. They were able to choose between chocolate, chocolate brownie, lemon, Victoria sponge and red velvet.
Favourite Moments
Chris: 'The moment I saw Hannah walking down the aisle left me utterly speechless. It's a moment neither of us will forget.'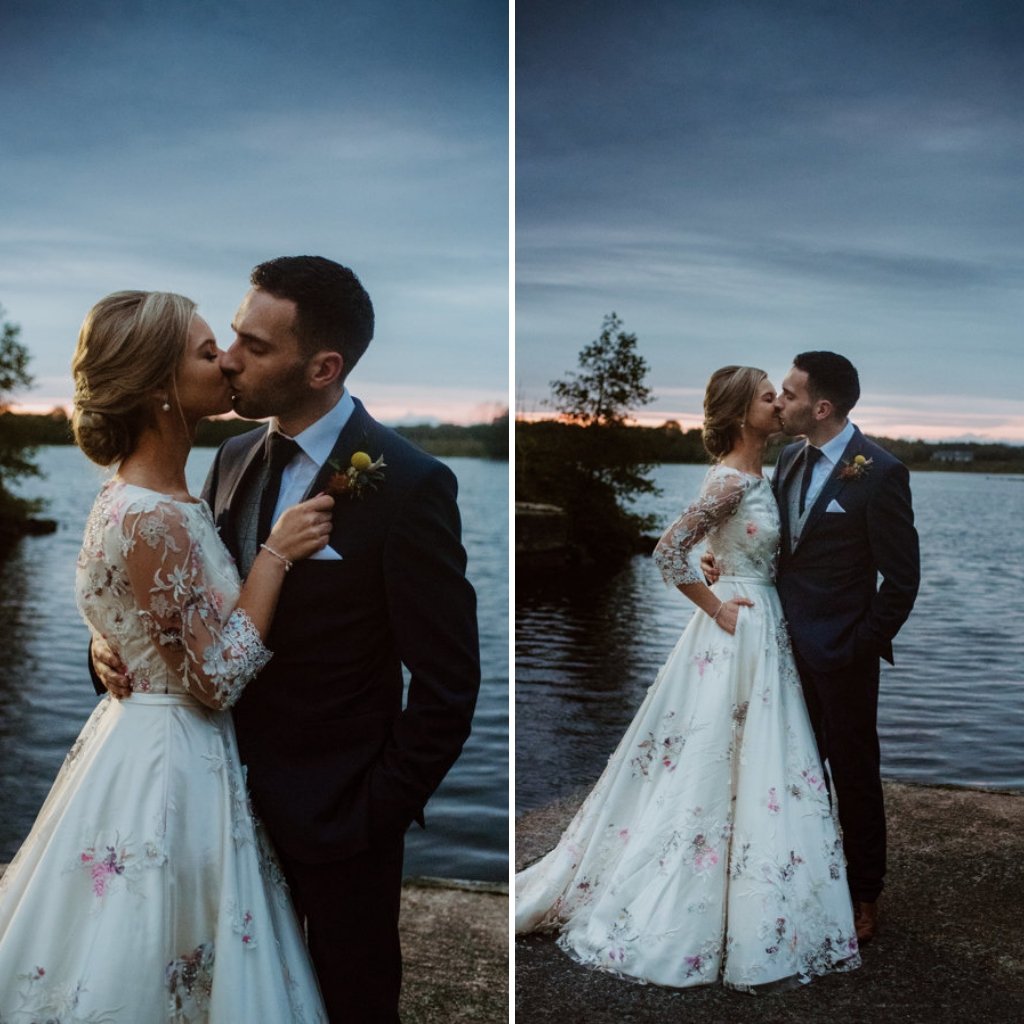 Hannah: There's so many! The one that stands out for me is the final guest's speech. My brother, Andrew and sister-in-law, Emma surprised us with a speech from my dog! Yes you are reading that right! It's on YouTube under the title, 'Wedding Dog Toby.' Toby has always been a big part of all our family's lives and it was so special that he was with us on our wedding day; in a very comical video and in the flesh, too!