HOW THEY MET
This love story begins like almost every enchanting fairytale, starting their relationship as childhood friends. 'One of our first memories of each other is from a water fight where Adrian hit my dad with a water balloon before getting chased down the lane,' jokes Kathryn.
'Our first date was a trip to the cinema where Adrian collected me in his Twincam corolla. He loved it so much, he lowered it, so low in fact that it wouldn't go over the speed-bumps at the cinema, so I had to get out and walk.'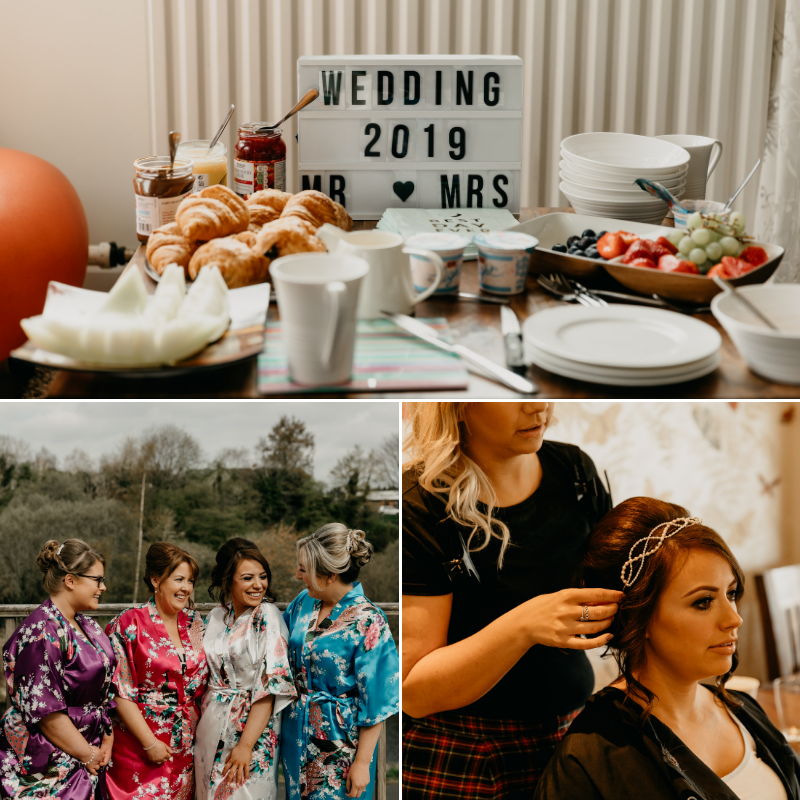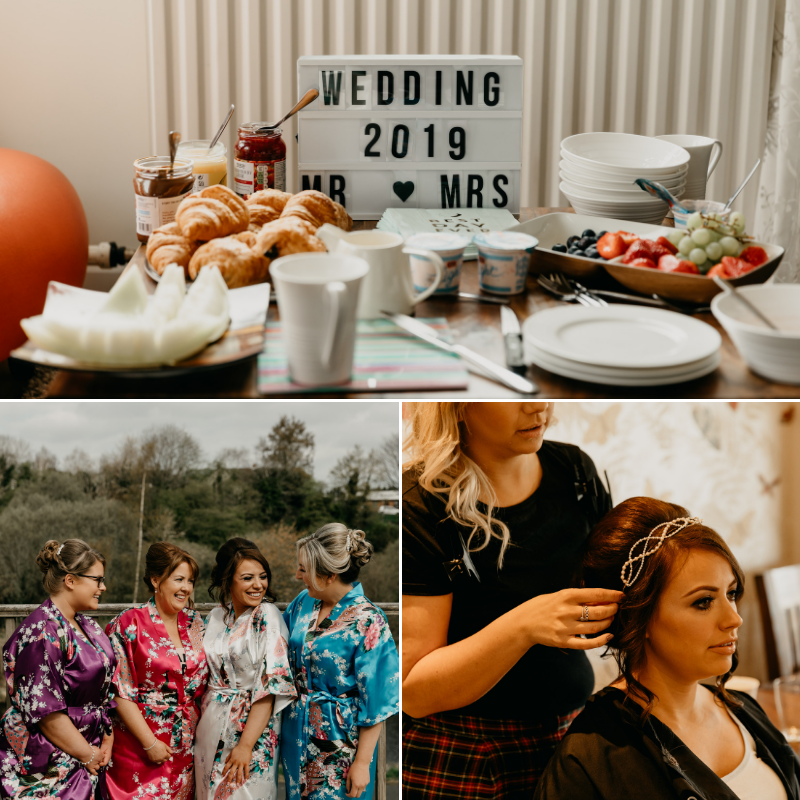 'I didn't think it was a date, just friends out for the night, so when our first kiss happened I was taken totally by surprise and to this day Adrian says it was the worst kiss ever!'
Adrian shares how neither of them can pinpoint an exact point when they knew they had found the one, but both agree there was always something special between them.
THE PROPOSAL
Kathryn shares how Adrian popped the big question. 'So we were in Paris back in November 2017 for my little sisters 18th birthday with my mum, dad and sister. On the Sunday before we came home Adrian and I took ourselves off to do some sightseeing on our own and we ended up at the Wall of Love, Montmartre.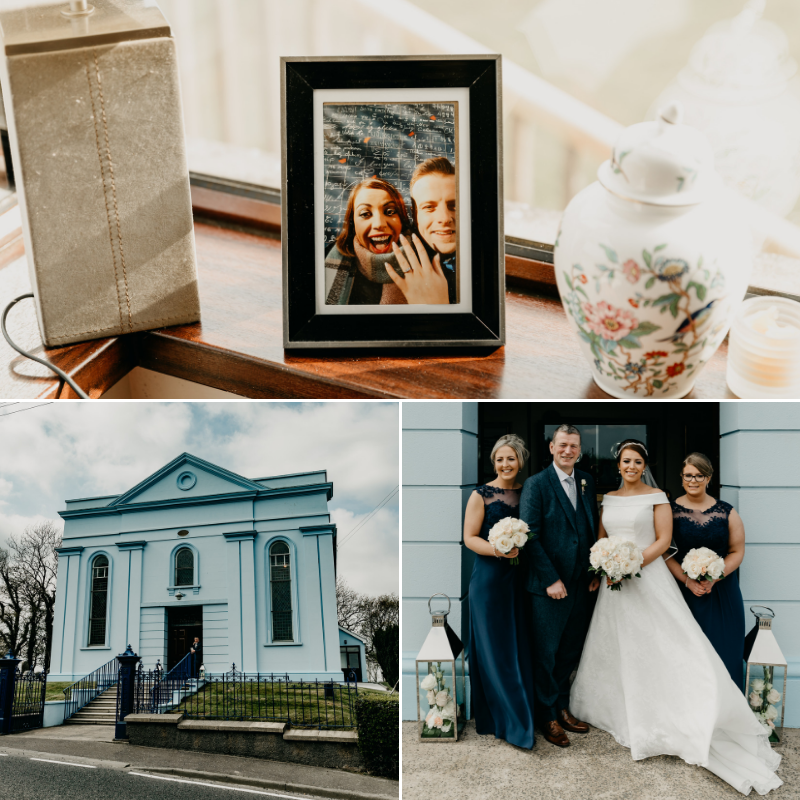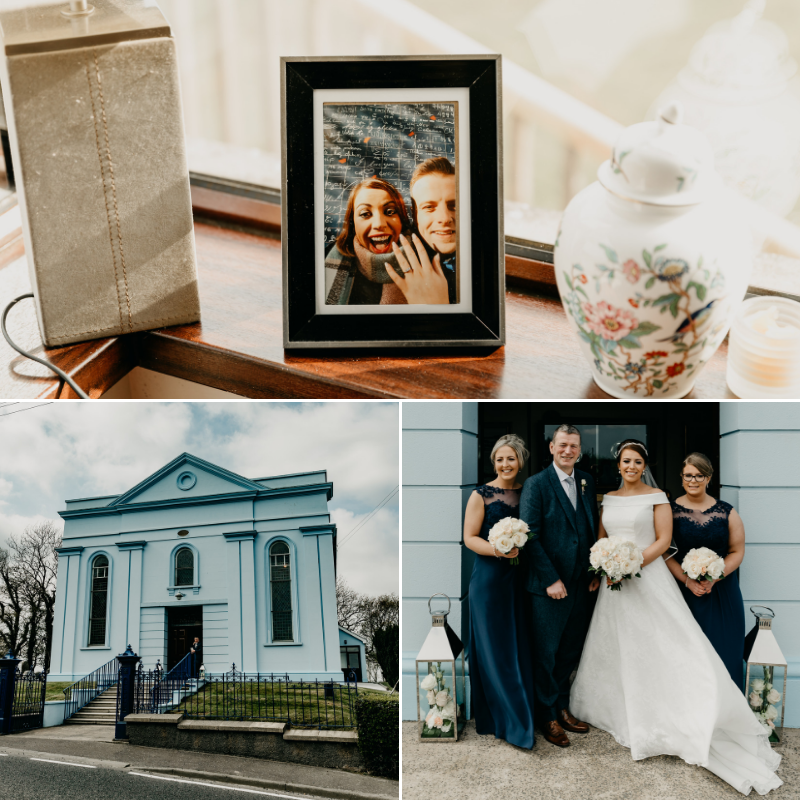 To this day I am not actually sure if I said yes or not. Later I found out he had carried the ring around Paris for 3 days in his wallet, even on the coasters in Disneyland and everything waiting eagerly to ask my for my dad's permission. We totally trumped my sister's big birthday weekend, but I don't care, it was amazing.'
THE RECEPTION & DÉCOR
'We wanted to be able to enjoy our photographs for years to come without looking back and thinking why that was even on trend!'
A cousin of Kathryn's decorated the church for them; 'it was stunning, we couldn't have asked for better.' Meanwhile Leaf Designs NI styled their beautiful reception venue, as well as their gorgeous button holes and bouquets. They also created the perfect fairy light backdrop for the couple's wedding band, The Just Adam Band.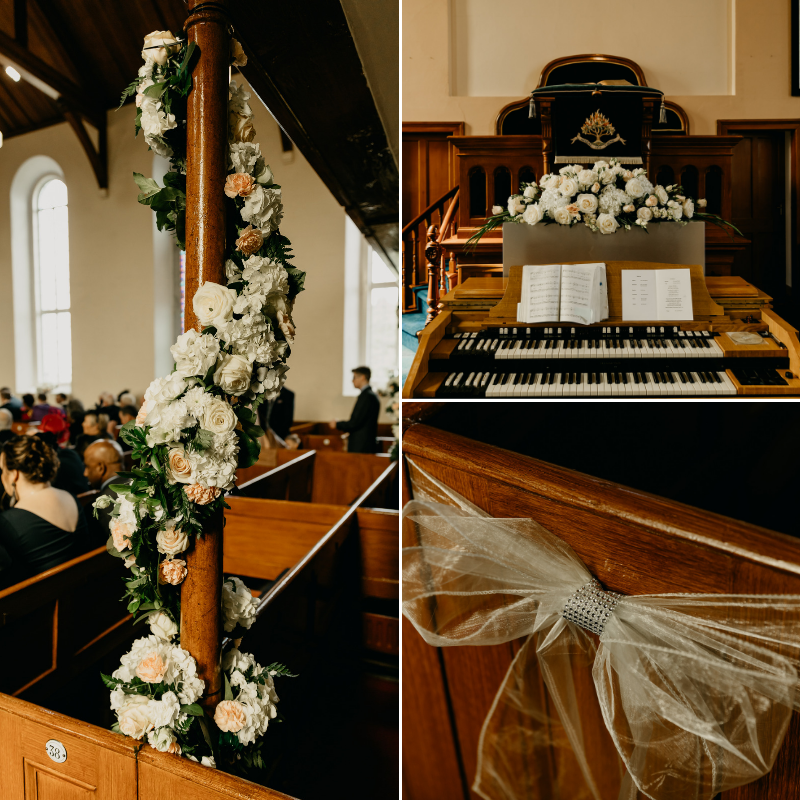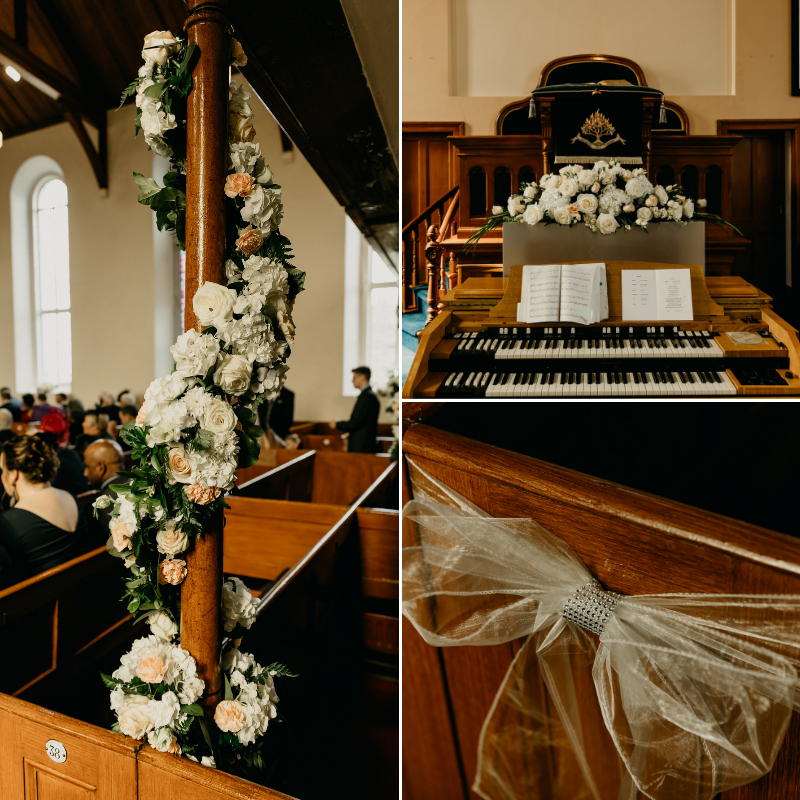 The room was dressed with simple white table cloths, elegant white chair covers with navy sashes and the candelabra centre pieces with a few roses wrapped around them.
'We loved the little touches like the button holes with spanners and the bouquets with the washers to represent Adrian's love of cars.'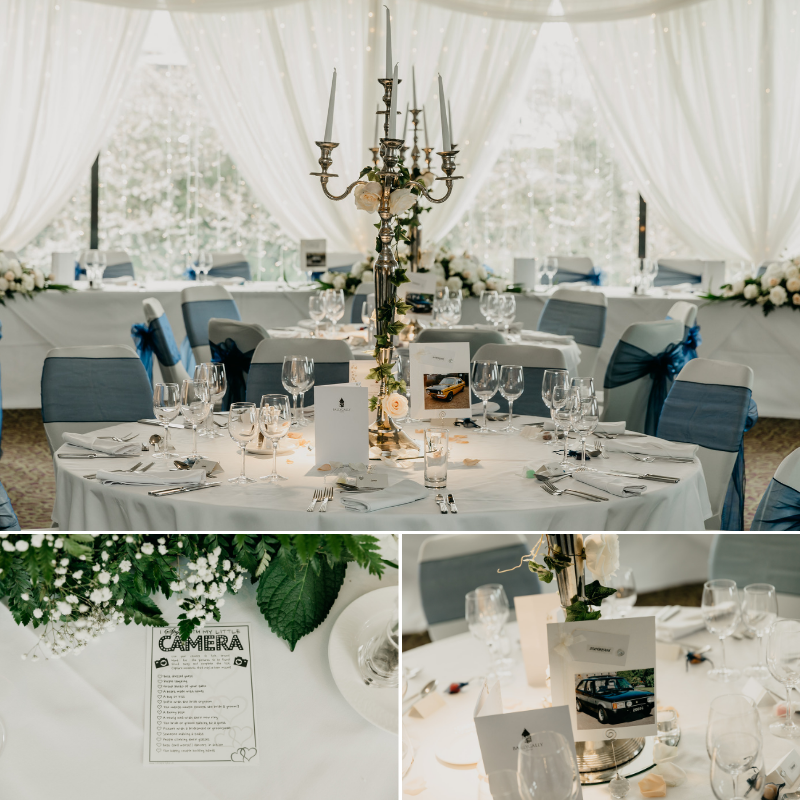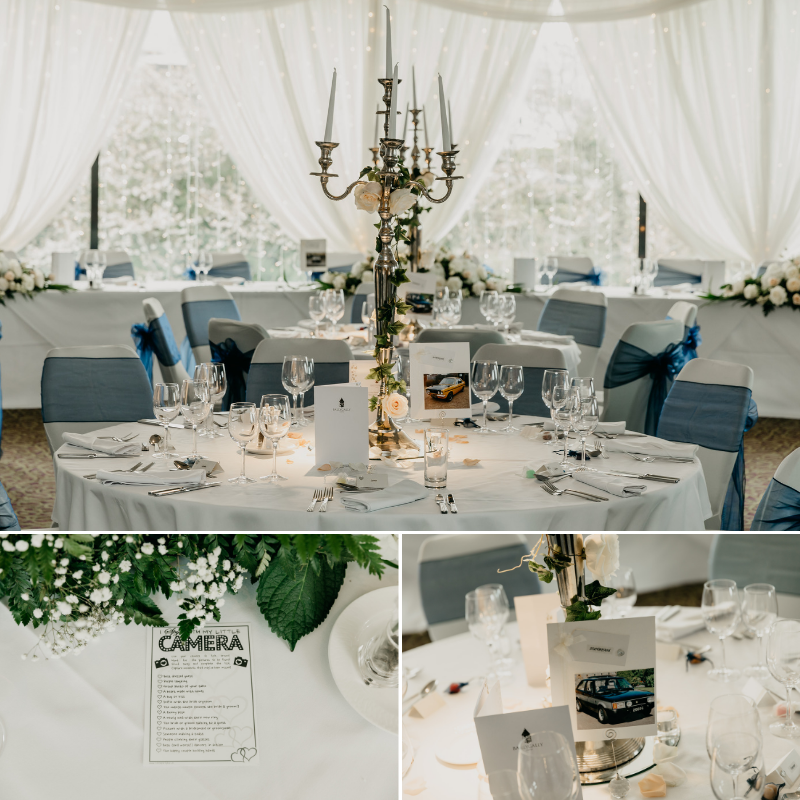 'For our stationary we wanted to give something back to a good cause, so we got Pink Elephant Cards in Stepping Stones Lisburn to do our invitations. Everybody loved them, so we couldn't have been happier, such a fab job!'
WHAT THE BRIDE WORE & REST…
Kathryn visited Divinity Bridal in Lisburn on the hunt for her dream dress. 'This was the first shop we went too but we did try a few others before going back. The dress itself was totally different to what I thought I wanted and when I went to try it on mum was like 'no' from the hanger but as soon as she saw it on she agreed it was the one!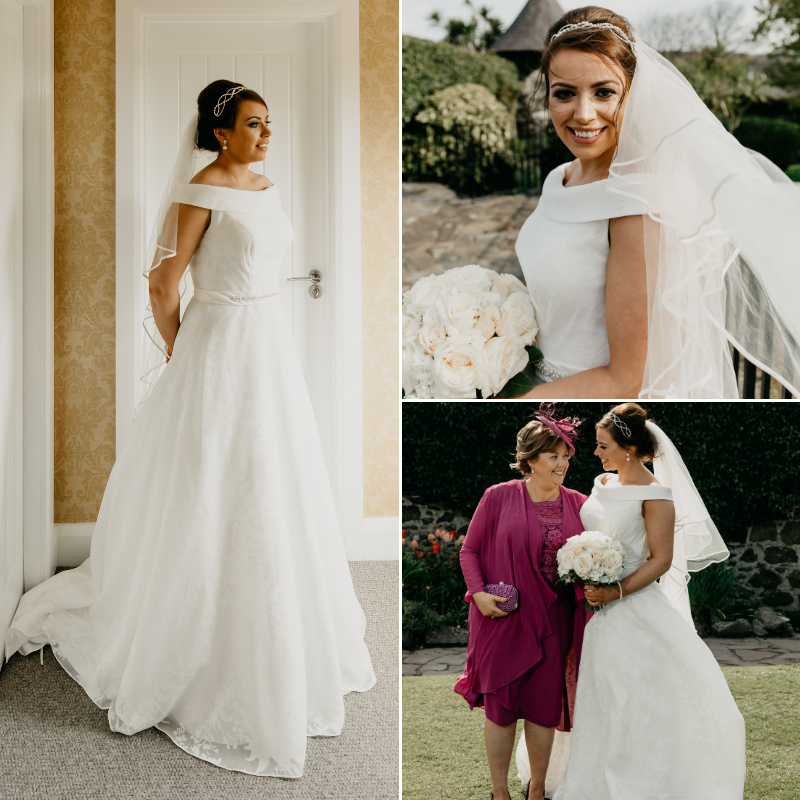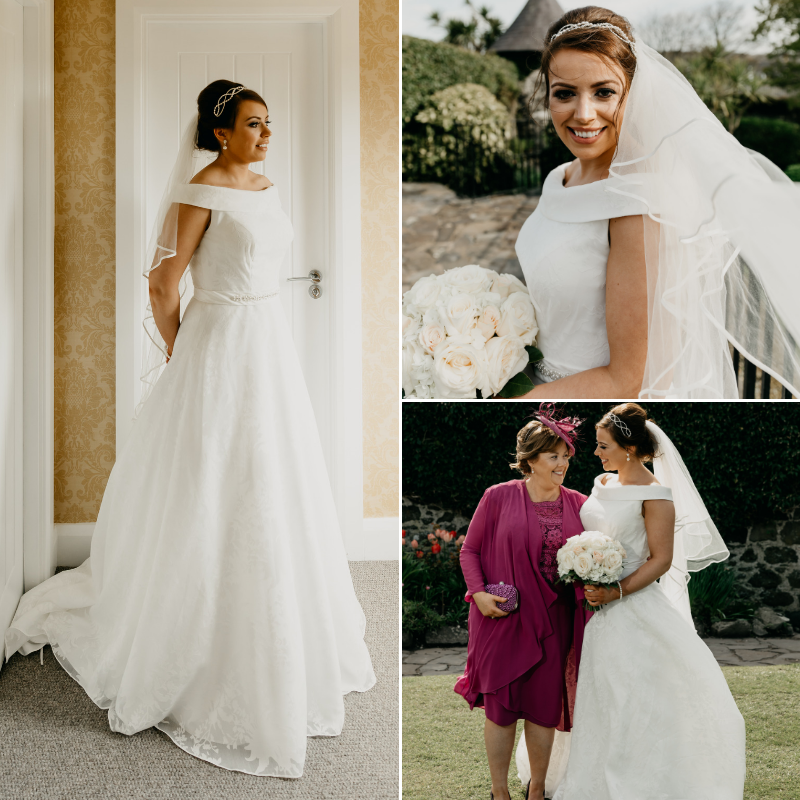 'Both Shellie and Victoria were massive help giving advice on hair and jewellery and the seamstress they put me in contact with was amazing! I was devastated when Megan and Harry got married and she had a boat neck because I had already ordered my, at the time, very different dress. It was definitely the right choice as it was so comfortable on the day and very different.'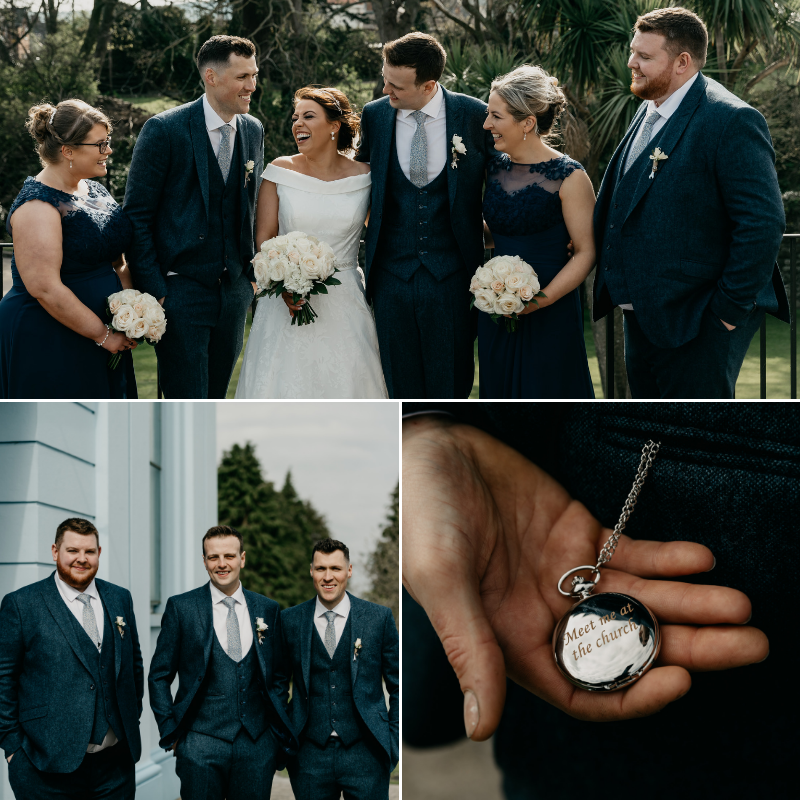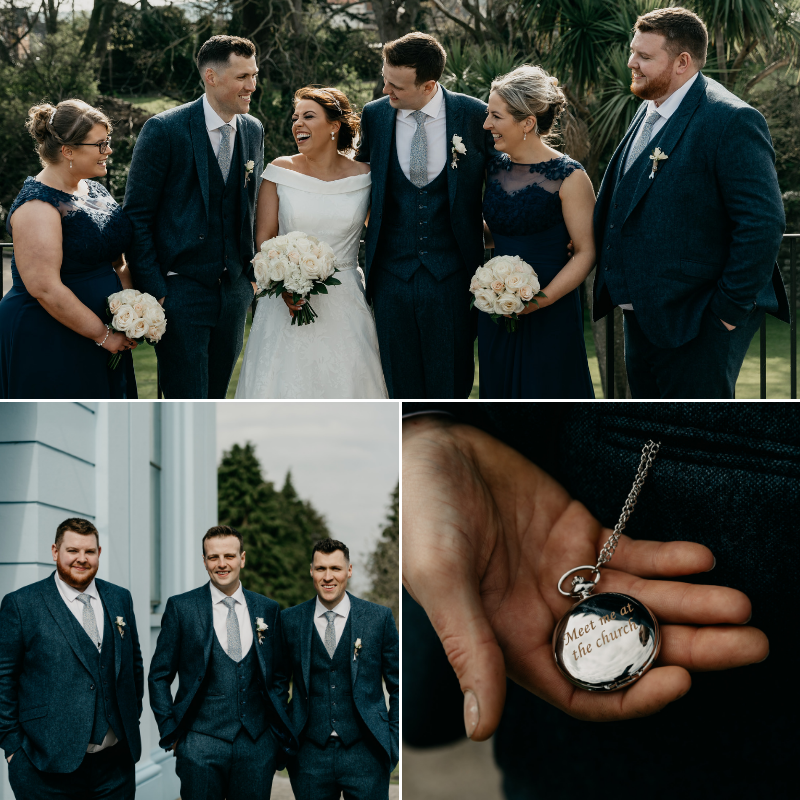 Kathryn enjoyed her own shopping experience, she decided to to continue her bridesmaid dress search with Divinity Bridal. 'The girls were so friendly, my two bridesmaids are very different in style and shape and I couldn't believe it that they both found a dress they loved at appointment 1 and it was the same dress. The colour took a bit more thought as I had always had a colour in mind. In the end we went for Navy as we felt it was a richer colour beside the ivory dress and just by coincidence my mum ended up in the colour I had wanted.'
EATING & DRINKING
'Being country people, we are all big eaters, and no one was disappointed. The aim of the menu was variety, so everyone would get something they liked. We had a trio of starters (soup, melon, salad), then Beef or Chicken for main, and another trio of desserts (Raspberry Ruffle Cheesecake, Chocolate Pot, Pavlova). Our guests was that the food was the best wedding food they have ever had and I happen to agree.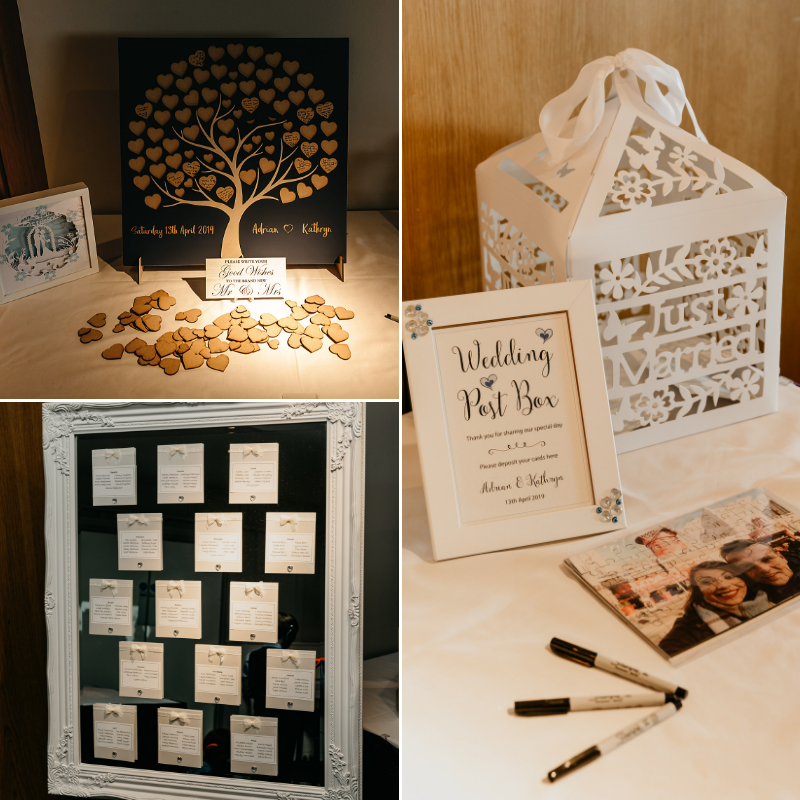 After visiting another Wedding Show, Kathryn and Adrian met Gemma of Your Just Desserts in Downpatrick. 'Her cakes were unreal,' jokes Adrian. 'We went for a three tier Lemon, Chocolate with double decker butter cream and Victoria sponge.' Adrian was very specific that the Victoria sponge needed raspberry jam.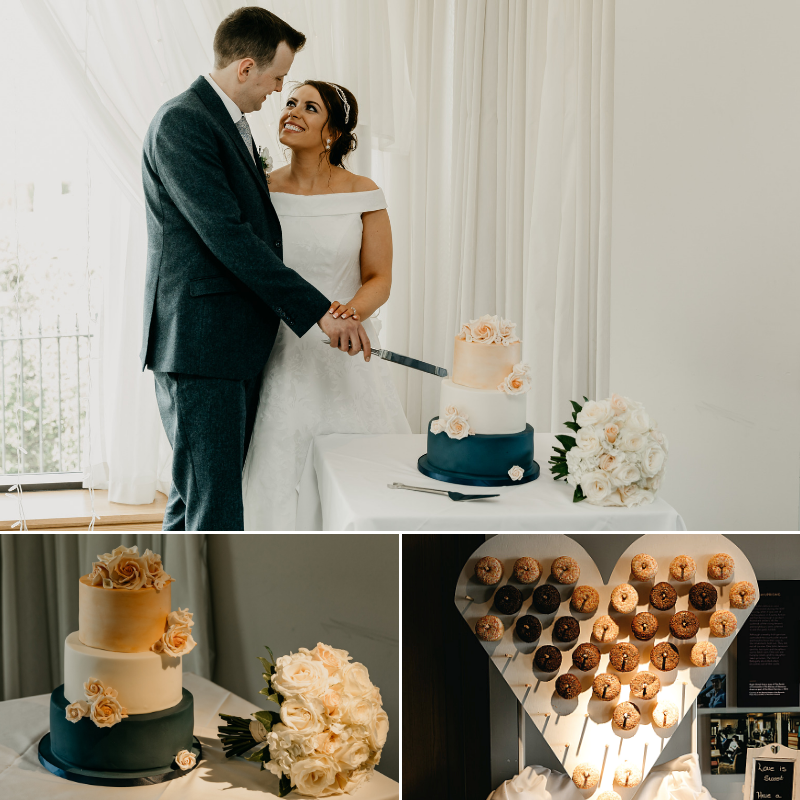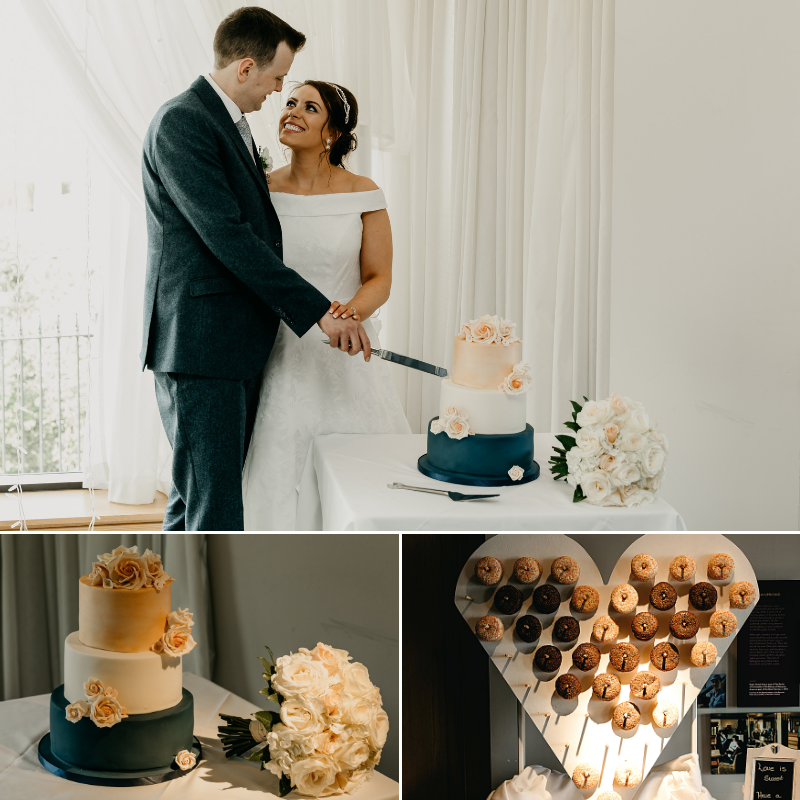 The cake was navy, ivory and peach with sugar roses to match the bouquets. 'Our cake knife was a special engagement present from a close family friend which was a spanner turned into a knife. Again, it's those little finishing touches that we remember first,' reminisces Kathryn.
'As something different we had a donut wall on arrival which was made by my parent's neighbour and is in the shape of a heart.'
CAPTURING THE MOMENTS
This young couple first met Mark of Mark Barnes Photography at the Ballygally Wedding Fair, just after they had reserved their date. 'He had a photo album open at a 2-page photo of a couple at Ballygally head and we were sold. From the first meeting we had with him we felt like we had known him for years and on the day, everyone commented on how relaxed he had made everyone feel.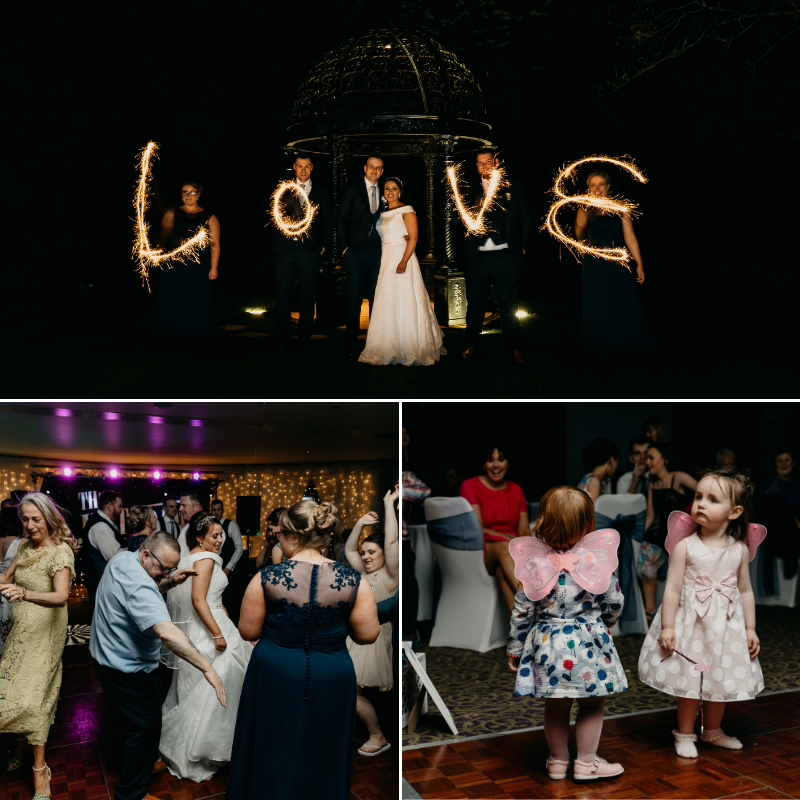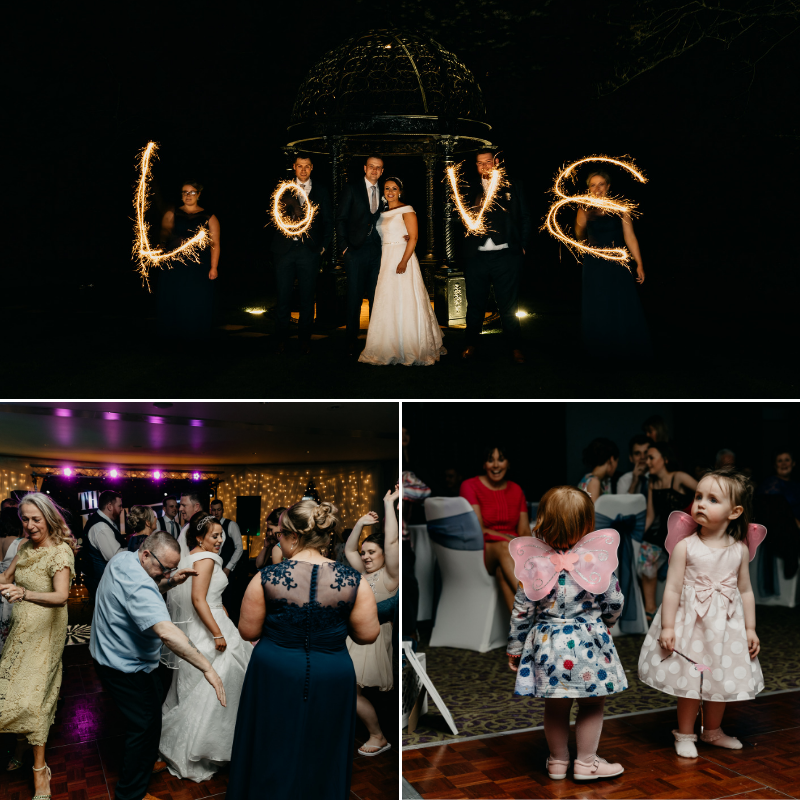 He had great ideas for photos which are different to other albums we have seen. The best bit was that we received some sample photos within 24 hours of the wedding which was amazing!
HIGHLIGHT OF THE DAY
Adrian says when he  first spotted Kathryn at the top of the aisle he was overcome with emotion more than he thought and couldn't speak. 'That will be a moment I will never forget!'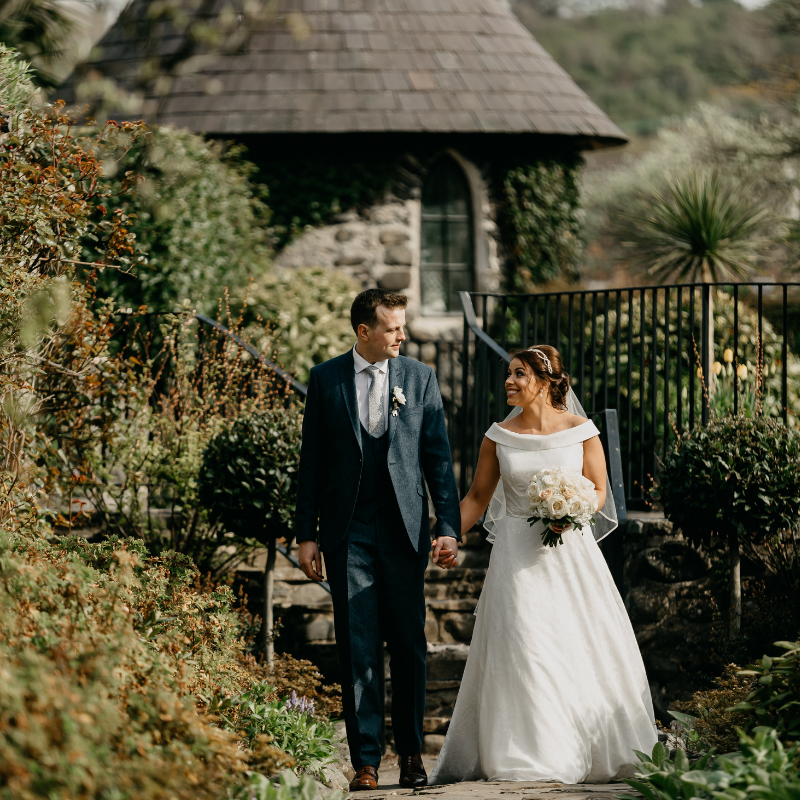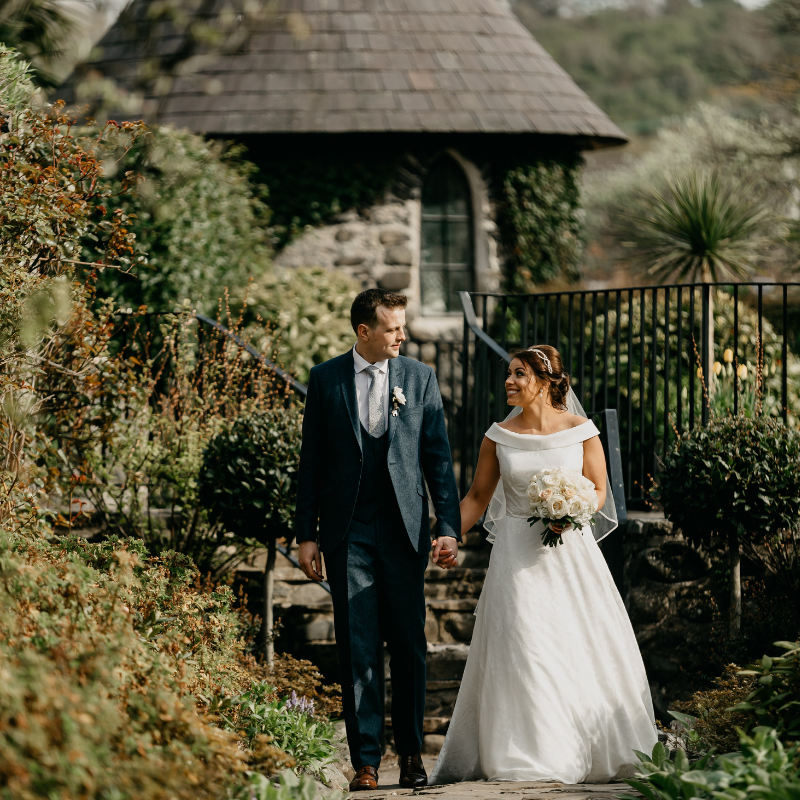 Kathryn particularly enjoyed their car journey after their ceremony to Ballygally Castle.'We were using one of my fathers in laws Austin Heavy 12 vintage cars which Adrian and his dad had been working on for weeks to get running right. It didn't break down which was important, but it was special to know that it wasn't just any car. Because of the amount of glass in the car when we were driving down the road we felt like a prince and princess with everyone beeping us as they drove past.'
_____________________________________________
Kathryn & Adrian's Dream Wedding Team
Venue – Ballygally Castle, Co. Antrim
Wedding Dress – Divinity Bridal
Venue Styling – Leaf Designs NI
Wedding Cake – Your Just Desserts, Downpatrick
Wedding Entertainment – The Just Adam Band