How They Met
Victoria O'Connor and Darrach Campbell were childhood sweethearts, meeting at a friends' house as teenagers. Darrach chased his bride for two months, before Victoria eventually gave in to his charms, agreeing to go on a date and quickly fell in love.

The Proposal
Darrach proposed to Victoria on her birthday, with a little help from some tiny hands. 'Darrach had been acting funny the day before my birthday, so I presumed he was planning some form of surprise to celebrate that, I really didn't expect a ring!'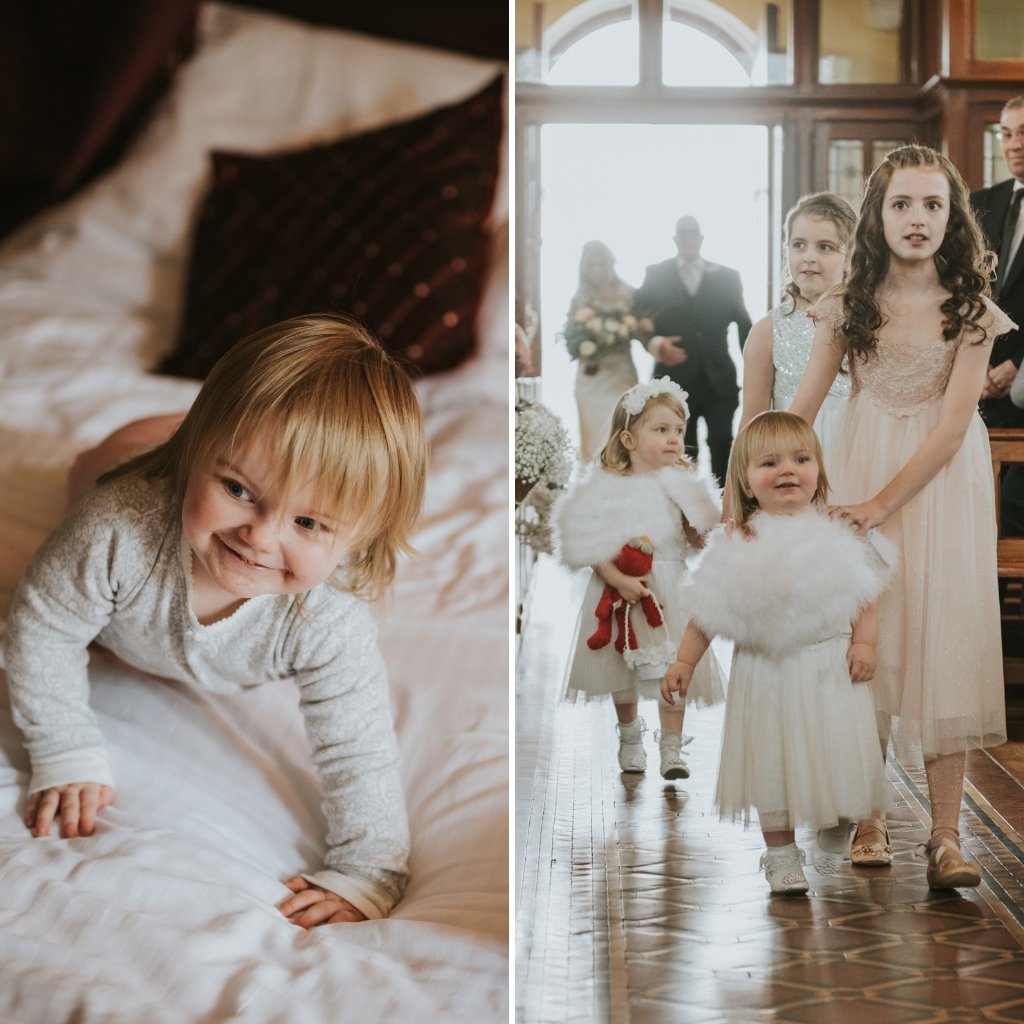 Darrach roped in his eldest daughter Niamh, who was 2 at the time. Taking place in the family back garden, Darrach subtly placed Victoria's stunning engagement ring onto young Niamh's little finger, prompting her to ask 'mammy to marry daddy.'
'It was such a surprise, it's a lovely family moment to look back on,' blushes Victoria.
The Day
First on the couple's to-do list was to secure their venue, having already preliminary booked the Tullylagan Country House Hotel, it felt right to contact them again. 'We fell in love with the grounds and the old country house feel.'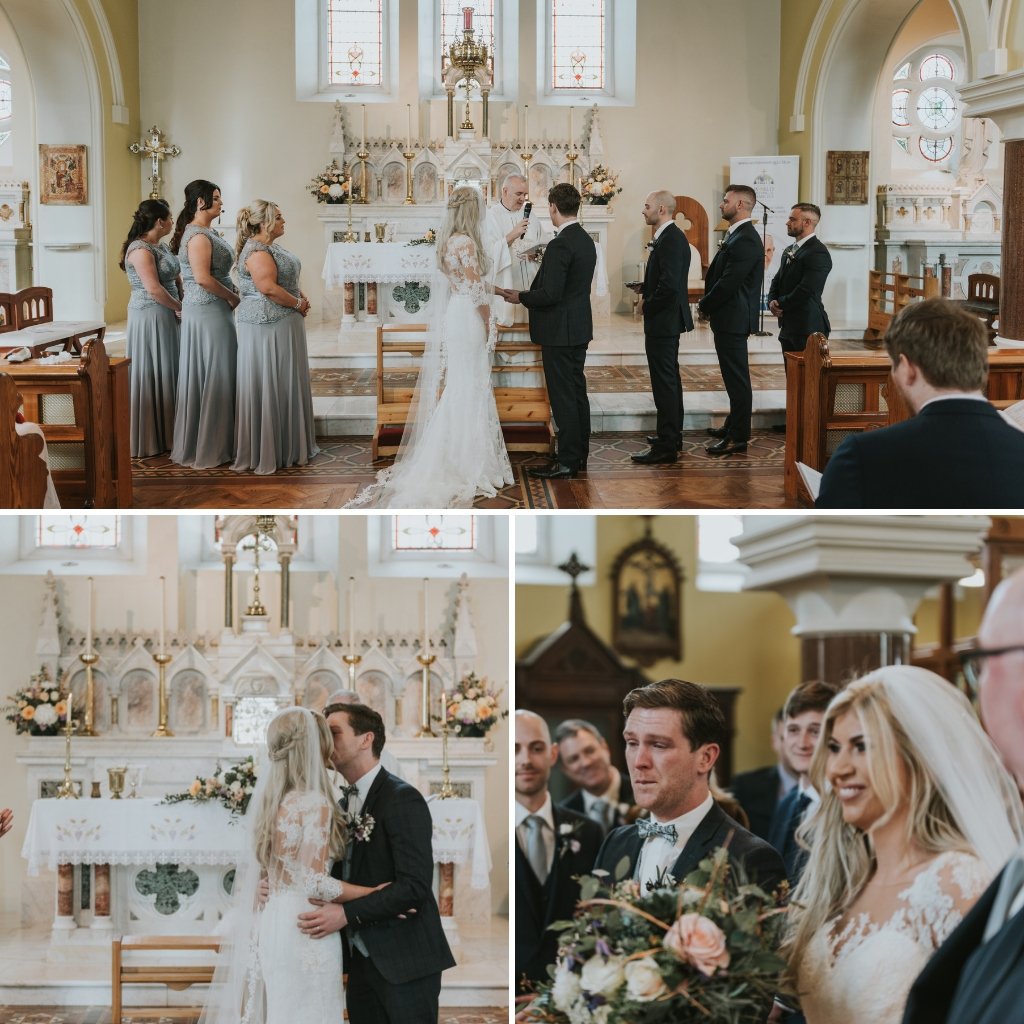 Based in the heart of Mid-Ulster, Tullylagan is a step back in time and a rural paradise. 'Within minutes of arriving at Tullylagan, we fell in love with its rustic style, we felt comfortable and relaxed,' she adds.
Décor
Included in the bumper prize was the opportunity to work alongside Event Planners NI, 'Julie-Anne was great, I didn't necessarily want a theme, I just knew the colours I loved. I wanted to incorporate the grey in my bridesmaids dresses and Julie-Anne knew exactly what to do.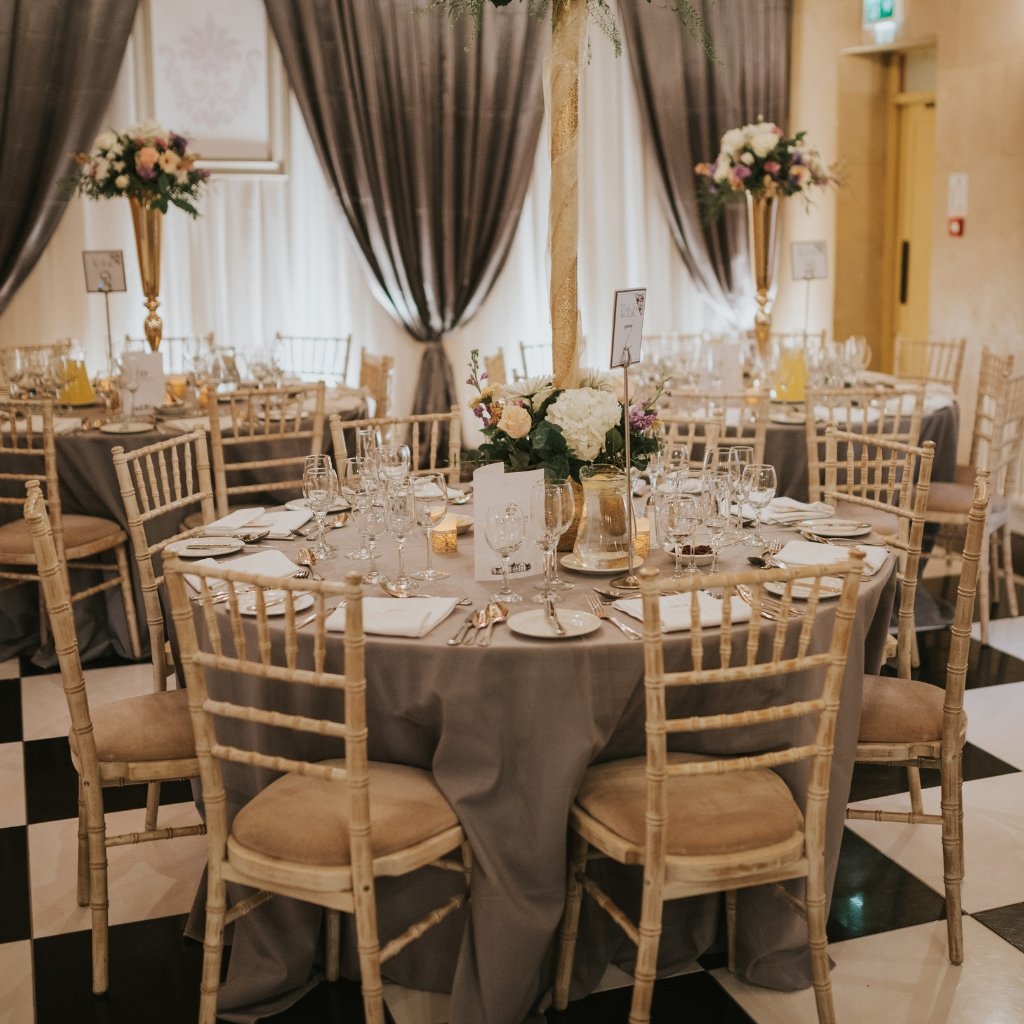 Our table linens matched perfectly, the chairs were from Tullylagan and were just right, and there was a spectacular draping along the back wall; the room looked great. My favourite detail had to be the black and white checkered floor; that would have been something I never would have thought about using, but it looked amazing and everyone loved it.'
What The Bride Wore And The Rest…
When it came to the all important dress, Victoria, like any eager bride thought she knew what she wanted. 'I think I tried about five or six dresses on, but I kept coming back to one, and it wasn't what I originally had envisioned.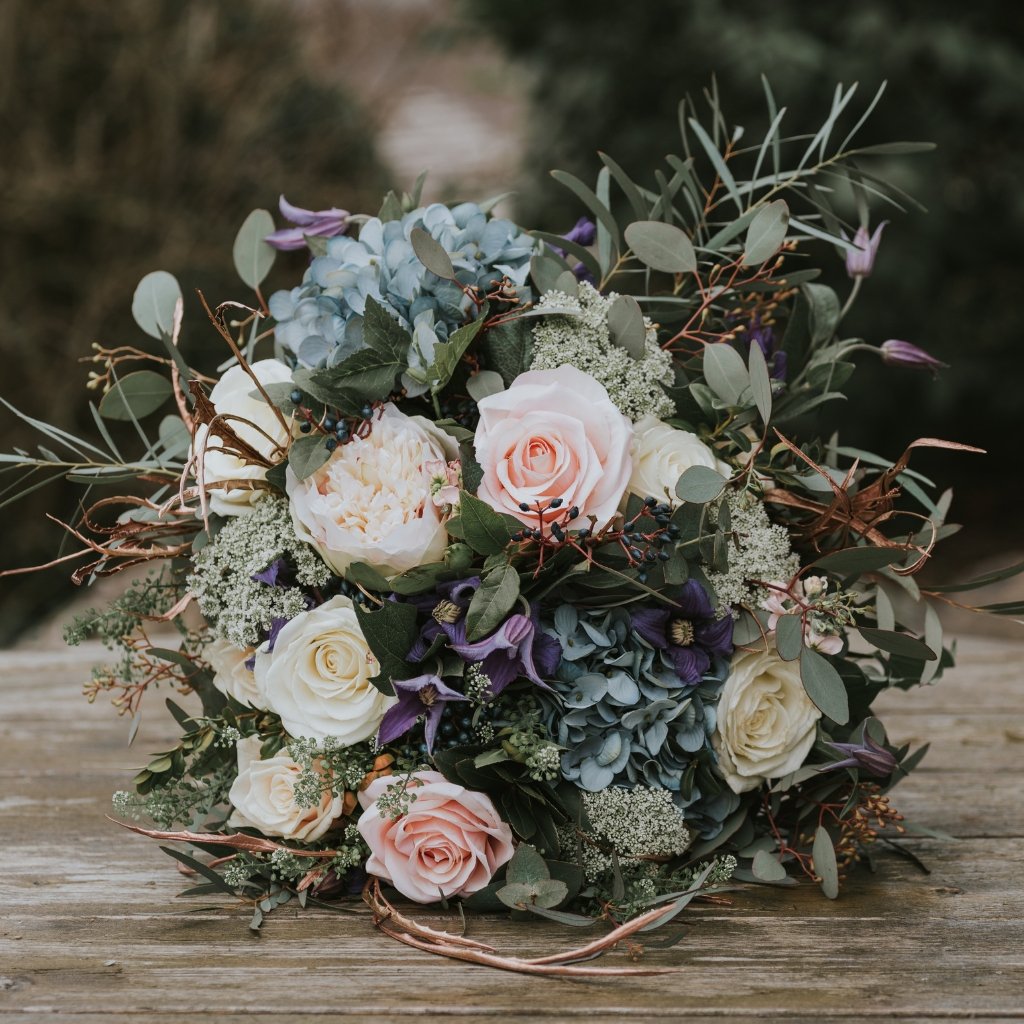 Eden Bridal provided the bridal wear element of the prize, and Kimberly was on hand with her expert eye to make sure Victoria looked stunning on her wedding day. A couture Enzoani gown from Eden Bridal had caught Victoria's eye, and Darrach notes that 'Victoria and the girls walking down the aisle definitely brought a tear to my eye.'
'I loved the sleeve of my dress, the intricate Chantilly lace and tulle on the dress complimented my bridal party spot on.'  Lace grey Mark Lesley bridesmaids dresses complemented the lace detail in the bride's dress. 'I felt like our dresses were perfect for the time of year, and also looked beautiful against the backdrop of our church and reception,' comments Victoria.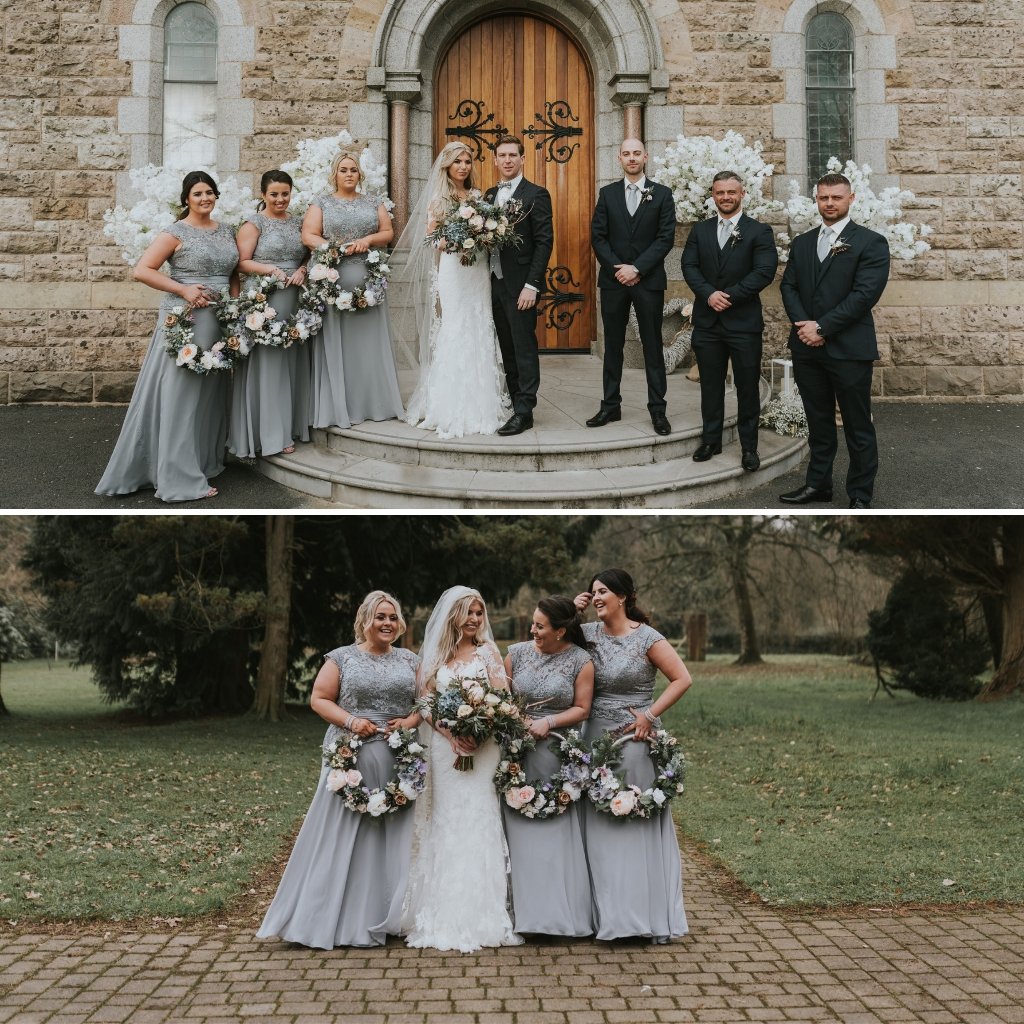 Dararch was under the impression that picking his suits would be a 'lads day out,' however when Victoria arrived to help the boys out, the grooms wear was going to be more of a joint decision. 'Hire Class was included in our winning package, Darrach knew he wanted something comfortable but looked sharp and well tailored. I picked a paisley print bow tie for Darrach and the other groomsmen had grey satin ties to match the bridesmaids.'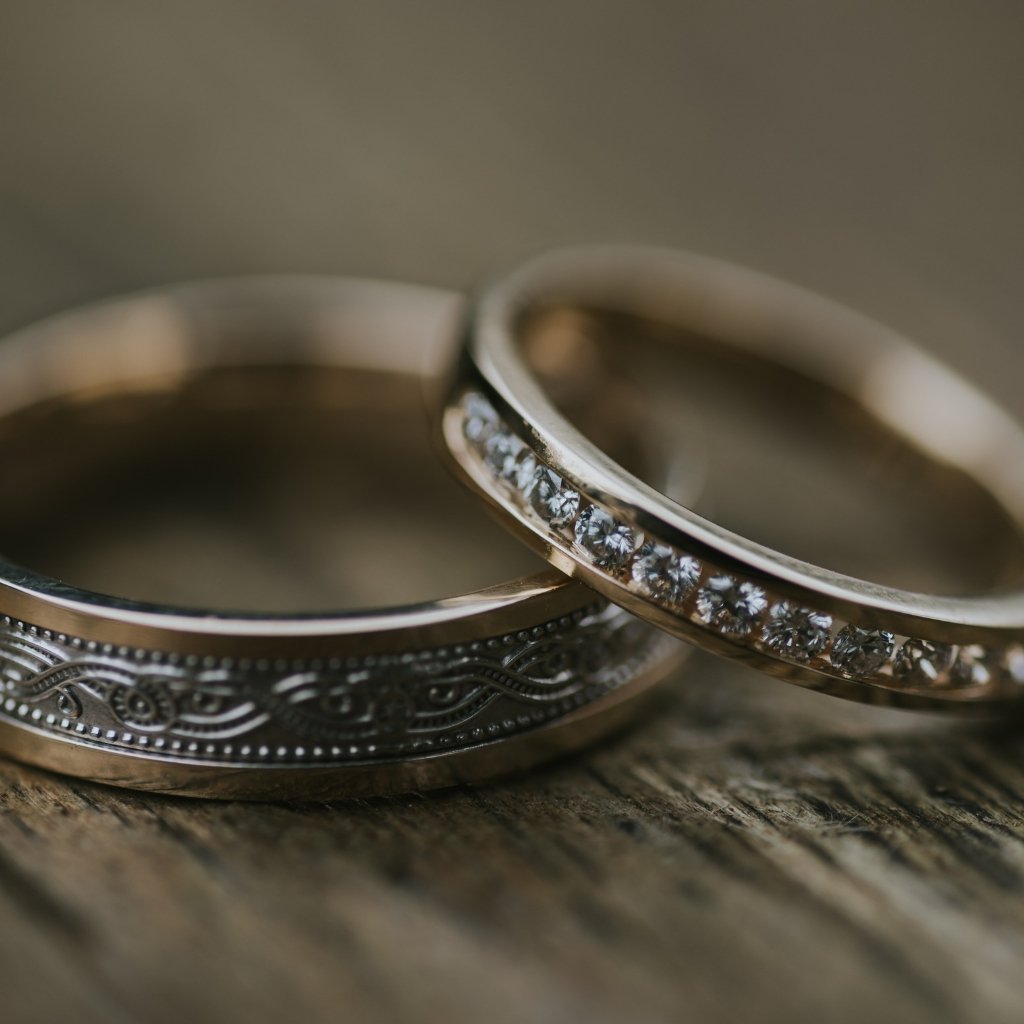 Murray & Co Jewellers supplied the couple's wedding rings, with Darrach choosing a gold band with a white gold centre, and a traditional Celtic design in the middle. Victoria selected a classic gold and diamond wedding band, 'When Darrach spotted his he knew he had to have it, it's something so unique, meanwhile I wanted something elegant and traditional.'
Food
The Elite Cake Company provided a four-tier wedding cake, being decorated with gold, ivory and grey features. There were decorative white icing flowers, similar to those in the bouquet, with grey and gold ribbons tied between layers.  Victoria adds 'the cake was important as it incorporated all our colours from the flowers to the dresses together; I wanted everything to flow together.'

Capturing The Memories 
It was a little overwhelming for the couple in regards to who they wanted to capture their big day. 'Research was crucial, and reading wonderful comments online by previous couples, I knew I had to contact Tommy and his wife Lauren at Pure Photo NI.'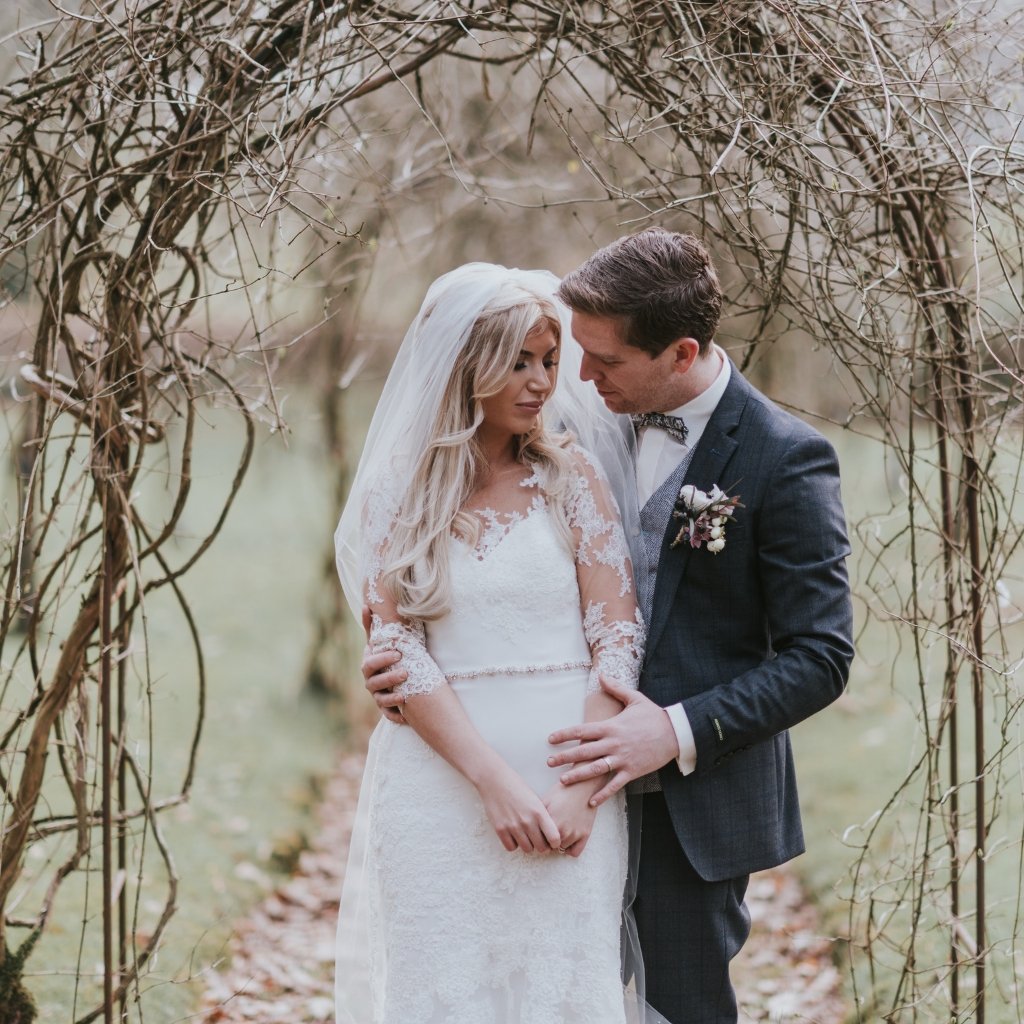 'We didn't need to stop off anywhere else for photographs, as the grounds at Tullylagan are perfect for what we wanted, something natural and rustic. We were delighted with our photos; Tommy was so down to earth and we felt instantly at ease in front of the camera. We loved that they made an effort to mingle in with our guests.'
Words of Wisdom
Darrach's advice for any groom before the planning process is to agree with everything!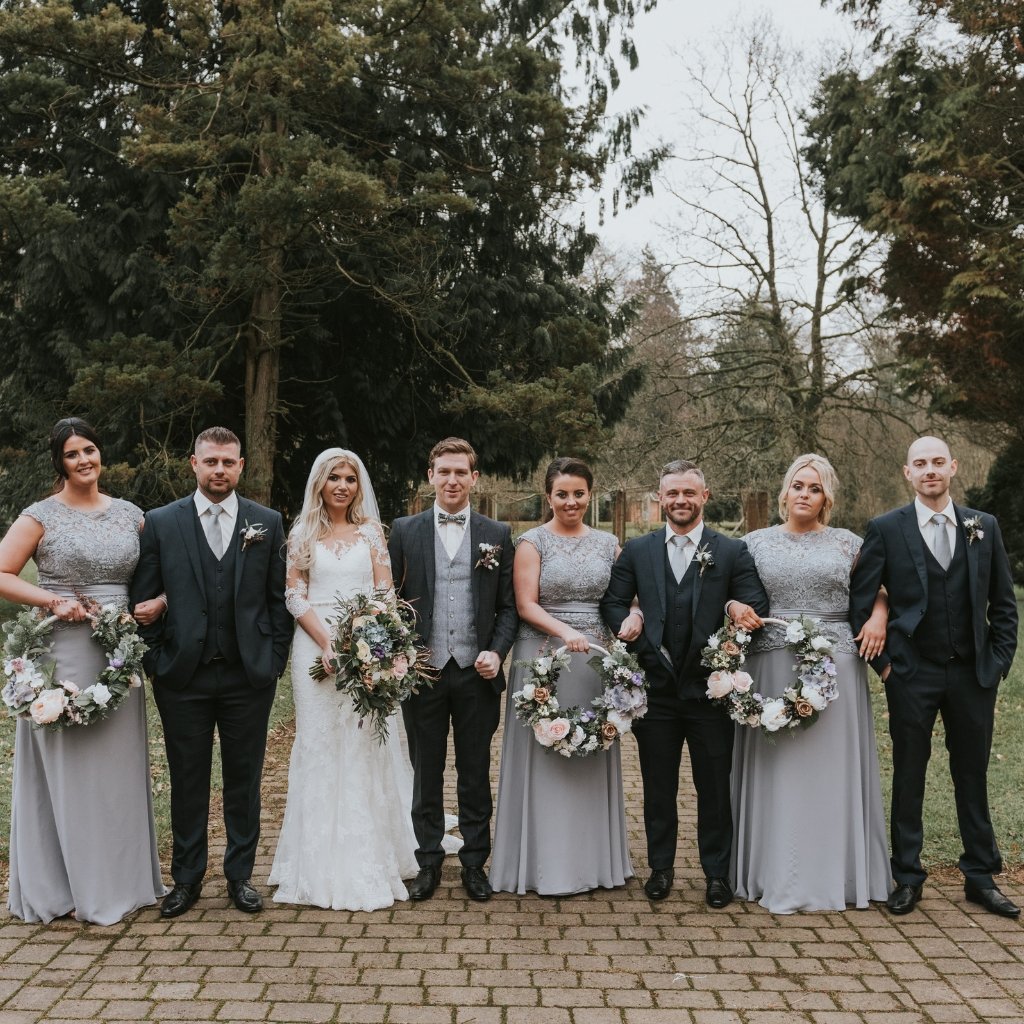 And Victoria simply adds that 'it can be so stressful, so try and enjoy everything, even the panicked moments. It's over so fast, I would love to do it all over again, and you actually miss it when it's over!'
The Honeymoon
Darrach and Victoria were able to relax after the wedding with a luxury honeymoon. Part of their prize included business class flights with Emirates to Dubai and they stayed at Movenpick Hotel Jumeirah Beach.