How They Met
Like so many Hollywood movies, this love story starts with a young woman falling for the guy next door.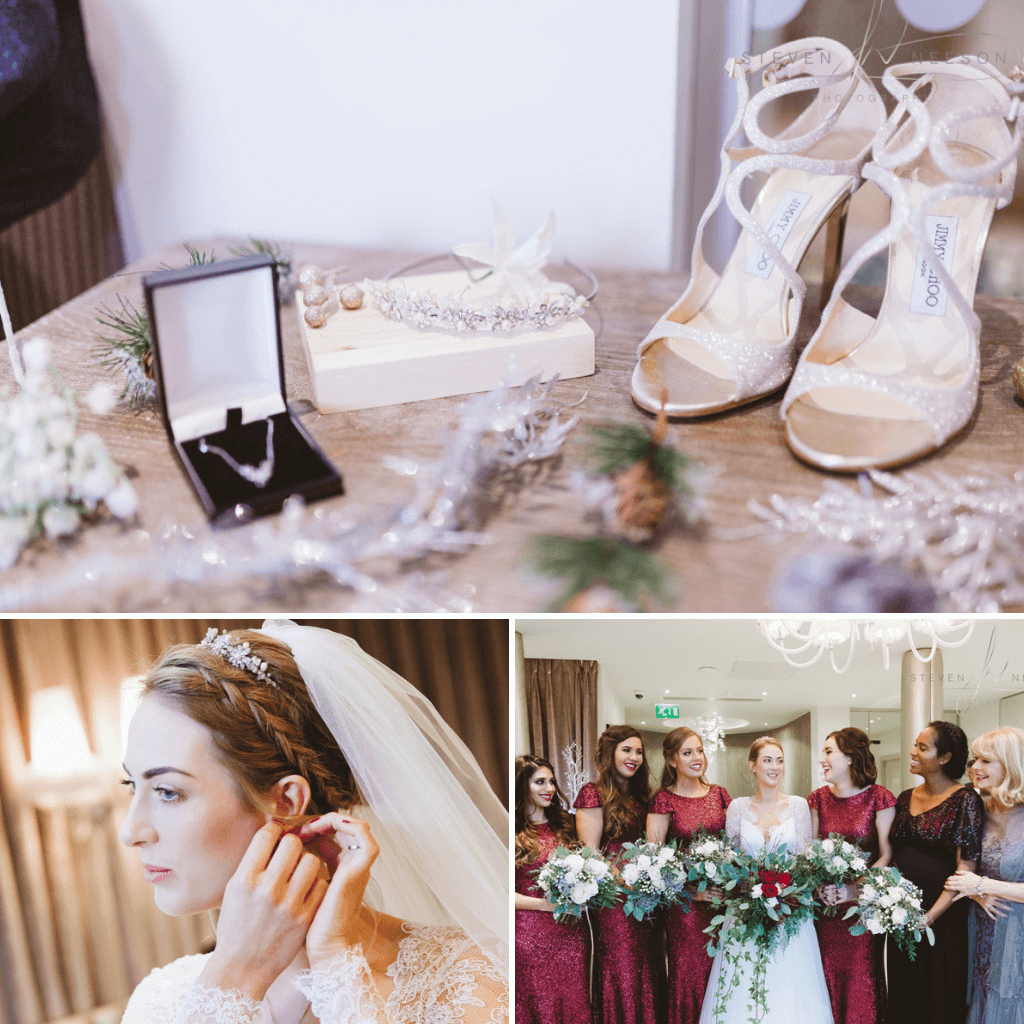 Sarah was Anthony's neighbour when they both lived in London. Sarah made the first move, she sent a Christmas card to Anthony's cat Toulouse, Toulouse 'sent' one back, and the rest is history.
The Proposal
Sarah describes Anthony as a hopeless romantic, he proposed in the most perfect way.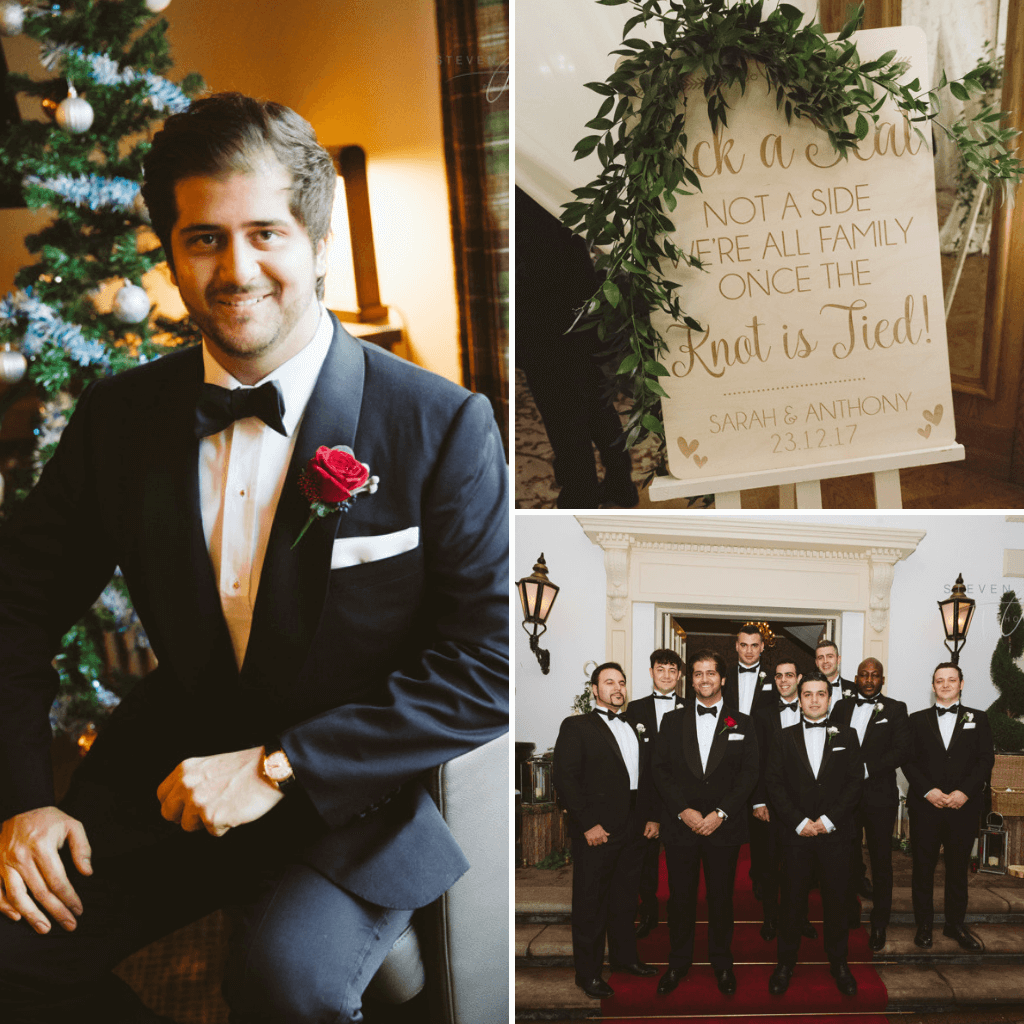 It was New Years Eve back in 2016, the couple were celebrating with family and friends in The Five Bells Pub in London, as the clock struck 12 Anthony kelt to one knee in front of the Christmas tree with a dazzling ring. Sarah describes it as 'the most magical start to the year!'
The Reception
The couple chose The Great Hall at the Galgorm Resort and Spa as their venue.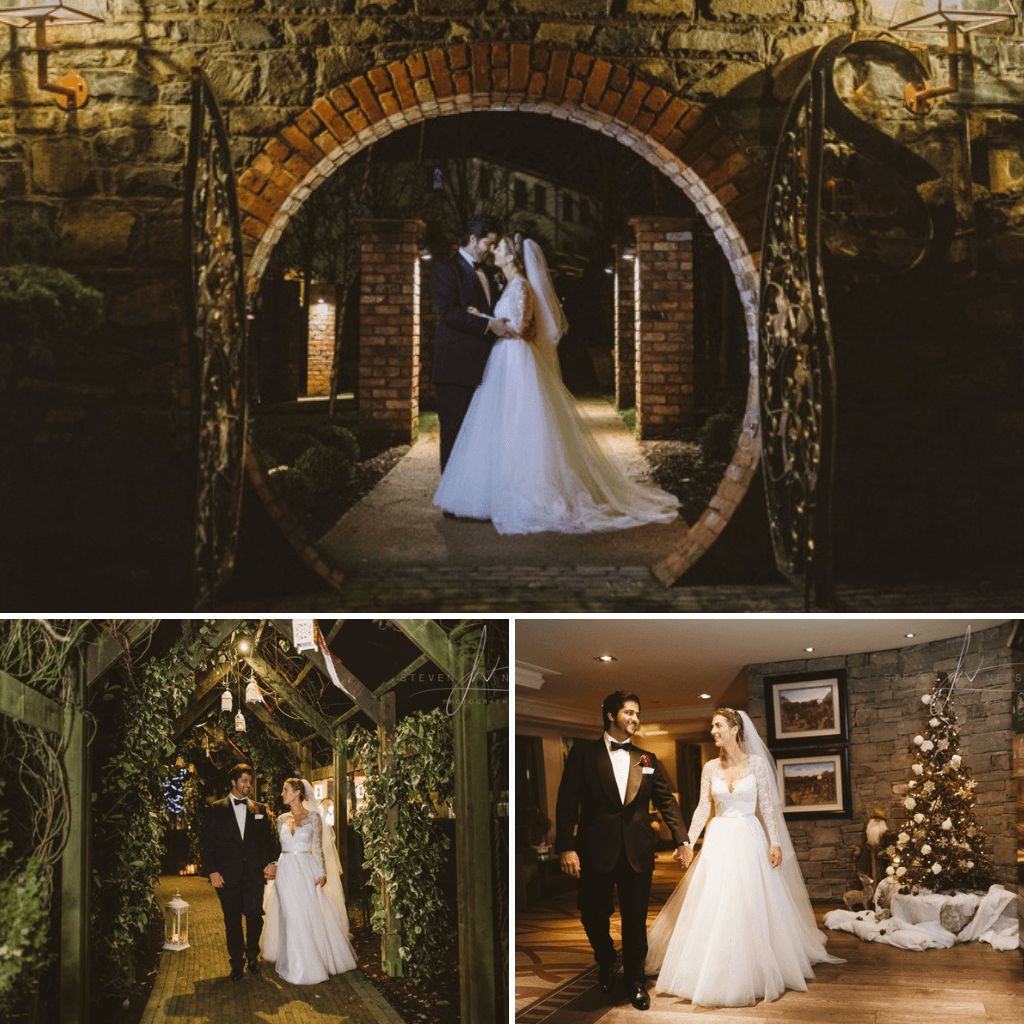 When they visited the wedding team there they were greeted by Rose, Anthony notes that 'she was a great help, she gave us a full tour of the resort, we felt comfortable and relaxed throughout it all.' Sarah likes to describe Rose as 'a real wedding fairy godmother.'
Décor
They also used Fairytales Events to style and decorate their special day. After one initial conversation with Barbara, the couple say she turned their wedding dreams become a reality – creating a magical winter wonderland.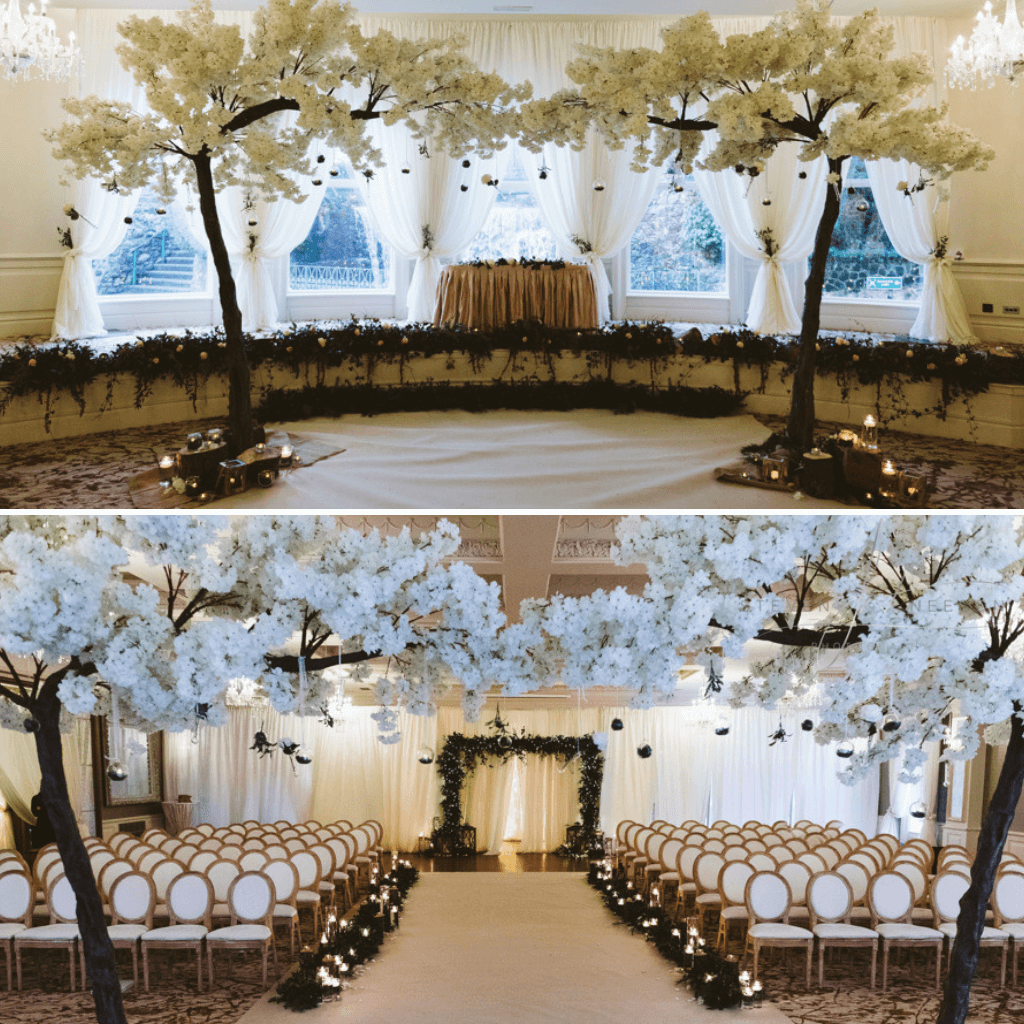 Sally's Florist created bespoke bouquets of foliage, red roses, berries and white peonies. The stunning stationery was supplied by Darling Stationery, Ballymena; with a gold theme running throughout it.
The Dress
Sarah enjoyed a fabulous Chelsea day out with the her maids, visiting the Suzanne Neville Boutique in Knightsbridge. She picked a stunning A-Line gown, with lace bodice and sleeves, including a deep v-neckline; completing the look with a beautiful diamond head piece and Jimmy Choo shoes. Anthony looked handsome in a tailored black tuxedo accessorising with a single red rose on his lapel.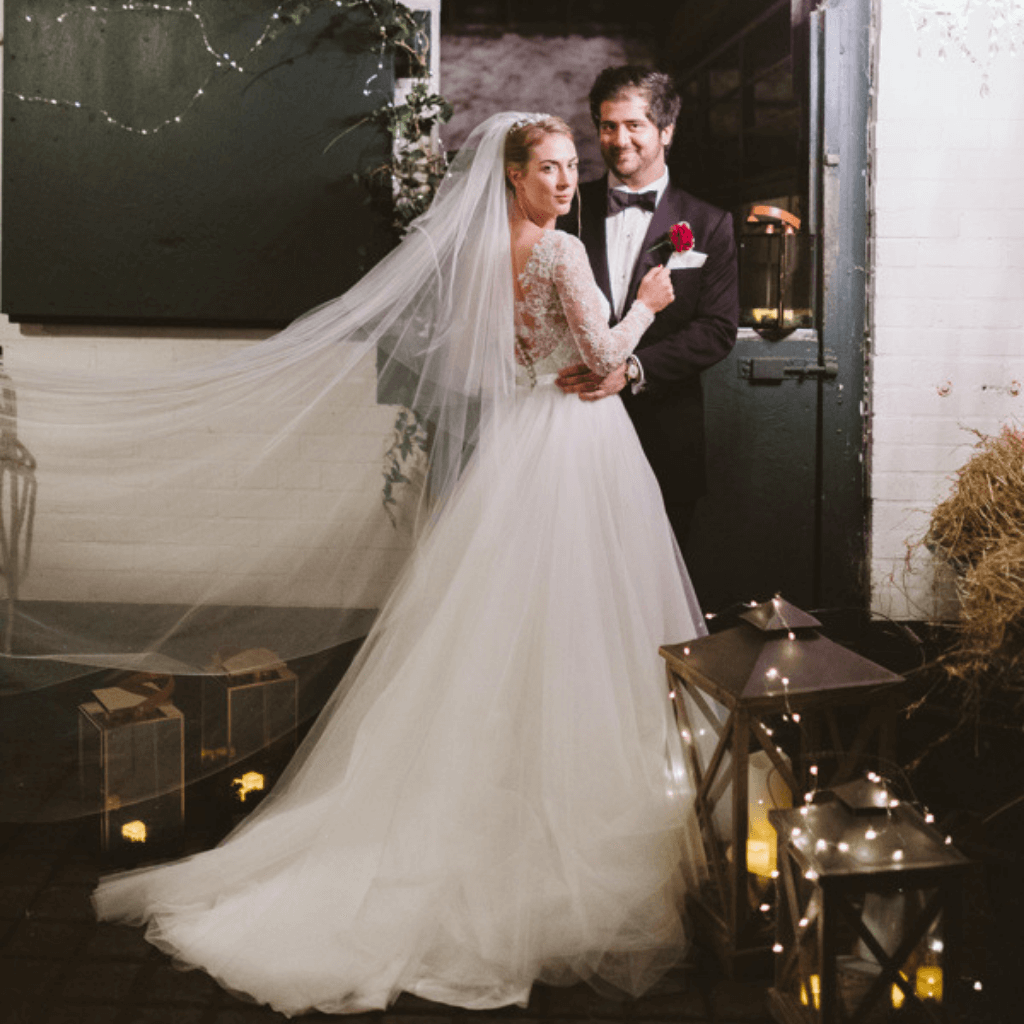 Sarah chose burgundy capped gowns for her bridesmaids, this added some extra sparkle to the day, and completed the look with matching black fur shawls to keep them warm.
Food 
Sarah and Anthony took full of advantage of having locally sourced, delicious food in their wedding menu, it's not a luxury they usually have living in London. They offered Irish smoked salmon as appetisers. The main course was Anthony's own beef wellington, this is a meal he cooks every Valentine's Day for Sarah, so it seemed like the most obvious choice.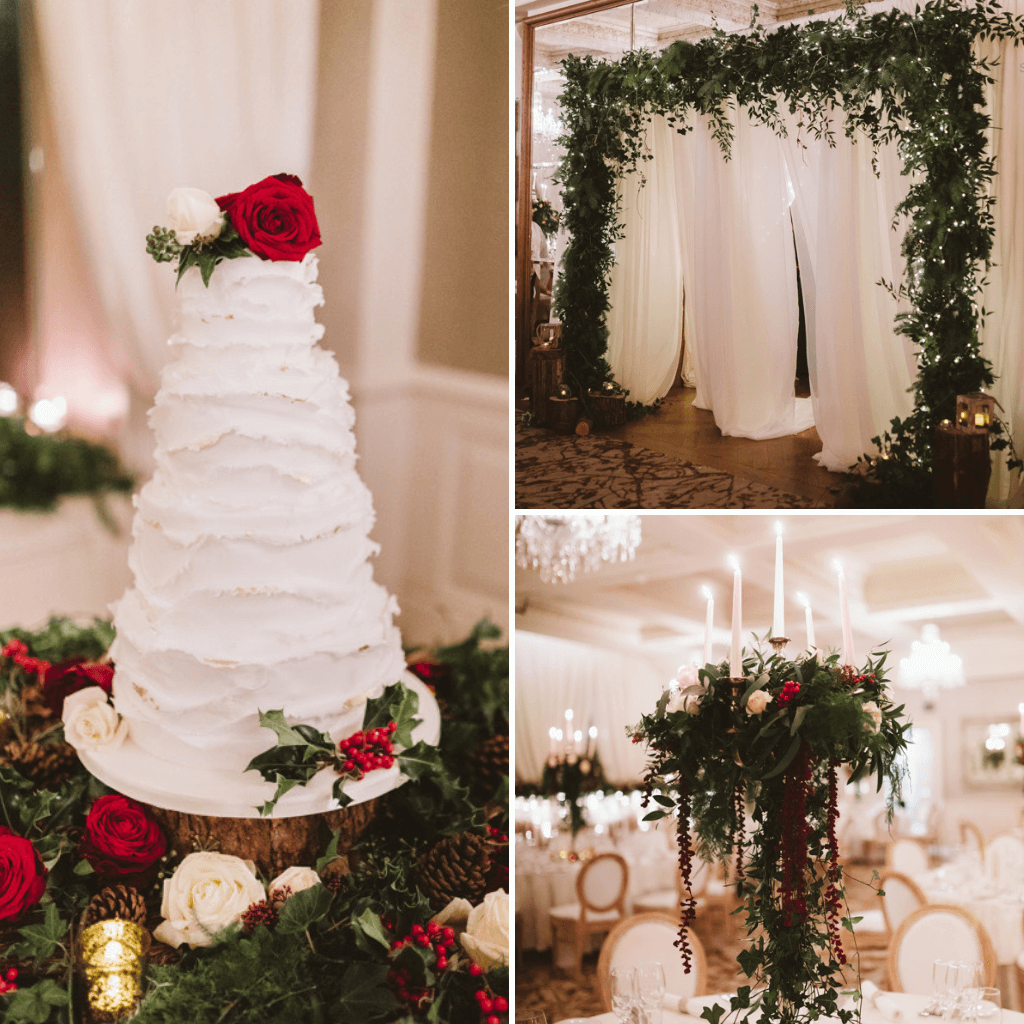 The pair couldn't decide between sticky toffee pudding and crème caramel for dessert, so they had both! They ordered a beautiful four tiered wedding cake from the award-winning cake designer Gemma's Cakes. Simply decorated with white layered icing, Gemma added red/white roses and bells of holly for some extra colour.
Favourite Moments
Anthony reflects how they were so fortunate to have Kaylee Rodgers singing Hallelujah as the processional song. 'She has such an amazing voice and sang while the bridesmaids walked down the aisle. It was a really beautiful moment,' he said. 'This was followed by the bagpipes piping Sarah in, it was very special and I will never forget the first moment I saw her in her dress.'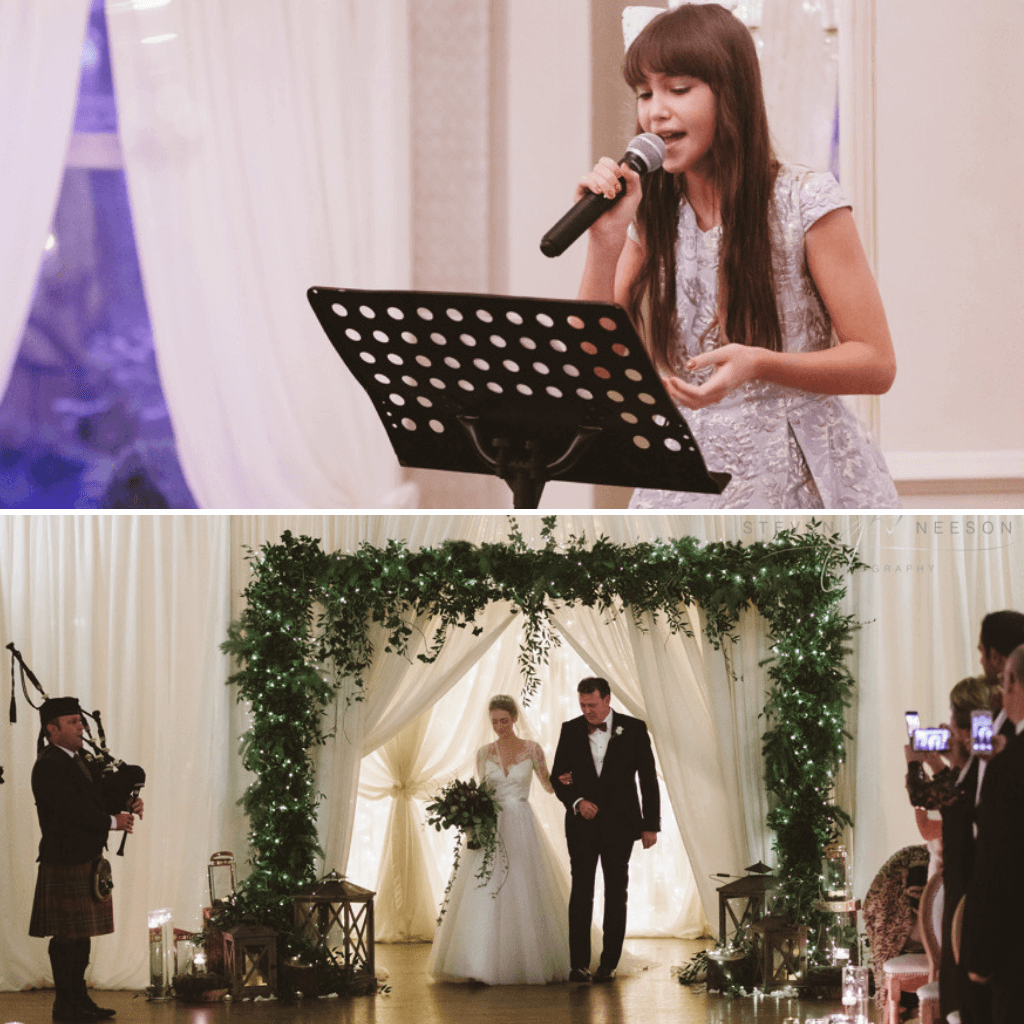 Sarah's favourite moment was being piped into the ceremony to Hallelujah with her Dad. 'I couldn't believe how perfect every detail was, it was the most surreal moment as I walked down the aisle, it was a real life dream come true feeling.'
Top Tips
Sarah and Anthony want to recognise the importance of family. 'We couldn't have planned our wedding without the help of Sarah's parents. They went above and beyond to make sure the day was perfect for us and ultimately being surrounded by friends and family at such a special time of year was the most important element of all.'