12th September 2014. Ceremony at Three Patrons Church, Rathgar and reception at Village at Lyons, Co. Kildare.
Photography by Nicola Webster
A mutual love of GPS brought this couple together…
The couple
Catherine and Andrew first met in Q Bar in Dublin in 2006. "We bonded over GPS tracking, of all things!" Catherine begins. "Both of us worked in the industry which was unusual at the time. There was no kiss that night but Andrew took my number and got in touch the next day to invite me out for an adventure.  This sounded intriguing for a date, so I went along in anticipation of what he had planned. It turned into a stroll around Temple Bar and a drink – an Irish guy's version of adventure! But we got on really well and the chats were flowing."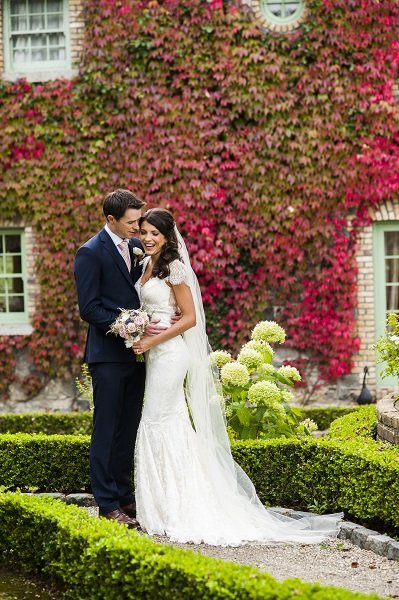 Proposal
Catherine had no idea that her other half was planning a proposal. "I had smuggled a promise ring over to Nerja that I had bought for a couple of euro before I left," Andrew explains. "I'd gone to see Catherine's Dad to ask permission, so I had been thinking about it for a while before I asked Catherine. Nerja will always be a special place for us. I would like to go back there one day."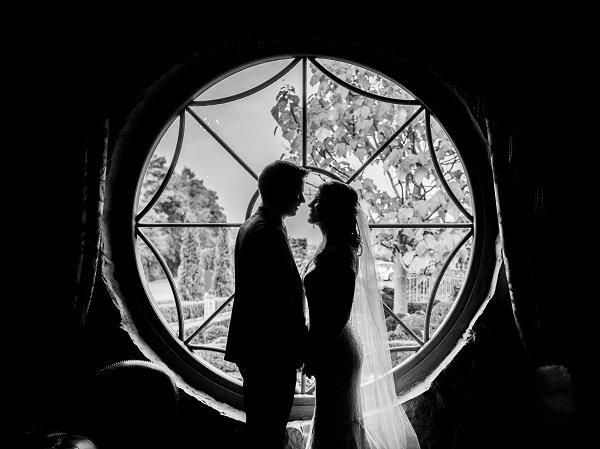 Venue
The couple describe the Village at Lyons as fairy-tale like wedding venue. "The whole place has a magical feel and the second we arrived we both knew it was our perfect wedding venue," Catherine recalls. "There is a really tranquil and serene feel to the grounds and this was just what we wanted as a little escape on the day. We loved the intimacy and the fact that it was exclusively ours for the day. The staff are exceptional and really made us feel at home."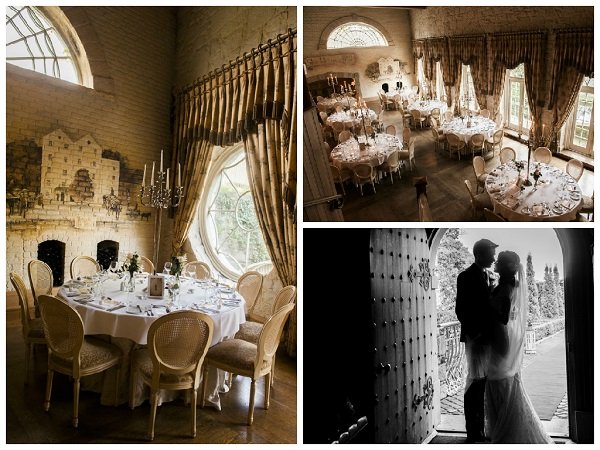 Theme
"Once we had a venue chosen, the theme just followed naturally from there; it has such a romantic and enchanting fairytale feel but at the same time is relaxed and serene," Catherine says.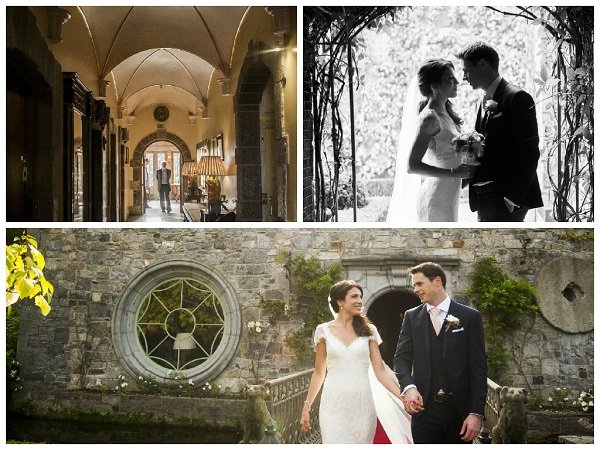 Wedding dress
Catherine' stunning wedding dress was by Kathy de Stafford. "She was wonderful from start to finish," Catherine enthuses. "I chose one of her designs but made some alterations as the original dress had a bare back.  I had always envisaged a lace back and button detailing and she was able to work her magic and create this for me. Kathy was a dream to deal with, so helpful and friendly throughout. I absolutely adored the dress and felt wonderful on our big day."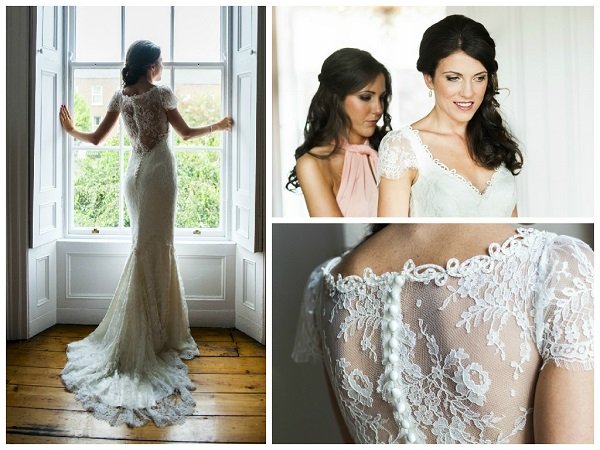 The groom
"Adrian was a fantastic help at Louis Copeland, Pembroke Street," Catherine says. "He was able to offer lots of advice on the type of suit that would work for Andrew.  We went with the Made to Measure Suit in French Navy."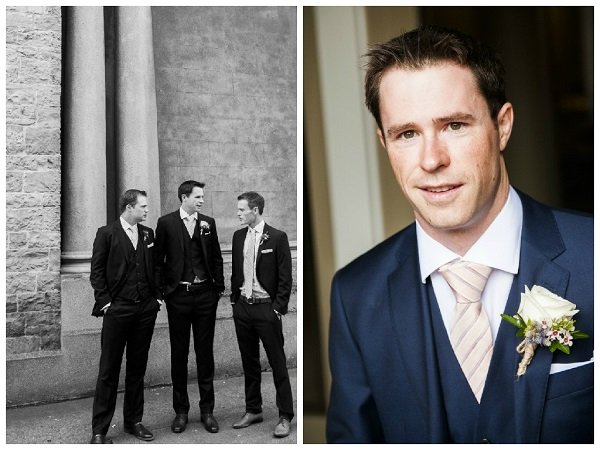 The bridesmaids
The bridesmaids wore dusty pink Ethan and Eliza adjustable wrap dresses, which were ideal for Catherine's twin sister who was five months pregnant at the time.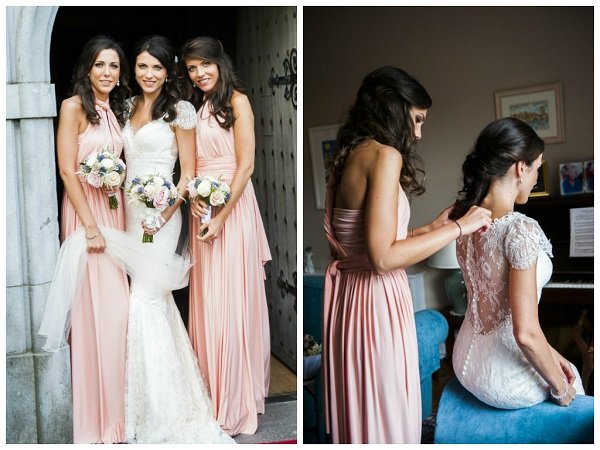 Flowers
The flowers were supplied by Irene at The Yard in Clontarf.  "She is a wonderfully talented florist.  I would tell her something that I had in my mind, she'd whiz around the shop and grab a couple of stems and when she put them together it was like magic," Catherine says.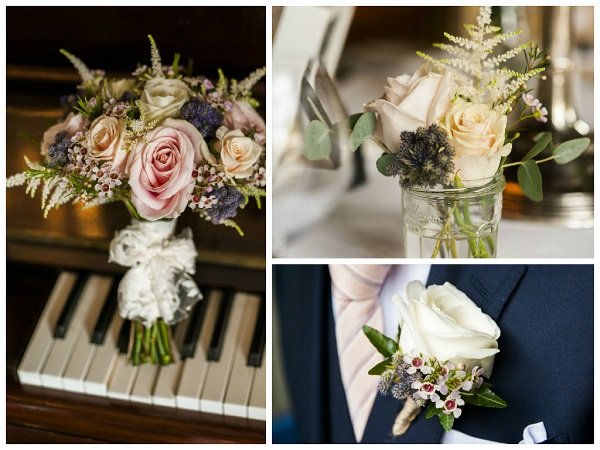 The cake
The couple chose cake pops table favours as an alternative to cake. They were made by Lisa Davies at NY Cookie Connection.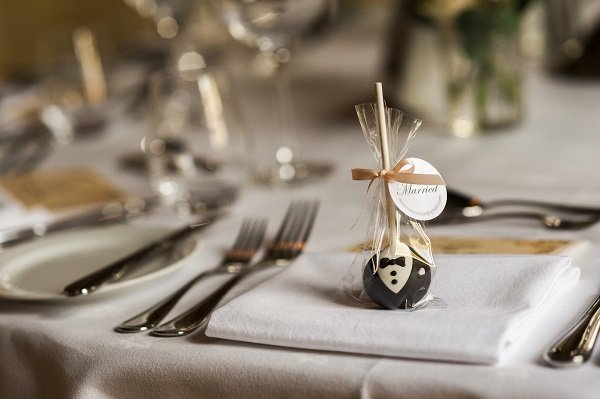 Favourite moment
Andrew: "Outside the church after the ceremony. It was a beautiful sunny day, Catherine and I could relax and share the moment with friends and family."
Catherine: "If I was pushed to pick something, I would have to go for the time we had in the grounds of the venue when we arrived. The Village of Lyons is just stunning, the sun was shining and everyone was in great form enjoying a few drinks!  It was the perfect way to celebrate."