27th June 2015. Ceremony at The Galway Cathedral, followed by reception at The G Hotel, Galway
Photos by Dillon Photography
From the flowers to the cake and stationery – this couple went for an all-white wedding.
The couple
Rob and Gráinne met Down Under five years ago. "We met through mutual friends," Gráinne begins, "we both loved to party and live life to the full, so we hit it off straight away. We became best friends and fell in love very quickly. We have had the most amazing five years together and becoming husband and wife has topped it all off."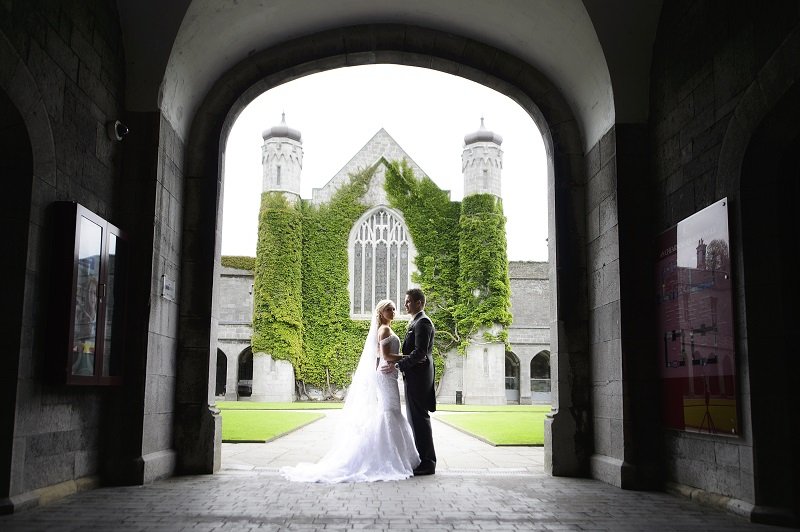 The proposal
Rob booked a holiday to Koh Samuai, Thailand for Gráinne's birthday.  "Little did I know what he was planning behind the scenes," Gráinne says.  "We stayed in a beautiful resort, and there was one area that we walked by during the day that I really loved. Rob arranged for a private dinner to be set up in that area the next evening. There were candles, fire torches and he even had a photographer in the distance to capture it. When Rob got down on one knee needless to say I said a big 'Yes'. It was so romantic – a magical night that I will cherish forever."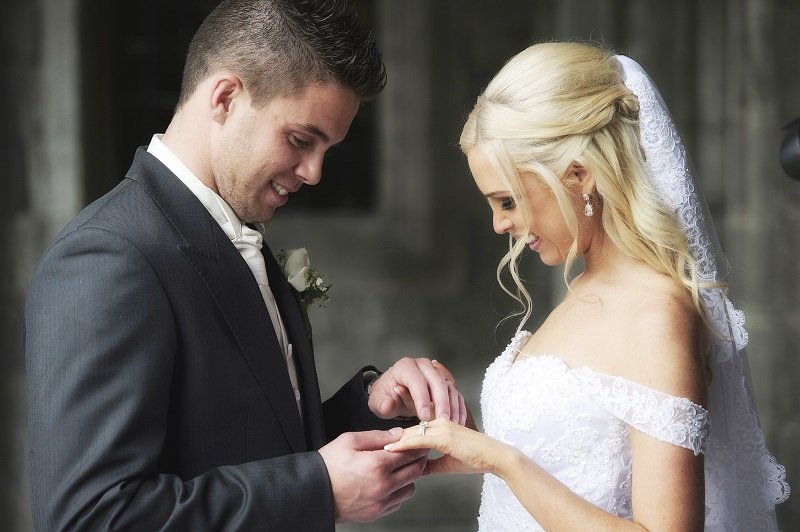 Reception venue
"When I think of the church and the reception I think about how our fairytale wedding really did become a reality," Gráinne says. "The G hotel was everything we were looking for. We wanted a stylish venue with glamour and class and The G with its ultra chic and trendy decor fitted the bill perfectly. The Grand Salon was beautifully set up for our drinks reception – I really loved that room as it had a great wedding vibe and the mirrored balls hanging from the ceiling was a big hit with our guests. The food and service from the G throughout the weekend of the wedding was impeccable."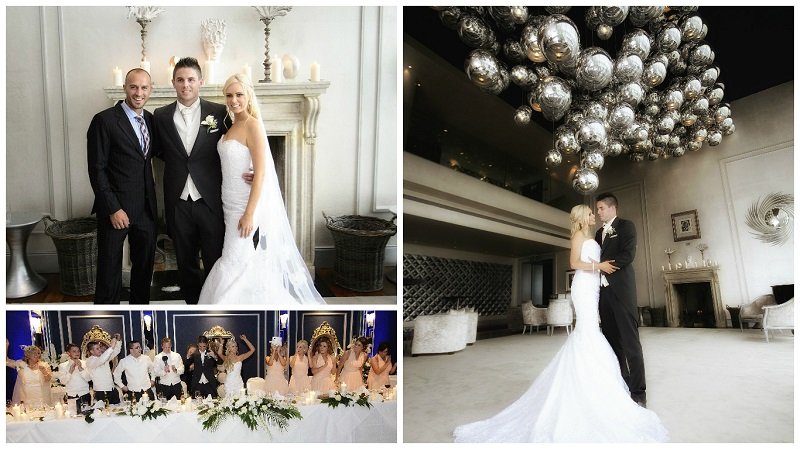 Theme
"I love modern and the idea of everything being white so this was my inspiration when styling and choosing colours for the big day," Gráinne says. "The introduction to the white/cream colours was with our invitations.  We also had a variety of beautiful flowers that where all white, and a LED floor was fitted which really added that extra white sparkle to the room."
 
Wedding dress
Gráinne's gorgeous gown was by Anna Ismenska, from The Bridal Emporium Miltown Malbay. "I wore a satin and lace mermaid style with a sweetheart bodice and tulle underlay fishtail," Gráinne says. "I wore a cathedral length veil with lace trimming to match my dress. I had also removable straps made so it almost gave the dress two different looks and was great for all the dancing that was had that night."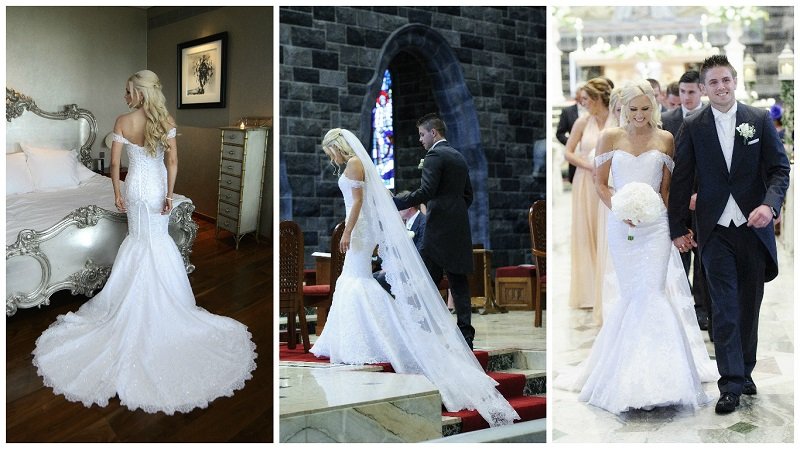 Grooms wear
Robert and his groomsmen wore three-piece grey suits and ivory waistcoats from Pat O'Byrne, Trim, Co. Meath.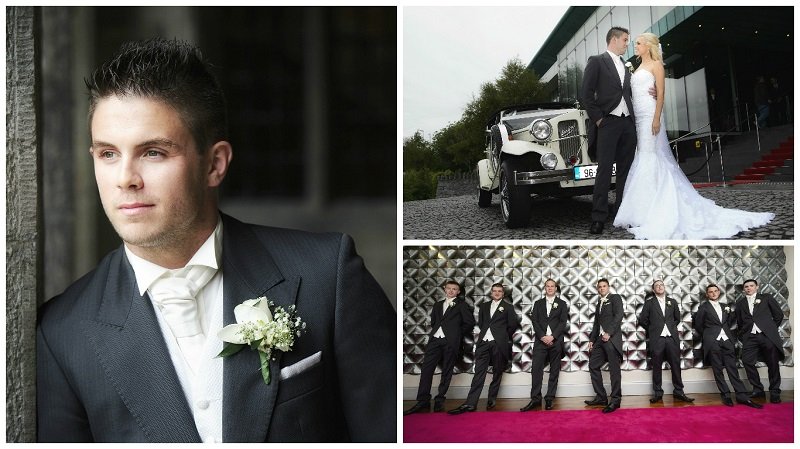 Bridesmaid dresses
The bridesmaid's floor length, blush chiffon dresses were bought online from 'For Her and For Him'.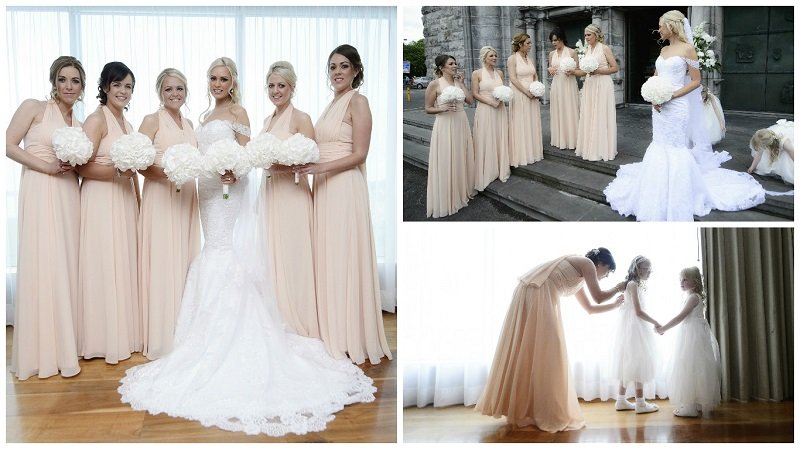 Wedding flowers
Shirley from Branch Flowers, Galway created the wedding bouquets and décor. "We choose all white flowers from Hydrangeas, Roses, Lillis, Gypsophila and Peonies for the large urns inside and outside the church, and also the centrepieces and decor for the hotel," Gráinne explains. "Clare from I Do Candle Lighting supplied the white carpet and decorated the cathedral aisle beautifully. These two ladies come highly recommended and know exactly how to add that wow factor to your special day."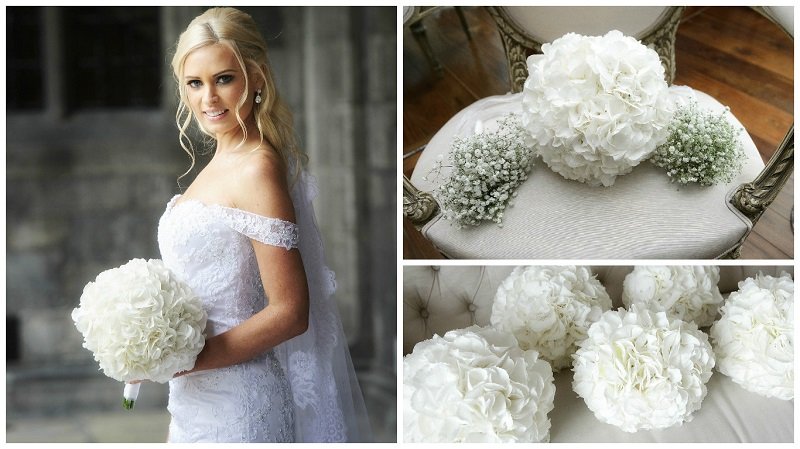 Wedding stationery
"I found that sending the invitations was the official start of the wedding buzz. I had so much fun designing them and their matching boxes," Gráinne recalls. "Maeve Keavey Creations designed our evening invitations and wedding candles, she is so amazing at what she does and she was so great to work with from Sydney."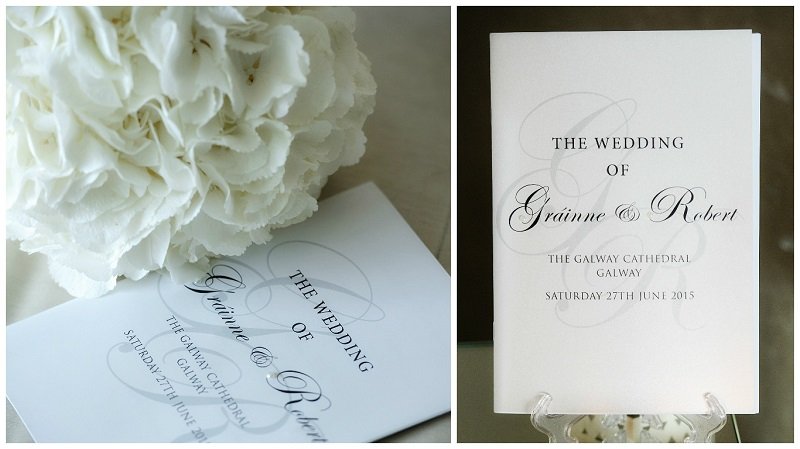 Wedding cake
Niall from Simply Divine cakes created the six-tier wedding cake in three flavours; Red Velvet, chocolate, and raspberry cream sponge.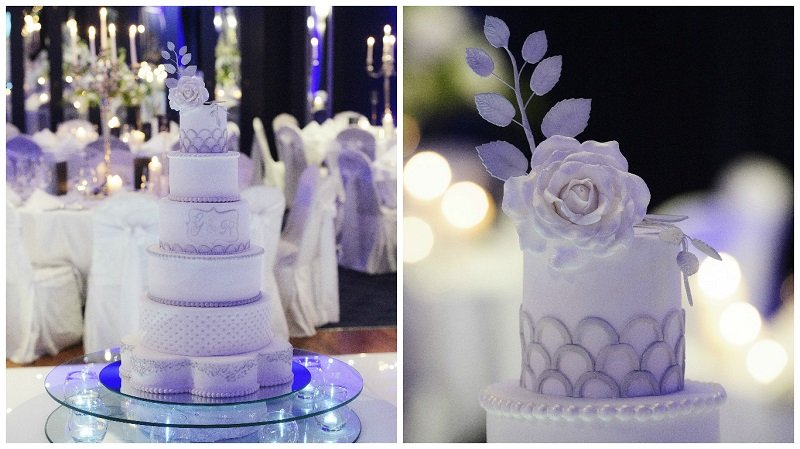 Favourite moment
Gráinne: "To mention a few, I really loved the morning preparations in the penthouse with the girls. Walking down the aisle with my dad was very special. The ceremony itself was so beautiful and emotional, a few tears were shed between Rob and I during our vows but it was another special and meaningful moment."
Robert: "Hearing a song been played that meant I knew Gráinne was walking down the aisle and it was all very emotional but it a good way. She looked amazing. I loved the dancing and all the madness that was had with all our friends and family."