25th April 2015. Ceremony at St Joseph's RC Church, Co. Down and reception at Tullylagan Country House Hotel, Cookstown
Photos by Creative Flux Photography
From the bride's vintage look, to the love birds and china teacups decor touches – this wedding is simply stunning
The couple
"We actually met on an online dating website, before dating apps were the thing!" Laura says.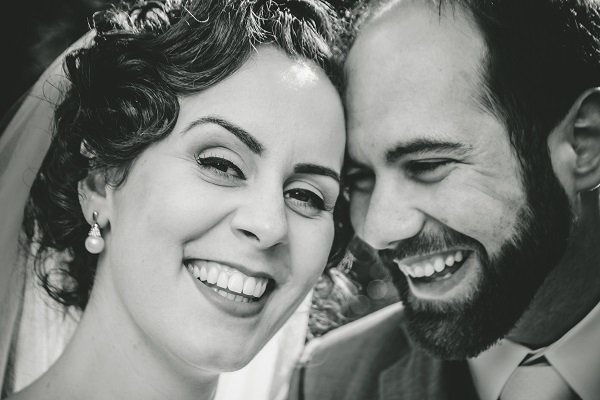 The proposal
Laura and John's proposal story begins one snowy Christmas evening in Central Park, New York. "On our last day there I mentioned to John about the horse and cart ride around the park again," Laura begins, "he said no because it was just too expensive, in hindsight it really was but that wasn't the point! I wasn't too impressed and became slightly short in my conversation. He asked me if I still wanted to go for a walk in the park, to which I answered 'yeah whatever.' I had NO idea that John was going to propose; if I did I am sure my behaviour would have been that of an absolute perfect angel! We walked on, with very limited conversation, until he finally stopped me and asked me what was wrong.  I told him, and he smiled at me and gave me a hug and said 'would it make you feel better if we went to look at engagement rings when we got home?' I was completely surprised and ask him to repeat himself at which stage he asked me to marry him!"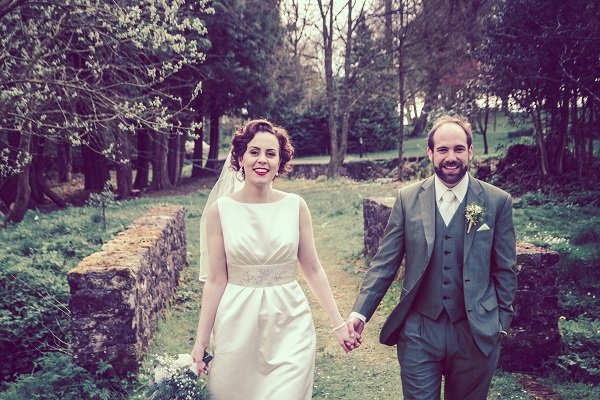 Venue
The couple chose Tullylagan Country House Hotel based on its one wedding per day policy and because they thought it was a perfect fit for the intimate wedding they had planned. They also felt the grounds provided plenty of photo opportunities.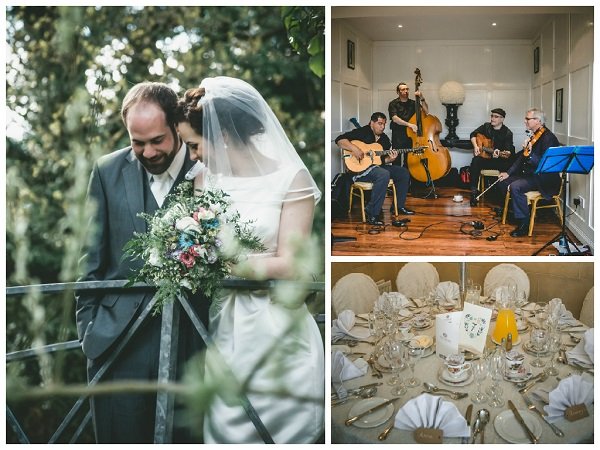 Theme
"I am not sure how to pinpoint our theme; I think everything came together almost by accident as a mix of classic and rustic rolled into one." Laura explains. "The most important thing for John and I was to keep the day relaxed and enjoyable; he and his family had gone through two big tragedies in the past few years and this was the first big celebration without them there to share it with us."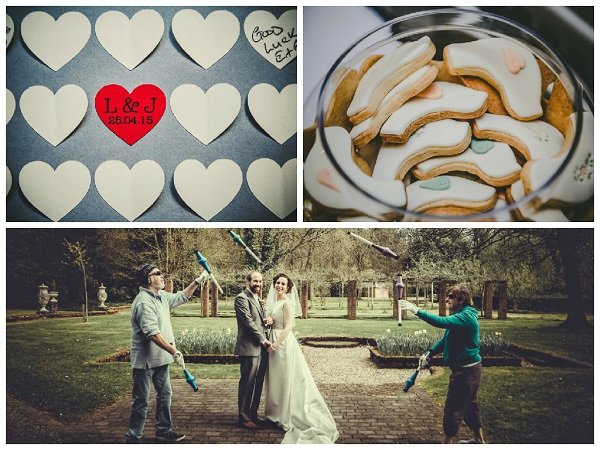 Wedding planner
Laura planned the wedding herself. "From the get go I began collecting china tea sets for the tables and picking up pieces to decorate each of the reception rooms. My friends offered items from their own recent weddings, such as lanterns and bird cages. I bought quite a lot of items including the cake topper and homemade favours on Etsy, Not on the High Street and Ebay. Weddings at Tiffany's provided the beautiful, delicate lace overlays for our tables, and a 'Dance Floor Rules' chalkboard sign.
 
Wedding dress
After trying on at least 50 dresses Laura found the one at LA Bridal House, Carrickfergus. "I knew it was my wedding dress even before the zip had reached the top!" Laura recalls. "It was a royal satin A-line gown with bateau neckline and silver beaded belted design.  The train fell from the back of the dress rather than continuing on from the end of the skirt, so it had a real classical feel."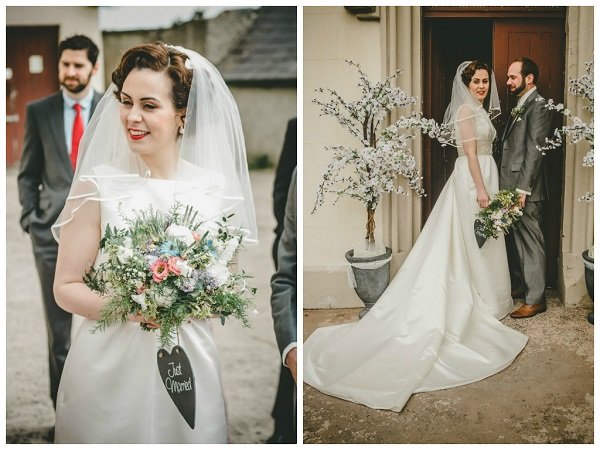 Groomswear
John wore a grey three-piece suit with ivory tie and pocket handkerchief.  The suits were hired from Focus Suit Hire, Bangor.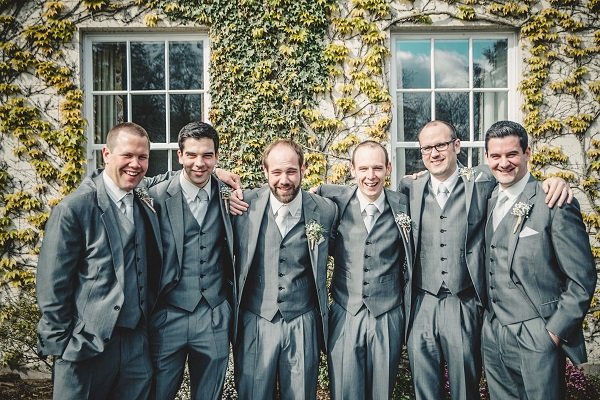 Bridesmaids
The bridesmaids wore full length cap sleeved chiffon Dessy dresses from Bridal by Seven, Newry.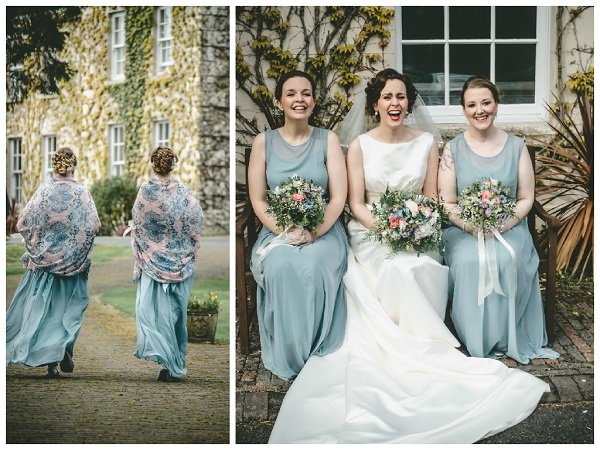 Flowers
Marie Cafolla Flowers in Newtownards created the bouquets. "I wanted my wedding flowers to look like a softly gathered, hand-tied bouquet, with a combination of gypsophila and daisies incorporated into it," Laura explains. "We also had a floral garland that ran the whole length of the table, and the candelabras on each of the tables were surrounded with white gypsophila and ivy. My auntie and cousin filled the venue with beautiful designs from floral filled jam jars, gypsophila filled bird cages and ivy covered banisters to flow up the stairs to the reception area."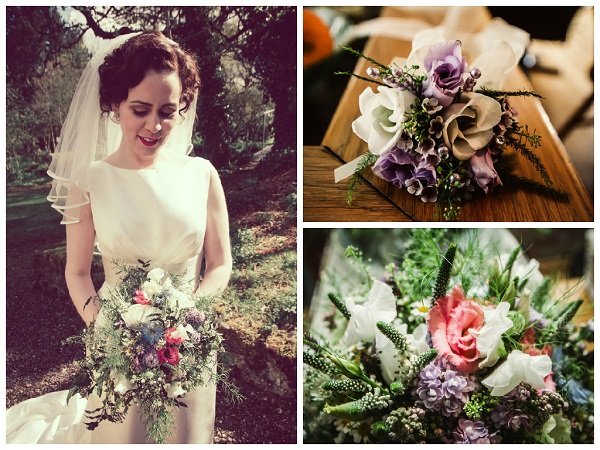 Stationary
Laura's talented cousin Christopher Miskelly created the rustic-themed wedding stationary. "I wanted to incorporate two little love birds and hearts into the invitations; Christopher did this beautifully but in a subtle way so as not to take away from the invitation itself," Laura says.  "I did not want to give away the colours for our day, so kept a couple of other colours incorporated into our wedding stationery.  Once printed I then started the momentous task of combining all elements of the invitation together with tied twine. This look followed through into my orders of service and the seating plan."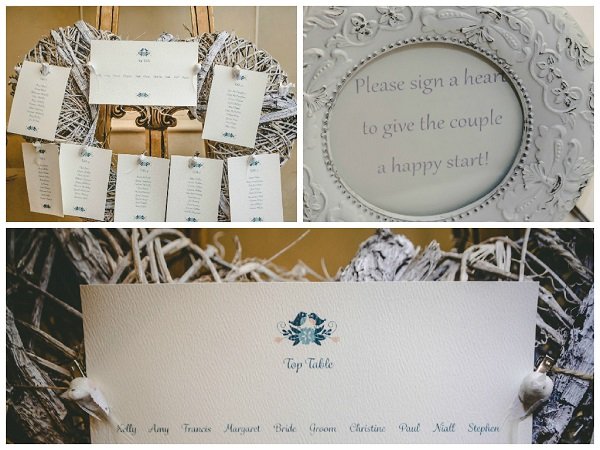 Wedding cake
Candytuft Cakes in Newtownards designed the wedding cake which was made up of vanilla, toffee and red velvet tiers, and buttercream icing.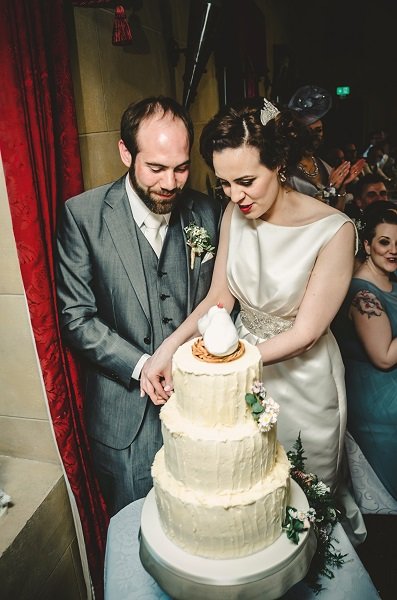 Favourite moment
John: "When the speech was over! I am not a fan of public speaking so this was not something I was looking forward to. Once it was over, I really got a chance to enjoy the rest of the day and to take in the fact that we were now married!"
Laura: "Exchanging our vows meant a lot to me as it showed the promise we were making to one another as husband and wife. I also enjoyed the time we got to spend with just one another. During the journey to the venue my mum had also made us a little car picnic, one of our favourite things to do on a weekend, so there is a photo floating about somewhere of me enjoying my ham sandwich and a glass of bubbly!"
Other details
"I certainly wouldn't have been able to achieve the look I had on the day without my hair stylist and make-up artist." Laura adds. "I knew from the beginning that Vintage Rocks were the ones I wanted to tackle my hair for the day.  It was definitely one of those 'why can't my hair look like this every day' moments! My make-up was created by Jennifer Ireland."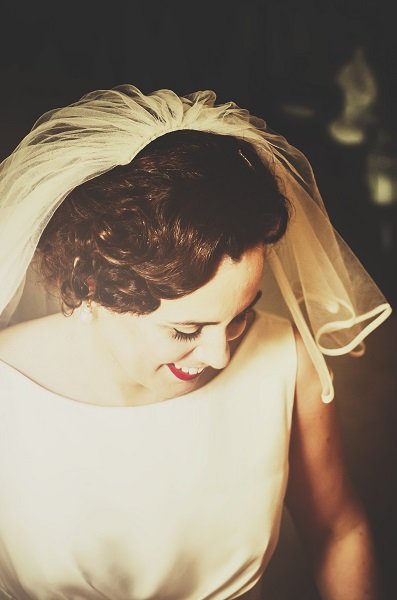 Facebook Comments