26th June 2015. Ceremony at Hotel Palace, Dubrovnik, Croatia, followed by reception at Villa Ruza, Kolocep Dubrovnik
This week's Real Irish Wedding couple both swiped right on Tinder and just over a year later eloped to Croatia
Photography by Dino Avdic
The couple
Leanne and Broson met via dating app Tinder and went for their first date at Robinson's bar, Belfast. "Exactly 400 days before our wedding we had our first date in Belfast one rainy Thursday night," Leanne recalls. "We both just wanted to meet new people and had no intentions of a relationship. I was a single mum forging a career and he was travelling the world playing professional rugby. Shortly after, Bronson travelled home to New Zealand for a month and we spoke every day, so things naturally flowed from there when he came back to Belfast. Coincidentally, although Bronson is a Kiwi, his Mum's family emigrated from Ireland and her childhood home is a mere two miles from mine!"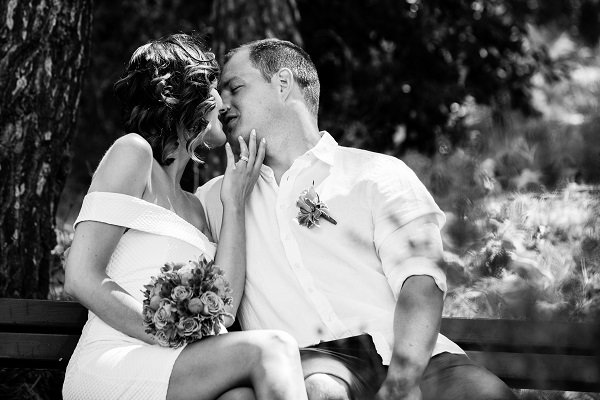 The proposal
Bronson whisked Leanne away for a night in the Slieve Donard Hotel, Newcastle on 13th March. "I had always been anti-white wedding and didn't wear jewellery so I never expected a real proposal," Leanne explains. "We're both 'history geeks' so Bronson took me to the top of the tower at Dundrum and he got down on one knee and asked me to be his wife. We spent the rest of the day discussing plans. We came to the conclusion that the best idea would be to go abroad, because we would have to wait years before both our families could come together in the middle of two opposite continents. The only way to stop anyone changing our minds was to keep it a secret. So we planned to elope in June and tell our families after."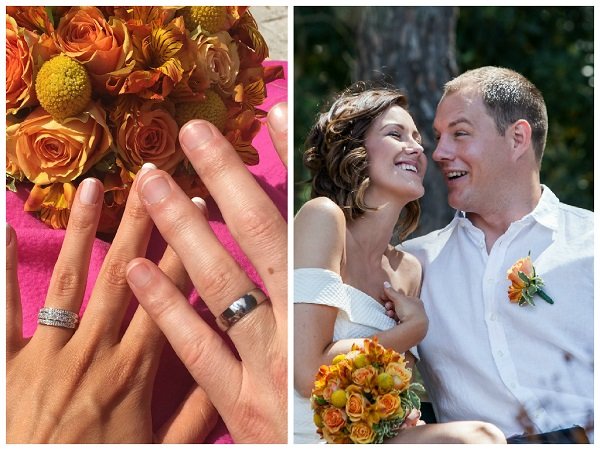 Venue
"Bronson suggested Dubrovnik, having heard rave reviews," Leanne says. "The more I researched the venue the more beautiful it seemed with great weather, historical landmarks, and it was only a short flight from Dublin airport. Viewpoint itself is an old castle turret secluded from the walkways, looking out over the Adriatic. We knew the moment we saw it that it was perfect for us. It offered a nearby jetty from where we could take a boat to the island we wanted to spend the afternoon in, eating and celebrating together."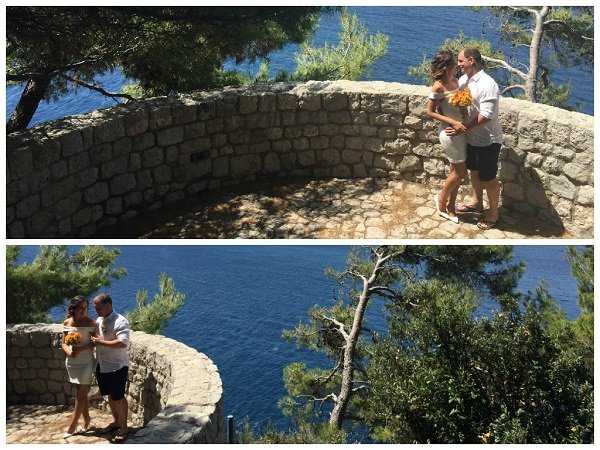 Theme
"We didn't have a theme as such because we didn't have a big wedding, but in the end we had two themes; sunshine and romance," Leanne explains. "These were important because they were the two things I strongly believed Irish white weddings are often missing. Romance was there because it was the two of us and we could say our hand written vows to only each other. We spent the whole day together unlike friends here who often complained of being pulled in all directions for photographs, family and friends, and rituals of the ceremony. And we had sunshine, guaranteed, glorious Mediterranean sunshine!"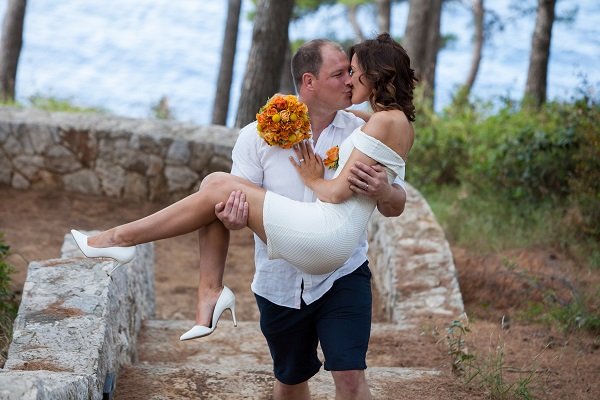 Wedding Planner
The wedding was planned by Ines Nanic, MD of Dubrovnik Event. "She basically organised everything for us locally including booking and styling the venue, the flowers, the transport, the photographer, the registrar, the restaurant and island boat transfers – she literally thought of everything," Leanne explains.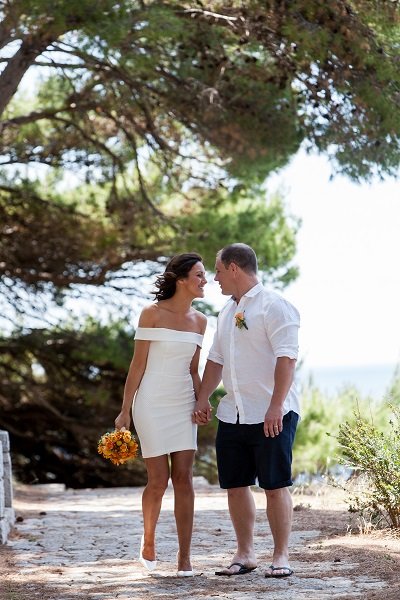 Wedding Dress
The bride wore a Bardot style waffle Lipsy dress from the Michelle Keegan collection. "I didn't want a big wedding dress because I knew it would be hot, and I would feel silly jumping on and off boats in a big princess gown," Leanne says. "I chose the Lipsy dress because it made me feel classically sexy but ladylike. It was summery and even though it was from the high street (at just £58!), I think it looked good. I felt special when I put it on because it was the dress I would say my vows in. That was what was important. That and the fact that my legs are Bronson's favourite asset!"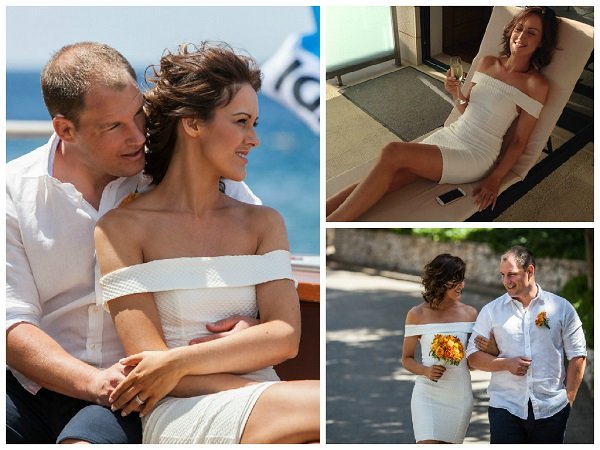 Groomswear
Bronson bought a linen shirt from Pink boutique in House of Fraser, Belfast. "He teamed it with simple navy shorts because it was too hot for the tailored chinos he had bought to go with the shirt," Leanne says. "Our favourite aspect was the Marvel Superhero flip-flops Bronson wore – they were like our 'something blue', except they represented my six-year-old son Che who was at home with his grandparents waiting for us to become his Mum an Step-Dad just like he had asked."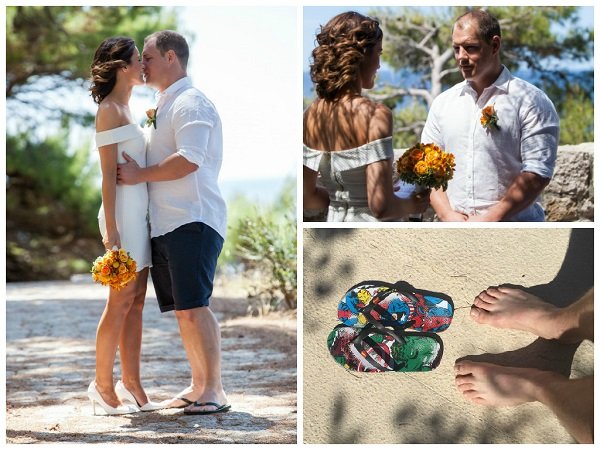 Wedding flowers
The wedding flowers were from a local supplier. "I requested an in season, bright, happy flowers in a tight bunch," Leanne explains, "and they were perfect. There were little tiger-striped lily shaped flowers and orange roses wrapped in a beautifully pinned white organza. They also delivered a lapel for Bronson's shirt and a similar bunch which was the decoration for the table where we said our vows."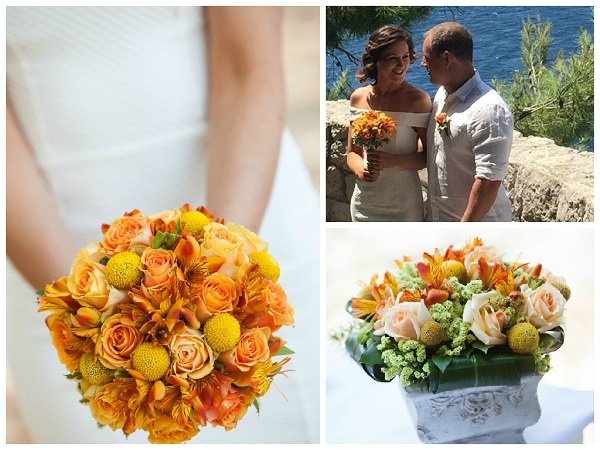 Stationery
"There were no invites! We phoned our families from Croatia that night, making sure to time the zones and get New Zealand as they woke up and Ireland as they went to bed. We then coordinated a Facebook post together to go out public and tell all our friends," Leanne says.
Favourite moment
Bronson: "The little wooden boat trip – for 30 minutes in roaring waves as the tide turned out at sea, popping champagne and feeling exhilarated to be secretly married!"
Leanne: "The island – after dinner we had a couple of hours to lie together on big outdoor sofas overlooking the green sea with music in the background and we went over our personal vows without the heightened emotions, I could cry at the romance of it behind my sunglasses!"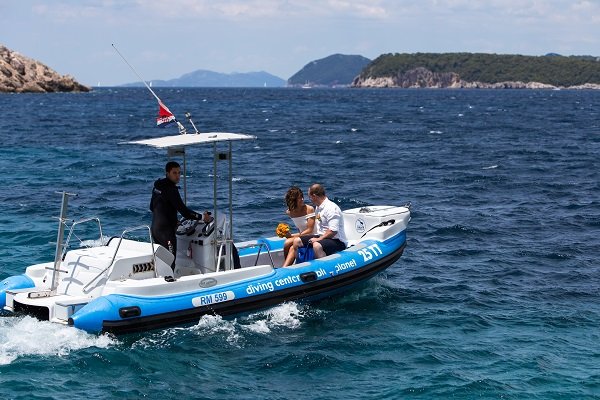 Top Tip
Bronson: "Don't tell anyone! Half the fun was calling people up and telling them you got married. We skipped most of the stress and all of the unwanted opinions in exchange for even more fun."
Leanne: "Don't be frightened to be different! Your family will support you in the end. Do what is right for you, pick only the traditions that represent you and then you'll be sure that no matter what the cost or the stress, you can live happily with the memories safe in the knowledge that you did your day YOUR WAY."