28th November 2015. Ceremony at Dungiven Parish Church, followed by reception at Galgorm Resort & Spa
This couple went for an icy winter wonderland wedding
Photography by Ali & Laura
The couple
Teenage sweethearts Mark and Krystle first met at the age of 15 and romance blossomed two years later when they met for a second time at a party. "Mark and I have been together for six years now and we have had so many happy years together," Krystle begins. "Mark and I have very similar we are both two people that love acting the clowns; we can always make each other laugh."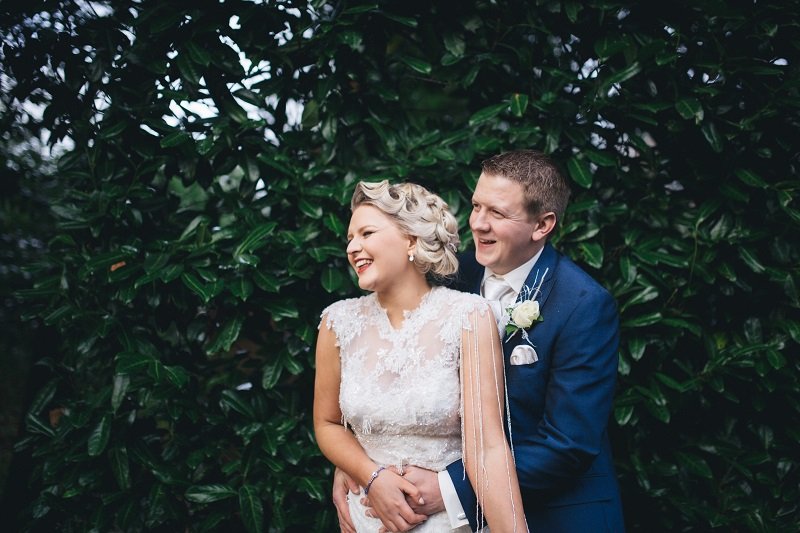 The proposal
"Mark drove to where he first kissed me which just happened to be outside my uncle's house, where he asked me to marry him," Krystle recalls. "He couldn't say the words so he passed me the ring and hoped I would fill in the blanks. It didn't take long to get the ball rolling and for the planning to commence."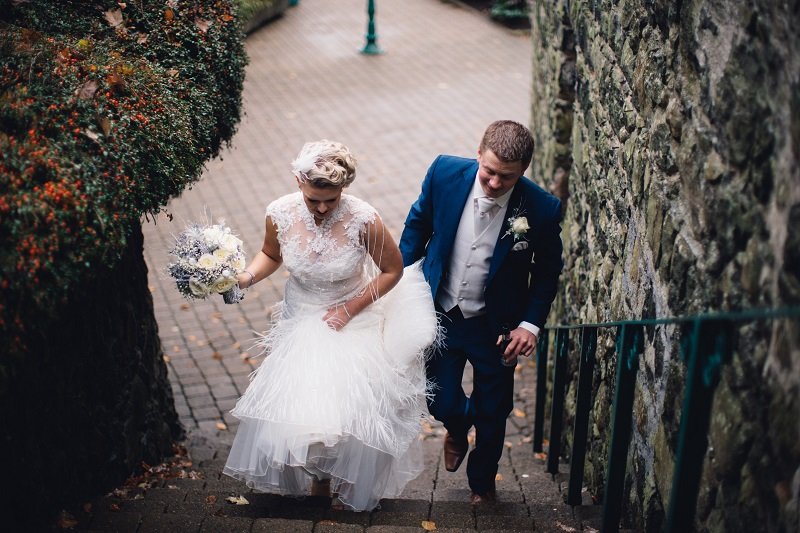 Venue
The couple 'feel in love' with the Galgorm Resort & Spa, "It was a beautiful venue and the staff were extremely helpful and kind," Krystle enthuses. "The Galgorm had everything I wanted the amazing view and the stunning room. My husband had never been before and thought it was a lovely place."
Theme
As the wedding was scheduled for November, the couple decided on an ice-themed winter wedding. "The church was decorated like a winter's wonderland," Krystle says, "this theme continued throughout, from the the ice table plan to my flowers."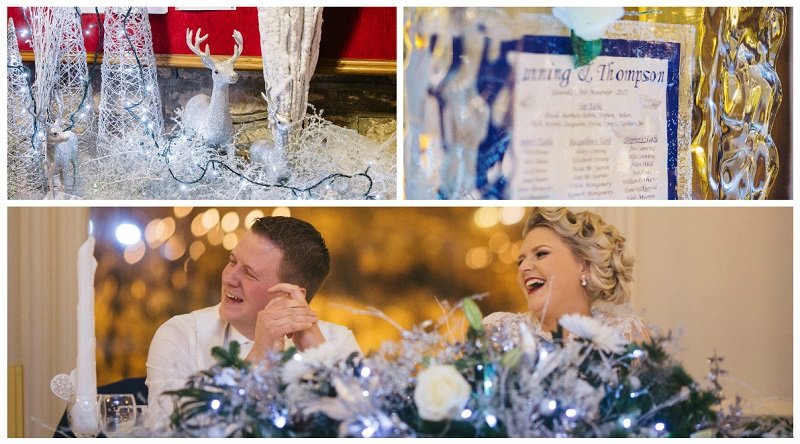 Wedding Dress
The bride looked radiant in a wedding dress from Tomorrows, Londonderry.  "I feel in love with my wedding dress as it was something very different and I had never seen one like it before," Krystle says.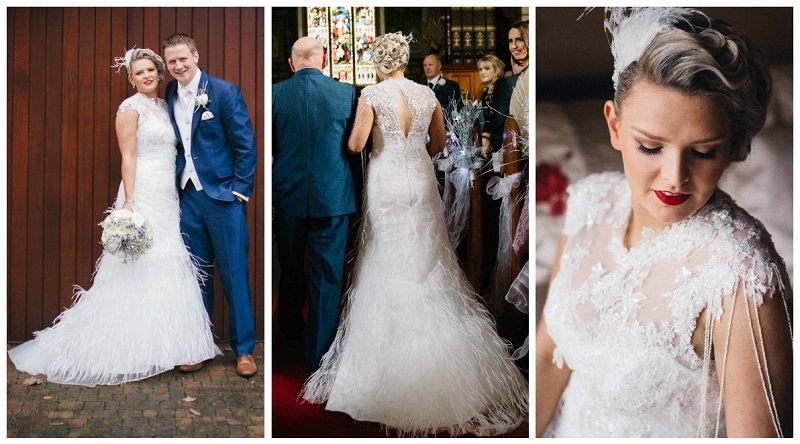 Groomswear
The groom wore a navy suit, also from Tomorrows.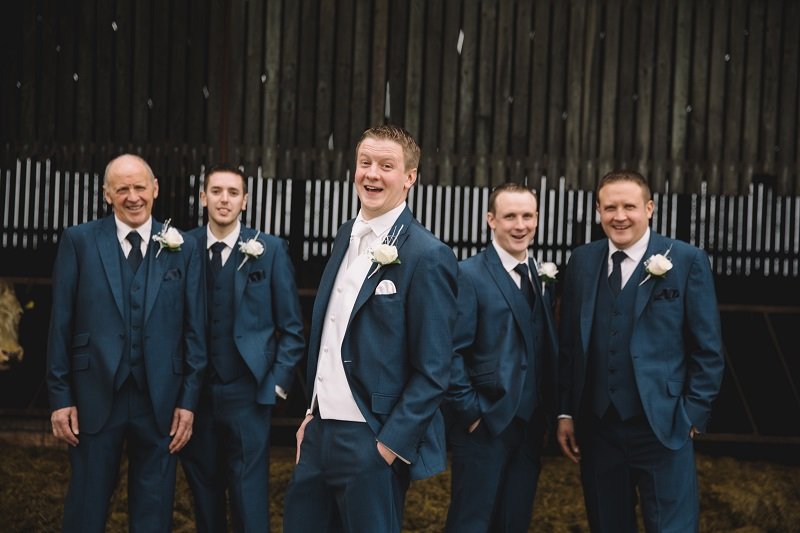 The bridesmaids
The bridesmaids True Bride dresses where from Ultimate Dress, Dungiven. "They were navy dresses with a lot of detail around the shoulders, they matched my dress very well," Krystle recalls.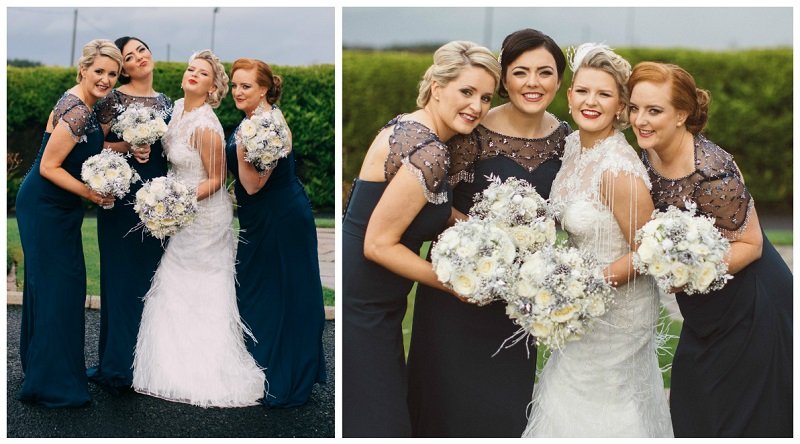 Wedding Flowers
Ann McKeever, Greysteel created the wedding flowers "They were amazing, I couldn't have asked for any better," Krystle says. "Ann was able to capture the winter and icy theme through these. The church was all lit up with blue lights and white roses. It honestly was like a winter wonderland when I wanted into the church – simply amazing."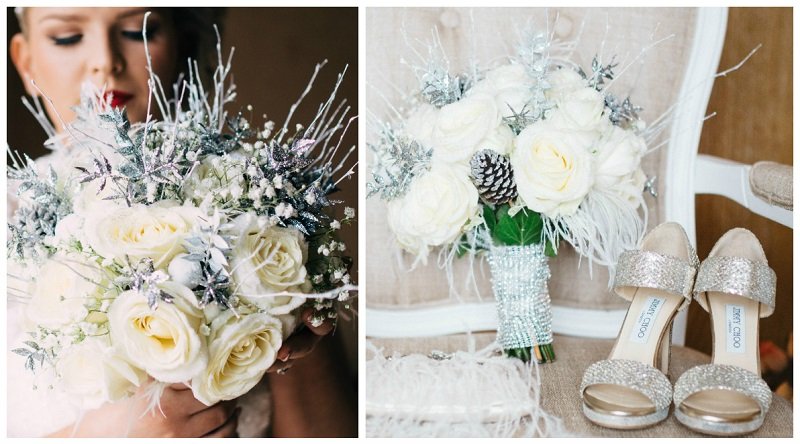 Wedding Cake
Lou's Little Cakes, Ballymena created the wedding cake. "Our wedding cake was very simple as I didn't want anything to crazy," Krystle says. "I was able to get small samples of wedding cake to decide on what flavours to have – this was my husband favourite part of wedding planning."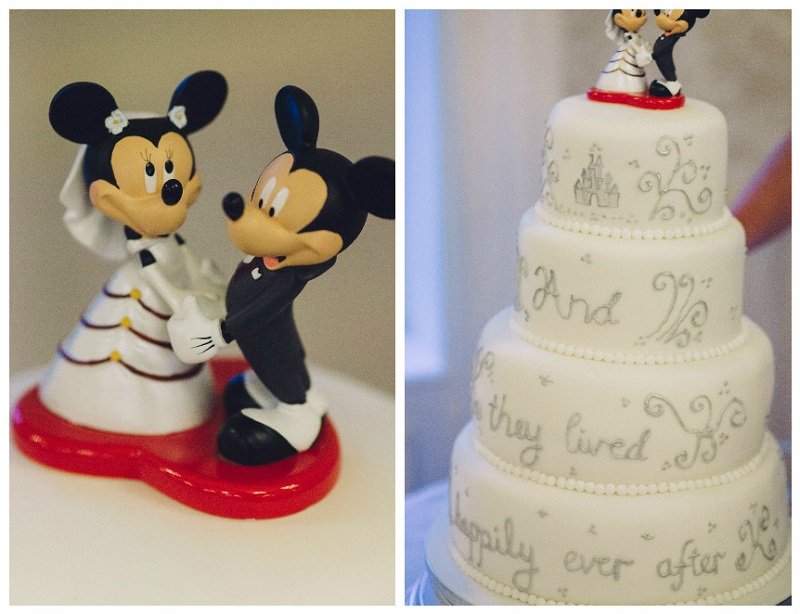 Favourite Moment
Mark: "My favourite moment was when my wife and I had a dance off that the band had asked us to do. It was very much on the spot but it was so much fun for my wife and I. We love dancing and not taking ourselves to seriously."
Krystle: "My favourite moment was when it was just me and my husband in the car on the way to the hotel. It was time for us to just relax and spend some one-to-one time together."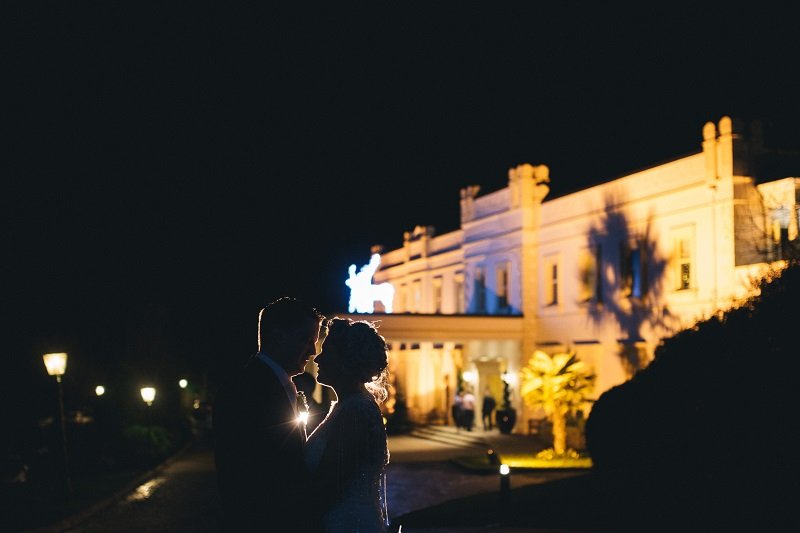 Top Tip
Mark: "Let your partner do all the planning and just smile when she asks you any questions. No only joking! Just remember that the day is all about you and your wife to be. Spend the time with friends and family and don't stress or panic."
Krystle: "To enjoy every minute of your day. It will go in so quick and you want to cherish every moment with your loved ones. One thing I am so glad I got was a wedding dvd. I would highly recommend A Cinematic Life. This was the best decision I ever made. It's amazing to look back and see your special moments."