8th April 2015. Ceremony at St. Mary's Church, Limavady and Tamlachtfinlagan Church, Ballykelly, followed by a reception at An Grianan Hotel, Donegal
Photos by Donal Doherty Photography
This bride wore two gorgeous and very different dresses on her wedding day…
The couple
"Lee was in the year above me at school and since I was about 12 I had a massive crush on him," Rachael beings. "It wasn't until a few years after school that we started talking and he decided he liked me too."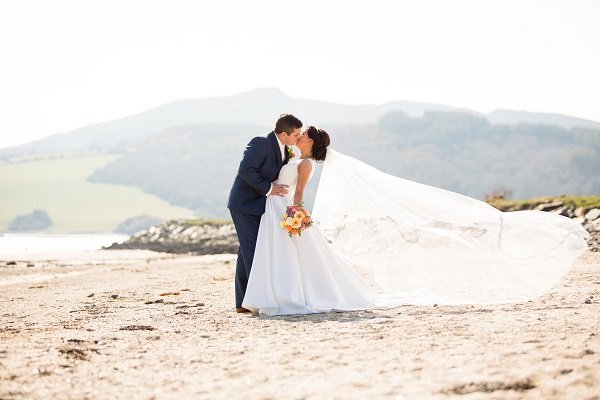 The proposal
Lee had been living in Australia and he had planned to come home at Christmas to surprise Rachael with a proposal. "Lee got too excited and ended up telling me that he was coming home," Rachael says, "He arranged with my boss that I could get the Christmas holidays off work so I could be home too. A couple days before Christmas, my mum sent me to Benone beach to get board games which we had left at our caravan there. We went at the whole place was flooded! Then Lee got to one knee; it turns out nearly everyone apart from me knew it was happening, luckily I said yes!"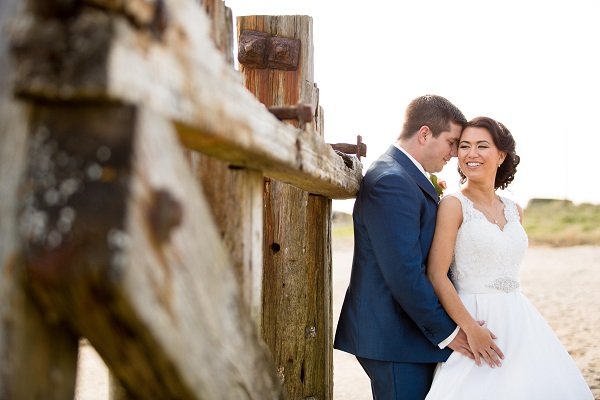 Venue
While Rachael was unaware of Lee's proposal plans, the couple's mothers knew and began scouting for wedding venues for six months before the engagement. "When they showed An Grianan to me I knew it was perfect," Rachael recalls. "The whole hotel was absolutely gorgeous, the suite really had that 'wow factor' and the surroundings and grounds were so beautiful."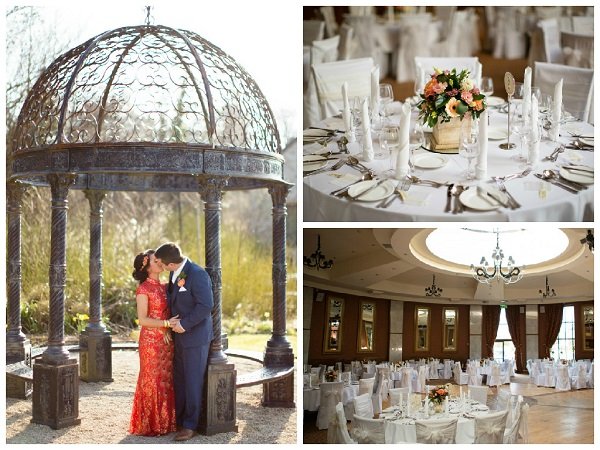 Theme
"I didn't really have a theme for the day, I just picked everything that I loved but it seems I love things slightly rustic with lots of wood," Rachael explains. "Lucky for me my uncle Terry is very handy and made my beautiful rustic centrepiece boxes and the stands which went either side of the cake table."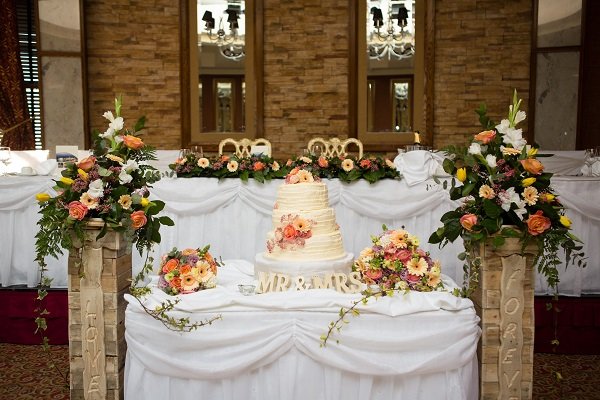 Your wedding dress
The bride wore two wedding dresses; a princess style Stella York from Dream Weddings, Coleraine and a fitted Chinese-style red dress sourced online. "I had seen my dress online and instantly disregarded it as I thought I wanted a tight lace fishtail," Rachael recalls, "but I didn't feel special in them. I thought I might as well try on something completely different so I tried a big ball gown, with lace detailing, keyhole back and big poufy skirt. As soon as I stepped into it I knew this was the one. I finished the look off with a crystal tiara and a cathedral veil with lace edging; I felt like a proper princess!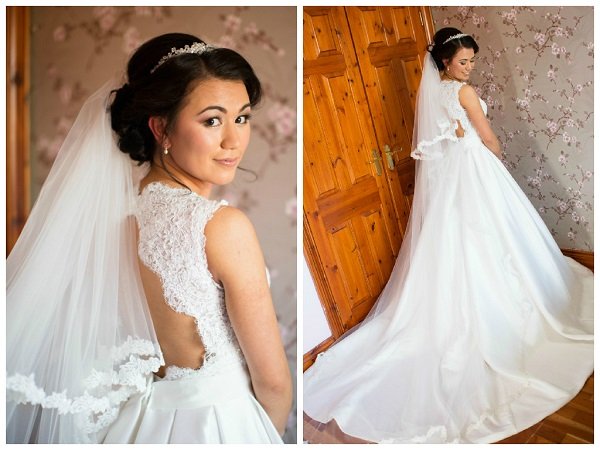 "We also had a Chinese tea ceremony as I am half Chinese and I had quite a lot of family come over from Hong Kong. For this I changed into a fitted, sequinned red dress with a phoenix down the front. I loved this dress too and I really enjoyed having two completely different looks on the day. The only problem with this dress was I wasn't able to kneel while I served tea as it was too tight, I could only bow!"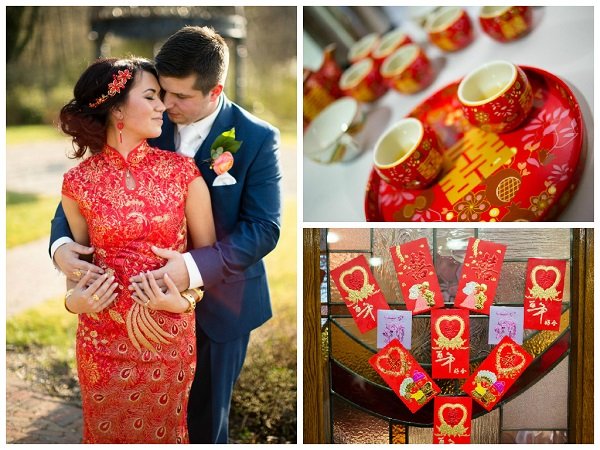 Grooms wear
Lee and the groomsmen wore dark blue suits from Tomorrows, Derry. "We decided not to match them with the bridesmaids as we felt maybe it would have been too bright," Rachael says, "so we settled on an ivory tie with navy polka dots for the groomsmen and a plain ivory tie for Lee. They looked very handsome!"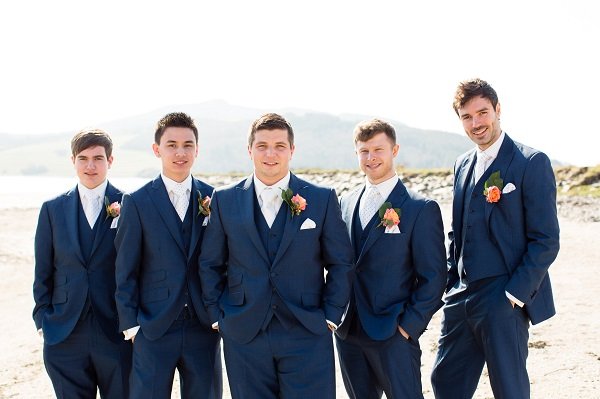 The bridesmaids
The bridesmaid dresses were by True Bridesmaids from Dream Weddings.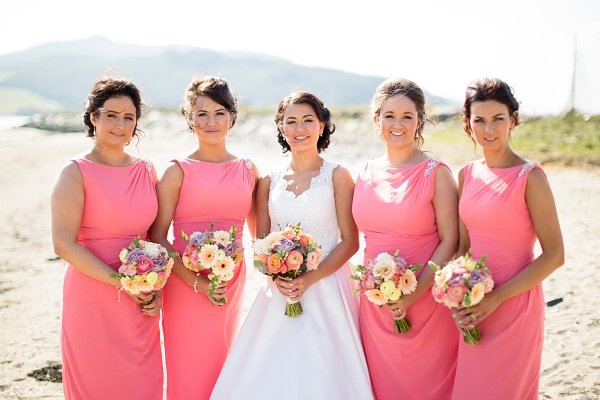 The flowers
The flowers were created by Mark Carton's Flowers, Limavady. "When I seen the flowers I was delighted because they were the most amazing flowers I ever seen," Rachael recalls. "I had flowers everywhere on the day and they really made everything look so grand and beautiful."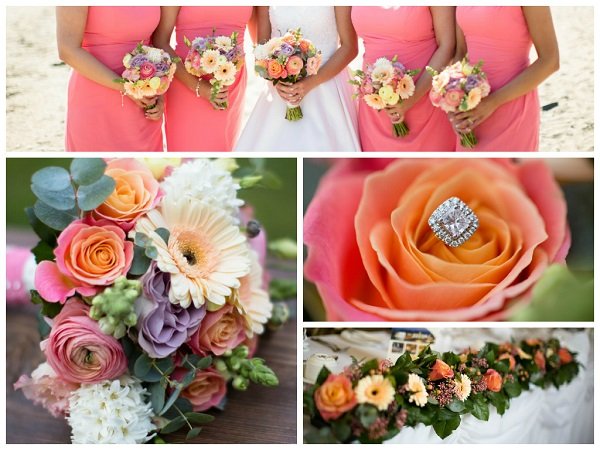 The stationery
Lee's auntie Wendy made the wedding invitations based on the couple's requirement to have a design that was 'simple but elegant'.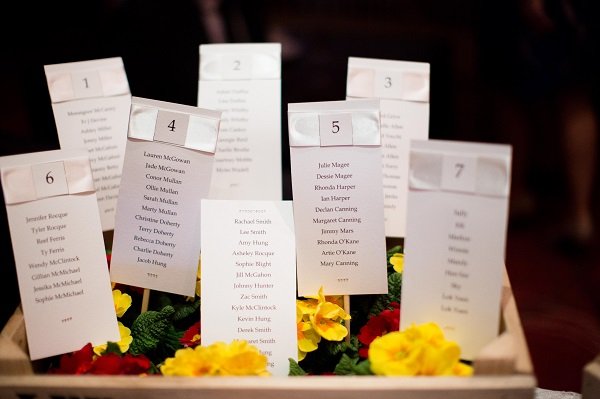 Wedding cake
Crockett's Cakes created the wedding cake. "We wanted something pretty plain and decided on a three tier cake covered in butter icing and just a couple sprigs of flowers to decorate it," Rachael explains. "We had a strawberry and white chocolate layer, carrot cake layer and a lemon layer and it was gorgeous. The only problem was when Lee and I were cutting the cake we tried to cut through the cardboard which separated the layers. It made for some funny pictures though!"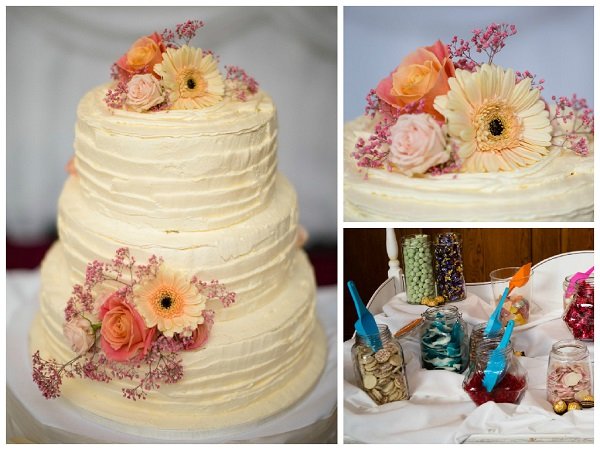 Top tip
Rachael: "Don't leave the table plan till the night before the wedding! And try not to stress about silly things, remember that in the end everyone is happy to just be there and share the day with you."