12th September 2015. Ceremony and reception at The Crypt, Christchurch Cathedral, Dublin
This couple got married in a  12th Century Medieval crypt…
Photos by Tomasz Kornas Photography
The couple
Sinead who comes from Louth met John out and about in his home town Dublin.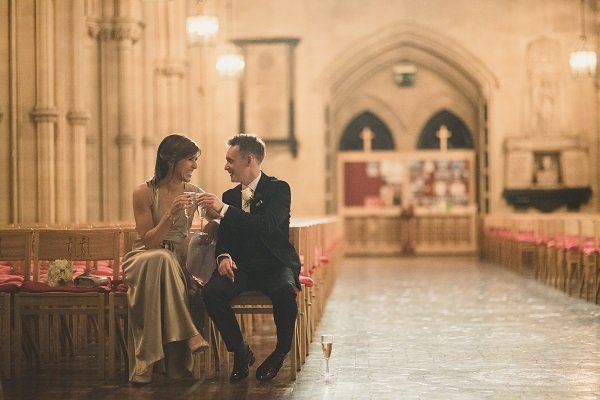 The proposal
John popped the question on New Year's Eve 2014. "John went to work on the morning of New Year's Eve and gave me a single rose before he left," Sinead begins. "He returned from work that evening wearing a three-piece suit and gave me a large bunch of eleven roses and a massive smile. We cooked dinner and sat in front of the fire and then he got down on one knee and proposed – cue tears, laughter and a definite 'yes'!"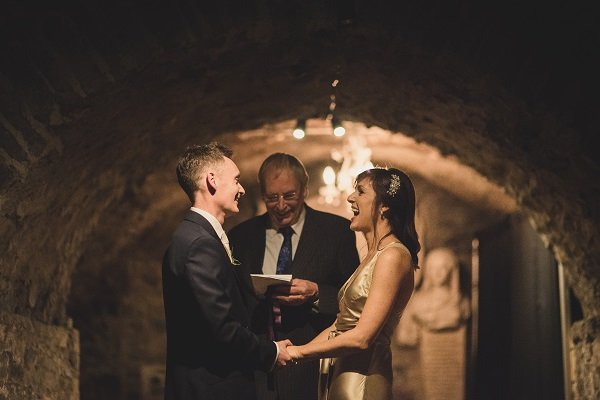 Venue
"We knew we wanted to get married within the year and both recognised that we didn't want to go for the traditional church wedding," Sinead recalls. "We heard about the Crypt in Christchurch Cathedral and went to see it and immediately fell in love with it. The ancient walls and archways and low lighting created a beautiful atmosphere, and the blank canvas meant we could decorate it any way we wanted. Choosing the Crypt did however mean a considerable amount of work on the day! As its open to the public we could only hire it from 5pm and the ceremony started at 6pm, so we had an hour to decorate the place. We all flew around and got everything ready in that one hour; it might sound like a nightmare for some couples but for us it was fun and a great distraction before the ceremony, plus it meant we could realise our vision for the venue by being involved."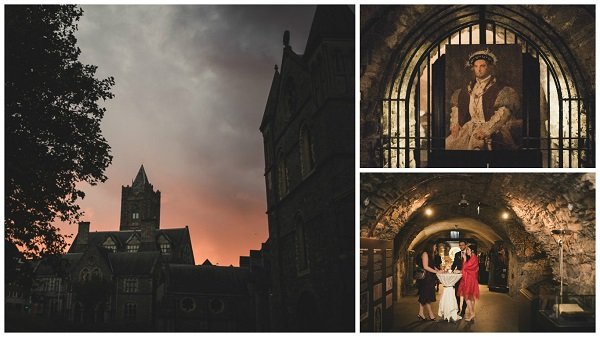 Wedding Planner
"We didn't have a wedding planner as such but our caterer Dan and his wife Laura from Relish Cuisine were outstanding in assisting us with ideas on how to best use the space in the Crypt," Sinead explains. "On the night Dan and his team pulled out all the stops with setting up chairs and tables and bar etc. as well as providing outstanding food. The Crypt staff were also on hand to discuss various elements and provided great assistance on the night. Also my sisters have a great eye for design and detail and helped enormously in styling the venue and hand-making so many beautiful elements for us."
Wedding Dress
Sinead's gorgeous gold wedding dress was from Covet in Powerscourt Centre, Dublin. "I wasn't going to go for a traditional wedding dress, after having tried one on I knew it wasn't for me," Sinead explains. "I popped into Covet one day and tried on a gold silk floor length dress and loved it, particularly for its simplicity. I called my sister and she came down and gave it the thumbs up so I put a deposit on it there and then."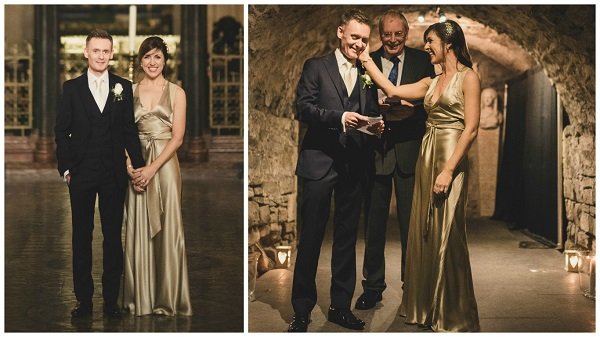 Groomswear
John's suit was from The Formal Suite, on the top floor of Michael Barrie on Duke Street.  "I wanted a three piece and something that was comfortable and stylish, and Dan from The Formal Suite simply knew what would work," John explains. "He was incredibly helpful and threw in the shirt and tie for next to nothing. I took longer choosing my suit than Sinead did choosing her dress!"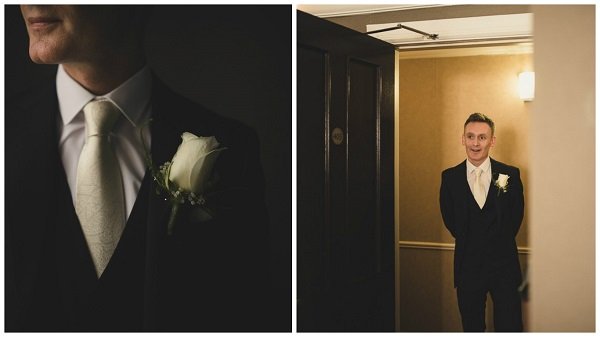 Wedding flowers
Sinead opted for a simple bouquet of white roses from her local florist in Terenure; Oasis Florists. "The girl working there was fantastic considering I only ordered it two days before the wedding!" Sinead says. "We had some flowers on tables around the venue but opted mainly for candles – we literally bought hundreds of candles."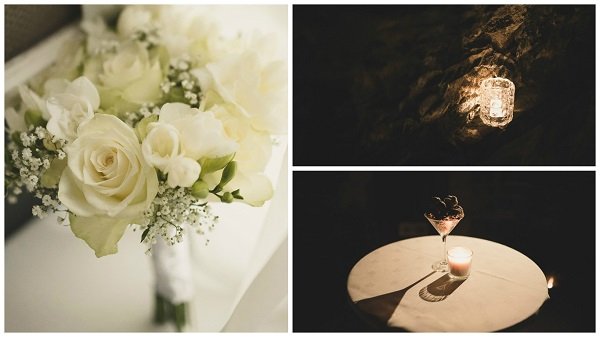 Stationery
"I made the invitations myself in Photoshop," Sinead says, "we wanted a clean modern type style so it was easy enough to make them. Doing this also allowed us to use various design aspects from the invite for other aspects such as the bar menu and the personalised messages we wrote for all our guests."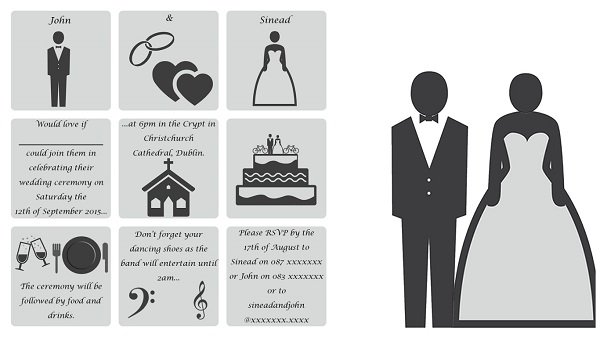 Wedding cake
The wedding cake was made by Denise Walsh and Penny Plunkett. "We just sent them a picture of the cake design from the invite and they made a three-tier chocolate biscuit replica of it," Sinead recalls. "They turned up that evening and set it all up – to include two little bicycles they sourced, to sit either side of it. They really are incredibly talented and beyond efficient. A couple of texts messages and a phone conversation and they produced this amazing cake."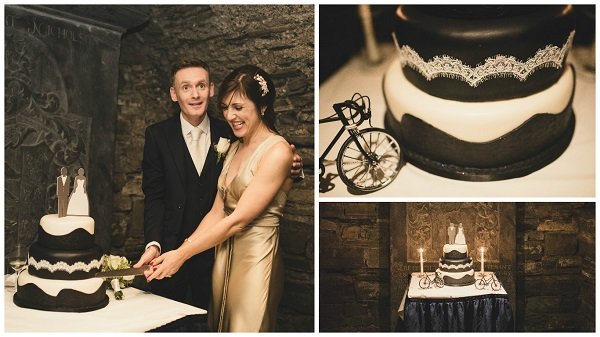 Mother of the Bride
The Mother of the bride wore a beautiful emerald green gown which was purchased online at Century Foxy. "The dress was accessorised with elbow high lace gloves and a short black fur jacket, a beautiful combination of style and class," Sinead says.
Favourite moment
John: "The ceremony, it was all about getting everyone we loved into the same room as we expressed how we felt about each other.  It was incredibly personal with my uncle Aean as our celebrant and I was never so proud as to be standing across from Sinead."
Sinead: "The ceremony; we wrote it ourselves and John's uncle officiated which made it very personal. We also held the speeches towards the end of the ceremony, which meant all those aspects, were together with plenty of laughs and heckling!